Alleged photo of curved Lumia display hints at Microsoft's flagship Windows Phone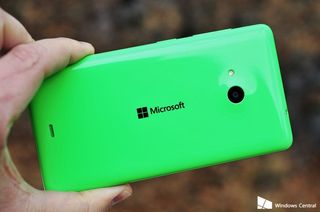 Samsung has made some waves with their Galaxy S6 Edge phone, one that we have in the house for testing. The curved edges while gimmicky for usage do lend a nice esthetic design to that Android device.
Now, a new photo on Twitter appears to show a display piece from an unknown Lumia device. Even more revealing are the curved edges on the screen. In the past, Nokia has played with 2.5D displays that curve very slightly e.g. Lumia 920 and Lumia 930, but these look to be full-on sweeping drop offs.
Problems with the photo?
The problem with this image, of course, is a lack of context. The person who posted it is Steve Hemmerstoffer, editor of the nowhereelse. fr site, which often gets leaked photos for unannounced devices. However, he is not yet adding any more details to the tweet nor has his site run this story, perhaps signaling low confidence.
Last year, some other display bezels photos were leaked by the same website. However, when asked if this new photo was part of that batch, Hemmerstoffer responded with a 'nope'. They also do not seem to be a part of the canceled McLaren project.
The other issue is, of course, the prominent 'proto.nokia.com' logo at the bottom. This stamp is found on internal Nokia devices, which is very normal. However, Microsoft is now making these phones. The acquisition of Nokia's mobile assets is now complete so this sticks out like a sore thumb.
'Cityman' and 'Talkman'
Without know the date and context of the image or what Microsoft's engineering plans are currently like, it is difficult to completely discount it. All we can say at this point is "this is new, we have not seen it before" and not much else.
If this is part from "Cityman" or "Talkman", two rumored flagship Lumias from Microsoft? If so, then a curved display may be a party of the rumored specs for those phones, which include:
Talkman rumored specifications
5.2 inch QHD display
Qualcomm-based six core processor
3GB of RAM
32GB of internal storage with a microSD card slot
20MP rear camera
5MP front facing camera,
3000 mAh removable battery
USB Type-C
Cityman rumored specifications
5.7 inch QHD display
Qualcomm-based eight core processor
3GB of RAM
32GB of internal storage with a microSD card slot
20MP rear camera
5MP front facing camera,
3300 mAh removable battery
USB Type-C
For now, we will just have to file this under interesting until more information and evidence come forth. Do you have any thoughts about the photo? Let us know or tip us at tips@windowscentral.com.
Source: Twitter; via WindowsBlogItalia; Thanks, Nithin S., for the tip
Windows Central Newsletter
Get the best of Windows Central in in your inbox, every day!
Daniel Rubino is the Editor-in-chief of Windows Central, head reviewer, podcast co-host, and analyst. He has been covering Microsoft since 2007 when this site was called WMExperts (and later Windows Phone Central). His interests include Windows, laptops, next-gen computing, and for some reason, watches. Before all this tech stuff, he worked on a Ph.D. in linguistics, watched people sleep (for medical purposes!), and ran the projectors at movie theaters because it was fun.
Yaaas! Momentum has been building for Microsoft. All that's left is hardware. They really are the next breakout company if they can nail the combination of hardware and software. Not big on curved screens but I really think something unique whether it's that 3D touch or some other software first, or just a curve in the screen is needed to get little to take a second look.

No, more than hardware, they need apps and third parties to get on board with accessories.

Apps come when people start buying the phones. Both need to happen.

Apps will come in 2016, since now Android and iOS apps can be compiled for Windows Phone without code changes. Sounds impossible? Maybe if we were talking 2 or 3 years ago, but is a reality that in 2016 big app developers like Snapchat, Instagram, Supercell (creators behind Clash of Clans), etc will come to Windows with the latest updates available for iOS and Android.

No, they can't, they won't and no-one ever said they would.

And Notch wasn't going to sell Minecraft to a corporation but yet he did to MS for $2.5billion

Paulheu, Apps will come, as project Astoria means its now very easier to port from iOS and Android. Go Bing it :) Like here for example : http://blogs.msdn.com/b/msgulfcommunity/archive/2015/05/10/quot-project-astoria-quot-build-great-windows-apps-with-your-android-code.aspx

1. Not that easy as you think... depend on app... whats about Notifications or Livetiles or Cortana support? 2. Astoria is in BETA phase I guess ... or even ALPHA... it will take a year probubly... 3. You will need to use VS to use "Astoria" ... so there will be an effort anyway

Yes! And Snapchat will make an app for Windows Phone and Verizon will give proper updates for their Lumias /s

Not many here in wc realize that.

Apps will come when poeple buy the phones. The people will buy the phones when the apps are there. Reality!


Don't why people are down voting the comments about Android and iOS apps coming to WP... They are. Here is an article from Toms Hardware: http://www.tomshardware.co.uk/microsoft-windows-10-phone-android-ios,new...

Exactly! But...even with push button build, I still give it a 50/50 chance (being generous) chance of succeeding. Some very serious headwinds. Hopefully amongs all these chess moves is an end-game to not only get developers on board, but also prove that Apple and Google was actively interfering, blocking, strong-arming certain developers into not building apps resulting in some kind of lawsuit. I'm just not seeing that this will go smoothly. The other great thing about this capability is the quality of apps are going to improve, finally. I'm not a big app user, but it'll be nice to have the Android version of LINE on my phone. Much better. Thanks for the link. I would urge EVERYONE who may be using an Android device to get certain apps, to write those companies and link to the tomshardware article and let them know that they should be ready to port their app over to Windows. I'll be doing that. And what a great article full of very useful information (*hint* *hint*).

Thanks. I just got an Android phone for work.

But you can't get apps without users

This is half true. I mean, look at me and the countless others on this site that bought into WP without probably having access to every app that is "needed." Frankly, I think the biggest barrier isn't apps, or cool hardware it's breaking people away from a platform they know and (may) have already invested in heavily. This is probably why adoption of lower end hardware is much higher in the WP space than higher end hardware. Customers in those markets might be less likely to have a massive collection of paid iTunes Apps/ Media to begin with so there is little perceived loss in switching platforms. Switching from iOS was a big deal for me. I did so without hesitation, but I had to acknowledge that I was abandoning my investment in purchased apps and media. Thankfully, the music wasn't as big of a deal thanks to DRM free tracks, but you get the idea... Apps are important, particularly for those that follow swarms, but it isn't the entire problem.

Users need to want and then purchase the devices.

I "want" the Cityman phone... If specs are all I have to go by... From a 1520 owner..

Good thing they will have 2 billion windows 10 users and a no brainer development platform that lets you code for multiple device types with one piece of code.

Apps are coming daily as you can see, and more will come when W10 comes out.

All I'm seeing are games, camera shit, and social crap. In the meantime, I'm driving my music on wifi speakers, controlling my thermostat, lawn sprinklers, TV, garage doors, converting my pool controls, and next up lights on iOS. I'm shopping all this stuff and what I don't see is "works with windows phone." That's all aside from the usual deficiency of bank apps, local weather apps, etc...

Try Insteon. And since you have ios could you go to iMore and do all your whiny bitch stuff there instead ?

Insteon doesn't have half of it and i don't go to one shop with no experience in all of these things. I go to primaries in each field. Pentair for pools, liftmaster is garage doors, etc... Sorry to piss on your fanboy. MS needs to get their shit together. Deal with it. And yea, I have MS too. Xbox and SP3, it's not either/or jackass.

What does Insteon not have? You can add interface modules for low voltage items, a garage door control like liftmaster, connect a third party thermostat including Nest, add central heat and sit controllers with individual room thermostats, use their PC program to make advanced scripts, and control the basics with the phone app. I find it more convenient than having an app for each and I get more control easier and quicker.

This is a chicken or egg argument at its finest. The solution (from MS' persepective) though is that with W10, developers can more easily port their apps to Windows (from Android or IOS) as a universal app that will broaden its usage to millions of more users. The windows mobile being just a small part of the opportunity. Hell, build a HUI and it could then be used as a hologram... This isn;t even really going into the W10 for the IoT. I am a little more interested in that aspect as well... The other thing here to think about though is that these developers could also be bothered to make these applications. People just skip over the fact that developers are the ones responsible for this, not MS. They will argue its not cost beneficial to build (the few days it will probably to port it and manage it) but in all reality, if you build it, people come. Once MS is "cool" again (chances are it will happen at some point as its a cyclical cool market (hell the 80's are back in style), this device could do it, and Hololense could help, etc...), developers will "risk" it and start developing apps to reach the "3 billion devices". Looking at what MS is trying to do to support other ecosystems and their internal tools for helping developers actually develop them, I can't really blame MS too much. I mean, aside from paying companies to develop apps for W10, they are trying to make it pretty easy.

I totally agree with this post. It really is up to developers at this point. Microsoft is reaching out. They need to risk it in order to be rewarded. The argument that it isn't worth their time was out the window the second the Apple Watch was announced. Microsoft is saying build once and deploy all over. Apple is saying build once for phone, adjust for tablet, build again for Watch yet they are all over what is still an unproven product that has less sell through than Windows phone does right now.

+929
You can say it louder, but not clearer

Lol dude chill a bit on the abuse. Although I will admit that I cracked up at this reply.

Try Insteon then..for example..

He's just being real, I appreciate that sort of feedback. He presents a legitimate scenario especially for those of us who wish to fully integrate windows mobile with a variety of options including a first class smart home system.

I control my home security system, heating and air, my 2 Xbox ones, TV sat box, my av receiver, lights,music over bluetooth(music app) to speakers, all from my icon running WP 8.1. Sorry, I don't have a pool or sprinkler system.

@Nevron, Hi, I don't understand why you need to write Camera SHIT and social Crap? Those apps are needed for some users. You sound frustrated? Do you have a windows phone? Why are you complaining? I understand you don't need or use camera or social media apps, I respect your need. I don't need a thermostat, lawn sprinklers, TV, garage doors, pool or lights controller applications. I personally think they are a waste of time and money, but they are welcome applications. I don't need to shit on them to express myself, you see. What Montpbm is saying is that windows 10 (PC, tablet, mobile) would give more raisons/options to 3rd party developers to support windows device. This is what Microsoft is doing now. What do you mean by "MS needs to get their shit together"?

Just because it doesn't say "Work with Windows Phone" doesn't mean it doesn't - I've even seen things with offical apps that just don't mention it. In my case, I use music with bluetooth in the house and in the car (using my BMWs built-in capability), control my thermostat, sprinklers, TV, multi-zone AV receiver (for back yard music), DirecTV (for back yard Royals games), lights, security system, and home automation on my 1520. It's just a matter of if you choose iDevice centric things or not. The lack of bank and local weather apps is a valid complaint - hopefully, the porting tools MS has created will help close that gap.

LOL but you said Bluetooth! That's so 2 years ago/s.
Isn't it funny how people shun Bluetooth like it's unusable once they have a device that supports WiFi audio transfer?
Bluetooth still works great for me regardless of those people, but workout scrolling down I foresee that being brought up by this user.
I'd not, he or she at least thinks that way for certain.

Sadly, social apps and games are what the masses atually care about. Those will actually sell phones more than what you mentioned. And when the games and snapchat come, and more phones get sold, you'll see the others jump on board.

All these companies will not ignore Windows and hundreds of millions of potential users. In a few months Windows Phone will cease to exist and your phone will run Windows. The same windows running on your PC and/or tablet with the same apps and fully interoperable.

That's seriously what makes up IOS and The Google Play Store, also don't forget the 1.5million flashlight apps

And you will be doing all of that with Cortana this fall. Well, would be...

So do you think Windows Mobile has a future, Novron?

Hell ya! We have about 500 apps in the store, buddy!!!!

Let's say every app on iOS magically shows up in the WP store tomorrow, what phone do I buy if I'm on any of the 4 big carriers? Not that I'm saying aren't important. Just pointing out the lack of decent hardware that's available on every carrier.

You're talking right now, and that'd be correct. Hopefully it'll be different when Win10 Mobile arrives.

I wish they would use flat displays on their flagships. I love tempered glass screen protectors and curved screens make them unusable. Sigh.

Why cant they produce curved tempered glass protectors?

They would have to be specifically manufactured for the phone model and have VERY tight tolerances to exactly match the curve of the screen. Will never happen for a Windows phone. Flat ones just need to be cut to the right dimensions.

But cant Microsoft sell it as an accessory for their flagship? C'mon it is still going to be the flagship (or two)

its jsut not feasible, even if they do make one specially for their phone, you would need to align it with amazing precision, else it will bulge out somewhere because the curve doesnt fit the display.

Oh my god yes!!! Someone understands how important it is to have a flat screen!!!
I had an accident with my 1020, screen got shattered, and I used it like that for a month because believe it or not, it still worked perfectly. When I finally got the screen replaced, I had no option but to be obsessively careful because I knew a tempered glass would be useless on it since the edges are curved.
Of course curved edges makes the phone look a bit better or kinda fancy, but it is a huge risk as well.

The 1020 actually only had a very mild curve at the very edges... tempered glass works Ok on it, though it does leave some edge area uncovered. The 830, on the other hand, is so curved it's useless.

If it doesn't cover the edges, it's useless. Simple as that. It does not work "ok" because there's around 3 millimeters exposed, and covering the rest of the screen means nothing when you drop a phone because it's most likely going to hit the edge.

You lost me there PAMettey. I use it and it works. It covers most of the screen, and will stop most any scratches that may occur. I also suspect it will help a lot with drops, because 95% of the screen is strengthened. Certainly not ideal, but it works. Regardless, I would prefer a flat screen.

Didn't check it, but you're probably speaking about the difference of 2.25D and 2.5D screen glass.

Mate im posting this with a 1020 with a screen thats shattered! But it still works 100% Im so frustrated now because im due for an upgrade but there is no flagships available

meh. I never use a screen protector and dont have a single scratch on the glass of my 2-1/2 year old L822. Of course the back of my 2-1/2 year old case is really beginning to look like crap.


Yeah, I'd much rather have edge to edge screen or minimal bezel than have curve screen. I played with the SGS6 edge and it has soured me on that type of curved screens; the edge adds little in terms of functionality, but makes the phone slippery and difficult to hold one-handed with confidence .

Agreed. I could not stand to actually use it due to the grip this last weekend. Felt it was going to slide out of my grip at any time. Imagine an older person with that thing.

I absolutely adore the gs6 edge, it feels amazing in the hand, hope the 940 will have that too!!!

Have you seen the emerald green version? I never wanted a Samsung phone until I held the green S6E. Pity TouchWiz and poor battery life ruins it. Posted via the Windows Central App for Android

Funny coming from "Mr. Posted by Windows Central App for Android"...

So I have it coming from the iOS Windows App on my 940. Doesn't mean squat he is posting from Androids Windows Application. Plus he has a Sony Xperia z3 for your information. Posted via the Windows Central App for iOS on my Lumia 940

It seems like you don't know DJCBS well

I know he is from Europe, the mainland, he likes to read British authors, he owns various manufactures of hardware/software phones/tablet/computer, and he fights with Rodney. So, don't be go full on retrad and make assumptions.

I can't say I'm for or against curved displays, to me it comes down to how good it feels in the hand, some phones work with curved some don't, very interesting time at the moment.

I think if you're not going to use a tempered glass protector, curved screens are definitely better as long as they don't add too much weight (which a deep curve will). They feel nicer as you move your fingers near the edge of the screen. But I feel the benefit of the tempered glass protectors it's well worth the sacrifice of the curve.

If wp10 hardware finally come with specs like these then the market will take notice.

great news, bring it, we all waiting

I'm not sure... I would expect the highend flagship to have more going on with the flash....

With the flash? This picture is just the bottom of a phone screen.

Without W10 buttons, at that

Is Barry Allen promoting it?

I am... da Flash! My fave show on tv currently

Love The Flash. Can not wait for season 2. Posted via the Windows Central App for iOS on my Lumia 940

Was surprised how good it was. Even though it's essentially, "Meta humans do bad things. How do I defeat them? Run really fast. It's not working. Use this extra tech seemingly drawn out of thin air. Imprison meta human" with an awkward love triangle and some time travel thrown in. :¬)

Haha yup. A bit Ex Machina but o well. That's comics. What got me was from the finale where Catyln did not know what a singularity was. I honestly paused and said What! Are the writers serious right now. Very dumb but o well. Posted via the Windows Central App for iOS on my Lumia 940

How long is the wait! Enough hints

I like the curved possibility but I hope the picture is fake. I want both highends to come with Virtual Buttons.

Hmm... I can't get onboard with the virtual buttons. Tried the HTC M8 with Windows and didn't like how they could auto hide since I didn't know how they worked at first.

You can make it NOT autohide and stay there all the time in the settings

What's the benefit of virtual buttons? I simply find them distracting on my Lumia 635.

You can make it autohide in the settings. Lol

I just don't like the way it looks. Cool though, just not for me. Hatred it on Android also. They need to be on a truly black AMOLED screen, not an LCD like on the HTC I saw. Maybe I'll have to look at another phone that has that combination. It was distracting as the other person said.
I always thought that was the coolest thing but in practice I see the edge of the screen but find out it's not really the edge of the screen because buttons are there. Purely psychological but very annoying.
I'm sure I'll get used to it eventually but for now I simply dig the IDEA.

What about it being too close to the app bar buttons? It always felt like an accident waiting to happen with two rows of buttons stacked and thus requiring a bit more precision.

One benefit is not accidentally hitting the buttons when they disappear. Great for gaming and such. Posted via the Windows Phone Central App for Android

That makes sense RaRa85. I hadn't thought of that.

I see a benefit with smaller screen size, but when we are getting into the 5"+ range, physical buttons are nice

Virtual buttons are not ideal at all.

I couldn't get behind virtual buttons either. They don't seem to place the buttons dimensionally. They're seems to be a huge gap of space from the buttons to the bottom of the phone.

I don't like virtual buttons either.
I do love ❤ the tilted Windows symbol though. Maybe it could contain LED's to indicate notifications. Something virtual buttons can't do. Edit. I love curved glass too, gives the illusion that the content on screen is floating, especially in dark theme.

Yes! They need LEDs in the Windows key

But the 930 and 735 do actually have an LED that could light up for notifications- this needs to be enabled in a firmware update (which has not come yet, btw and seems likely with W10).

What about 730 ??? Btw what's your source behind this??

I don't... Windows apps don't all handle them well and that's unlikely to change by fall. I like the IDEA of virtual buttons (less bezel and more screen) but on my M8 they're more trouble than they're worth... Lots of apps wind up either getting some controls COVERED when the buttons are active or not scaling right and having some controls missing or formatting messed up.

What are the benefits between the Virtual on Screen Buttons vs the Dedicated Touch Base Buttons?
Out of my head: 1. Bigger screen size on the same phone "body"
2. Auto hide when not needed so you have more screen space for your content especially for Videos and Games
3. Prevent accidental hits
4. Change the taskbar color manually and anytime
5. Microsoft may add or update the UI on these buttons anytime in the future.
6. Possibility to customize them at your needs (currently this is limited to Windows but very advance in Android)
7. Virtual Buttons are becoming standard to highend devices
8. Avoiding physical button damages (my home button stopped working etc.) All the above are facts, plus in my personal opinion a highend device with virtual buttons looks much nicer and sleeker than a one with physical.

Have you held a new 640? The idiots left the black bar at the bottom the EXACT same heigh as if it had buttons, so having the virtual buttons only REDUCED the screen realestate :(

The touch buttons on my 1020 is starting to become a pain because if im in watsapp and i hit the windows it takes me forever to get back into watsapp with this resuming bug!! Dont even talk about xbox music

Seems Legit.......Considering the fact that People being interested in Absurd designs brings about crazy trends.......And I hated Rage faces a lot.....Alot more than this pic

If it's real, than it's old. The buttons don't match the new design that was seen at build (solid arrow and search button on its side).
But, I would love a curved screen like that! Love it on the 920/925.

Have you seen new button designs though? Everything I've seen has looked the same.
On a related note, Android's triangle/square/circle button layout would make way more sense for Windows than it does for android when you consider Back/Microsoft Logo/Cortana

That is a generic design that MS has used for ages btw

That "solid" feel is the one you get from the emulator

Correction: With the Nokia address at the bottom, I'm guessing this is an old prototype that was canceled. But who am I to know such things.
Missed that paragraph when I read the article the first time...

You need to update the Rum'o'meter it still says Windows Phone Central

Nice catch buddy. Daniel worried about Windows Phone Central branding and Microsoft worried about proto.nokia branding ;)

*esthetic It's spelled differently UK/US

TIL. I'm American and have always seen it spelled aesthetic.

They're two separate words, though they are related.

They're not two separate words; they're the same word with two spelling variations. Both are acceptable, though I've always found aesthetic to be more aesthetically appealing than esthetic.

Please research before making a reply. A little research would have prevented the op from making a comment at all.

Esthetics is also a word specifically used for the cosmetic industry that is devoted to beauty and appreciation of human beauty. Posted via the WC App for Galaxy S6

You say potato and I say potato... Wow, that so doesn't work in type form...

And for god's sake, when will the UK get on board and stop calling it "Aluminium". Hell, I don;t think they even manufacture any of it...

Most of the world calls it aluminium. Guess only Americans call it the weird way

IUPAC (the international organisation that standardises nomenclature in the field of chemistry) prefers the word aluminium. It is only the US and Canada that seem determined to remove the 'i'.

And there is another thing... Its "Standardized". I think the IUPAC and Britian in general just need to jump on this English bastardisation train (see you have me doing it now...). Aluminum is more efficient as its only 4 syllables. Aluminium is 5. The fact that British scholars felt the word sounded more like the other elements. Please keep in mind that this is all one big joke...

When will the colonies learn how to speak and write properly? ;P Posted via the Windows Central App for Android

I hope they switch to storage options instead of the microSD card slot on the Talkman.

I guess he's trying to say "no SD slots on Lumia flagship please".

Exactly. MicroSD cards tend to crash the device, leaving the device with bad a reputation.

"no more"? They never had them in the first place. Posted via the Windows Central App for Android

Agreed! Release a 32GB and a 64GB version for $50 more. :)

Why not the option? If you don't put in a card will it crash the device?

Probably not, but if it has the slot, people will put poor quality microSD's on it, this will make the device crash from time to time.
Then Microsoft will have a flagship with crashing reputation.

If its a high quality SD card at highest speeds, does that still cause issues?

Yes, but less frequently.

Thanks, in that case I would prefer the option of onboard memory only with a 64GB and 128GB version.

I have no issues..class 10 U

Make it 64GB onboard, with sd card. Those that need more than 64GB are likely to be more tech savvy, and therefore more inclined to buy better quality SD cards. Best of both worlds.

My broth had a class 10 card and it crashes alot on his 1520 but works great when I moved it to my surface 3

I have a sandisk class 10 microSD but I've never experienced a crash in my 1520. Maybe its the card's fault or the card slot?

I second this! We seriously need a 64GB device! 32GB is so old school.

yup, onboard storage is often faster & more reliable, 128gb please

Yes please. 64gb and 128gb options. Full USB OTG support eliminates some of the need for micro SD, and internal storage is faster and more reliable.

Dear god...USB support, a proper BT stack and controller support...hello... Xbox games..SMMFH

Would be nice to see two large internal memory sizes.

Hell Yes and now do this too... https://windowsphone.uservoice.com/forums/101801-feature-suggestions/suggestions/8149254-next-flagship-based-on-snapdragon-820

Loved it! But you do know that the 810 and 808 are the ones they are going with? They have definitely suggested an 810 is being used for one of the flagship phones.

Yeah i know, that's why i used user voice to tell them not to. Please spread this as much as you can. We need this to happen.

Too late to effect a change now.

Not enough time really, unless they push the phones to next year, while competing phones with SD820 may be announced this year, they likely won't be launching before March. 1040 might get the SD820 though, but I doubt it as these things tend to be bought in bulk.

I wish I didn't upgrade from my 920 to a 830, this would of been the better/perfect upgrade #bigmistake

I did the same thing a few months ago, but we're probably looking at another 6-12 months before these new flagship phones are available on some (AT&T) carriers...

Could be worse... I am still using my 8X and hoping it makes the next few months... To its credit, it has.

My 920 suffered an extreme screen break recently, but I ordered another screen/LCD unit (after ordering screen only and returning it - no way to separate the two cleanly) and fixed it. Camera isn't working as well, but well enough to keep me until the next flagship. I thought about picking up a 635 to tide me over, but I.just.can't.bring.myself.to.do.it. UGH!

I think that the photo is just bent.... That's why the screen looks curved :P

I think your dad is bent....

You think or you know? Either you're good at spotting a bender due to a class gaydar or you've sucked his cock and guzzled his zincy load

Only good at spotting. You see, I witnessed so many of the gay antics between you and your dad that I know what to look for. For example, when you cum out of a room and I see you wiping the side of your mouth off while simultaneously swallowing again and again, then your dad walks out with a smile on his face, what you two have been up to is rather obvious. Plus, you always leave a bit of evidence, literally DNA evidence, on your shirt.

In future, don't just opt for voyeurism, join in! I can tell that you are desperate and very, very curious to test out your oral skills and have a real man in your mouth, my dad however, doesn't smile anymore, guess he's comparing me to someone more raunchy and into sick fetishes....like you! :D and the DNA that is on my shirt is period blood from your female relative who begs for my thick hard cock when you're not around to perv on her and smell her knickers, oh how you love a bit of incest :)

The buttons are completely the same as the Windows Phones today and I like that. And also, I cant wait to see the flagship Microsoft Lumias coming up!

Yup, seeing the rumoured screen sizes, there is definitely a regular size and an XL size.

Why rate this a 7/10???? U file this under "still investigating" and no other evidence apart from this photo of a half bezel with proto.nokia.com on it and u rate 7/10??? Is the 7 based on gut feeling?

Jesus told you?? Well, that pretty much confirms it then lol

Jesus the gardener, not the messiah. Posted via the Windows Central App for Android

If anybody know...its HIM.

The ranking is based on Jesus? Lmao. Smh

Yes, my son...how may I help you?

Rumometer!! serious business

Thought the same thing TBH. We can probably cut Daniel some slack though as this isn't the New York Times. Based upon his article, sounds like its more of a 3-4 range...

New York Times isn't New York Times either anymore. All media been chasing clicks and racing to the bottom for some time already.

Well yeah... But they probably get paid more.

I would really like to know why a cell phone needs 3GB of RAM, I haven't come close to using the 2 in my 1520.

Well, that's because we're windows phone users. Ask android users maybe :P

To computer in the spec wars. And also... to power Continuum.

Continuum
Edit: Damn! All the previous replies were not there before I posted

I think we'll understand that when we use full office in continuum on external screen and w keyboard and mouse.

Maybe the official w10m will have real-time multitasking.

It won't. Might have more extensive support for background tasks though.

Apart from continuum, windows needs minimum ram sizes for particular resoltions, for example a 720p display needs a minimum of 1GB ram and a full HD phone requires 2GB ram, a 1440p (or whatever is the resolution) requires 3GB RAM.. Probably that can be the necessity of 3GB RAM.. Probably
And we can never use the full amount of RAM because windows restricts the ram usage on phone so that it doesn't lag with overuse.. And therefore we have that not honestly true multi tasking, resuming and loading screens because of the complete ram never being available...

To ensure those HD and higher YouTube videos run super smooth. Just saying :)

2 Cityman's please :) Real looking forward to the next flagships

I think these are either 930 replacements, really ballsy 830 follow ups, or game changing 730 sequels. As they have yet to go up from the 640

No chance that MS will release an 830 replacement as a flagship.

I want Talkman specs but with the design like the 925. Wireless charging built in. I don't care about removable backcovers or battery if the battery is big and efficient enough.

Screen protector nightmare!

I'd rather not have a curved device myself, but it wouldn't be the worst thing in the world. I'd prefer better optics to a pointlessly curved screen for sure.

My friend has an S6 Edge. It is far and away the nicest device I have ever seen wear a Samsung badge. But that curve, while aesthetically delightful, is becoming more annoying whenever I look at something on the screen. I find it makes for an unpleasant view. Give me a curve like the 920, that'll do me. Also, 1080 would suit on the 5.2. Would help the battery life and processer thermals.

I'd take 1080 on the larger device as well, especially with the sad battery life of my 920. As for the S6/Edge, I find them generally ugly. The back is too similar to the old iPhones (which were also hideous, thanks to that stupid glass on the back), and that curved glass just does nothing for me. I'd like to see drop testing to help see if the curve is a benefit or detriment to durability.

The back is certainly not my favourite bit. But to look at, I think they have done well. However, using that curve is not pleasant. For me, every app would need tweaking before I felt it was worth it, and even then, still no. I looked at some photos my friend took, they looked stunning, but we were missing the top an bottom 10%. Same with a youtube video that he played. I genuinely thought at the time that it would stop me watching a video on it. Hope MS does not follow suit.

Yes!!! why not . It's an interesting idea I am curious to see however how tiles wll work with the curved screen

Forget about Anything less than 41mp.. Don't keep worrying

I think the Lumias 840 and 840 XL will be great with these screens!!

The logo would be the new one of Win10 ( where the squeres are not looked at from the side, but from the front) i think it's fake.

Agreed, the icons are old. It doesn't mean that it won't come this way, but it looks like this design happended a long time ago.

Those codenames (Talkman, Cityman) are also at least 2 years old.

Off topic
Can anyone please tell me is there any flash light app that can work in background???and if Microsoft had disabled this feature in wp 8.1 can anybody tell me if it's available in windows 10 TP or not....?

Flashlight XT has an option to work in the background and even while the screen is locked, you can try that may be

For a second, I honestly though nowhereelse.fr was Dan being funny.

If they make a display like the s6 Edge then I'm sold. Completely

I liked it at first. But in use, I think it is awful.

Isn't the s6 edge only on one side? The pic only shows one side as well or I wonder if the whole thing will be curved.

The S6 has both edges curved it's the note 4 edge that has one

Scale the image to the known sizes of the back/win logo/search icons. Measure the distances and extrapolate the right side edge (space from search to edge should be the same as back button to the edge). That should give you a width and based on known supported aspect ratios give you a damn close estimate at the screen size. Then you could tell if it would be for a 5.2 or 5.7" device... or something else.

I'm just going to sit here and eat Doritos instead.

Mmmmmm.... Doritos. Think I have a bag in the kitchen. Afternoon snack solved!

While I can't be bothered, I hope someone does.

It's definitely the 5.2 version

That proto nokia label basically proves that either this is a fake, or it's an old photo from an existing device.

Maybe. That is definitely the gut instinct, but since we literally know nothing about Microsoft/Nokia engineering and what has/hasn't changed, we can't be 100%. Companies do strange things.

Agreed. MS would be smart to just start releasing prototypes with fake company logos and fake names if they really wanted to keep secrets. Or at least some obscure company or trademark that it owns.

No. MS wants that for a plot twists.

The button logos look thick, like the older style, not Win10.

TBH, it wouldn't matter because for prototype hardware that is irrelevant. Those are things you change when you head into production.

Thanks Dan for looping in tips. I came with this pic quite randomly!

The photo is extremely poor. On very
close exception I believe the edges are actually bevelled and would consider this to be a prototype of the Lumia 930 prior to release date.

When are these phones rumored to be released?

Hear me out!! Since a recent rumour suggested that the 2015 flagships will have an 830 like design and since this does not look like an 830 design, Could it be that these are the photos of the 1020 successor? Don't kill me. I'm just saiyn

If this is real, I hope they add more internal storage. 32gb isn't very much. And I do add SD cards but it doesn't have the same read speed and not all apps support installation to it

Um this looks like my 920 glass....

The reason that I think this is fake is because all Microsoft Lumias have on-screen navigation buttons

They are the low end ones, that have on screen keys. Capacitive buttons and camera shutter key are features reserved for high end pure view devices...

@fahadaslam2000 is correct on that

The back and search buttons don't seem to look like Windows 10's new style

Looks like it has rounded edges like the Samsung Edge devices

A 7! From Daniel, I consider that a strong indicator of a true story. My only thought is that these are from some time ago, hence the Nokia reference.

One will assume that the reason the photo is from bottom part is because of concern over revealing too much... e.g. holes for face recognition sensors/cameras

or because of the NOKIA logo, because the concept is that old...

Trying to keep up hope :-) If they don't include some form of practical biometric hardware we'll still be far behind iOS and Android devices despite Windows 10 being released with all new features

I loved the feeling of the gs6 edge, really hope the 940 will have this

Flagship phones only from Nokia. Now some high engineering levels they got the phones with a Quantum processors inside that's mean you can get even 20 cores of the Qualcomm processors but not enough like quantum technology.

Any EXIF data attached to the photo that may reveal a date or location it was taken?

Its just the glass that is curved ...but where is the curved display you guys are talking about I the picture ?...curved glass is used in almost every phone nowadays

Is that not an image on the screen? The white image. Edit.... I'm and idiot, I just realised it was the screen only!

No it looks like just glass cover on top of someting..that something is just a plastic /glass sort of cube

I looked at the Blog Italia link. Look like two different displays.

Oh ok ...i just saw all the pictures ..still no curved screen there ..but I guess a new phone

Those "other" photos are from last year and are not related. WBI got that part wrong, which I note in the article.

My apologies. I'm not normally one that misses article bits. Got to be honest, the curved bit is putting me off.... My friend's is stunning to look at, design wise it is Samsung's best design. But, I've used his a few times and I find using the curve to be frustrating. Watching a youtube video and some photos was a lesser experience. In landscape, we list nearly 20% of the picture to the curve.

The curve could be good-great if the OS and apps were designed with that in mind (ie. most of the content in the middle, with only content animations and special features showing in the sides / edges), but that is not really realistic at this point.

Again, those are NOT flaghships. I wish people would quit referring to them as flagships.

Just a standard camera (I have THE camera in the 1020) and the rest of the specs are no better than anything currently out. A real flagship would clearly LEAD the pack. Those lead NOTHING. Especially the camera.

I hear you, and I'd like to obviously like to see top specs. The screen is top end, and possibly a touch more dense than I would pick, 1080 suits me. RAM is up amongst that offered by the other "flagships", SD option is better than the S6. Battery is bigger to. FFC is at a proper level, thankfully. I do hope that the camera sensor is top notch, and improved from previous Lumia devices. As for the 1020, that is a different niche. The replacement for that will be launched in the first half of next year, and will rock an 820 Snapdragon. Assuming that the 1020 replacement comes next year, and as its own niche, aside from the camera bit, what would be a flagship for you? For this year.

Throw in rumored iris scanner and some other features and it's a flagship. Also, we're still calling it flagship. Grin and bear it :P

Damn Daniel, I meant to add the Iris scanner bit to mine.... Certainly something different. Be interested to hear about those "other features". Type c USB certainly puts it in flagship territory for me.

Y'all have low standards.

No, a flagship simply means the leading model of a particular series/brand, not all smartphones ever made on this planet...

Where is the next 1020 41mp replacement?

Cityman.. Ahhh ahhh ahhh ... Fighter of the Talkman .. Ahhhh ahhh ahhh

Hardware buttons seem... odd.

Why an arm processor? Wouldn't at least the large version have an intel processor to handle continuum?

Continuum on phone has nothing to do with Intel chips. Upcoming ARM chips will have this hardware feature.

Well we know that the big one will go at&t

I needed some tech orgasms....and that just gave it to me! Ah yeeeah!!

Hopefully they just give me a phone that isn't brightly colored polycarbonate, but a curved screen is a great start. I'd be nice if this came to pass.

Would they even still be using nokia.com let alone proto.nokia.com?

Those codenames popped up in the Nokia-era, so it's possible.

Maybe is just me, but I hope that Microsoft instead of investing their resources on their own for a curved Lumia display, they invest on building a solid premium quality phone with metal and glass instead of polycarbonate, also if it is waterproof better. This requires investment on R&D since phones made of metal and glass are not waterproof, while the curved displays is something already Samsung and LG provide so Microsoft perhaps could get these pieces from outsourcing just like Apple does with Samsung.

That makes wireless charging impossible. You need the plastic back for it to work.

Curved screens are a short-term fad.

Luckily new flagships should be yearly ;)

Yesssss on screen buttons

New flagship would be awesome. Am I missing something with the curved screen? Is there an actual use or is it simply a "cool" marketing gimmick?

It feels absolutely amazing in the hand, try holding an s6 edge!

Wow, a 7? And a Lumia with a name and no numbers??? There is a god.

It's a codename, not marketing ;) Could be 940 and 940 XL but AFAIK, it has not been settled.

Numbers are actually more useful. It's immediately clear where the phone stands in relation to the rest of the Lumia ecosystem (generation as well as entry/mid/flagship). Getting rid of them would seriously confuse the branding.

But names are more memorable in speech*, which is why I have suggested nick names for flagships for some time. *I have no actual data to back this claim though

pls dont forget the accessories...people who going to buy high end phone are expecting the availabily of good accessories....!!!!!!

Are we seriously picking up on this Edge gimmick? That's fine as a niche category, more diversity in the ecosystem is great. I just hope it's not required of the flagship. But eh, who knows, maybe if I'm forced to use it: I'll love it. But for now, it seems more like a gimmick to me. (And for those who say it gives you info when the phone is in standby: Glance does the exact same thing, so...)

Have you held the galaxy s6 edge?? If you do, you'll probably love the feel of it, I really did

Eh, I'm not sold yet. It has potential, but I'm not sure if it adds enough to the experience at this time.

I LOVE the curvy design of the 920. It makes it so much easier to pick up off a flat surface and so much more comfortable in my hand! The screen on the 920 is actually flat, but the curvy body makes it seem curved. And I kept a bodyguardz (?) screen shield on my for the first 18 months of its life. The screen shield eventually got grungy and I should have replaced it instead of removing it. It might have saved me from very bad damage recently.

Screen is flat, the glass is curved on the sides.

I found the Samsung implementation of this to be flat out annoying. I'm not excited about this being on my next flagship.

I thought the galaxy s6 edge felt amazing in the hand

Nice! Im not actually a fan of curved edges, but an almost bezel less body would be appreciated.

If you try to hold the galaxy s6 edge, you will be a fan

I believe Microsoft will extend the graphical identity to the main buttons, so IF this is real we are at least not looking at the final design.

I hope its not a flagship. Looks cheap like a 6 series and below Posted via the Windows Central App for Android

Im fine with the curve...issue is the companies making proper tempered screen protectors like BodyGuardz are only doing it for the iPhone and Samsung's. Microsoft needs to offer their own if the third parties won't.

I think 7 is a bit high...

the picture like a pretty ugly phone, kind of like the low budget ones. im losing track of the model numbers at this point. Ive been happy with the 1020 and now the 1520. The design on the 1520 is beautiful, I hope they maintain the trend of style that Nokia had given them. Lastly, get rid of circle photos and hamburger menus. thx

I hope they keep wireless charger

Curved screens are such a gimmick. Just for bragging rights to say you have a curved screen. Serves no function whatsoever. The slight bevel is nice, I love the screen on my Icon. But anything more is useless. Unfortunately, though, Microsoft really has to copy some things of the other smartphone manufacturers to try to gain some traction, then maybe they can go back to adding unique features.

Dude, have you ever held the galaxy s6 edge?? It's incredible! It's love at first touch

Why does it say "Nokia" on that display?

I think Windows Mobile is going to end up as a stand alone system that you load onto your phone like Microsoft Office. It will run on any phone and you will load it up like Windows on a Computer.

I hope the dimensions are not true. I love Windows Phones really much, I would call myself an early-adopter, but I don't really want that big high-end models :/ I have my 5" Lumia 830 for now, as I didn't want to spend money on Lumia 930 (AMOLED, missing Glance, etc.), and I can't say it's a pleasure to work with it. Anything over 5" is not "everyday everywhere" usable device. Sorry for my point of view.

The logos. For back button and search. They are not Windows 10 style.

Hmm. No slot cut out for the microphone.

Man, the more I learn about these phones the more it looks like MS is trying really hard to make a crowd pleasing device and is checking off all the boxes... problem is that with my work there is a lot of pressure to get an Android device with hangouts and networking apps for troubleshooting. I really want the new flagship, but it is sadly looking more and more like it is not a real option.

Anyone else just want the ASUS ZEN PHONE 2 running WP10? That's what I want. At the $299 price point for their loaded version...PLEASE!!!!

The more I look at the photo, the more it looks like the glass panel on my Lumia 830. If you look carefully at the left edge, it's actually a bit darker under the glare. The 830s glass is slightly curved too so what appears to be a super curved screen could really be an illusion caused by screen glare. BTW, the positions of the capacitive buttons look identical to my 830. The picture does hide the curved corners and there's no speaker hole. Of course that could be drilled later in the manufacturing process.

The original WP7 flagship Lumia 800 had screen edges as curved as that. Doesn't anybody else remember?

As curved as the galaxy s6 edge?

I need wireless charging. No flagships otherwise. Why MS abandons this feature? Competition doesn't have it. And it's just that tiny sticker to include... Hope it will be in the final product.

First of all, who said Microsoft is abandoning it?? And also, many other Android phones have it

Umm... This looks exactly like my 920 glass. Nothing special here.

No, this is like the galaxy s6 edge

Is it real pictures of upcoming Lumia 940?? I really accept the same/similar design of Lumia 930... http://www.windows10update.com/2015/05/first-leaked-image-of-the-lumia-9...

I can't tell you if this is is legit but i can 100% tell you that the 640 had http://proto.microsoft.com on it so i think this is an Older Picture (But Maybe these Device are in Testing for a Long time now cause we don't saw a Flagship since the Icon/930 which was Ready for Relese at the End of 2013...)

Is it curved display or just curved glass like Lumia 920 at the sides

Cause only the Glass is shown no one Knows at the Moment.

They need a better camera than the combined features of the 808 and 1020 for it to be a flagship worth upgrading for.

Flagship material right there!

Curved what? The GS6 edge is more slippery than some people's tongue.

I'm going back to Android for a while. My 920 is aging, and windows 10 will be a while. I'm going to get an LG G3 next week as an interim phone. No point going for a brand new flagship and the G3 still looks seriously good in the hand, and the specs still stand up. Also, I can get it off contract for less than a 930. I've been playing with my wife's Note 4, it's a great phone. Android is quite fun if you're a PC guy. There's a lot of tinkering and customization. Productivity wise, the OS is a bit of a dog, but that's because I'm invested in the microsoft ecosystem. The fact that Outlook on Android sucks ass will kill me. Email is so smooth on 8.1 with my outlook accounts. Anyway, I'm hoping Microsoft does something compelling to bring me back for my daily driver. Meanwhile, I'll keep up with the insider updates on my 920. I'm not sure I like where things are going, but I'll wait for the final product.

I think it may an older prototype. I already used a prototype device from Nokia and "proto.nokia.com" is not used anymore and it is http://"proto.microsoft.com" with exact same data& options.

What about secure login like fingerprint or windows hello?
Any info on that?

I, for one, do not like curved screens. The Icon has one and finding a screen protector that fits is a real pain. You either have to get one that's small or have it hang at the edges.
Windows Central Newsletter
Thank you for signing up to Windows Central. You will receive a verification email shortly.
There was a problem. Please refresh the page and try again.