Amazing Weather HD updated to support transparent Live tiles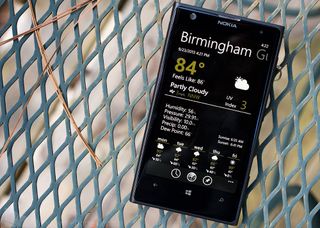 We all have our favorite weather apps. Some folks like simple weather apps that display the weather in clean layouts with minimal distractions. While some of you may like detailed information and prefer more in-depth weather apps. And a lot of you really like Amazing Weather HD for Windows Phone. We've covered many updates to Amazing Weather, but we feel like this is an update a lot of you really want – especially if you're rocking Windows Phone 8.1. Ready for transparent Live tiles?
That's right. Head into the Windows Phone Store and you'll find Amazing Weather HD sitting at version 4.3.0.0. Any new features? Not really, just support for what's probably the coolest feature in Windows Phone 8.1. Transparent Live tiles of course. Check out the screenshots below to see how Amazing Weather HD looks in its new digs.
Head to the Windows Phone Store to download Amazing Weather HD. There's a trial available, otherwise the app is yours for $1.99.
Thanks for the tip David!
Windows Central Newsletter
Get the best of Windows Central in your inbox, every day!
One of the best weather apps.

I was waiting for this. Now my weather wide tile is back on the top :)

+920 yup, this one was pretty much my #1 priority

Haha, I was like "Sweet, how do I update". Turn on phone--tile is already transparent. I love Windows Phone 8.1's auto-update. And good on Amazing Weather for just automagically changing your settings to enable it!

Waiting for this! Only four more tiles need transparent tile support on my start screen . Woohoo!

Good weather app! But I think Bing weather is more beautiful

I agree... But I will put Bing weather back in its place once they also add transparent tile support

You can try transparency tiles, as I know it has already add Bing weather to the transparent family in his last update. But you may lose the live title at the same time.

Or you can also try ClearTiles :) http://www.windowsphone.com/en-us/store/app/cleartiles/57a87db8-d760-462...

Same here. I beliee Bing Weather is sweet, but like chsoriano said, I'll put Bing Weather back once it adds transparent tiles.

Bing weather is very nice and I want to use it, but without auto updating location (or if it has it, it needs to work consistently) and the fact that the recorded temps are usually pretty inaccurate for my area, I'll stick with Amazing Weather HD. Edit: replied to the wrong person, sorry!

auto updating 'current' location Done editing. Good night all.

Agreed, they're is no auto updating for location based on GPS.

I got bored of it, because in my place it never showed anything except haze in the evening and fog in the morning..
AWHD shows a different image at day and night time, with nice images for cloudy day and cloudy night. But its a personal choice, bing is nice too.

Geeze, all these new apps coming out, old ones getting new features, plus the fact that I can now enable three columns on my 1020... My Start Screen had changed more in the past hour than it had for the past year before 8.1, much less how much I've been switching things around every since I got the update a week ago. Crazy.

I use so many wide tiles with 3 column view.

Same. They used too be too much of screen real estate hogs, only the most important of apps were to be wide tiles. But now with three columns, I've got so many wide tiles, and I still want more! Lots of mediums too. Very few smalls at this point, which is funny, since they used to dominate my Start Screen. Love 8.1!!!!

Exactly what's going on with me.

+920. Its been over a year since I've actually changed my Start layout. And now all of sudden, I'm re-arranging things almost daily. The three column feels a little cramped on my 920 but I'm getting used to it. It's good to have all the information I want at a glance.

Yeah, so nice to not have to scroll to see all my most important Live Tiles. It's all right there, and if it isn't: the Action Center is a quick swipe away.

Like it but love Bing weather

I liek Bing too, but I use Amazing Weather HD most for its live tile and lockscreen. The lockscreen lets you cycle through an entire album of photos instead of having to pick 1, then it overlays the weather at the top. Very nice!

Ahh, good, a weather app receiving an update.
We sure do feel the sting of the app gap here, don't we folks? We just simply don't have enough weather apps for Windows Phone. :P

2 comments! Your such an inspiration!

I have twice as many things to say this time 'round. ;P

The selection of fart apps is rather disappointing.

Time to put this back on my start screen! 56 Mb update.. That's kinda big.

Why aren't more devs giving the option to use transparent tiles or not? You might want to have certain apps keep their normal tile but can't since they are all transparent and can't be disabled.

Talk to your specific app developer. Some developers are indeed making it a choice, it's up to them. But for most intents and purposes: Transparent tiles are better, because they'll let you see your backend background. And if you're not fond of backgrounds, then at least transparency enables your tiles to quickly reflect theme changes.

Maybe I'm weird, but I like the look of the start screen being mostly transparent with a few scattered non-traparent tiles around. It kind of reminds you that these are tiles and not text over an image.

Fair enough, and perfectly understandable. Again, you'll have to talk to your specific app developers about such functionality.

Not exactly an option from actual apps, but for some apps it is possible to have a transparent tile using another app or use default tile if app has a default non transparent tiles. You cannot do this for all apps though. Have a look at ClearTiles and you may understand what I mean. http://www.windowsphone.com/en-us/store/app/cleartiles/57a87db8-d760-462...

So I found out that, if your tile size is the smallest, then the tile doesn't become transparent. There has to be a tile of at least a medium size to be transparent.

That's not true. Ensure you customize your small tile with your accent color and transparency enabled

Hmmm even with wide tile its not transparent??? Any suggestions? I checked the box.

It depends on what you choose as your tile front and back. If it's the pictured style, then there's no transparency; if it's your accent-colored style, then it'll be transparent. You can have your wide tile to only be transparent by choosing the accent-colored style on both sides, or alternatively choose the "Disable back tile" option.

For me amazing app is really amazing.

Nice but it keeps asking me to enable GPS to add a city across the country. (scratches head) so in other words I'm stuck with one city, mine.

Doesn't work, nothing is transparent :/

You have to have a background setup already. Then you have to go into the app, hit the pin button at the bottom to open the live tile config. The change the tile type to one that has a solid color background. If you use a tile with an image background, it will not be transparent. I have mine set to front tile with an image, and when it flips over, the back is transparent.

Finally! After using viether but it doesn't work properly. I know it's free. I downloaded it because i want that translucent tile. But know, my weather app, amazing weather HD, support this one!! Woohoo

My transparent live tile doesn't show the weather...its just a window to the wallpaper...

Fixed it. Your move, Bing.

Vieather8 is also updated to v 2.2.2.0. The transperent live tile is not working in it now. (At least for me) Update: After reinstalling... its working fine and bit faster too.

Hi Sam! Thanks for the great news...unfortunately after the update my live tile is broken. I got it to be transparent but when I pinned the updated app to the start screen, I get a tile which is blank on side 1 and says "Please pin the tile from the app!" The prior version of the app worked great but without transparency. Any ideas on how I get the update to work and pin to the start screen correctly??

Just unistalled the app and then installed fresh copy from the store. No joy...same blank transparent tile on side 1 and same message on side 2. maybe this is "not ready fro prime time"!

Did you pin it from inside the app? There's an option in the application bar. If you pin it from the app list, it doesn't work.

Thanks aaa6112! I hadn't pinned from within the app...did the pin from the app list. Once I figured out which templates to use for the transparent look, it works great. Appreciate the assist!

I updated and now it doesn't want to pin the live tile..

Did you try the idea from aaa6112? Pinning from inside the app on the app bar worked great for me!

Never. I wish I could get my money back. "Amazing" for this app is a punch line. Kills live tiles like a can of Raid.

Have been using this app since WP 7 on different devices. Never killed tiles for me

concur, Amazing Weather HD has been my favorite weather app for quite some time. I got it while it was free, once I am gainfully employed I'd like to throw some money their way...

Sam, I can tell by looking at your start screen that we ran with the same picks for Amazing Weather HD and have come to the same conclusion for the transparent tiles. However the transparent front tile has just a bit too much information. I'd like to have it be very similar to the older style with a larger icon of the weather or moon/sun or whatever and no low/high temp indicator. My aesthetic sense is usually "keep it simple stupid"....

How do you find out what apps get updates or are in the pipeline before most anyone? Just curious

A fair amount of time it seems they are tipped off by readers of the site, this article credits David.

Its looking awsmee yeaahhhhhh ;) ;) ;)

The transformation to WP 8.1 at the top of my start screen is complete. Now, if I can only get Cortana to do that paper clip trick thing...

One Note and Music need to Update - then I will have all the transparency I need.

Not OneNote, but Music, Video, Games and all those nokia apps can have transparent tiles thanks to ClearTiles app. http://www.windowsphone.com/en-us/store/app/cleartiles/57a87db8-d760-462...

Dear All, We are excited that the update is live and a lot of the users already using it. Some users are having issues with pinning the tile from the App and that causing the app to crash, we are trying to identify the issue as not all the are affected, mean while if you are affected by the issue please try to remove the city and add it again.

Thanks Sam! Was waiting for this one. Updating now...

I have the transparent box checked but still not working on my start screen. Should anything else be checked to get the transparent tile?

I'm having the same issue.

Hey OP, what is that Nokia Motion app on the screen? Posted via the WPC App for Android!