Amazon bumps up the requirement for free shipping to $49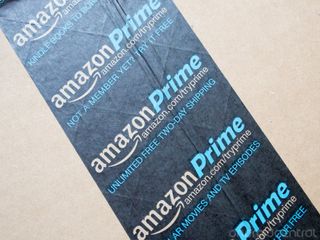 Amazon has quietly upped the price requirement you need to hit before you're able to take advantage of free shipping. That is if you're not a Prime member, of course. It used to be the case where you'd need to add $35 to your cart to get free shipping, but this has been increased to $49. Your order is also delivered at no charge if you have $25 or more worth of books in the cart.
It's clearly a move to get more customers subscribing to Prime, forking out the subscription fee each month to take advantage of available services and unlimited two-day shipping. Should you be rocking Amazon Prime (opens in new tab), you needn't worry. This only affects those who don't.
See Amazon's Shipping Terms (opens in new tab)
Thanks to Robbie P. for the tip!
Rich Edmonds is Senior Editor of PC hardware at Windows Central, covering everything related to PC components and NAS. He's been involved in technology for more than a decade and knows a thing or two about the magic inside a PC chassis. You can follow him over on Twitter at @RichEdmonds.
Meh. I don't shop at Amazon much anymore since they were forced to start collecting sales tax. Their prices aren't anything special anymore, either. The good days are over.

Agreed, since the taxes hit in Florida I reduced much of my Amazon shooping. Add in the whole Condeferate Flag Issues and I am close to stop using them entirly.

I just bought stuff without tax....

I think it depends on the state and where its shipping from

Cool! Here in Italy we've a sales tax, called IVA, of 22% of the price for ALL products... Damn taxes!

Wait, you're pissed at Amazon because you need to buy all of your confederate flag gear elsewhere?? I'm genuinely curious how much of an inconvenience this is.

Windows central has some very scary ultra conservative characters. They only come out of hiding on rare occasions except for that time a political article was posted on here.

Sales tax gets applied once there is a distributing warehouse in your state.

Sales tax only applies only if the item is being shipped from same state you are in regardless of who the seller is that you are purchasing from on amazon.

Not true. I had tax on my order the warehouse is the next state up. So what gives then? I did notice though only tax was done on items sold by amazon. The other sellers had no tax.

How is it free when you're paying for it? Nothing is free in this world.

I'm done with Amazon for the most part. Even with free shipping they delay the order for days before it goes out. Then it seems to ship the slowest way possible. I agree, it's a move to force you to Prime.

For me, if Amazon says that it'll take 7 days to arrive, it'll take only 4-5 days with the slowest shipment time.

The only stuff I've ever had issue with was merchandise not fulfilled by Amazon. But otherwise, I agree with SuperMarioPlayer. Stuff usually comes pretty quickly

I have noticed this too. Even when the item being shipped is in the same city as yours, they make sure it takes at least 4-5 days frustrating you to go for Prime. I live in Phoenix. We have a big Amazon warehouse here. Pretty muct everithing gets shipped from Phoenix to us. 3 years ago, I would get the items next day with non-Prime shipping as its the same city. Not anymore! No matter what, it always takes 5 days for me for an item to get shipped within Phoenix.

I dropped my Prime this year because most of my Prime orders in 2015 were taking 3-4 days, which isn't much better thanwithout Prime. The other Prime "benefits were nothing that I cared about, so it wasn't worth the annual fee.

This really sucks for me! I usually keep everything in my cart until I reach free shipping, so now I'll need to buy more, or just bite the bullet and pay for shipping here and there. I'm still not a fan of $100 for free two day shipping since I only order so much in a given year and don't own a Kindle.

I do the same, and key keep bumping from 25,30,35.... One good thing has happend that now because item stays longer in cart most of the time, I cancel it out :) Also all local store matches Amazon prices so, I care less and less.

But you also get other things like a pretty decent music service. Which is a nice thing unless you have a WP =(. But for android or ios its nice. And you can share it with people in your house I think too.

I don't care for their music service, so for me that wasn't a perk.

@Chaotikchiken, how is it free when you paid $100???? I'll give you this Lumia 950 XL for free, but you have to give me $400 first...

Same here amazon is lame, i sold a iphone which someone gave me and after four months, the person who buy the phone from ask for money to repair his screen. And since I did not respond. He open claim and got his refund and keep the phone. Such a scum bag that person and shame on amazon. So basically I gave my phone away for free. Never ever buying from amazon.

That's why you have to state your return policy.

The buyer may be asking for too much, but you as the seller have every responsibility to reply. You are lucky the seller didn't leave you bad ratings.

Oh hey walmart. Did you miss me? You guys still price-match right?

Agreed, I have been shopping around and Amazon is now longer the lowest price vendor. It all come down to the best priced shipped and often Amazon is not the one. I don't like this tactic, it only encourages me to go else where.

I'm have Prime and love the experience of shopping with Amazon. Receive products almost weekly and I'm more than satisfied with the price and convenience of the items I buy.

Interesting the negative comments about Amazon. I've never had a problem with them. Customer service is far better than anything I have received from a traditional store. And I've been a Prime member for years. Prime started off just as a way to get free 2-day shipping, but has expanded to include other services as well for no additional charge. Prime is a bargain. In all the years I've used Amazon I think I've had a couple of packages that were late and anything I've ever had to return was done with no questions asked, most of the time receiving the refund immediately before they even got the product back. I agree they are not always the low price option, but then given that I don't have to fight LA traffic, hope that the local store has something in stock (website says they do, but they don't, that sort of thing), and being able to buy some rather obscure items that would be almost impossible to find locally, without ever leaving my desk, and someone drops it at my office desk or my front porch a couple of days later...that's worth a premium to me. But it's always smart to shop around. If the price difference is too much I have no problem going elsewhere, but Amazon is typically my first stop, if only to read the reviews.

I agree especially when one of those extra services is Amazon Prime Video, which I can access on my Xbox, PC, Laptap, Tablet and Phones (Hopefully Windows Phone Coming Soon) but yes as a whole, it's a good service!!

Yeah I just watched a couple of movies on Prime that weren't available on Netflix (Ex Machina and Interstellar). And some of their original series are pretty good too, like The Man in the High Castle.

I always have seen Amazon Prime Video as a marketing tool. They give season one and two away but make you buy 3-9 or something :). But their Prime Music is pretty decent too, and I think most people dont use it much.

Over here (I'm in France), if I accept not to have my order delivered the next day (instead of your 2-day US delivery) but in 3 to 5 days, I very often get a one-euro price cut. So, since most of the time I'm not in a hurry to get my stuff, I save more than Amazon Prime costs me.

They have the same policy in the US.

I've had all sorts of problems selling my stuff on Amazon, I've said a few things without any problems, but recently they have all these rules about selling particular products, plus they do take a hefty fee and won't let me offer free shipping unless I change to a professional seller, however I'm the other hand, I do buy most things from them, people here are right I don't see why I should pay for shipping when I order so little, but lucky for me, my brother has prime because he orders things all the time, I think if you want to take stop paying for shipping, wait till they have one of their sales where they offer Amazon Prime for £/$50, which makes sense because you get free shipping for a year no matter what you buy, not too mention 2 hour delivery of you live in one of the cities they offer that service in.

Yeah, the fees to sell on Amazon are pretty ridiculous. eBay is more reasonable.

Hey Rich, you might want to re-word this part: "It's clearly a move to get more customers subscribing to Prime, forking out the subscription fee each month to take advantage of available services and unlimited two-day shipping." You aren't paying a monthly fee for Prime but rather an annual fee.

The picture needs to be changed. This doesn't affect Prime members, but one would be misled into believing otherwise if he or she saw that picture before reading the blog post. Posted via my Nexus 7 2013 using the Windows Central App for Android

I'm not an Amazon Prime member but I get Amazon boxes with the Amazon Prime tape on it anyway.

last month i bought a fake manuka honey from the best seller there, it´s complete different in taste and color compared to the first purchase. even worse all 10 bottles have different trademark logo from the first purchase. terrible, the problem is that i imported them all to my country, it would take forever if i want to return these things.

That means I'll just wait a little longer to bundle items I want. No big deal.

I'm a bit bothered by this article. I was wondering why it was posted when it has relatively little to do with windows as it is just a shopping site. Then I noticed that the link saying to "See Amazon Shipping Terms" actually does more than just take me to the terms. It sets the cookie on my browser so that this WindowsCentral gets credit for my future Amazon purchases. I don't have an issue with the site getting credit for my purchases when the link is for an actual product, but when the link is simply directing me to read the terms on the Amazon site the type of link seems wrong to me. This makes me feel like the purpose of this posting was simply to get people to click through and set the cookie rather than provide real infromation.

My guess is that shipping is becoming more expensive in the US. Amazon.ca still has a $25 requirement.

Which is odd considering the drop in gasoline/oil prices...someone is trying to line their pockets with more profits.

Or they want more people to get Amazon Prime :).

Prime is well worth the expenditure. Yes, you still have to price-watch but the convenience of the delivery time and if necessary the ease of returns still makes Amazon a good source to buy from. My only beef is as a Canadian customer the Prime benefits are completely lacklustre compared to US Prime.

The subscription fee is annually not monthly.

I like using amazon prime but only because I get prime for $50 a year with a student discount. I graduated college almost two years ago but I still get the cheap price. Posted via the Windows Central App for Android

Prime is the only way to go with Amazon these days. The wife loves the video content with Prime. I see sales tax on around half my purchases.

Add $25 book, add other items, get free shipping. return the book.

Yup, cheat the system to save yourself $5. Nice.

You can bet that Amazon has cheated a few times their self.

You need to spend 49 buck to pay for the 5 pounds of cardboard encasing your item. I swear I've never seen such a wasteful company. I can order something the size of 9 volt battery that comes in a box that could hold a size 12 pair of shoes. I litterly cringe with guilt on some of the packaging because we don't actively recycle like we should.

We've been using prime since I came out and has been worth every penny. We don't use their streaming services either. The two day shipping is about how long im willing to wait without going to a store. We ship lots of gifts so this helps as well. I hated buying something, paying shipping, then realizing I needed one more thing and having to pay shipping again. Their customer service has always been top notch when I've called for assistance as well. Ordering games, I always get them on release day which saves me a trip to the store. Preordering games is a snap on amazon and don't have to put a deposit down. If you decide when release day rolls around that you don't want it then just cancel.
Windows Central Newsletter
Get the best of Windows Central in in your inbox, every day!
Thank you for signing up to Windows Central. You will receive a verification email shortly.
There was a problem. Please refresh the page and try again.