Amazon Video is quietly rolling out a new app for Xbox One
The Amazon Video app is set for some major improvements on Xbox One.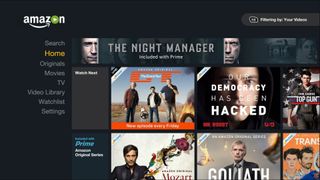 Amazon Video customers who watch on Xbox One will have a major reason to celebrate shortly, as a major app update is on the way bringing 4K HDR content and a streamlined interface to the console.
While this app update doesn't seem to be available in the Xbox Store as of yet, users of the current app in the US should be able to find it by going to the "Ready to install" apps list in the Games & Apps section on the dashboard. We're unsure when this app will roll out to customers in other territories, but if you can find it outside of the US, let us know in the comments!
The app appears to be UWP-ready, but there is currently no sign of it on the Windows 10 Store. The new menus are far more responsive than the previous app. It can be a little slow to buffer compared to the likes of Netflix, but it does deliver rich 4K UHD HDR experiences that Prime subscribers with a Xbox One S and a compatible TV can now take advantage of.
Image 1 of 2
Hopefully, we'll eventually see the app roll out more broadly soon, in addition to a version for Windows 10 devices. Are you an Amazon Video customer? Are you satisfied with the service? Let us know in the comments.
Thanks Christian Jolicoeur for the tip!
Windows Central Newsletter
Get the best of Windows Central in in your inbox, every day!
Jez Corden a Managing Editor at Windows Central, focusing primarily on all things Xbox and gaming. Jez is known for breaking exclusive news and analysis as relates to the Microsoft ecosystem while being powered by caffeine. Follow on Twitter @JezCorden and listen to his Xbox Two podcast, all about, you guessed it, Xbox!
Nice. Was just thinking how junky the current app is. I hope it's uwp and comes to mobile too otherwise Netflix is still better. It would only seem obvious to have the app on win 10 too. Will be more happy with prime if this all happens.

Hell yeah! Im totally buying an Xbox One S now.

Looks like the Fire TV interface somewhat. Not a bad thing at all in my opinion.

Agree. I prefer the Fire TV interface myself. While the current one isn't terrible, it's certainly better than the one on Roku.

And does this app work for international users of PrimeVideo?

Do they still block you from being able to purchase/rent from within the app (ie, pre-purchased or prime access only)? I mainly just use it on my Roku instead because it is gimped on the xbox.

This x1000. I used to rent all the time through Amazon on the PS3. I hate having to rent/buy on a computer to get it to show up in the Xbox One app.

They probably do that because they don't want to share proceeds with Microsoft through the Store. I didn't even know that you could rent through Amazon largely because of this. I don't sift through their site to try to find out what I can do with it. Would probably have rented from them if it were in the app.

No, you are able to rent/buy through the app.

Actually I spoke too soon - you can filter by rent/buy but you can't actually buy them through the app - you have to use your phone or the website.

I hope they change the way content is categorized. The current app is pathetic in regards to navigation and locating available content.

They did this for the Roku app as well. Although depending on the model, it tends to run like crap on it. Hopefully this is an improvement for XBone. That old one was terrible.

Ha ha! Writing it "XBone" makes me think "X-Bone"...

updated this last night, interesting part is that if you do the look at app in store option, it is different than the original Amazon video app. Also, it says only on xbox, but if you look at screenshot section, you'll see PC and xbox in the dropdown. Hope that means its coming to PC (and hopefully phone) soon!

Finally! The old app was garbage!

Now all we need is Vizio smartcast support.

Got it in the UK - colour me unimpressed. Scrolling up/down is very, very sluggish, as is going in to / out of the categories. They're not using the standard Xbox keyboard either, which renders Xbox app on phone / tablet less than helpful. I'm pleased they've done this, it is very mich needed, but it still needs more polish imo.

I wonder why I can't see it... T~T

This better be true UWP and come to Win10 PC/Mobile. From there one can only hope this is the start of them getting on the UWP train and this will be followed up by an Amazon Music app, and a UWP Kindle app.

Hope it makes it to the Windows 10 PC/Mobile stores too!

Is there anything on Prime that makes it worth getting?

Actually. There is a lot of great content. At least in the US. Not sure where you are. Quite a few good originals along with a lot of old HBO content.

Not really but this COULD be a step in the right direction. I'm sick of them ignoring Windows 10.

Yes prime is pretty good, they seem to be investing heavily on producing shows and of course there's the grand tour for top gear fans.

Can't find it in the US store on my XB1S, bummer. Can't wait to be able to watch 4k HDR Grand Tour.

Looks like the updated Roku app

Good to see the support from Amazon. If only it were a UWA...

Why quietly make some noise tell the world you support Xbox UWP and Microsoft ecosystem damit !

Microsoft does support the Kindle App Store, so it does make sense.

Updated it in the UK and was pleased to notice it just focuses on prime movies an TV. Before I would get a mixture and on more than one occasion had my aunt ordering paid for films. The same as on the fire stick. But by toggling the right button on the joy pad it gives the option to display all apps just prime or rent and by. I like this app

Will this update over the old app? Canadian whom got impatient waiting for the rollout here and don't want to have to switch to the US store again.

I upgraded my amazon service but the video is so Windows Phone unfriendly that I will drop it. Netflix offers nearly the same content so there is no real incentive to move to the amazon service specially if no wp app and no support for edge streaming in mobile. Really disappointed by the Amazon service.

What's funny is that my TV will stream Netflix in 4k but the regular Xbox one can't. Even my Blu-ray player will upscale to 4k disc movies and stream 4k where available. But having this means the one s is not really needed for me.

Well, the Xbox One S pre-scales everything (very well BTW) to 4k including games and Blu Ray and also is a cheap 4k/UHD Blu Ray playerthat supports HDR if your TV does... In any case, this is big news as Amazon hasn't been available in 4k/HDR for anything but Fire 4k, some smart TV's, UHD Blu Ray players and Roku (model dependent). So not sure if you meant to say Amazon instead of Netflix, but the One S DOES have some nice goodies :)

Does the new app work with the new international primevideo.com service? I am located in Estonia and current Amazon app shows nothing (except GT), everything is geoblocked. I can view primevideo items on website and iOS app, but not on X1

Update is available in Germany, too. The new app is super sluggish, not really an improvement :(

Okay, is it ever going to be available on Windows Mobile? Will they find a way to have it on Xbox and PC but never Windows Mobile like everything else? Tune in next time on, "How Microsoft #@%&ed you and Windows Mobile by pulling the plug every time there is a speed bump."

If they can make apps for XBOX, then they have made an app for W10.
​I'm a Prime member, but am considering dropping it since the price has gone up and many of the new "extras" are not available to me.

Just got an email from Amazon asking me to uninstall the new app and use the old one instead. Like I would actually do something like that. LOL!

Where are the PC and Mobile versions? Argh...

amazon prime video just came to canada should i bother getting it?

I think they removed it again, since it not in my Ready to Install apps. Even when I change the region to USA, it foesn't show up. I'm in the Netherlands btw.

No, they are not rolling this out to anyone. The brief appearance on XBox One was apparently a mistake and they have pulled it back. If you were lucky enough to get the update initially, it will at some point downgrade you to the old app. I really wish Amazon would get with this. Would be nice if they would support Ultraviolet as well..
Windows Central Newsletter
Thank you for signing up to Windows Central. You will receive a verification email shortly.
There was a problem. Please refresh the page and try again.