Amazon's new app also works on Windows 10 Mobile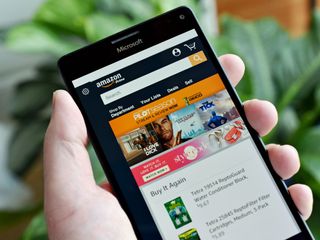 Amazon's newly launched Windows 10 PC app also works on Windows 10 Mobile, making it a true UWP app.
The app's description in the Windows Store states that officially it is just supposed to work on Windows 10 PCs. However, according to both tips and our own experience, the app can also be installed and used on Windows 10 Mobile phones. As we mentioned earlier, Amazon decided to develop a Hosted Web App, with Microsoft's Project Westminster bridge tools, to create an app based on its website.
The Amazon app may be available in the Windows Store, but it doesn't take advantage of most of the features that could be used with Windows 10 apps. It's possible more of those features will be added in future updates.
We did notice that pinning the Tile to the Start screen causes it to flip to 'white' after a few minutes instead of the logo. Clealry there are a few bugs on this initial release that will hopefully be patched in the coming days. Unfortunately, the QR scanner feature, which is what most mobile users want, is not here either.
Download Amazon from the Windows Store (opens in new tab)
Thanks to Rob for the tip!
I think a Hosted Web App is more than adequate for Amazon.com. The previous app was way less awesome than just using the mobile browser. I'm sure a true UWP could offer some great features (such as barcode scanner), but this gets the job done very well.

As long as it saves me from having to open Edge on mobile, I'm fine with it. They could do camera stuff if they wanted, so maybe the QR thing will come back. Baby steps.

I feel like they will in time. I'm guessing (while hoping) that they released the bare bones version to ensure that Windows phone users at least had something. And will build slowly but surely to something admirable. We shall see.

They gave WM users exactly what they already had; you could've pinned the website to your home screen, now it just opens a container rather than edge. An abomination if you ask me, but it also proves a very valuable lesson; apps on pc's are useless! Apps on mobile phones got popular because the mobile websites were not responsive for small touch screens. That problem never occurred on PCs, and hence there is very little value in having PC apps for these website based companies. And now, even the websites are getting more and more responsive. A big tech news website in NL and BE deliberately chose to retire all their apps so they only had to maintain one version (mobile website). And it works great! Sure, no transparant live tile etc but these kind of companies live of their website. If that is working equally good as an app or even better, why maintaining 2 or 3 apps? The best way to provide the same experience across platforms is still websites. Posted via the Windows Central App for Android

You are partly wrong and partly right. On smaller screen PCs (7 and 8 inch) I use Apps whenever I can. On my 27" desktop I'm fine with web browsers 98 percent of the time.

Maybe HTML5 is the end result for everything?

I like this Posted via the Windows Central App for Android

The thing is that with these apps you can implement many UWP features, so they can add push notifications, barcode scanning etc. Until they do the app isn't so much worth using over pinning Amazon to the home screen but it could change, I think the site looks a bit weird in the app at the moment as well, things aren't aligned well. The home screen is squashed up to the right for example

The Apps have one advandate: Notifications. However, i would need notifiations from Facebook and FlickR (which has no official Windows app, but good 3rd party), but not really from a shopping site. So independent from device, i just use the website. PS. the Windows (Mobile) Audible App is totally awesome, i love using it.

Why? Edge is great on mobile :D

It shines here and there, here and there. Lol

I have no problems with it. But of course, it doesn't mean others feel the same.

It's definitely a great improvement considering where it started. I don't see it as a "bad" browser per se. Just has a little ways to go, IMO.

Yeah. It's not perfect of course. But the swiping navigation they added back with RS1 is amazing for example :D

True! Albeit, I always seem to mistakenly use it when I'm simply trying to scroll up or down. Sounds nitpicky, but I would personally appreciate an option to use swipe navigation or not because I've mistakenly navigated to a previous webpage in the middle of filing out an application or sensitive-submission information that kind of screwed me up. Lol.

Yeah, there should be a toggle for it :D

Sorry, I accidentally reported you, trying to upvote you! WindowsCentral team, please ignore that! But yeah, I wish you could toggle swipe to go back, it always messes me up on Edge mobile

Hopefully it is in the works! Guess I should head over to the feedback hub and mention that. ;-)

I agree. I'd like more. But let's start with this. I guess Prime Video playback would be a pipedream. Ugh. Amd while it's nice to have, who made the splash screen? It was to much to ask you to make a separate one for mobile so we have a FULL splash screen? Pretty lazy.

Prime everything. Exactly. Esp. Prime music which as of now is the only streaming service that gets past my work's firewall settings. sigh.

I use the app Music Prime to steam my Amazon Music collection. It's basic, but it works well enough.

Prime video works for me if I browse in Edge using desktop mode.

Really? Great to know! Thanks. Much appreciated. Edit: Actually it doesn't work no matter what on my 950XL

The size of the image used in the splash is actually the only size you can use, but you're right that they haven't made the background white so it looks weird. Maybe they only tested on a phone in light theme mode

I have thought about it and I am not sure how feasible this whole app model is. How many apps does one need to install on a device. I think, and please feel free to disagree with me, having one software (the browser) installed on the device and just reach different services is a very functional strategy; compared to having a different app installed for every single thing you need to do. While on the subject, things like an ebook app, on the other hand, will be useful. So hopefully, they'll update the kindle app.

Its probably better than the old app anyway. At least they didn't leave us with nothing.

Not sure why you say that as edge is a pretty decent browser. I checked this one and it just ain't right. They shouldn't use it as starting block either since performance won't get better.

Need barcode scanner. Do you have to log in every time? If they are replacing the app, why waste time letting everyone know the app was retiring. Then a few days later release another app? Whoever is handling pr and these decisions should be fired.

I know its better than nothing, but I've had what this app offers for months now with an app called App it! which basically allows me to pin any web site to the start screen and open it as a "web app" in full screen. It even offers more functionality as I can share the current page with anyone or refresh the page. However an app like this one is truly like a slap in the face to Windows users. Any beginner in UWP apps development could be able to replicate the same app and build it under an hour in Visual Studio. It only need the side bar, a splitview and a webview. Sometimes its hard for me to think that they can't make something better, considering how big Amazon is... But well, they could still be working on a "real" app. I hope....

Im sorry but the app is pathetic. It's a web wrapper. No thanks. Dont know how you got so many likes from people who seem satisfied with little to no effort from amazon. If you guys released a web wrapper instead of this app for windows central you wouldn't hear the end of it. Hmmm. Strange that.

There's nothing wrong with edge on mobile

I would say I agree, if they start to take advantage of the UWP intergration. Another site said it well, they need: Notificatoins for shipments and for things like Amazon Days Barcode scanning Pricing alerts and tracking Beyond those simple things I'd say a hosted web app is a perfect solution for products like this. Personally I would assume Amazon would do the same thing on iOS and Android if the option was there(which it might be but I left those two platforms years ago).

Agreed. Great to have this app back!

Agree.. I think this is way better than Amazon App because it has it has all features available in Website except barcode scanner.

Web wrapper apps never seem to work well; they don't take advantage of the native controls and respond like a regular app would. Their previous app did suck, which is why I never used it. I don't get why they sent the email saying it was being discontinued though; its not a separate listing in the store, seems like it should have said they will be requiring everyone to update once the never version is out, and state if it would stop working on WP8.

But should we just day "meh, it's gets the job done", or should we as consumers demand a better quality app? We tried using web wrappers before, we all remember how that ended. I personally like their mobile site more, but would really like an actual app, will all possible features.

I'd like to see Amazon Prime Video and Amazon Prime Music apps added as well. Posted via my Nexus 7 2013 using the Windows Central App for Android

Yes! Can't use Prime music on mobile at all with W10.

I've been begging for Amazon's Comixology app for years.

It hadn't been "years" since Amazon bought them. And before then they did have a Windows (8) app.

I can actually get behind web wrapped apps as long as they perform okay. Add in scanning features and that's really all I care about for an app like amazon.

Actually, no. It's a Hosted Web App, which is something more advanced. A web wrapper uses straight Edge within the app and Webview. A "JavaScript app host the ability to directly navigate to remote pages. This eliminates the need to load two web framework instances, as is the case when using the WebView." This is not the same as the 8.1 web wrapper. Read more at Windows Dev Blog.

To the average user though... it looks like a web wrapper app.Im really hoping they build it up and not take the lazy route here.

Kinda. I believe Shazam is also a HWA/UWP and there are a few others (Yahoo Mail). It gets difficult to tell once you do it right/build it up using UWP tools.

Amazon : Pioneer of Progress !!!
;-)

And it's back.. Great news

I wonder when the doom and gloom gang will be in !!;

its awesome, works very smooth... but looks like similar to a website. Hope they make some changes and make it looks like a mobile app. But UI is amazing, slides are very smooth....

Hopefully they continue to build on it. I haven't used Windows Phone for a while and the old app wasn't good. Hopefully with the rebuild and the UWP integration they continue to build instead of leaving it at its current state. Posted via the Windows Central App for Android

These guys had time to use the Westminster bridge and not the iOS bridge?

iOS bridge is not complete. We've stated that many times. It's not "open" yet for everyone to utilize.

Any insight when it might? Getting awfully close for it to have time to have (hopefully) some positive impact before the Surface Phone comea out. Posted via the Windows Central App for Android

I don't know of an eta/roadmap. They opened sourced a lot of it on GitHub IIRC to get others to pitch in. It's a lot of catching up to do and last I heard was they could code at around iOS 7-level. It really needs support for Swift, however, before it can be ready to port over many modern apps.

Thanks for the info Dan. I think this its completion is key for making large vendors apps like Amazon available when Surface Phone comes out, so there will be busy Q3 and Q4 for Microsoft mobile engineers.

Alot more website oriented businesses need this. If you want to just test the waters then that's ok but don't just upright abandon a platform when Microsoft gives so many tools to make apps.

Hmm.. I hope Video/music works on this like it does on the website... Going to test it out. Will be very useful if it does work. Will save me having to always use my laptop for it. Happy we have a new Amazon app now. I don't really care if its a Hosted Web App, its still better than the old app, and gets the job done.
Edit: Sadly it seems we can buy Music/Movies via the service, but the app doesn't support watching/listening to them so far.

UI bug: System bar is totally white on Dark theme mode.
But looking great in Light theme mode.
• shift all buttons to side bar m make it looking good.

Now if they remove that left bar, it will be one bit more useful.

This must be a joke...web app is as bad as amazon old app....infact old app is great than this piece of peanut butter...why even they bothered to take 15mins from their busy developer schedule to build web app...atleast they would have ported ios app..

No dice here. It says available for Mobile but won't download. Clicking Install just bombs out.

It works for me? Maybe try restart your phone, or make sure you have the storage available. Could just be an SD error that will fix after restart(?)

As long as I can avoid Edge, I'm a happy camper. Notifications come to my email anyway. All good

Can you play Amazon Instant videos? Posted via the Windows Central App for Android

It's seems you can browse and buy from music/video, but playing them via the app is not yet possible

I'm ok with this. It isn't bad at all. I agree that barcode scanning would be nice.

So much going on in the windows 10 Mobile world. Earlier in the day facebook and now Amazon. I'm lovin it.

Agreed, great things can be done using Microsoft technologies like iOS bridge, but I think this app is not using those features that have a QR scanner yet, I'm thinking positive that Amazon devs can add these features with very little effort using Microsoft's tech in a next update

I agree. Probably their first priority was to bring an app to windows and build up on it. Will have to wait for a few days. Though porting from ios is a better option.

Now if only Amazon considers this app to be eligible for app only deals and contests in their official website. At the moment it shows that "This offer is not valid on Amazon app for iPhone 4S & below & Windows phones".

In late August 2016, showing a giant like Amazon giving poor support for Windows Mobile 10 is a sign of what comes next for Windows Mobile platform. I think Amazon devs still don't know about iOS bridge and the advantage it gives to cut on development costs for WM10, their iOS developers can port the iOS app to Windows in matter of hours and not months or weeks. I think Microsoft should send a letter to Amazon and let them know about the problem with this App on WM10 and they should update to a version that has all the iOS features.If that succeeds then the successful future for Windows Mobile is going to be much clear.

Given how things have been going, at least they are supporting windows and not just letting the tired, old, out dated windows 8 apps just whither in the store.

iOS bridge is incomplete and not adequate for all app ports.

While I agree that nothing beats a native app, I do see a future for apps like this under the UWP format, with websites becoming smoother, more polished and more like native applications, I think it makes sense for a number of companies to follow suit since it is low on development time and based on success, they can convert to a native app.

Garbage, Joke compared to the old app

Have used either? The old app was practically useless.

Does it work as expected on Continuum?

It works just as well on Continuum. If you launch it on your phone and then your computer screen, the ads resolutions are a little off, and it's a little sluggish on loading, but it's pretty solid.

I would kill for Seller central app.

And WP 8.1 users are left for dead. MS really needs to get their backwards compatibility in order on mobile. And all you fanboys that yell at me to "upgrade" can all KMA. Give me an upgrade path from the 1020 and I'll take it. I'm sick of taking steps backwards.

The 1020 was an amazing phone, but it was also a one off. There is no entitlement to an improved "1030". Car makers retire models all the time, there is no divine right to 2017 Model T. I LOVED MY HTC Trophy 7.0 (and 7.8) phone, but I'm not holding out for them to release another version.

Here you go my friend. Upgrade and enjoy! http://forum.xda-developers.com/windows-10/windows-10-mobile/app-dht-upgrade-advisor-redstone-lumias-t3434774

Yep my 830 was upgradable but now several apps I once used either aren't available for W10M, glitchy, or fail to operate at all after downloading, so in essence my "upgrade path" produced little advantage in that regards.

I just want notifications from it. And maybe one day Cortana sync. Right now, the website is a lot nicer than this app because of formatting issues.

I dont see any problem with web apps, there are a lot of good ones in Store, however even though making an app like this is cheaper, less work is necessary and for retailers is a good option, Amazon can really offer a way better app.

Maybe Mint and MyFitnessPal could do this.

I think it works fine for being a web-wrapper. The live tile works. And I do hope that Amazon would bring all their apps as true wmp to Windows ecosystem. This would make prime more appealing.

But why waste the left side area with just a settings button? And the white empty bar at the top of the screen? I don't mind website ports, but they could have done it better.

Hahaha. So mich for the Android clowns reasons why this isn't on Mobile. Foot...mouth.

What about Amazon India. Will this work

download the app and once u login u wil be in amazon.in site. It auto configures the location...

They need to release Amazon video app

Seriously Amazon?! Is this your App?! Let me laugh a little. When I launched the App I couldn't do nothing else than feel embarrassed for this kind of App. The Splash Screen, the white Status Bar, the constant left border with only one button (that opens a pseudo settings menu from the right like W8 Apps - they don't even care with the OS Guidelines). It's such a amateur App that I refuse to accept someone was paid to make it. I don't know the W8/WP8 project, but with little effort they could use it as a base to make a UWP. They just needed to adapt the Business part of the App for the new APIs, update the endpoints and improve the XAML for a UI more respectful to W10 Guidelines. It's not a great deal! Making a WebHosted/WebWrapper App is valid too, but at least show some work, don't just launch a URL to a XAML component. They could use a SplitView for a native Menu that would interact with the Web part of the App, they could inject some CSS to change the look and feel of the App and hide some elements (replaced by native ones - like the menu I mentioned), and they could use the Barscanner code and add a page with it (so it can interact with the Web counterpart of the App). It's not Rockt Science. I don't have a lot of years as a Windows Developer (I started as a iOS Developer), but for god sake … I could make such a better job I still can't believe it. When you make something, do it with love. If you don't care with it, it's better just to do nothing. P.S: Sorry for my English.

I would be having the same thought if they don't keep updating it. But I think at this point, it is too early to judge. Maybe Amazon wanted something quick because they pulled the win 8 app while they are making it a full fledged app.

Just out of curiosity, what made you move from iOS developer to Windows developer and has it paid off? C# is a nice language though :)

Amazon's app leaving Windows Phone was a huge story on every tech website... but I assume none will cover it's return. #WindowsPhoneIsDead

Agree. Pocketnow only posts Article about windows Phone if there is any App leaving Store. They never cover any new Apps coming to the store...

It's now news that websites works on windows phones?

Actually yes! I run into sites everyday that don't work in EDGE but work just fine on iOS and Android lol.

Stop the press! One major website is working on Windows 10 Mobile :)

Not working saying mobile server encountered an error ☹

The new Amazon App displays nicely on my 640XL but interacting with the built in browsing is not great at all. Even the login screen renders bigger than the screen size and sometimes will take time opening the keyboard for entering the user login. I hope it is improved soon. Personally I prefer mobile apps because use less data traffic to render the GUI.

This is just lazy. I don't get why a online retailer that makes money directly from purchases made through its apps would want to make it harder to make purchases for its customers.

Amazon, next to WC app is my most used app because of my electronics addiction.

That's what universal app means it will work on every windows device !

This is good news. I would like to see more support on Windows Phone platform but that's a utopia for now.

I sense that Microsoft is collaborating with high caliber companies to use its new developmental tools such as ios bridge (Facebook) and Westminster (amazon) and I am sure some big names are in the pipeline once Microsoft stabilizes win32 bridge. These big companies feedbacks are great value since they have the resources to spend and work with these tools and help MS refining them. The final product of these bridges will be much more refined for more budget restricted developers. Exciting apps are on the horizon. Also for those who say win 10 is dead, keep in mind that win 10 pc is only a year old and win 10 m was finalized out of beta only few month ago. Android tried few years before it captured more than 80% of the mobile market.

Facebook used their own conversion tool. Not one of the Microsoft Bridges.

It's an app ? So Windows Mlbile will get these kind of apps.. pretty cool.. Posted via the Windows Central App for Android

Hey guys, the white tile isn't a bug, just poor design on their part, because it isn't blank. It's white text on a white background. To read it, hold down on a tile next to it so they all start moving. It will dim the white tile to gray and the text will still be white, allowing you to read it.

After comparing the actual web app and the web wrapper, I prefer the web app. It renders a lot better than this supposed app. I just pin it to my home screen. It works well. On another note, the Pizza Hut web version can be pinned and the tile looks just like an app, not the normal web tile look.

Is that PC app or Mobile app?

Daniel - I reacted to this quote:
"Unfortunately, the QR scanner feature, which is what most mobile users want, is not here either." Based on what? Are you truly speaking for most mobile users here, or just your own preferences? Other than that - thanks for providing excellent coverage.

Based on comments here, elsewhere, and interactions on Twitter. Seemed a lot of people used the scanner feature to add items to their Amazon cart. (IIRC at one time we could pin that feature to the Start screen, for one-touch scanning, which wa really neat)

I frequently used the UPC scanner of the old app to get more detailed product information. Don't know why I'd want a QR scanner from Amazon, though.

Also - curious about the motivation for launching a web app that essentially provides no benefit over the browser experience. Is the purpose to stop the use of ad blockers?

An icon on a start screen or apps menu is at the very least a space in the mind of potential customers.

What is with all of the real estate for the settings icon?

Yeah apart from that, I think everything is just fine.

That is what we deserve....That is a slap in the face

Currently averaging 2 stars in the store. Ouch!

I actually like it, better than the previous one.

I see no advantage over just pinning the website to the home screen.

Yea, just got an e-mail from Amazon. Download our app and get a $5 gift card. That takes you to a get started page that shows you how can get the Amazon, Apple or Android app. Also has a link to amazon.com/app, which shows everything under the sun....but Windows Phone. Maybe they made this accidentally and forgot to tell their marketing and web divisions.

Went to the store to check it out and saw they have a Windows 8 screenshot for their Windows 10 app. Doesn't give me alot of faith in this app.

Anyone know how to get it to use one's Smile.Amazon account?

"Microsoft's Project Westminster bridge tool" should be shut down. The apps made with this thing has horrible UI. I would rather pin the website of Amazon on my start screen.

Not working cannot sign in the app

Microsoft ham logo ke sath majak kar raha hai

Ek baar me windows 10 launch hi nahi kar pa rahe hai

Isi liy android phone acha hai

Abhi tak 4 update de chuke hai par ab tak call recording nahi de paye sab phone ke liye

Call recording will not come to any Windows phone with any old OS which was upgraded to Windows 10 only those Windows phones which come preinstalled with Windows 10 mobile will get the call recording feature Posted via the Windows Central App for Android

Can someone help me with this please everytime I try to install the amazing web app the newly installed on Windows 10 I get redirected to Windows 8 app on the store I cannot download the Windows 10 version is because I am in India is the new Windows 10 Amazon app region specific I cannot download the new app everytime I'm giving the download it only Windows 8 version is coming when the pictures mentioned in the store is from the Windows 8 start screen Posted via the Windows Central App for Android

Amazon is over rated and over priced. Why pay for service, then tax and shipping? Eb