AMD's Radeon RX 480 is a VR-ready video card that costs $199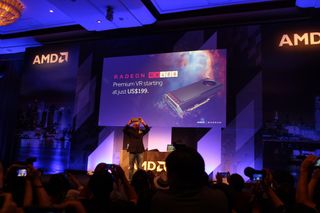 AMD finally unveiled its first Polaris card at Computex 2016. With a retail price of $199, the Radeon RX 480 is designed to lower the barrier to entry for VR.
AMD hasn't shared much in the way of the fourth-generation GCN architecture and the new 14nm FinFET manufacturing node, but what we do know is that the RX 480 offers 5 teraflops of performance, which for $199 is incredible value. NVIDIA's GTX 1070 offers 6 teraflops for $379, and the GTX 1080 has around 9 teraflops for $599.
The RX 480 has 36 compute units and 4GB of GDDR5 memory on a 256-bit memory bus resulting in a total bandwidth of 256GB/s. There's also a variant of the RX 480 with 8GB of GDDR5 video memory.
The card supports AMD FreeSync technology, as well as HDR gaming via its HDMI 2.0b and DisplayPort 1.3/1.4 display connectors. AMD will start selling the Radeon RX 480 starting June 29. Who's interested?
Windows Central Newsletter
Thank you for signing up to Windows Central. You will receive a verification email shortly.
There was a problem. Please refresh the page and try again.