AmpliFi HD vs Netgear Orbi: Which mesh network is right for you?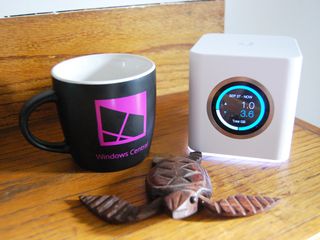 (Image credit: Windows Central)
Good looks

The AmpliFi HD is a solid, extremely easy-to-use mesh network but lacks speed and expansion options. For what it lacks in overall throughput, it makes up for in surprisingly good looks.
For
Strong, subtle looks
Wi-Fi 5
Easy-to-use mobile app
Simple setup process
Large coverage range
Against
Slow speeds above 1Gbps
Limited to wireless nodes
Dual-band connection
Pro mesh kit

The Netgear Orbi is a powerhouse mesh network that offers fast speeds and a ton of customization for those inclined. For most people, though, it can be tricky to use.
For
Wi-Fi 5
Fast speeds at or above 1Gbps
Tri-band connection
Both wired and wireless node options
Against
Large size and stale looks
Poor mobile app
The AmpliFi HD and the Netgear Orbi mesh network systems share a lot in common. Both have Wi-Fi 5 versions (with optional Wi-Fi 6 successors) that offer fast speeds covering a wide area through their respective nodes. Besides price, though, the two differ in some key ways that could be important to you. The AmpliFi HD leans on the easy-to-use side while maintaining a subtle look, while the Netgear Orbi has a lot more options but has a fairly obtuse appearance. So, which one should you buy?
AmpliFi HD vs. Netgear Orbi: Connection speeds
Anyone who invests in either the AmpliFi HD or the Netgear Orbi is doing it for consistent speeds across a wide area. Mesh networks promise stronger coverage across a home or building than a typical Wi-Fi router. Thankfully, both mesh network systems run pretty close to the same speeds, with some slight but no less important differences for power users.
Swipe to scroll horizontally
| Header Cell - Column 0 | AmpliFi HD | Netgear Orbi |
| --- | --- | --- |
| Wi-Fi standard | 802.11 ac (Wi-Fi 5) | 802.11 ac (Wi-Fi 5) |
| Rated speeds | 1.3Gbps | 3Gbps |
| Coverage | 6,000 sq ft | 5,000 sq ft |
Because both systems run on the 802.11 ac Wi-Fi 5 standard, speeds might look lower than the newest, Wi-Fi 6 routers, but they'll be fine for most people. Both are rated above 1Gbps internet speeds, with the Netgear Orbi squeezing out around 400Mbps more.
Unfortunately, these numbers get fuzzy when you're running the connection through nodes. It'll really depend on what kind of nodes you use, be it wired or wirelessly connected to the base router. That said, the Netgear Orbi beats out the AmpliFi HD in raw throughput regardless.
AmpliFi HD vs. Netgear Orbi: Dual-band and tri-band
Connection speed when it comes to mesh networks like the AmpliFi HD and the Netgear Orbi is dependent on the types of nodes you use. The base routers can only offer so much. Eventually, you need to connect either another router or one of the official wired or wireless nodes to them to spread your signal out further.
The Amplifi HD only has a wireless node option if you don't want to purchase a second base router. And on top of that, the Amplifi HD is locked to a dual-band connection, meaning it must use one of its wireless bands to talk to the other nodes, further reducing the connection speed.
The Netgear Orbi has both wired and wireless node options and uses a third band for speaking to its nodes. Despite both having similarly rated connection speeds, the Netgear Orbi outshines the AmpliFi HD simply because it has the overhead to manage faster speeds for those looking to get the most out of their network.
AmpliFi HD vs. Netgear Orbi: Ease of use
The AmpliFi HD is simply a much easier-to-use mesh network than the Netgear Orbi. Its mobile app allows you to set up, restart, and manage the router which outshines Netgear's poor app and complicated website. You can do things like monitor signal strength and bandwidth usage. For people looking for a clear, approachable way to set up a mesh network system, the AmpliFi HD is the way to go.
On the other side of things, the Netgear Orbi interface can offer power users more options, like QoS, parental controls, and use a VPN. If these are things you absolutely need in your mesh network, the Netgear Orbi is a strong choice.
AmpliFi HD vs. Netgear Orbi: Which should you buy?
Picking between the AmpliFi HD and the Netgear Orbi mesh networks is a hard decision. Both routers offer fast performance and wide coverage areas, but the price becomes an important factor when it comes down to it. The Netgear Orbi carrying a slightly lower price for a slightly more tedious user experience puts it on top.
The AmpliFi HD has you pay for looks, ease of use, and a much better mobile app, but it's not worth it for most people. If you want a mesh network that works and is prepared for whatever you want to throw at it in the future with its set of user options and expandability, the Netgear Orbi is the choice.
Fast speeds and customizable
A powerful choice for fast connections

The Netgear Orbi may not look beautiful, but its power makes up for it. The system touts fast connection speeds and a list of customization options for those who need them.
Great looking but lacking
For a simplified mesh networking solution

The AmpliFi HD is the kind of mesh network router that won't be an eyesore, but that comes at both a cost to your wallet and your connection speeds. If you want to pay a little more for less simply for its fantastic mobile app, this might be the pick for you.
Get the Windows Central Newsletter
All the latest news, reviews, and guides for Windows and Xbox diehards.
Tyler Colp is a freelance writer for Windows Central. He's written about tech, games, and the culture around them across the internet. Ask him anything about Dark Souls or just follow him on Twitter.