Angry Birds Rio flying south to Windows Phone 'very soon'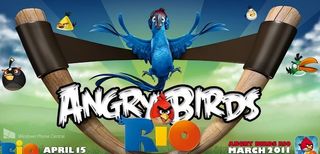 Countless Windows Phone gamers are currently pelting pigs with ball-shaped birds in the original Angry Birds (also known as Angry Birds Classic), which is free right now on both Windows Phone 7 and 8. But the release of that classic game hasn't prompted Rovio to rest on its laurels. As it turns out, the Finnish developer has another Angry Birds sequel in the pipeline for us. Unfortunately it's not Angry Birds Friends or Bad Piggies, but still a game Windows Phone needs: Angry Birds Rio.
What do we have to look forward to with Rovio's latest offering and when? Read on to find out!
Movie madness
Angry Birds Rio is both a sequel to the popular Angry Birds series as well as a tie-in to the 2011 CG animated film Rio that everyone has probably forgotten about by now. But you know, other than being yet another blasted movie about talking animals, Rio wasn't a bad film! Certainly smarter and prettier than Ice Age, for instance.
Anyway, Rio happens to be about birds, so the pairing with Angry Birds makes decent sense. But instead of being a Rio game that plays like Angry Birds (which would be the traditional way to adapt a film), Angry Birds Rio is basically a regular Angry Birds game with the standard Angry Birds characters that takes place in the movie's setting of Rio de Janeiro. The enemies are marmosets instead of pigs though.
The game also happens to have levels based more closely on the movie every now and then. These consist of boss battles, a first for the Angry Birds series. In these battles, you'll fling Blu and Jewel, the movie's lead characters, at the various filmic antagonists such as Nigel, the incredibly evil parrot and Mauro, the leader of the mercenary marmosets (a kind of monkey or something, by the way).
Content predictions
Angry Birds Rio started out as a small-scale game, but has received numerous updates on other platforms – as recently as March 11 of this year! So we can fully expect the Windows Phone version(s) to feature the full seven episodes and two sets of bonus levels. That should add up to 210 levels of bird tossing; not bad for what could have been a throw-away movie tie-in.
Microsoft and Nokia have announced that Angry Birds Rio would soon come to Windows Phone, but not much more:
Still, based on Rovio's track record so far, we can safely assume that it will come in two separate versions: one for Windows Phone 7 and another for 8. The Windows Phone 8 game will be Xbox Live-enabled, while the other version won't. Each will cost $.99.
As for the "very soon," that could be as soon as next week or as late as June. The remaining games we're missing, Bad Piggies and Angry Birds Friends, will probably make it out well before the end of the year.
This should all be great news for Achievement hunters who also happen to dig Angry Birds. With the addition of Rio, they will have no less than one billion different Xbox-enabled Angry Birds games to choose from...
Big brother version
Speaking of which, Angry Birds Rio is part of the Xbox 360 retail release Angry Birds Trilogy. The Games on Demand version (opens in new tab) of which is on sale for $19.99 (price varies by region) through May 6. That's another 1000+ GamerScore you could get, bird flinging addicts!
Thanks to Guilherme S. Manso for the Windows Phone tip!
Windows Central Newsletter
Get the best of Windows Central in your inbox, every day!
Paul Acevedo is the Games Editor at Windows Central. A lifelong gamer, he has written about videogames for over 15 years and reviewed over 350 games for our site. Follow him on Twitter @PaulRAcevedo. Don't hate. Appreciate!
Can we get this one free too please? :-D

To all of those saying this is too late and irrelevant: Rio 2 is coming, so no need for your negative comments.

This is too late and irrelevant.

Enough people commented that they're happy about this, so it's definitely not. And it will sell plenty.

Finally! Let it come, I'll be here to buy it. I definitely am among those who enjoys Angry Birds.

I already have 5 games called 'Angry Birds', I wonder if they'll remember the subtitle this time round.

At least the remake of the original is listed as Angry Birds Classic! Update: Whoops, it's only listed that way at Xbox.com.

Not in the games hub it isn't. Which is what this commenter was referring to.

Dang, that's odd. My bad.

So Paul, we at Windows Phone are all southerners now huh? Yeeee Haaaaa. lol.

Rio is in the south, and birds fly south for the winter, y'see... :)

I have the original and the remake, SW, space, and seasons. None of them have the subtitle in the name.

I have 5 angry birds too.. I've never had so many versions of the same game ever..
I REGRET NOTHING!

I hope the WP8 version is optimised for the higher res screens.

Good news, rovio is really doing a great job! Not so great: Angry Birds classic (WP8) stopped working, suddenly crashes every time...Lumia 920

Better late then never because its a great game in series and shows the growing support for our platform

That will be all of them, what did we do to deserve this!

We bought the previous games..

Heard of Angry Bird Friends? This is not all of them.

Actually no, nit a big angry birds fans. Sounded like most of them so I just took a guess and said all of them. Close enough for me

Awesome!! This was my favorite version of Angry Birds.

Mine too. The only one I ever finished.

I am happy with any big name game that comes to WP no matter how late we are getting it.

Angry Birds Classic is bugged to hell. Achievements for three starring don't unlock sometimes and also my game crashes on launch every time now. Many others repot this as well

Aren't people bored playing the same game over and over?

Yes they are. I (many others) played this through on Symbian already. No interest anymore. Perhaps juniors still like it?

*walks in 2 years late with a windows phone*

What? Who is Starbucks? Is he a Windows Phone?

I'm glad strikethrough code actually displays

Can I add you on Xbox, Paul?

If they ever increase the friend limit, then sure! Right now my list is full and it's tough making room. So silly to have a 100 person limit in this day and age.

Rio my dinero. Bad piggies would be nice too! I am debating on angry birds on the xbox, but I may be angry birded out.

I just realized something. I was playing the one we got for free the other day (I did buy the orignal one when it was released), I hate this game. I really do. I find it so annoying. So I would only take this game if it was free (incase I change my mind 2 years from now I could play it)

Glad this is coming to WP, for those looking forward to it. I played the trial on Symbian (N8)...hated it. Of all of the AB games, Rio was the worst one (my opinion).

I rather have some decent graphics/contants update for the older titles such as SW version, the graphic and the FPS isn't very good, and would love to see the JEDI planet in it also.

I am so tired of trying to sale WP to folks and tell them that... Hey we have temple run and hey we have AB Rio coming and hey we have Pandora and I always get, user of other competing platforms say we have had that for years now. At this rate how can WP ever compete if we are always playing catch up. If an app is new, cool and popular and we get it after it no longer has that new/cool status then WP could becomes that stigma. IMO.

Adding up WP game ecosystem is all good but was this really relevant port these days? I three stared all the levels on symbian like two years ago. Bad Piggies would have been much more present-day.

What's with all the late ports coming to Windows Phone? Its like the Wii U launch all over again. Developers should just make Windows Phone games simultaneously with their iOS and Android counterparts.

I have bought all of the Angry Birds games but they keep releasing new ones; one the first one I have just completed all levels with 3 stars at that time I just unlocked the smash 50,000 blocks but there is still the smash 250,000 blocks achievement...so I've just been trying to pointlessly smash stuff not sure its worth 15 gamerpoints....however saying that I did get to level 280 on bejeweled endless mode for 10 gamerpoints & to unlock 'finity mode' but that did take me about a year playing it two hours straight every day lol. But with Angry Birds I now have to complete it again & all the other versions =/

I've had this on my HP TouchPad since it was released LOL

Techiedude

Correct me if I'm wrong but Bad Piggies is included in the recent Angry Birds (the recent one, with limited free offer).