Windows Phone 7 and 8 gets new ports of Angry Birds and they're free for a limited time!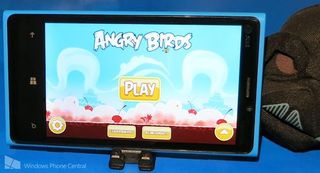 When we didn't hear from Microsoft about an Xbox Windows Phone release this week, we feared that there wouldn't a new game today. It turns out that we should have had faith, because a new release did quietly slip out, and it's an interesting one!
Following on the heels of their early April release, Amazing Alex, Rovio now breaks in the month of May with the game that started their rise to fame: Angry Birds. We're not talking about a new Angry Birds sequel or the oft-requested spin-off Bad Piggies. No, a Windows Phone 8-exclusive version of the original Angry Birds (now called Angry Birds Classic) has just arrived with all the content missing from its unloved Windows Phone 7 predecessor. Windows Phone 7 gets a new, updated version as well but without the Xbox features. And best of all, both versions are free until May 15!
The road to the return
The WP8 title screen's video link doesn't jump straight to video playback like it should...
The story of how and why we have two distinct Xbox Windows Phone versions of Angry Birds is long and sordid, filled with the tears of many an early adopter. Basically, the first game launched on Windows Phone 7 way back in June of 2011. It didn't take us long to realize that version was missing a whopping 105 levels compared to the iOS and Android versions at that time. An update followed in July which added those levels in, bringing the game up to Episode 5: Hang 'Em High.
Problem is, Rovio never updated it again! While the iOS and Android games have enjoyed level pack after level pack since 2011, Windows Phone 7 owners were left relatively high and especially dry.
We sort of thought Rovio had given up on Microsoft's mobile platforms for a while. Then both Angry Birds Space and Angry Birds Star Wars launched with Windows Phone 8 in early November 2012! Heck, for an uncomfortably long stretch of time they were the ONLY Windows Phone 8-exclusive Xbox games.
Windows Phone 7 users initially felt left out, but Rovio published non-Xbox versions for the legacy OS a month later. Angry Birds Seasons, a slightly older sequel, popped up with Xbox features on Windows Phone 8 and without them on Windows Phone 7 in February of this year. Amazing Alex also saw a non-Xbox Windows Phone 7 game shortly after its big brother version.
Full circle at last
Having taken you through that trip back in time, we finally return to the present (and not a dark version of it that was ruined by a cheating gambler!)...
Rovio obviously has a Windows Phone 8 engine that they enjoy working with. That engine has finally allowed them to give Windows Phone users a proper, non-gimped version of the very first Angry Birds. This new port contains all the content of the old one, plus:
Episode 6: Mine and Dine
Episode 7: Birdday Party
Episode 8: Bad Piggies (note this is not the actual Bad Piggies game)
Bonus Episode: Surf and Turf
That makes it up to date with other platforms, which were last updated on March 7, 2013. Feels good to be caught up, doesn't it?
This version also has 200 GamerScore of completely different Achievements from the old version, so owners of the previous iteration can potentially earn 400 GamerScore from playing through them both. You'll be glad to know there's no Achievement for smashing 250,000 blocks on Windows Phone 8! But it does have one for playing for 30 hours, so I guess we can't escape the grinding. At least this one has the full plate of content to support that hefty chunk of playtime!
Get it while it's hot
Surf and Turf and Birdday Party
Angry Birds (the first) is a 19 MB download on Windows Phone 8. And it's FREE through May 15, so don't wait to grab it! After that time its price will rocket up to 99 cents, just like other games in the series. Grab it here from the Windows Phone Store.
Update: New for Windows Phone 7 too!
Don't feel left out, Windows Phone 7 users. Rovio has pulled the old, outdated version of the original Angry Birds form the Store. In its place is a new version complete with all the content described in this article! The only downside is the new Windows Phone 7 game lacks Xbox Live functionality, just as with Angry Birds Space, Star Wars, and Seasons. But hey, it's got way more levels than before and it's free through May 15 as well!
Get Angry Birds for Windows Phone 7 here.
Windows Central Newsletter
Get the best of Windows Central in your inbox, every day!
Paul Acevedo is the Games Editor at Windows Central. A lifelong gamer, he has written about videogames for over 15 years and reviewed over 350 games for our site. Follow him on Twitter @PaulRAcevedo. Don't hate. Appreciate!
Always wait for free stuffs!

Well its your lucky day. :D

Cant download it yet but will try in the morning. Cant wait to get it :D

Does it mean that after May 15th i will have to pay in order to continue having the game? Dumb question but i am new in these things.

No, you would continue to own it.

No, once you get it, it's yours forever.

Thanks! I don't play games but since it is free, why not?

Not necessarily...... Unfortunately with Windows Phones if a game/app is removed from the market you can't get it again. This sucks and needs to be fixed asap.... If you have to reset your phone you're screwed.

I uninstalled all my apps manually (including paid ones), and I redownloaded them manually and I didn't have to repay for them. You click on Buy and it will say "This app is already purchased". It works just fine.

yes - he is talking about the apps that are removed from the market. you cant access them to reinstall them and you dont have a local copy. so you can just keep them if you keep them installed on your phone

you can go to windowsphone.com to view all your purchased apps or games and you can also reinstall it from there

Not if they are delisted from the WP Store. That's what he meant.

No - if you install it when it's free, it counts the same as if you "purchased" it. So even if it goes up in price (any amount), if you uninstalled and went to the Store again, it'll note that you have "already purchased" it and ask if you want to install it again.

(Granted, Rovio could theoretically add in-app purchases, but the actual "purchase" of the app itself shouldn't be an issue...)

Just got it free! LOVE ALL THE NEW LEVELS. Runs smooth.

If it's WP8, does that mean it supports high-resolution screens?

Looks awful on Lumia 920. Seems like they didn't work on resolutions at all.

I don't understand how somebody could think that, but I guess we all have different standards.

No. Seriously. It's not optimised at all.
Look at the screenshot: http://cs315528.vk.me/v315528115/8bd6/jOLo3w9pTxQ.jpg
You can compare with a screenshot of Amazing Alex which is ok with high res: http://cs315528.vk.me/v315528115/8bdf/COl3_G2aXc4.jpg
Of course, if you have 480x800 screen, you get perfect picture.

Downloaded it. Will both the old and new versions remain in the marketplace at the same time confusing users?

I am on WP8 and have both versions now. When I search for Angry Birds or Rovio, the old one does not show.

Rovio already stoped publishing the old version on WP store.
It's a question of hours or maybe days to completely pull of the old version from the WP store!

"If we were to go by the book, Admiral, hours would seem like days."

I am glad it includes all the new levels and such but I hope this doesn't become a trend of just rereleasing a Xbox title again instead of updating the original

That just might happn since WP7 uses Fortran.

A little FORTRAN 77 is good for you. ;-)

i don't own a wp right now (buying a 720 next month) any way that i can get this free ????

If you get it before May 15th.. Lol

i saw some unboxing videos of nokia lumias and all of 'em had angry birds preloaded....is it true ????

nope...that's just an app that acts like an Angry Birds Hub! it lists all the Angry Birds games you have along with some other goodies (wallpapers, videos, angry bird camera) but you still have to purchase them, or in this case, get the original for free until May 15!
edit: the app is called Angry Birds Roost, it's free and i believe is a Nokia exclusive...it is preloaded on all new Lumias but as i already said, does not contain the games

There is one way. Go to any store which allows using their phones without monitoring. Then setup your ms account in that. Then download the app and cancel when it starts downloading. Then reset their phone. Now just come back home and relax. you can also purchase from your pc even after resetting that phone . :) I used this trick for my friend... :) good luck..

thanks man...that was quite an out of the box idea....gonna try it in a nearby reliance digital or chroma...how do i reset the phone ?

Just make an account, log into http://www.windowsphone.com/en-us/store and download the app. Though I don't know if it requires your phone to be connected to download it, it worths a try :). If not ... make an account send me your details ... and I will get it for you and later on you can change your password. If you want that, find me on forums and send me a message!

It won't work unless you have a Windows Phone tied to your account, which is both lame and inexplicable.

This game is also free on windows phone 7

Really? It dissapeared from the Store. For me anyways.

Follow the link from wpcentral and get it

Yup I just searched 'rovio' and found it!!! :P they do love us!

Yup, I was coming here to say it too. It's not Xbox-enabled, but I'm not complaining.

I cannot seem to use the (WP8) link (error 805a0194). Also when searching the store it doesn't show.

Your store just hasn't updated yet. Try later in the day or tomorrow.

I went on the WP Marketplace.com and it said it is downloading to my phone straight away but nothing is happening

I'm happy to report, that after 2 long years, frame rate is up to par on my Lumia 900. Just wish it was a Xbox Live game.

I guess so. It's smooth as butter. The physics are different too. Been playing both version for the last 20 minutes.

Lol 60 fps for a puzzlegame? Are you kidding me?

You prefer lower frame rates?

If they are not going to update the old app (different engine) giving the "new" Angry Birds a limited time free download should really be expected. Otherwise they would be releasing the same app just updated and people who paid would have to pay again if they wanted the additional levels. Good for Rovio for doing the right thing.

SWEEEET I KNEW one day this would happen. Never bought the app yet so this is fantastic

lumia 620. i get errors. any suggestions?

Paul, do you have some contact with Rovio? Can you ask 2 things to they??
- One: there are plans to bring this version to Windows 8/RT? Wiil be great if they do this!
- Specific for Brazil, all Rovio games already be published in here, except the WP8 version of AB Space. Can you ask they if there plans to make it available to us??


Like Pokemon, Angry Birds has this way of sucking me back in everytime I claim to be done, lol.

Oh, they already pulled out the Xbox Live enabled version from the Store and updated the WP7.X version too (now without the Xbox features): http://www.windowsphone.com/pt-br/store/app/angry-birds/cb51888f-07b9-4d75-ac4e-217d34366058


That's great, when was the original released? 1975? Now we get the rest of the levels. Thaaaaaaankyou

Update Star Wars and Seasons! WTF!

Why can't they just update the old one?

Presumably they don't want to have two Xbox WP versions on the Store at once. Also, the old version might use a different engine than the new version, making it more difficult to update.

Wow. That's some fast reply you got! Okay, I have another question though, since there is no millennium falcon in the SW version and no "mighty eagle" in this version, I'll just have to assume Rovio can't make in-app purchase?

They definitely CAN have IAPs in their WP8 games. They just choose not to... The reason why is unclear. Maybe something to do with their deal with Nokia?

Maybe, I saw a couple examples before. Thanks :)

Let's hope and pray that in the near future the same thing is going to happen with Fruit Ninja

i dont think that this will ever happen

Lets just pray all together for this miracle!!! XD

I wish. That was another game that has been abandoned.

+1. it looks horrible on my L920!

Sweet, 400 cheevo points for the same game. Lol

I still have the original version installed. Grabbed this for the extra levels since I finished the originals. Why couldn't they have just updated the wp7 version instead?

Awesome! 16:9 for my htc 8x like the other wp8 angry birds games and Free!

Can't download on my HTC 8x :(

Although I would not mind paying the 0.99€ for the game (I bought all the others) it's always nicer when we get these things for free XD

High res 16:9 support for HTC 8X finally!
Shame the Achievemnts are not synced. So I have two Angry Birds on my Achievements list. On the bright side, bonus 200G!

I have 200mb left and it tells i dont have enough space...

There's a link to Bad Piggies FB page. I guess we might see Bad Piggies in a short time.

This was a pleasant surprise! Never bought any Angry Birds so lets see how it goes.

Oh crap I was about to flip out because I deleted the old one a long time ago. Nice to know I can just play it all over again for new cheevos. Yay Rovio!

Brilliant work Rovio - smooth as butter on Lumia 920 - loving it!

YES FREE ACHIEVEMENTS......... THANK YOU I'LL TAKE THAT......
Thank GOD there's no bust a million item achievement. Just the 30 hour :(

I'm sure a quick look at TrueAchievements will fix that within a few days...maybe leave it running over night while you sleep?

Love the new look and more achievements!

no love for Canada, its not free in my app store.

just scan the QR code..it will take you to the free version.
When I was searching for the free version I couldnt find it either!

It is REAL smooth on my L920.

Not available here for my phone

New version runs silky smooth on NL800 :3 Ty rovio!

Will they release angry birds friends on wp8 as well?

I am using Lumia 520 and Angry Birds is running smooth in it... Thanks Rovio. Anyway I have a doubt. One of my friend is going to buy a Lumia 520 too in about 20 - 25 days. So if I use the option " Download and install manually " and store the xap file in my PC, Can i use that XAP file to install Angry Bird for free in my friend's phone.. Even if the offer ends?.. .. Is the XAP file linked to my Windows Account making it possible to use it only in my phone???

Everything you do registers on your MS account so my guess is no, it will not work.

Correct; purchases are tied to a single user's account and can't be shared with other profiles.

thanks for telling us about the free angry birds, already downloaded previous version, but still cool. as always...this app became gay

i expected a new game not this dumb old angry birds which i have 2years back on my android n completing all the levels. Disappointed.

I am happy they upgraded the game to their new engine so hopefully we can get all the levels as they come out or sooner than before at least. Also the achievement whore in me is happy for double points although that means triple playing the game. Had to start over once when I upgraded and then will have to play it again in this new version.

I always reinstall my games from windowsphone.com. It shows me my purchased game. There is some problem with marketplace, so I prefer to use windowsphone.com

Just found deal of the week, farm frenzy was £2:29. Now 79p

thank you so much rovio! i had error on my 620, but i manualy downloaded xap on sd card and installed it from there and it0s working now!

Awesome! Bring this & Seasons to Windows 8 and I'm very happy!

Congrats WPC, an excellent report on the messed up history of Angry Birds on WP. I'm sure part of the reasons behind this mess are to do with tortuous XBLA certification process. Well done to Rovio for bringing us on a par with the other two platforms and for putting out on both WP7 and 8!
I guess they had to make it free because this is not an upgrade to the current original version but in effect, a brand new game which would have meant having to purchase it again. So they've done the right thing and made it free for a limited time so we can grab it before it's too late.

I'm waiting for BADASS game - like "Metalstorm", "Tekken 3", "Sonic Race", "Real Racing", "Nova 3", "Street Fighter" ....

If I install the WP7 ver now, will it carry over to WP8? That's why I'm reluctant to buy any Rovio's games on WP7 right now. I noticed there's no time limit for WP7 ver.

No, it won't carry over because the WP7 and WP8 versions of Rovio games are locked to the specific OS version. But there's no harm in getting it anyway since it is free right now.

Is there a way to purchase an WP8 app without a WP8 phone itself? If only they allow it on windowsphone.com! LOL

I would love to know if there is a workaround as well. I'm missing out on sweet deals while I wait for my contract to run out.

Someone described the only method in another comment. You have to visit a phone store, reset a device there with your Microsoft account, buy the game, and then reset the phone to remove your account. It's a pain.

I have already encountered an achievement problem and a subsequent app problem. I three starred all the first "Poached Egg" levels, no achievement. Then a little later I reopened the game hoping the achievement would pop, but now it keeps booting me out to the start screen as soon as the main title menu appears. Has anyone else had this issue? I have even tried rebooting the phone and the same thing happens after opening the app after reboot.

yes i have a seen a few other people having issues with the crashing everytime on launch. nothing however about achievement glitch. did you try booting up the game in airplane mode?

Thanks for the tip, unfortunately that didn't work either.

I have the same problem. 3 stared everything, no achivement, and the game won't boot anymore. I left a 1 star review, which I will edit when they fix the bug. The sad thing is, I uninstalled the game, and lost all my progress. Wasted hours of my life :(

I contacted Rovio support with the issue, will post back if I hear anything.

I'll have to consider downloading this if it's small enough, although I already have the original one and I don't play it.

WIll get this because its FREE and I can snag another 200 achievement points.
"You'll be glad to know there's no Achievement for smashing 50,000 blocks on Windows Phone 8!"
50K? What? The old version I had, the cheevie was for smashing 250,000 blocks! It took FLIPPING FOREVER....


://imageshack.us/photo/my-images/7/nokscreen1.jpg/


Was trying to post a screenshot of my achievements page... not sure what I'm doing wrong since the pic previews before I 'submit comment'. Oh well.

Thanks for catching that typo. Yeah, 250,000 sounds brutal!

Thanks! I love free games...especially with acheivements. I've gotten so many free games thanks to WPC.

The WP7 version is still not Live-enabled (no achievements)? I started downloading it, and it shows up in the "other games" list. Was hoping they would've resolved that....

Missed that one line from the article in my first read. Still a bummer. :(

Yeah whenever I get a WP8 phone (probably in a few months), it is going to be crazy having 4 Angry Birds games to play. Plus Amazing Alex and maybe Bad Piggies.

Make that 5 Angry Birds games! Rio coming soon.

why did I pay for Angry Birds 4 months ago with less levels?

Doesn't work for me any more. I've played it normally for few days, no crashings, but today afternoon it started crashing soon after the loading screen. Couldn't start it even once ever since.
Ideas?

press play the split second you see it. then the app won't crash.

Thanks for the tip, but sadly it crashes anyway.

it works. you just have to be on time. I've done it many times already.

So, I downloaded the new version, and it appears to have "overwritten" the old one, effectively locking me out of the remaining achievements. Might wanna mention that in the article, because it made it seem as though the two would exist side-by-side, which was my plan for netting 400G!!
On a related note. I found you can get three achievements right out the gate by entering the first level of the Bad Piggies set, because it gives you instant access to the blue, yellow and white birds! And, on another related note, where is the WP version of Bad Piggies?

I have been playing a few levels a day. Now today it closes right after loading. I restarted my phone and didn't fix the crashing. I don't want to re install or I will lose all my progress for the 3rd time. Any ideas?