It's time for Angry Birds Seasons on Windows Phone 8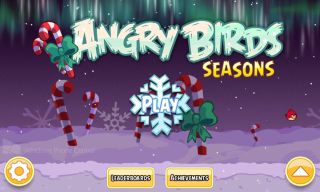 There isn't exactly an abundance of Windows Phone 8-specific Xbox Live games out there. Since the launch of Microsoft's latest mobile OS, we've only had two such games to choose from: Angry Birds Space and Angry Birds Star Wars. As we reported last week, more Windows Phone 8 games are coming, but at least a few are mired in certification woes.
We have both good and bad news to share about this week's Xbox release. The good: it's a Windows Phone 8 game! It's not even a Nokia exclusive. Depending on who you ask, the identity of the game is the bad news. It's Angry Birds Seasons. Yes, after all this time, we get another Angry Birds game instead of something different. But hey, history has proven that people love throwing birds at things, so let's just be glad another mainstream game has come to our growing platform.
For everything there is a season
If anyone can stay upset all year round, it's the Angry Birds. Seasons is actually the second game in the series, though it's the fourth to arrive on Windows Phone. Whereas Space and Star Wars introduce new mechanics into the standard bird-flinging formula, Seasons sticks closely to the original gameplay style. The first game on Windows Phone 7 never received much in the way of post-release support (it only has 250 levels), making Seasons a much more fully-featured and polished experience by comparison.
As the name indicates, this sequel focuses on the seasons of the year and holidays most of us know and love: Valentines, St. Patrick's, Halloween, Christmas, the Hacker, I mean Chinese New Year, and more. All 15 level packs of the iOS version (the last of which just came out in December) are included for a total of 432 levels, by my count. It's great to see the Windows Phone game packing the full content of the lead version, though future updates will likely trail behind as did the Angry Birds Star Wars Hoth update.
And as a Windows Phone 8 game, the graphics look buttery smooth on high-resolution screens like the trusty Lumia 920. Achievement hunters might worry about the severity of the Achievements, as the original Angry Birds and Space require copious grinding in order to finish. Thankfully Seasons hews closer to Star Wars. I'm no expert at these games, but I can't spot a single Achievement for smashing a specific number of blocks. We don't even have to get all the stars in this one.
Angry Birds Seasons costs 99 cents. Windows Phone 8 users (even those living in Brazil) can get it here from the Store.
More to come?
This is what happens when I play Angry Birds games.
Rovio and Nokia aren't too keen on announcing Windows Phone games in advance (much to our chagrin), and so Seasons completely snuck up on us. But given that we now have three freaking Angry Birds Windows Phone 8 games, it's a safe assumption that the remaining series entries Angry Birds Rio and Bad Piggies will follow. Rovio likely has an engine in place for easy porting, hence these games have made it past certification while others like Fairway Solitaire and Temple Run continue to drag their feet.
We are left to wonder whether Seasons will pop up on Windows Phone 7 as well. Both Space and Star Wars made it to that OS as non-Xbox games, so Achievements would be extremely unlikely in a legacy version. Windows Phone Central will reach out to Rovio and Nokia about the possibility of future Windows Phone 7 releases. On the longshot chance that they provide a substantive reply, we'll update accordingly.
Thanks to Guilherme S. Manso for the tip!
Windows Central Newsletter
Get the best of Windows Central in in your inbox, every day!
Paul Acevedo is the Games Editor at Windows Central. A lifelong gamer, he has written about videogames for over 15 years and reviewed over 350 games for our site. Follow him on Twitter @PaulRAcevedo. Don't hate. Appreciate!
I wish Microsoft is as dedicated as Nokia towards windows phone. They need to add the missing features in windows phone quickly, like multiple volumes, windows 8 like multitasking, centralized notification system, universal search, VPN support. Waive the developer fee for 1-2 years. Make a deal with top game developers and bring all the games to windows phone and windows 8. Bring the big name apps like Instagram, Pinterest, Tumblr etc.. to both windows phone and windows 8. Bring all the bank apps for windows phone. I wish Microsoft do these things which will require probably 1/10th of the money that they are spending on marketing.

yes.. waive the developer fee and get us tons of useless apps and a even slower certification process for the store :)

The developer fee will be the last thing on the minds of people like Instagram, or anyone else with a big app. I'm pretty certain that Microsoft is doing lots of closed doors discussions with these developers. If you want to moan at someone about lack of apps, moan at the developers behind those apps....i reckon ms will be bending over backwards to do anything for them, it'll be the developers who are dragging their heels

Well, that depends on the app(s) you are wanting. In my case (and the case of many others), we want high-quality, Xbox-branded games. Microsoft is THE DEVELOPER who should be leading the way on that--we recently saw one of this site's articles list 15+ game brands Microsoft owns and could release titles with. The big ones are, of course, Halo Gears of War, Forza, PGR (a little redundant from Forza), Fable, and maybe Banjo-Kazooie. Microsoft leverages NONE of their franchises on the mobile platform, and that is not something you can put on anyone BUT Microsoft.

So it's certainly not just third-party developrs dragging over this. Microsoft could have supercharged the gaming experience on Windows Phone like no other devloper or company could for ANY mobile plaform, whether that be Gameloft, Rovio, or whoever. Microsoft's dragging its feet JUST AS BADLY as any app developer there is right now.

I'm a developer and I don't mind paying a small yearly fee. In fact, I think it prevents a lot of crappy developers from submitting useless crap to the marketplace. However, it does infuriate me that there are SEPERATE fees for WP8 and W8 stores. I couldn't believe this was the case. MS ought to have one universal developer fee/account for both stores.

SEPARATE? One of the most common misspelled words.

Although would have definitely preferred a new/original game but at least WP is getting some love.

I hate hb... It seems that all mobile world rotates around it and Instagram. In Italy we call it "bimbominkia" effect, translated more or less is "stupid-baby-with-a-phone" effect.

Angry Birds and Instagram piss in your corn flakes? How can you hate an app or game that you are in no way forced to use?

I doubt it's hate for the apps/games themselves. It's a hate for the idiot people with tunnel vision who (supposedly) weigh so much importance on such weak, unnecessary crap. At least that's my opinion.

I have Angry Birds Seasons on my E3D...it's actually pretty good because it updates with the seasons...I'm glad it's coming to Windows Phone, because it constantly crashing on the E3D.

The hacker? The whole country?

I am hesitant to get another Rovio game. I'm still waiting for hoth on my WP7 and Win8. I'll think about it when this come out for WP7. This game in particular will look stupid if the updates aren't on time. Hoth is appropriate whenever, but what if they give us a Christmas update in March, or a Valentine's Day update in June?

There's enough levels at this point that they could stop doing updates and you'd still have a complete game themed around the whole year.

Nokia goes all with WP. That's great. Just more than 1 year from when Nokia joined. The future is bright :D

I don't think think people really care what games we get as long as it is main stream. That way MS will attract more attention to a wider more diverse audience. Sure variety would be fantastic, but at this point Windows Phone 8 loyalists will settle for anything at the present time. Or I could be totally off basis and out to left field here. I don't know, I'm so confused.

The loyalists aren't the ones who WANT "anything." What the loyalists will take "anything" for is to grow the brand and get more QUALITY titles coming. I have 0 interest in Angry Birds, iteration 73. I have minimal interest in Temple Run, as I've never tried the game whatsoever, and I'd like to see if it's worth playing. I don't care about YouTube apps on my phone or Instagram whatsoever. What I care about are high-quality games. Most of those would be from Microsoft-owned game brands like Halo and Forza and Gears and such. The Gameloft titles have some interesting-looking releases as well, but I mostly want GOOD games, not "any" games.

Do you think its actually worth porting those games in any fashion to a mobile device? I can't claim to know what everyone desires. But as far as I can tell, gamers aren't clamoring for mobile versions of these games. With the exception of myself (and you and a few others) many don't even see mobile gaming or anything without a joystick (or mouse and keyboard) as a valid form of gaming.

It's worth it! People have been asking for a mobile Halo since Xbox games for Windows Phone became a thing. Our pleas have just fallen on deaf ears at Microsoft. Games based on console franchises (Batman, Spider-Man, Borderlands, Resident Evil, Call of Duty, Doom, etc.) do big numbers on iOS and Android. Just because some people dislike virtual sticks doesn't mean that many others people don't crave more serious mobile games.

I guess what I meant to say is do the developers see it as worth it. Again, I personally am not opposed to mobile gaming or there being serious mobile games. But does the average Halo fan care enough to buy a WP just for Halo?

Ok, Paul you are right (to an extent), but why do you point this at MS instead of the developers?

Several reasons. For one, properties like Halo, Forza, PGR, and Fable belong to Microsoft so it's obviously their choice if a mobile version of those games get made. Second, as I've covered in the 'How to save Xbox WP' series and some of the articles written about the Xbox release drought, WP is a minority platform. Due to the smaller user base and the time and effort to go through Xbox Live certification, producing Xbox WP games just isn't financially worthwhile for many developers. Reducing the certification hurdles would help, but the main step is for Microsoft to fund more WP game development - just as Nokia does with their exclusives. MS needs to keep existing WP gamers happy with a steady stream of new releases, which also makes the platform more attractive for gamers who haven't leapt on board WP yet.

WP really need to fix things like multi tasking at least putting a x button on task manager, selecting multiple files for attachments or for deleting it.

I think multitasking could be much more simple...We swipe left for a full list of available apps; swiping right could reveal a list of all available open apps and notifications. Windows Phone 8 needs to take a page from Windows and be more open. I'm certain that's a quarter of the reason why android is popular. WP8 could be much more open. Perhaps it could appear to be more "closed" by default however more experienced users could dig for greater customization. I'm tired and rambling, sorry and goodnight.

Hate to take it here, but androids TRUE "success" is due largely to ignorance, and market saturation. MOST people don't know nor care about all the ins and outs of mobile devices. "Can it text, go on social networks, go online, etc? sold!"
Look into it, you'll see that it's true.

Does this support HD resolution? If not then no thank you Rovio.

Nevermind it's not in HD. No idea why the review says 'buttery smooth' graphics.

Not sure how you're determining a less than HD display. It runs at WP8 screen resolutions.

No it doesn't. The game is coded for WP7 resolution and is blown up on the HD screen of Lumia 920. If you want to know what the HD resolution looks like give it a try on the iPhone 5. I finished this game on my old iPhone 4S and it looked incredibly crisp; same goes for Star Wars and Space.

Looks pretty buttery smooth to me. Give Paul a break lol.

Break? I'm not criticizing him or anything. Just pointing out that this is not an HD version, or at least not anywhere close to its iOS/Android counterparts.

He didn't say it was HD in the article, but I will agree it could be better. I don't think it takes away from the game that much. I played with the game zoomed out the whole way and can barely notice a difference.

Actually Paul that HD comment is the problem. That's a direct result of that HTC comment about WP8 not being 1080P capable, so now all the cry babies are adding that to their weird little list of shit to bitch about.
This is why the negative articles need to be slowed the hell down...

Good on them for putting out a new game.... But they still need to update the first one now.

Thanks for the heads up. Just bought it and downloading now. It's better late than never. Actually, you guys should get a cut from Rovio because if not for these updates I would have never known about it :)

Good to see this at last, it's about time they stared catching up. We need Angry Birds Rio now please.

I think Rovio is finally warming up to windows phone. First there was the quick release of AB : Star Wars and Space. Just last week, they released the Hoth Update and now this week this. I won't be surprised if they release Rio in the next one month.

Well they should release bad piggies and amazing Alex too

I'm over the whole "Angry Birds not on WP7/WP8" issue. However, it's amazing to see that Rovio released 3 of the 4 Angry Birds games within the first 4 months of WP8's existance. Contrast that with the "long awaited" release of Angry Birds on WP7.x and the 2 years without any sort of update or new release. So while I don't care as much, I'm happy to see that Rovio is making the effort. Maybe the porting of the game is as easy as Microsoft suggested! :)
On the flipside, other developers need to take note of this and do the same for their apps/games. I know there are certification issues but either developers are still not entirely eager to release their apps/games to Windows Phone or Microsoft has to do a better job of convincing them that this platform is worth spending time on.

We also need to purchase the apps that come out to show some developer support. They will only continue to develop if there is a revenue stream.

I personally think this is all good news. Angry Birds is one of the apps I use to judge if a market place is maturing and will be good for me. So by adding Angry Birds Season it's all looking positive to me.

This was a nice little surprise this morning.

Congrats all WP8 users! Although I don't get to enjoy this on my Lumia 900, I can say that I played the trial on my N8 last year, and enjoyed even more than the original Angry Birds (which has over 300 levels)! I tried the trial for Angry Birds Rio, and totally hated it. But, AB Seasons is great.

Enjoy!

Why is rovio apparently the only game developer who actually bothers to support 720p on the 8X?

AFAIK WP7 games literally can't use the actual WP8 resolutions. Rovio is simply the only dev who has made any Xbox WP8 games o far.

What about Guns 4 Hire and Dredd vs Zombies from Rebellion. Aren't those made for WP8. Hockey Nation also.

I can only see positive things in this. Another Xbox game, the proof that there are developers who keep putting an effort to grow the marketplace of WP8 AND the fact that it's another Angry Birds which to me is good since it's one of my favourite games to pass time. PLUS, unlike Nokia and other developers games, it only costs 0.99€ which is a more than FAIR price for the game. I didn't even tried Seasons, I just bought it. If it costed the 2.99€ of Nokia or the 4.99€ of Microsoft I wouldn't buy it without trying it. So... Now let Rio come.

The low price is definitely nice. Just keep in mind Rovio can do that because Angry Birds is so popular, it's guaranteed to sell in large numbers even on the small WP platform. Many other games wouldn't sell enough to turn a profit at the lowest price point, especially if they can only be sold to Nokia users instead of all WP users.

Here's a suggestion for Rovio. . . Angry Birds Halo! I love it. Can you imagine If this happens, remember my name, I want some money.

please port seasons to WP 7.8

This certification process is for the birds.....and they are angry. something is better than nothing. Wish we would start seeing those titles announced for winter...

Microsoft's lack of foresight will get it booted from the mobile arena, they're just not committed to WP as they should be. It doesn't take a lot of business acumen to understand that a Halo exclusive game on WP (and even Win8/RT) raise eyebrows among many consumers. They funnelled so much money into Xbox and took loss upon loss, even a 10th of that commitment would give WP some serious weight.
You're scewing yourself Microsoft.

Yawn, ANOTHER angry birds.... I guess it's good for Windows Phone but, they dont do anything games have not done in the last 5-10 years on PCs accept make them look pretty....

Wake me when we get some real games that NEED a dual core CPU to run....Still not impressed with Wp8 games so far...

I just completed the classic one, so it's nice with a sequel.

my god i remember that damn smash 250000 blocks achievement in the classic angry birds on WP7. that drove me nuts! i didnt even come close. so annoying!

and when will we see angry birds star wars on W8 get the hoth update?

It already got the hoth update a week or so ago.

No, that was WP8. I have it on my Surface.

Cool, I have been waiting for this game to come to Windows Phone.

Even if it does pop up for WP7, there's no guarantee of game updates.

It's great to get another title but until they start syncing progress between platforms I'm not buying another Angry Birds game for the phone. After upgrading to WP8 and losing all game progress from nearly two years of WP7, then swapping 920s a couple of weeks into getting one of those, I have not and will not invest any considerable amount of time into games that do not sync or back up to somewhere off of the phone. I'd played hours in Angry Birds, Final Fantasy, Fusion Sentient, Splinter Cell, and a couple of others only to be back at square one. I'm not making that mistake again, MS really needs to give us an option to store game saves in the backup options.

I'm think Thinking Microsoft is probably broke that's why their not spending any money in an effort to enhance and enrich or develop XBox games. Bill has to feed his family, can't worry about games. Maybe Bill doesn't think games will attract new sales or maybe he's saving up for a new car. Lol, right? I keep telling myself these things in an effort to make sense of all this. It would be so simple and it is so obvious that putting an effort into XBox games would please millions of people and bring in new sales and create tons of excitement for Windows Phone. Its like everyone knows this except Microsoft. I just don't understand why Microsoft is blind and stumbling and fumbling around with making it attractive for developers to produce games for the Windows platform. Look at the XBOX itself, but when it comes to Windows phone they are complete and utterly nikumpoops tripping over themselves and bumping into walls. It is enough to drive a person insane. Just do it already, quit making excuses before you screw everything up and Windows phone will just be a little speed bump in an Android dominated world. Who the hell wants that. Maybe Microsoft. . .
Windows Central Newsletter
Thank you for signing up to Windows Central. You will receive a verification email shortly.
There was a problem. Please refresh the page and try again.