Angry Birds Star Wars II Windows Phone update adds 30 new levels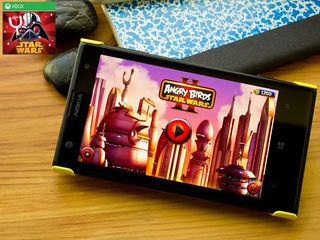 Rovio has pushed out a new update for its movie-based physics puzzle sequel Angry Birds Star Wars II for Windows Phone which adds 30 new levels.
There doesn't seem to be a lot of depth to this content update. Fans of the game can now access 15 more "Bird Side" levels while the "Pork Side" gets 15 levels of their own to check out. The descrption says:
Are you a fan of the "Bird Side" or the "Pork Side" in the game? Thanks to Usama for the tip!
Windows Central Newsletter
Get the best of Windows Central in in your inbox, every day!
Who the fuc* is still playing this fuc*ing game!!!!!!!

So desperate to comment first..eehh?

On Android all are free, we only have angry birds Rio! :(((

Yeah... Does that change anything apart from the number? Nope

On Android, last I checked it was a buck. Posted via the Windows Phone Central App for Android

Kids. Mainly kids. Mainly kids who like star wars. Mainly the 89 million roughly kids in the U.S..

Many of us are and what does it matter to you? Are we supposed to be like sheep and only play games that are fads now? I for one love me some Angry Birds. Next time just don't comment at all

I still play contra n duck hunt...

Angry birds was a hit before 10 years it's too old right now

Angry birds is 5 years old. 10 years ago we didn't really have touch screen phones

Hey stupid the first smartphone was made "with a TOUCH screen" in 1992.
And please use Bing or google before writing a stupid comment

Agreed. Purple who feel compelled to post "is anybody still playing this????" on every Angry Birds article are really dim. They clearly place more value on playing whatever their friends are playing than on having fun.

I think I would still play this game - I own them all, but reloads have forced me to start all over again. I just can't bring myself to start all over just to unlock the new levels.

This is true for so many of my games. Microsoft needs to do something about it in the backup utility.

Preach! So unbelievably true.

Hotraia, what games are you playing now?

Asphalt 8, head soccer and swing copters.

*slowly raises hand* i'm finally getting around to it now, for the achievements. [Enter abusive commentary about me here]

I still play it, and I like seeing updates to my games. Why would anyone complain about this?

But where is AB: Stella???

All I want is angry birds go on my Lumia 520! These classic angry bird games are too old and boring nowadays

Why does it feel like angry birds has more games in the store then the rest of the store combined? Lol haven't beat the first one yet!!

Angry birds stella any news?

Probably but not yet. Wasn't it a few days ago we heard news? Give it some time!

Do any one still plays this game???

I do. In fact I play all of them regularly. What's it to you?

And yet it's still not available for RT!

Here is a problem that sucks, I love all the Angry Birds titles. Unfortunately, I just upgraded my cell & got a Windows Phone. So after investing like $200, now it looks like I was better off with my old phone! So next time you all feel unlucky, just remember me, & know that for you, its not so bad..
Windows Central Newsletter
Thank you for signing up to Windows Central. You will receive a verification email shortly.
There was a problem. Please refresh the page and try again.