Lots of Angry Birds updates on Windows Phone and Windows 8 bring new levels and fixes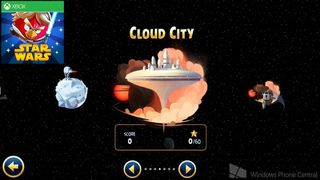 Today's a big day for Windows 8 games, what with Temple: Run Brave finally releasing (not to mention Dr. Pickaxe's indie pinball action). On top of that, it also happens to be a great day for Angry Birds on Windows 8 AND Windows Phone. Why? First of all, I heard some pigs got knocked over and crushed by blocks. You know how Angry Birds love that.
More to the point: on Windows Phone 8, both Angry Birds Classic (still free till next Tuesday!) and Angry Birds Star Wars just got updated. On Windows 8 and Windows Phone 7, Angry Birds Star Wars got its long-delayed update too. That's four Angry Birds games caught up!
Head past the break to find out what's been fixed or added in each game.
Angry Birds Classic
Alright, so the new Windows Phone 8 version of the original Angry Birds, referred to as Angry Birds Classic by those in the know, just came out on May 1st, less than two weeks ago. At that time, it already included all of the Angry Birds levels you'd find on iOS or Android. So what could this update possibly change?
At launch, Angry Birds Classic suffered from two key problems:
3-Star Achievements wouldn't unlock
The game crashed on start-up for some users
According to several of our super cool readers, the update fixes both of these issues. Talk about a fast turnaround.
Angry Birds Classic – Windows Phone 8 - 19 MB - Store Link
Angry Birds Star Wars (Windows Phone 8)
This game was actually the first and only Angry Birds title to launch on Windows Phone at the exact same time as the iOS and Android versions. Sadly that hasn't happened again – we're still waiting on Angry Birds Friends, darn it!
Well, other versions of Angry Birds Star Wars received the Hoth level pack via update on November 29th, less than a month after the game's release. Sadly for Windows Phone gamers, our version didn't get the Hoth update until February 29th of this year. That's like, way later, dude.
By the time the Hoth update finally showed up, the other versions had already received two more level packs, darn it: Cloud City and Boba Fett Missions. Those didn't come to our game with the previous version 1.1 update, but today's version 1.2 update adds them at last!
Cloud City is a normal pack of levels, but the 10 Boba Fett Missions take some work to unlock. To access the bounty hunter's missions, you'll have to collect the five hidden rocket packs spread throughout the game. Use this guide to grab them in a hurry.
Angry Birds Star Wars – Windows Phone 8 - 29 MB - Store Link
Angry Birds Star Wars (Windows 8)
If you thought waiting three months for the Hoth levels was rough, imagine paying five bucks for the game and then not getting the Hoth update until May – more than six months after everyone else! That's just the torture Windows 8 and RT owners have suffered.
Today their suffering comes to an end, because the tablet and PC version of Angry Birds Star Wars finally received not only the Hoth levels, but also Cloud City and Boba Fett Missions as well. You can only play 20 Cloud City levels right now – the rest are promised in a future update. Let's hope it doesn't take six more months!
Angry Birds Star Wars – Windows 8 - $4.99 - 41 MB – Store Link
Angry Birds Star Wars (Windows Phone 7)
The non-Xbox Live version for Windows Phone 7 (which already had the Hoth update) received a new patch today as well. The version 1.2 update adds the Cloud City levels, but the game's release notes make no mention of the Boba Fett missions. Would anyone out there like to confirm whether Boba Fett made the cut? Update: Sounds like the Boba Fett missions are present on WP7 as well.
Angry Birds Star Wars – Windows Phone 7 - ? MB - Store Link
Thanks to David Allen, Devashish Purandare, Jonathan Dollison, and Munchies for the tips!
Paul Acevedo is the Games Editor at Windows Central. A lifelong gamer, he has written about videogames for over 15 years and reviewed over 350 games for our site. Follow him on Twitter @PaulRAcevedo. Don't hate. Appreciate!
Fixed the app crash on startup for angry bird classic on my Lumia 920.

Thank goodness it fixed the two issues, now I can play again...and the 3-star achievement popped once I selected the first set!

Where's NOVA, supposedly to be out since yesterday?

They've already covered this.

I guess I missed it. So what happened?

Writing style seems really weird, like you're still buzzing from 5 cans of red bull..

No mortal is immune to sleep deprivation! And with that, I'm off to bed for awhile.

Boba Fett - 'Find hidden jetpacks to unlock Boba Fett Missons'. Whatever this means...

Lumia 900/WP 7.5

Sad that Angry Birds Space (wp8 version) isn't available here in Brazil yet!!

change your phone's region/marketplace to USA/Canada, buy the game then change the region back to Brazil. Works with other games too

Great news. Been waiting for more Star Wars goodies...

omg that was torture for the hoth update for W8/RT!!!!!!! CANT WAIT TO PLAY IT!!!

Question.
If I upgrade from windows phone 7 to windows phone 8...am I eligible to get the 8 version of Angry Birds or do I have to pay?

They're two separate apps. I had to ask my sister to borrow her phone (reset) so I would get all these WP8 freebies and wouldn't miss them.

Koodos to rovio for fixing a glitched achievement in alittle over a week unlitke gameloft who we are over a month sense some of there games released which is still glitched :S

Are these supporting the hi-res yet? Cant really tell but they still look great in my 920.

Yeah Winpho 8 version support HD displays

Still no high-res support in Angry Birds Classic for WP8. Or is it just me?

The picture quality on my Lumia 920 is awful.

Updates updates updates...there are so many on things I use lately. With a huge round coming this fall with blue support. Love this keep it coming :D

That's a lot of angry birds stuff. If only I enjoyed angry as much as I though I would. Got bored after a couple of levels :(

Nice to see so many updates, fixes and new apps!!! I've had update notifications every day this week for at least 1-3 of my apps I use :-)

Where the !@!@$!@#% is "Path Of Jedi" ????
Windows Central Newsletter
Thank you for signing up to Windows Central. You will receive a verification email shortly.
There was a problem. Please refresh the page and try again.