Join us tonight for the premiere of 'Microsoft, Minecraft, and Libations' at 6 PM ET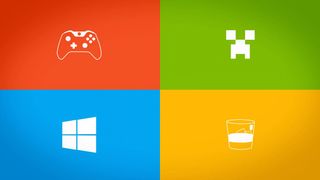 Today I am excited to announce a new Windows Central show hosted by me, Jez Corden, and Zac Bowden. The show will stream live on Beam every Friday starting at 6 PM ET (3 PM PT, 11 PM GMT) and you are of course encouraged to jump and join the conversation.
Here is what you need to know!
What it is
The Windows Central Podcast is not going away. That will still be hosted by Zac, Derek, and myself and be posted every Monday morning. That is our formal "newsy" podcast where we will continue to discuss recent events, rumors, and analyze Microsoft's strategy.
Microsoft, Minecraft, and Libations is a more laidback hangout show meant for the fans of Xbox, Microsoft, Minecraft, Windows, and more and where we can interact with our audience.
The concept is simple: Jez, Zac, and I will be hilariously building our own Windows Central Realm while we answer questions in the stream chat, discuss various aspects of Microsoft, and most importantly have fun.
The libations are because it's Friday, the work week is over, and we'll be imbibing a few drinks of choice. It's a celebration, after all!
And yes, we'll be discussing Minecraft on occasion too because, like many of you, I have no idea how it all works. This is likely where the humor will come in as we all try to figure out that crazy game.
There will be guests
We also plan to have guests! At least once a month we are planning to have people from the Xbox team, Microsoft, the Insider program, the folks behind Minecraft, other tech journalists, and maybe the head of Beam (who stopped by our test stream last Friday).
The idea is not to grill them on upcoming products or topics, but rather get to know them as people e.g. What their job is, what it's like, how did they get started, funny stories, etc.
We want a more personal show, not a stuffy newscast.
There will be prizes
Each stream we expect to give away prizes to those in the audience/Beam channel! Make sure to join in, participate, and maybe you'll grab a sweet new game code or more.
Can't watch the live stream?
If you can't watch the live stream, we'll be doing some minor edits and uploading the broadcast to YouTube.
Time, Place and How to join
The live stream should kick off at 6 PM ET (3 PM PT, 11 PM GMT). You can find the start time based on your location and time zone in our event announcer
We'll push a new article tonight with the embed in it on the front page. However, you can also just go to our main page on Beam and watch it there: beam.pro/windowscentral.
Signup at beam.pro if you want to participate in the chat for the stream. You do not have to join if you just want to watch the stream.
If you don't know what Beam is, you can read about how Microsoft recently just acquired the startup streaming service.
We're very excited to start this now show today. Of course, being the first show, we expect content and the format to evolve over time based on experience and your feedback, so let us know what you think!
Daniel Rubino is the Editor-in-chief of Windows Central, head reviewer, podcast co-host, and analyst. He has been here covering Microsoft since 2007 when this site was called WMExperts (and later Windows Phone Central). His interests include Windows, Microsoft Surface, laptops, next-gen computing, and for some reason, watches. Before all this tech stuff, he worked on a Ph.D. in linguistics and ran the projectors at movie theaters, which has done absolutely nothing for his career.
11pm GMT, just as the pubs shut here. What could possibly go wrong?

Very cool--although, I motion for your libations to be confined to mead, so that you can maintain alliteration in the title: Microsoft, Minecraft, and Mead. Will you guys be using the interactive Beam features for Minecraft, or will this be a more vanilla Minecraft affair? How much experience do you all have with survival Minecraft--like, will you guys mostly be discovering things for the first time (litmus test: have you ever been to the Nether?), or is at least one of you more of an expert (Dan hinted he's more of a beginner)?

lol, nice idea on the Mead. However, last time I tried mead (since it's hip again) I was not too much of a fan :P

Will you guys be using the interactive Beam features for Minecraft

We should be able to, we want to really explore and push both Beam and Minecraft to see what they can do.

Yeah, I tried mead for the first time like a year ago and was embarassingly confused when the server gave me a glass of what looked like watered-down white wine. I said, "Oh, I ordered the mead." She replied, "That's mead...." I had envisioned it to be dark, thick, and strong, like some type of fermented, viking oatmeal delivered in a glass so manly it had chest hair growing out of it. No thanks, Beowulf; I'll stick to beer.

Haha, Mead would be a good one, but we wanted to keep our drinking options open. ;) For now we won't be using the interactive features for Beam cus we're using the Windows 10 UWP client to play, but that's something we might explore for the future. I'm fairly well experienced with Minecraft Survival mode, as is Zac, I think we're a little out of touch with some of the new features. I have never been to the Nether, and I'm not sure Zac has either. Dan doesn't know much about the game however... you can get a taste of some of our antics on this clip haha: https://twitter.com/zacbowden/status/769564119578112001

Nice! Would join with pleasure.

'it's Friday and the work week is over' :'(

I am looking forward to tuning in though. More than happy to be a mod ;)

We actually work on the weekends too, but yes, we're human and do not like doing this job 7 days a week.

Never heard of beam. Did i miss anything important?

Twitch-like startup bought by Microsoft, will be integrated into Windows 10/Xbox at some point.

Will this be "kid friendly"?

We'll try very hard to keep it clean, yes, and no cussing.

@Pbear74 and Daniel: I second this if possible. My kids love Minecraft and would get a big kick out of this (my nine yr old son taught my four year daughter how to play; they're now 11 and 6 and make me laugh every time they play).

Understood and will oblige.

Hmm this sounds intriguing, but the combination seems strange. Minecraft may bring some younger folks, which makes the libation part seem out of place. Good luck!

Yeah, we choice Minecraft for a few reasons: (1) I have no idea how it works, so that'll be funny (2) It's casual enough that we can play and talk (3) It could work with guests too, as dropping them in GoW Horde Mode may be a lot while talking (4) Gives the audience something to look at while we chat (5) It's a MS property, so kind of makes sense Plus, I hope that some older people will tune in and maybe learn why punching trees is a thing ;)

Hmm, I'll check it out. Probably not live though.

I will be there as long as there is no more work. Lol

Tuned in via Continuum Lumia 950. Worked well!! Tested it out with a touch screen monitor post AU.

guys ...i am not able to chat on beam ..... i don't know why .... pop is coming up that i m not permitted ...plzzzzzz help
Windows Central Newsletter
Thank you for signing up to Windows Central. You will receive a verification email shortly.
There was a problem. Please refresh the page and try again.