Zonos gives you control over your Sonos system on Windows 10 PC and Mobile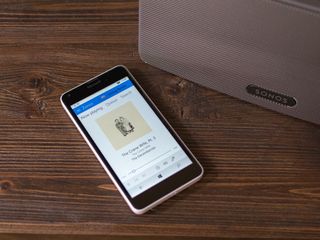 Developer CatenaLogic has released Zonos, another third-party Sonos speaker app for Windows 10 on PC and Mobile.
Sonos has already revealed it has no plans to release a Universal Windows Platform app for Windows 10, but that is not stopping other developers from creating their own apps that support the popular connected speakers. One such app, Phonos, was launched in April and now there's Zonos.
The app itself has been in the Windows Store for a little while now but the developers officially announced its launch on Sunday (via WinBeta). Here's a list of its features:
Control media playback of all players
Group players into zones
Browse your media library and third-party media services
Reorder play queues so you decide the order in which your media is played
No need to pair this controller with your Sonos network, it works out of the box
Advanced features such as alarm management, sleep timer and more!
The app is free to download, but there is an in-app purchase to get rid of banner ads. The developers also note that Zonos cannot be used to initially set up your Sonos network.
Download Zonos from the Windows Store (opens in new tab)
I was using Chirp before, but I like this one better because it has the grouping feature implemented.

Quite happy with Phonos here but will surely check it out!

Yes I was ok with Phonos but this is way better.

Phonos is nice, but doesn't work on my Surface. Zonos works on both. I paid $2.99 to be rid of the ads. It works nice and has a fresher design than Phonos in my opinion, but they could do some work on making some settings more intuititve.

Phonos lite works fine on surface, but if you have a surface 3 or later, you can use the sinks windows controller, it works fine. Posted from Windows Central for Windows 10

Do you lose any functionality when compared to ios or android?

Not a lot. BUT it has one big plus over ios and android - you can save the queue as a Sonos playlist with a full description instead of a truncated 20 or so characters.

Thumbs up for The Decemberists - The Crane Wife!!

This app is excellent. I've been using it for a month now and it makes me not miss Sonos app at all. Dev is super quick to respond and update the app as needed.

Phonos Universal Preview is very good, just a few features to add and works across all Windows 10 devices!

Exactly... Been using that for some time now and looks very promising!

I prefer the feel of the new Phonos app but Zonos has more features including the ability to search which i feel is essential.

So glad we have options. I was using Phonos UWP, but Zonos has more options currently including search and favorites. My short review: Phonos UWP has a unique ui, Zonos has most options, and Chirp also seems nice but has not implemented ability to save as favorite (as far as I can tell).

Doesn't work with Amazon Music accounts. Shows nothing available.

It should work, please report the issues and it will be fixed.

Carshes when I try to adjust volume of grouped radios. Bummer.

Please report the issue and it will be fixed.
Windows Central Newsletter
Thank you for signing up to Windows Central. You will receive a verification email shortly.
There was a problem. Please refresh the page and try again.