Another Verizon Omnia sighting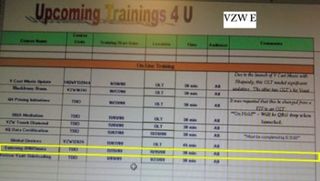 We're suckers for all things vague and blurry around here. Witness the above photo.
Uberphones reports that this is a Verizon Wireless training schedule that lists Nov. 15 as the day VZW workers will get their online training with the Samsung Omnia. Keep squinting. You'll see it, too.
Obviously, that kind of blows our previously reported Oct. 14-Nov. 15 window out of the water. But it also means that Verizon customers (hopefully) shouldn't have too much longer to wait for the Omnia. Of course, we've said that before.
Windows Central Newsletter
Get the best of Windows Central in your inbox, every day!