Omnia apparently headed to Verizon; i770 now 'Saga'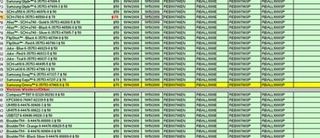 Can't say we saw this coming, but the Samsung Omnia appears to be headed for Verizon, like soonest. Engadget Mobile got a tip through Howard Forums that the keyboardless slab appeared on a Big V rebate form, and sure 'nuff, there she be.
The start date for the rebate is Oct. 14 — tomorrow! — and the end date is Nov. 15, so it's pretty safe to say we should see the Omnia any day now, if the rebate form's on the level. No sign of it on Verizon's Web site yet. Let us know if you see one.
Also note just above the Omnia on the list is the Samsung Saga, which Engadget says is a global version of the i770, which we recently saw pics of.
For more on the Omnia, albeit the non-U.S. version, check out Dieter's hardware hands-on and software hands-on, and George's recent overall review.
Does this mean the i770 is about to be released too? That thing is so similar to the Treo 800w that I would get that instead if it comes out first (and if it has an iR port, I have to have iR).
...?

Can't say for certain, 'cause we just don't know (yet), but chances are looking pretty good, again, if that rebate sheet's on the level.

One can hope, but there was a report that said the Treo 800w was to be released on Oct 12th and that date has come and gone and still nothing, so I'll believe it when I see the phone on Verizon's site. I'm looking forward to both being out, I'm thinking of getting the i770 over the 800w.
Windows Central Newsletter
Get the best of Windows Central in in your inbox, every day!
Thank you for signing up to Windows Central. You will receive a verification email shortly.
There was a problem. Please refresh the page and try again.