Touch Pro to Hit Verizon Nov 24th, Stores Dec 1st?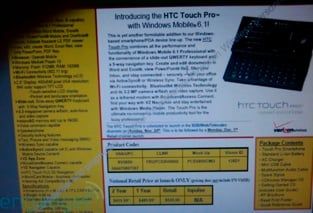 Looks like Verizon will join Sprint and AT&T in offering HTC's latest and greatest, the Touch Pro. Engadget Mobile snagged the internal document detailing a November 24th launch and December 1st store-availability. The price will be steep at $350 after all the mail-in rebates and a 2 year contract.
Phonenews has the launch date and price set the same. They're pegging the RAM (though they list it as ROM) at 192MB, which is the only difference we can see, spec-wise, from the Sprint model. It seems a little odd to us that HTC would make two different CDMA versions of the Touch Pro, but that's the latest info out there right now. The processor is not "crippled," as we told you before, hopefully this 192mb spec will turn out to be false as well.
Windows Central Newsletter
Get the best of Windows Central in your inbox, every day!
After this announcement, I have started looking at other providers in my area. Not only does this phone cost more than on the other providers, they reduced the memory, disabled the GPS, and we don't know if the accelerometer is going to be removed.
After living with my i730 for two years and finding all the things that I wanted in my next phone, I thought that the Touch Pro was going to be it. (sigh)
I can't wait for the next verizon sales guy to call and try get me to upgrade my phone and sign up again!

What is funny (or sad) is that I have talked with 3 different VZ stores over the last 3 days....because my mom is on VZ and she is interested in this phone. Each time the same result....blank stares, followed by "What is it called again?"..."Never heard of it, I think you are talking about the Mogul or the Touch"....
when I explain what the phone is, they come back with something along the lines that they must not be getting it or that it must be in the way distant future. I then show them my Sprint Touch Pro and explain AT&T came out with theirs last weekend and that VZ is coming out with it soon, they don't have much to say or any answer or still don't fully understand what I am asking.....it is as if I am asking a question in Cantonese.

htc has the touch pro listed under alltel now so it will be soon alltel will get some love.