Another Windows 10 update is wreaking havoc — here's the fix
An update that fixed several issues seems to have brought some new ones.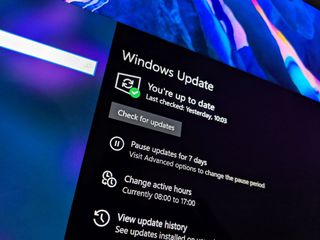 (Image credit: Windows Central)
What you need to know
A recent optional Windows 10 Update seems to cause issues, including slowing boot times.
The issues come with Windows 10 KB4535996, which fixed several other issues.
Microsoft has had several issues with Windows 10 updates over the last few months.
Updated March 9, 2020: Microsoft confirmed the issue in a comment and is working on the fix. The comment reads, "We're aware of issues with signtool.exe after installing the latest optional update for Windows 10, version 1903 or Windows 10, version 1909 (KB4535996). If you are encountering issues or receiving errors related to signtool.exe, you can uninstall the optional update KB4535996. We are working on a resolution and estimate a solution will be available in mid-March."
A Windows update is causing issues for people yet again. This time, it's Windows 10 KB4535996 that's causing some people's PCs to experience slow boot times. Additionally, the Sign tool app is crashing for some and lower frame rates in games and stuttering for others. Windows 10 KB4535996 was an optional update that fixed several issues, but it brought some new ones with it.
Windows Latest and TechRadar reported the issue earlier today. Additionally, a person on Reddit shared their own issues with the update a few days ago. TechRadar also reports in some extreme cases, PCs can get stuck in a boot loop. It's worth noting that Windows 10 should give you the option to boot your PC in Safe Mode if it fails multiple times. You can then uninstall the update.
Luckily, Windows 10 KB4535996 was an optional update, so a lot of people probably don't have it on their system. If you have installed it and have any issues, you can easily uninstall it with these steps:
Select the start button or Windows Desktop Search and type update history and select View your Update history.
On the Settings/View update history dialog window, Select Uninstall Updates.
On the Installed Updates dialog window, find and select KB4535996 and select the Uninstall button.
Restart your device.
Upon restart use the "Reset this PC" feature, and you should not encounter this issue.
Microsoft has had several update-related issues over the last few months. We'll have to keep an eye out to see if this is a continuing trend or a spurt of isolated incidents.
News Writer and apps editor
Sean Endicott brings nearly a decade of experience covering Microsoft and Windows news to Windows Central. He joined our team in 2017 as an app reviewer and now heads up our day-to-day news coverage. If you have a news tip or an app to review, hit him up at sean.endicott@futurenet.com (opens in new tab).
Beware: Reset this PC will do a factory restore and you will lose all your programs and apps installed (you should be asked to choose to keep your files), is this needed or you are referring to System Restore? (which lets you choose a restore point which sould've been created when the update was installed and go back just before you installed it)

So does 2004 ship with a plethora of original issues or the gazillion of new ones?

Is Mr Bean running the Windows Updates now?

No malware caused people I know as much financial loss as Microsoft Windows Updates. I'm an IT freelancer. People turn to me when their computers don't work right. Out of the hundreds of calls I had exactly two cases of ransomware, out of which one was easily fixed with backups, while the other was a total loss. It was a small firm and the data wasn't as critical as it would have been with a different kind of business. I mean in real estate business once the deal is closed, it is closed. The vast majority of problems was caused by Microsoft. I can't complain. It is how I make living, except I'm sorry for the people who are trying to do the right thing and keep their computers updated. Not that they have much say about it in recent years. Microsoft is evil.

I couldn't agree more. Ever since that monkey Balmer was CEO, it started going downhill (or maybe even before that, otherwise he wouldn't have ever become the CEO... Only Shadow knows!). Must congratulate them on cunning (but evil) idea of firing entire QA team and have customers serving as Guinea pigs instead, and for fr... Scratch that, they're even paying to be Guinea pigs by having to purchase that ****** OS.

"In the past several months"? More like "ever since bloody win10 came out"! 🙄

Auditor: Do you provide updates to user?
Microsoft: yes. We release updatess to fix previous updatesss.

I would understand if all these problems would arise from issues caused by changing the backbone of the OS so much it would finally become OneCore or OneOS or whathaveyou. But the OS is not moving in any direction. We have the same ugly desktop experience, we have no Fluent Design proliferating, we have no better UWP app store, we have everything shut down around us, Groove, Video Editor, 3D everywhere. It is simply not evolving but devolving, and yet not a single minor fix is able to be pushed through without breaking things, my PC is not getting any faster or more stable. I must say, this is not bad because of testing culture. Even without proper testers, this degree of "bad luck" should not happen. This is due to horrible development practices. Looks like features are actually axed not due to any telemetries or usage statistics, but simply because nobody had remained in the development team recognizing any part of the code. It is better to simply remove things. I bet there is not a single developer in the Windows 10 team who would recognize an ex-colleague from 2 years. Continuously hitting refresh does nothing good. I hope that Panos will be able to stop this madness. I wonder how much time it will take for him, if he manages at all, or if an experience with software development will give him the final push to get the hall out of Microsoft.

I installed Windows 7 on my computer in 2013 and though upgrading to Windows 10 and all the way up to 1909 I've never had a problem with any Windows update. Yes: I have not done a fresh install in nearly 7 years. What are you all doing to your systems?

Windows 10 has been solid for me so far but I had to remove KB4535996. I haven't meddled with my install at all so it's perplexing. https://www.reddit.com/r/Windows10/comments/fbvvrm/pc_hangs_after_202002...
Windows Central Newsletter
Thank you for signing up to Windows Central. You will receive a verification email shortly.
There was a problem. Please refresh the page and try again.