Microsoft's latest Windows 10 update blunder seems particularly bad
Another issue seems to have appeared as a result of a Windows Update.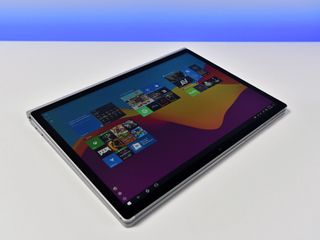 (Image credit: Windows Central)
What you need to know
A recent Windows Update appears to be deleting people's desktop files.
Several user reports speak of similar issues following a recent Windows Update.
The issue seemed connected to Windows 10 KB4532693.
Updated February 18, 2020: Microsoft staff state that Microsoft is aware of the issue. We've updated this article to reflect that and included more details about the bug. You can read more about the potential fix here.
Yet another issue seems to affect Windows 10 users as a result of a Windows Update. This time, people report that Windows 10 KB4532693 is deleting files from their desktops. Windows Latest spotted the reported issue on a Microsoft answers forum (opens in new tab). The issue seems to delete all files saved on the desktop. It can also cause settings and the Start Menu to boot up in their default state, effectively deleting people's settings and customizations.
It's important to note that this issue isn't widely reported, at least not at the moment. Multiple users have reported similar issues, and Microsoft staff told Windows Latest that Microsoft is aware of the issue.
TechRader reports that some people have managed to restore their files, but others have been unable to do so. The issue renames and moves people's user profile, causing the file deletion problem. Microsoft's current fix for the issue involves creating a new local account, transferring data from the temporary account that the bug accidentally created to the new local account. This should get your data back, but doesn't seem to work for everyone.
An upset user within the Microsoft answer forum shared their experience with the issue:
It's often difficult to determine how widespread and serious these types of issues are. As Windows Updates affect so many people, a spotlight is placed on any issue with Windows 10. If the user reports are accurate and the issue related to a Windows Update, it's the second update-related issue within the last week.
Microsoft recently removed Security update KB4524244 because it caused an issue on a subset of PCs. That update caused "Push Button Reset" to fail. This new issue seems more serious, as it could result in a large number of people's files being deleted.
Microsoft is looking for a fix to the recent issue, and we'll keep you updated on any progress regarding a fix.
News Writer and apps editor
Sean Endicott brings nearly a decade of experience covering Microsoft and Windows news to Windows Central. He joined our team in 2017 as an app reviewer and now heads up our day-to-day news coverage. If you have a news tip or an app to review, hit him up at sean.endicott@futurenet.com (opens in new tab).
The tradition of great quality control continues

Isn't that the truth! Having been in tech for 40+ years I've never seen anything like it! I even had my own software company where I GUARANTEED my software to be error-free. With MS, I have spent years of my life resolving or trying to resolve my and others issues without compensation from the company involved, and without a hint of assistance from that same company. Indeed, they have created a culture of "restart your computer." I always imagine it like this: "Hello, folks. This is your captain speaking. We've got a little glitch here and we have to restart our systems. Please return to your seats and buckle up. You will, of course, feel us 'lose altitude' for a minute or two, but we are high enough that we should be able to recover control before hitting the ground. We appreciate your patience and your cooperation." How far would that go? At MS? "Sounds good to me."

I installed this one last week according to update records and I have no issue, but that sounds pretty bad and it's got me nervous since I dump a lot of stuff in my desktop folder. I really hope it's not widespread, and I really, really hope it doesn't come back in a future update. I sync my desktop folder with OneDrive - I wonder if that would help?

OneDrive has a trash - they keep everything for 30 days. So you could easily restore your desktop

This installed itself on my PC last week. Around about the same time all my desktop icons got jumbled up. Is there a connection? I don't know, but what I can say is I still have files on the desktop. As far as I know nothing has been deleted.

People still keep their personal files on the C: drive? First thing I do when setting up a new PC is move the Documents, Pictures and Music folders to a separate partition.

Yeah c: is probably safest considering you can't format it while inside it. And that's where onedrive belongs.

My OneDrive is on my D drive with no issues, as is my library folders like documents, downloads, pictures, videos etc.

Define 'move'. Forwarding the folder would mean no help in this situation.

Yes doing this for 8 years... So far so good

They are deliberately testing how to delete your livetile start menu. What a joke these people.

2020 and people save files to the desktop. This worries me more than the update error.

Why not? It's a temp folder and a virtual junk drawer. Important, categorized stuff gets filed away. Besides, I sync my desktop to OneDrive.

It does NOT "delete everything from your desktop" because it doesn't load YOUR desktop on login.
It incorrectly loads you into a DEFAULT empty profile instead of YOUR account's profile.
If you uninstall the patch, and reboot, then your profile (and thus YOUR desktop) loads for you. Ever since Microsoft disbanded their Windows Update Testing Group they have gotten more and more sloppy in regression testing of patches, relying only upon AUTOMATED testing before releasing them.
This is a very bad idea, but, that group was identified as providing "no revenue" to the company, so they disbanded it. Shortsighted and stupid, but there you go.

Wow, can't wait to see that whole new group of Windows hand-helds also get gimped by the basic incompetence of the OS group! Mix in the usual screw ups with drivers and a completely new display design concept, and this pushes it out beyond 2021 until I even consider buying on to replace my Note9

I don't even know anymore..

But font forget guys... If you're still clinging to Windows 7 you're crazy. Don't worry about your files tho, Microsoft likely has a copy of them somewhere...
Windows Central Newsletter
Thank you for signing up to Windows Central. You will receive a verification email shortly.
There was a problem. Please refresh the page and try again.