See just how fast your Windows 10 Mobile phone is with AnTuTu Benchmark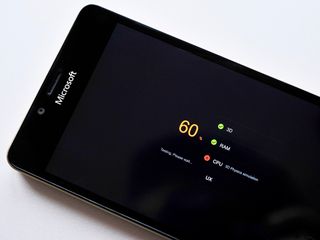 The AnTuTu Benchmark suite is now available for download on Windows 10 Mobile. The app, currently sat in beta, enables owners of a supported smartphone to run some performance tests to see how the hardware they use on a daily basis ranks against the competition.
The app will measure the performance of your smartphone's memory, CPU, GPU, internal storage, and more to conclude with a benchmark score. The higher your results are, the more capable the smartphone you own is.
Sure, not everyone really cares for said numbers, especially if you're more than content with your Windows mobile device, but it can be interesting to compare with others. Give the app a download and let us know what scores you get for your handset.
Update: Looks like we had the wrong link posted. New one for Windows 10 Mobile beta is correct. Our apologies.
Download AnTuTu Benchmark from the Windows Store (opens in new tab)
Join the AnTuTu discussion on our forum!
Rich Edmonds is Senior Editor of PC hardware at Windows Central, covering everything related to PC components and NAS. He's been involved in technology for more than a decade and knows a thing or two about the magic inside a PC chassis. You can follow him over on Twitter at @RichEdmonds.
Still says the V0.8.0 for me

same for me. not seeing the version displayed here.

Same here, which is giving me some incorrect results. For instance, it states that the screen resolution on my Lumia 950 is 480 X 800. The link provided takes you to V0.8.0 You need to search for Antutu and choose the one called AnTuTu Benchmark v6. It is not published by AnTuTu, so I'm not sure how to feel about this.


It is published by AnTuTu, only the publisher name in Chinese.

The publisher's name translates to Beijing AnTuTu Science and Technology, Co. Ltd. https://www.microsoft.com/en-us/store/apps/antutu-benchmark-v6/9nblggh58jqv

But the link given in the article is pointing to the old one? Is one fake? Don't get it.

well, 480x800 actually is correct, but it's not the physicaly resolution

The update is either not released in the UK market or the server hasn't updated it's cache yet...

The link goes to the old app. Just search antutu on store and find it.

Glad they updated for Windows 10 Mobile. The old version and Basemark aren't really optimized for Windows 10, so I feel like performance suffers and gives an inaccurate idea of the specs of these devices (Both apps thought the Lumia 950 XL had a resolution of 1024x768, so...). Not that specs are everything, and Windows 10 still needs work from a spit-and-polish standpoint. All the same, updated apps are good, and hopefully this better takes advantage of hardware than the old version.

It seems like it shows different score every time the test is conducted and the only thing remained the same is the display resolution of 480x800 on my L950xl

"It's raining apps!" There, said it. I guess this is becoming the new ironic version of "Seems faster"?

No, "seems faster" is far more better to hear :) But apps are slowly coming, even you can't deny that.

Ive seen more apps that I use removed from the store in the past year than added. So no, they aren't.

The meaning of the word "ironic" here has lost meaning.

Ironically, it still doesn't work on the Icon.

Yes they are, maybe you need to read more articles

Wow. Only one out of the 150 apps on my device had been removed. What apps are you talking about?

I don't know about that guy in particular but my biggest upset is in the amount of games (namely Xbox titles) which have been removed despite working (e.g. The Namco Bandai ones going at the ens of this month).
There's also been the likes of Photosynth, and oddly some apps such as Subway & Groupon won't show any more when searched directly through the store but can still be accessed via web links.

Would appreciate credit when you guys use my catch phrase. "It's raining Apps!!", it was starting months ago after noticing the amount of apps for Windows 10 mobile being released.

Wells even if that's true (no offence intended if u did start it) but what do u expect people to say? "It's raining apps! ~Akira X"? Kinda no point, sorry XD

@unknownguns....yes exactly...

More like it's drizzling apps.....

So it is posted as another app, not an update to the current one. You may have to update the link, because it points to the old one.


I am surprised that we are getting what we are getting ... The release for older phones has not happenned yet and thats usually what drives the updates on any platform- reactively of course.

1520 w10m. Freezes at 98% on garden test. Pity

Just keep it running you will get the score after few minutes

640 xl dual sim
Same here

For those who freeze on garden, give it some time to run on it's own. I waited for 20 minutes or such and it continued. Let's hope a fix is coming

Come on! Just give it about 5 more min to complete

Same on the Icon and this was listed in"Try to fix".

Crushing all the time.After 5 min at 98% says loading and then the app close.

Same here in 930. However I could get a result of ~60000 points after I opened task manager and then returned to the app. It restored to the results page.

24718 on my 930. No idea if that is good or bad. Haha.

Just ran it again,the first reading was 26500 and the next was 22300. I'm guessing it ain't that accurate.

25788 on my 930 with win 8.1

60156 on mine (930)... Still, it seems the app is not really at the point where you could describe it as a valid source. The second graphics test (Garden) just stops loading at 98%. It looks like it's ruining in the background though, because there is a final result eventually...

This is the result from 0.8.0 which is not comparable to Android and iOS. Download the v6 app

Downloading it now. Hopefully it's on par with android...

My 950 honestly sucks, it's so slow and it gets super hot etc, maybe it's due to the lack of firmware updates, idk. What do you all think?

My 950 XL is pretty fast on .71. Are you using microSD?

No only for pictures and videos. I'm on AT&T waiting for them to release the firmware update.

You should reset...xl is pretty fast

Garden
1280x720
Loading 98%
Crush at Lumia 640 xl dual sim

Can't run it on my XL... :/

950 or 640??? Which of the XL's???

8432 in my Lumia 625 ..8.1

I wonder what the score will be on L520..

-4 I bet. Posted via the Note 4/Nexus 7 (2013)/Lumia 1020/Lumia 2520

You are using the old app.

Can't get the app to open on my 950

My HTC One M8 got a score of 28530.

hey dan why don't you bench the 950 XL to see if Microsoft really fixed the SD810 infamous thermal throttling

You're using the old app. My old 920 got 30693 with the new app.

It's not the official client.

It is, only the publisher name was written in Chinese

11019 on a Nokia Lumia 635 with 512MB RAM.

Still only seeing 8.0 in the US. 950 XL.

My 950 xl shows as a different model separate from the 950 xl on the ranking and it gets a lower score. The app also shows I only have 2gb of ram, should I be concerned?

No. As states in the news item, it is a BETA.

Anyone else used AIDA64? That's the one I've been using on Win 10 and 10 Mobile so far. I've also used BaseMark OS II. Any comparisons on which may be the most accurate along with this Antutu v6?

AIDA don't benchmarks on W8.1

AIDA64 don't benchmark on W10M

Besides the 2 basemark apps theres also gfxbench
http://www.windowsphone.com/s?appid=0b394176-da6c-4141-bad5-03a5a6fbb041

Speaking how fast. Dont understand why my htc 8x with 8.1 run and loads app faster than my L830 with W10 (by running same app, 6tag, twitter, windowscentral, etc.)

72400 with my 950, using this chinese antutu v6 app..
Newest 00038 firmware and .71 insider build...

Sounds like a random number generator so far with such a variety of results.

85888 score is showing me in 3rd place.

Don't agree with all of these 'benchmark' apps. As long as you are happy, what does it matter? Are you really going to run around comparing scores? As you can see from the comments above, results vary wildly. Comparisons are just that. Unfortunately, people use them as another bragging tool, thereby replacing the my car is bigger than yours syndrome.

agreed, but with this tech devices, people always claim "the better the best" unfortunalletly,besides i heard some rumours this benchnark app isn´t comparing fairly good and it would be a pro-iphone test.

It's for people that feel so insecure about themselves that need to feel better based on a number fpr their phone.

Maybe you just lack creativity to imagine how an App like this could be useful besides just to brag... Posted via the Note 4/Nexus 7 (2013)/Lumia 1020/Lumia 2520

Diagnostic of if the handset being tested is operating correctly

Is 11863 good for a Lumia 925?

App was so minimal last time i had installed. Is this the updated version?

I got 82781 on Lumia 950 XL. It doesn't recognize 3 GB of RAM yet, but it seems right around the displayed benchmark for the 950 XL. It's in the same realm of Samsung's top of the line devices, which passed on the Snapdragon 810. Comparing Apples to Oranges though since the OS puts all the devices on a different baseline, especially the iPhone.

25640.....on a 930? I'm just going to be pessimistic and say that it's crap

you are using the old app !

Nokia3310 #135,000 I hope Apple won't sue me for messing up with their cross platform advert haha

Icon - 58100 first run 59877 second run

Crashes at 98% in garden. Not 100% sure it's real. 640LTE.

second test 26000 on Lumia 550 and 89970 on 950

I got max 74000 on my Lumia 950, on which build you got that high score?

Consistently between 56000 & 58000 on my Icon.

Do you guys saw disk phone? The progress from that to Lumia 950 is so big, that you don't need apps more then Microsoft's ones.

54000 with my xl and its supposed to be at 80000 somethin according to the aps own ratinglist and it tells me I have another model too. Really great app. Noooot haha

maybe you opened too many apps while running it?

No apps open. Flightmode so epic fail

Got it up to around 60000 by changing to run it from my internal storage instead of memory card meaning it is buffering a lot of read and writes on external storage instead of ram memory that is fail. Still really slow compared to other xl scores here so something is wrong. And still it recognize as xl. About memory 2 gig cpu 1 gig gpu it says and that equals 3 gig

Now ranging from 66-70000 results vary all the time even cpu test. Maybe I should pu the phone in the freezer and try again?:) well totally bogus program they need to rethink their math and a lot of other stuff to like texture streaming and measure that for gpu and so on. ***** I had even better tests on my old atari haha

Beta App + Unoptimized OS = spaghetti. Posted via the Note 4/Nexus 7 (2013)/Lumia 1020/Lumia 2520

Well if they cant meet their own benchmark figures?;) And seriously I think these tests are done totally wrong too. Anyway I guess the new iphone kills everything else poor..

they finally figured out how to do all test that was unavailable for Windows Phone quite shocked to see Lumia 950 XL > Note 5/S6 Edge and Lumia 950 > LG G4

iPhone with low resolution on top :)

Lumia 940XL, .71 build I did about 4 tests one after another and rebooted after each test. Scored went from ~71k down to 49k. Unit got really warm. Almost hot. Then let it rest and cooled off. Ran again and got 81k.

Maybe thermal throttling kicked in. Lumia 950 XL?

83611 on my 950xl single sim Australia.. Os .71

Model: Lumia 520 Version: 10.0.10587.71 Doesn't get much past the first few seconds of graphics test....and then fails

29448 on my Lumia 730, build.104 Posted from Windows Central for Windows 10

Lumia 1520 ,62000 win10 ,does os version makes any difference?cuz some of 1520 users got 25000-29000

Lumia 950XL 10.0.010586.494: 97412points
Windows Central Newsletter
Get the best of Windows Central in in your inbox, every day!
Thank you for signing up to Windows Central. You will receive a verification email shortly.
There was a problem. Please refresh the page and try again.