Anycubic Photon review: An amazing (and affordable) resin 3D printer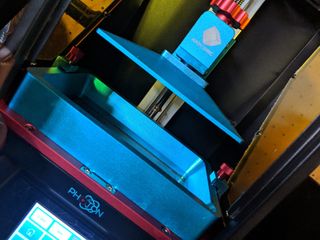 Resin 3D printing — often called SLA or DLP printing — is a different animal than the type of printing we normally write about here. It has a lot of barriers for beginners that just don't exist in the 3D printing that involves filament — FDM 3D printing, as it is commonly called — and that can be scary.
The folks over at Anycubic sent us their DLP 3D printer, the Photon, to review, which gave us a chance to dispel some of the myths around resin printing.
$475Bottom line: The Anycubic Photon is the perfect balance of cost, economy, and quality. It allows you to create objects you may never have dreamed possible without it.
For
Inexpensive compared to competitors.
Small form factor.
Production-quality prints.
Affordable.
Against
Smaller than average build plate.
Touch screen is cheap.
What you'll love about Anycubic Photon
Resin printing is scary. I was worried about reviewing the Photon as all my experiences with resin, SLA, or DLP 3D printers have ended with me making a mess. The Anycubic Photon, however, has turned me around on the positives of this style of printing. It really is an almost perfect entry point to DLP printing.
Using a resin printer requires a lot of setup to make sure you are using it safely, as well as aftercare like curing the print and then cleaning up with alcohol. Happily, the Photon comes with a few pairs of gloves, a face mask, and a plastic scraper so you can use it without getting the resin on your hands or breathing too much in. The Photon also comes with a bottle of green resin, saving you time and money and letting get started right away.
If you have never seen the quality of a DLP printer you are in for a treat. Most 3D printers that use filament have a layer height of around 0.1mm for fine work. The Photon can push the layer height all the way to 0.024mm, a layer height so small the layer lines are just not visible. It's like the models are injection molded, it is that good.
The biggest draw for the Anycubic Photon is the price. For less than $500, you can have a printer that offers the same quality as that of machines twice, if not three times, more costly.
I have been using the Photon for several months, and the prints I have managed to succeed at — believe me they aren't all winners, this has a learning curve — blow me away especially when you hollow the model out and shine a light through it. It's like magic to see the fine details.
The build quality of the Photon is great for the cost, though some components are clearly of a cheaper design than we might like. None of the structural components are compromised, however, and the build plate and Z-axis screw rod feel sturdy, while the anodized resin tank has a thoroughly solid feel to it. The only downside of the hardware is the touchscreen
What you'll love less about the Anycubic Photon
About that touchscreen. If you are old enough to remember the days of the pocket PC — back before the iPhone, kids, touchscreens were a living hell — you will remember resistive screens and how much they sucked. The Photon touchscreen is the least responsive I have used in a device for, perhaps, 10 years. Most people just use their Hex Wrench as a stylus as that is really the only way to make sure it works.
While that could be a small irritation in a machine that costs $500, I would expect something better, or the company could take a leaf out of Monoprice's book and use a non-touchscreen and buttons. I would rather have no touchscreen than deal with this laggy thing.
The only other concern may be the size of the build plate. At just 5.5 inches by 3 inches, the build plate on the Photon is tiny. This could be an issue but it depends on your use case. Most people looking into DLP 3D printers likely want to make small, well-defined models with a lot of detail. If that's the case, a small build plate won't be a deterrence.
So should you buy the Anycubic Photon?
I was blown away with the quality-to-cost ratio of the Anycubic Photon. For less than $500, you can have a printer that makes prints of higher quality than 3D printers that costs twice as much, or more. I would recommend the Photon to anyone looking to get into SLA or DLP 3D printing and who doesn't want to drop thousands of dollars before knowing the full extent of what's involved.
This is an excellent entry-level resin printer. It's perfect for dipping your toe into a hobby that can be prohibitively expensive.
Entry level quality
An almost perfect entry-level DLP printer

Despite the touchscreen from the dark ages, the Anycubic Photon is fantastic. It is the perfect ratio of Cost/quality that you would want in your first resin 3D printer. Buy one if you can.
Get the Windows Central Newsletter
All the latest news, reviews, and guides for Windows and Xbox diehards.
James built his first PC when he was 13 and has never looked back. He can be found on Windows Central, usually in the corner where all the 3D printers are, or huddled around the Xbox playing the latest games.