App Update Roundup: Nokia bumps Lumia apps, Pixel Gun 3D loads more content, Waze gets more battery friendly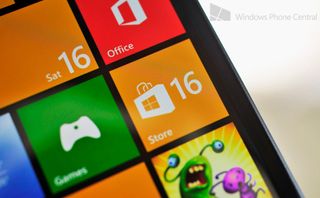 We have another app roundup for your Windows Phones. Today we'll be looking at Pixel Gun 3D, iFruit from Rockstar and even Waze. To save you some time checking for updates or just in case you haven't yet received the notifications, head past the break to see what's new in these latest releases.
Pixel Gun 3D 5.0.1.122
This is a cool first-person shooter (FPS) available for Windows Phone. Inspired by Minecraft, we recently gave Pixel Gun 3D the thumbs up and urged you guys to check it out. We're now back today with a rather large update. Version 5.0.1.122 includes numerous new additions to the gameplay, further expanding on what was already available.
Let's take a quick look at what's new:
New mode: ''DEADLY GAMES'!'
New weapon system with cells
New guns & upgrades
New maps
Hats & Capes in the shop
You can download Pixel Gun 3D (opens in new tab) from the Windows Phone Store for $0.99. Unfortunately, there's no trial available and you need at least 1 GB of RAM. Let us know how you're getting on with the new features.
Waze (forthcoming)
Waze is an extremely popular navigation and traffic app that relies on social interaction for real-time updates. What's more is Waze is now part of Google. That said, the Windows Phone client is receiving an update shortly (not live yet), which will "improve battery performance", perfect for those who rely on the service when on the move.
This is the first update to Waze since it came out in November, so it's much needed due to the many complaints about overheating. Hopefully, this fixes it. Look for the update later today.
Grab Waze from the Windows Phone Store and be on the look out for the imminent update.
iFruit 1.1.35.3
Rockstar Games released the iFruit companion app to the Windows Phone Store. This is a great little tool which works wonders with Grand Theft Auto 5, opening up more functionality for gamers. Unfortunately, while we don't have the change log for the latest release (version 1.1.35.3), we thought it would be wise to fire up a public service announcement, confirming that the latest update has broken the app in the form of crashes.
You can grab iFruit from the Windows Phone Store for free. Let us know if you're also experiencing issues with the app.
SysApp Pusher 3.1.1.0
This little tool ends up on a few of our app roundups, but the simple reason for this is because it's such an important app in our arsenal. We believe consumers should utilise SysApp Pusher until Microsoft introduces auto-update for Windows Phone apps. Today, we're looking at version 3.1.1.0, which adds support for the following:
Not a massive update, but a notable one nonetheless. If you haven't already got the app, download SysApp Pusher from the Windows Phone Store for free. We highly recommend it.
Odds and Ends
There have not only been highlighted updates this week, but also minor releases that have affected the following apps:
Windows Central Newsletter
Get the best of Windows Central in in your inbox, every day!
Rich Edmonds was formerly a Senior Editor of PC hardware at Windows Central, covering everything related to PC components and NAS. He's been involved in technology for more than a decade and knows a thing or two about the magic inside a PC chassis. You can follow him on Twitter at @RichEdmonds.
Waiting (un)patiently for the Whatsapp update...

Me too, I'm alright at being patient though

Which is better, Waze or Nokia Drive?

My preference is Waze. Traffic alerts are actually in existance with Waze in my area plus it's pretty incredible for back road navigation. That's my personal experience with it.

The Waze traffic seems pretty good and it gives you the option to route around stuff better. On the other hand, Here will work offline. I know that Waze pulled 15-20% out of my battery in a 25 minute drive WITH it plugged in to a charger. Hopefully this update will help that.

I had the same crazy battery drain, even when it was NOT loaded. I ever re-booted, and it still drained my battery!!! My phone only got back into normal battery drain only after I uninstalled it. Other then that, Waze was amazing!

you shoud go to settings> background task> disable/block waze running in background.

Waze sometimes gives funny directions when tested on known route. And likes to restart my phone. No update available yet in UK. Here Drive traffic information is getting better and only thing I miss is rerouting and speed cameras info.

Same here. The routing used to be great, but lately it has been taking me weird directions. I use it on my work commute, and instead of taking me the quickest way (which it used to do) it keeps trying to reroute me almost the whole hour drive. It wouldn't even be so bad if the way it was trying to take me was faster, but the back roads I take save me about 5-10 minutes off of waze's estimate. When it finally stops trying to reroute me, it usually jumps from 8:40am to 8:33am or something. Why doesn't it just take me the quicker way in the first place like it used to? /rant

Waze surprised me with how good it was, I stopped using it due to the battery drain but if that issue is fixed I'll happily start using it again.

Here has offline maps... But I still use waze... When u miss a turn... The rerouting is almost instantaneous!!! Hasn't givin me wrong directions yet...

Here Drive is 'better' in that it's a much more polished app, very efficient, works offline and pretty much never fails. Waze usually has more traffic and alert info because it's crowdsourced, but the UI is slow and unpolished, the voices low quality, and the app is extremely inefficient. Waze is barely at Beta stage but has some nice features, but if you want an experience worthy of Windows Phone then Here Drive is the way to go.

call of duty app also have an update SkyDrive and WP torrent pro

Touch was also updated. I'm hoping those of us with 1520s will notice some improvements to the sensitivity issues.

Covered much earlier today.

Ah didn't see that, thanks.

Sensitivity is still a pain not as bad as first but still annoying, almost 3 months with the phone and Nokia hasn't even looked at it.

Yeah, WP Torrent got an update along with Angry Birds Go

Pixel gun 3d was free for me

Not seeing an update for Waze. Tomorrow maybe?

I got a issue with the Touch update, when i get into the setting its says " Touch can't be opened. An app update may be available in Store" any ideas to solve the problem?pls no factory setting!? NL 1020 THK

Have you tried resetting?

Yes, many times and nothing. Still the same message :( it's realy sad to see a kind of bug like this.

Did the Waze update ever make it to the store?

Yeah... was thinking the same thing. Where did you guys heard it from about this update?

If they updated it the battery drain still sucks.....

But when will it be possible to log in Facebook from waze...?
Compared to the iphone version the wp version is less functional.
If i push the Facebook button i only being sent back to the normal settings...
Windows Central Newsletter
Thank you for signing up to Windows Central. You will receive a verification email shortly.
There was a problem. Please refresh the page and try again.