Waze gets directions, finds a new home on Windows Phone and is now available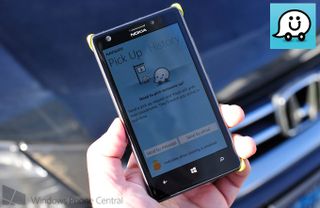 Today, Windows Phone users are finally treated to a new app and service that has been long in the making: Waze. First announced back in June, Waze has been undergoing a private (but detailed) beta testing period to ensure the highest quality. Although it was reported as having no ETA back in October, the app is finally ready for public release. That despite unfounded concerns that its new owners, Google, would cancel the project. But today, Microsoft and Waze are announcing its general availability.
Waze is an extremely popular navigation and traffic app that relies on social interaction for real-time updates. Considered to be a community-driven application, Waze differs from regular GPS navigation apps by relying on user feedback for traffic, travel times, accidents, police traps, and more with user ability to modify maps and roads. It's a fascinating service with around 50 million users worldwide, mostly found on Android and iOS.
Ironically, it was first used on Windows Mobile back in the heyday (2009) before the iPhone become too dominant. Later, there was an unofficial but sanctioned 'homebrew' version available to Windows Phone 7 users, but it never became a popular alternative.
Now with Waze available on Windows Phone 8, users worldwide can participate in the social-navigation app, helping Microsoft fans find their home, restaurant or the quickest route to a friend's house.
Waze is now available to download for Windows Phone.
Windows Central Newsletter
Get the best of Windows Central in your inbox, every day!
Daniel Rubino is the Editor-in-chief of Windows Central, head reviewer, podcast co-host, and analyst. He has been covering Microsoft since 2007 when this site was called WMExperts (and later Windows Phone Central). His interests include Windows, laptops, next-gen computing, and for some reason, watches. Before all this tech stuff, he worked on a Ph.D. in linguistics, watched people sleep (for medical purposes!), and ran the projectors at movie theaters because it was fun.
You just made my morning.

Best news this year! Nokia why you didn't take out a M$ loan to buy this company is beyond me. Their worth twice as much as google paid for them.

I think Google overpaid, actually. Facebook, with its 1 billion users is in a much better position to build up social traffic data. I'm surprised they haven't already established plugins for HERE maps, Apple maps, and other mapping services. Still, it is too bad Google got Waze. I would've been intrigued by it had it been owned by anyone but Google. Glad it still came to Windows Phone, but I ain't giving Google any free data from me.

Waze fit Facebook so much better. But hey, so did Instagram/Twitter. I heard the real problem was Facebook wanted to relocate the Waze team to Cali, and Google was willing to let them stay where they were. For Google, the acquisition was purely to keep their mapping monopoly, for Facebook it would have been to increase the app's value.

Now all we need is the Ride Along upgrade ;-)

CHEESEANDRICE THIS IS GREAT!!!!!!!!!!!

Sweet! My friend that uses Android told me about this app, and I wanted it. Glad it's finally here.

Sweet...I had Waze on my old WM devices. Hoping that i can remember my login and password. ;-)

Had it on my WM too #HD2 it was good back then will definitely try it out later.

Ditto, but I'm happy with Nokia Drive. Don't really have a need for multiple navigation apps.

It's a mix of navigation and social not a full navigation app had it on WM it was ok didn't use it much just download and playing with it its looks good but won't b a every day app I'm just saying u might want to try it out, I've Nokia maps too and its not all that if u had use stand alone GPS in the pass u would see alot of stuff missing for smart phone its ok even co-pilot is better in MY opinion regardless what others say.

Today should be a national Windows Phone holiday.

International b*tch, I want holidays too >:/

I have been a betatester of Waze.... And i have been looking forward to the final release :-)

You lucky bastard. I applied for that program seconds after I saw the post on wpc

I've been beta testing as well. The app has definitely improved dramatically from both a feature and performance standpoint. That said, if I'm driving alone still find myself frequently using HERE Drive+ because it is just cleaner and simpler to use on the go; it is a dedicated navigation app. Waze really shines if you have a passenger who can act as co-pilot/navigator. They can enter and track alerts and conditions, periodically refresh and review the Routes, share or read status updates, etc. These are all great features- but they're incredibly distracting as a driver.

whoa, that's kinda not good.

This is why I never really understood Waze. It kind of encourages distracted driving.

First google search updated and now Waze. What next, official YouTube app re-released??? ;)

Let's hope so. Tired of all the back and forth between these companies. Microsoft services have been available to Android for years, but we're left in the dark the other way around. I hope Google gets their ish together and at least gives us our awesome YouTube app back.

I found Mytube the best experience. Too bad I can't upload videos or get mail replies.

Google Maps would be amazing.

Actually google search was updated few days ago.

YouTube for XBox One was announced. Maybe MS and Google will kiss and make up and release on WP as well.

MyTube is the best YouTube app on any platform. Period. Paid for it without any hesitation, though you can use it without paying too, with some minor restrictions.

Instawaze is what i name today

I'm so torn. But I must have it.

Awesome! Just in time for a road trip.

is it me or are we seeing a little bit of support from google?

Waze down... Instagram, Mint, Sanpchat. Candy Crush, PS4 Companion to go!!!

Instagram is out today also

Mint.com is in beta testing :D

PS4 app is exclusive to PS vita

PS4 app is on ios and android. Sony no like WP. I think they thought all wp owners were getting x1.

Really ? I didn't know that I thought that it was exclusive to the PS vita

Mint already in the store, you just can't download. Gives an error when you do.

I'd rather see Here services partner with company's like Trapster.

That would be awesome. I'm really sad Google bought Waze. I'm trying to use Google as little as possible, but Waze has such a huge user base.

Actually, Trapster is a part of Navteq... which in turn is owned by Nokia and powers Here Drive, as to why they have never actually get to properly integrate them it totally eludes me.

Yeah Finally! But where's path?

Instagram and Waze? Epic day for Windows Phone :D

I approve the above comment.

Way more excited about Waze than Instagram.
Offical Intagram app is good for the platform, but 6tag will be where it's at for a long time.

No Google products for me.

I'll wait for the final link, but by the looks of it is only for WP8 :( I understand that it is the current OS but I feel really bad everytime this happens, and I know a good amount of people currently on 7 or 7.8 that find the phone OK but lacking, when I tell them that in reallity those apps they are looking for exist but not for their current model they just answer that they will jump ship as soon as the contract is over.

At this point I think people need to get over it. I know there are 7.* handsets out there but if you think practically why would you want to spend time and money for OS thats already dead. I had NL900 and Samsung Focus, but I went ahead a got Lumia 520. To tell you the truth its an upgrade from the first gen handsets even though its a low end WP8 phone.

Believe me I'm with you, but the contract is 2 years long! And not everybody can upgrade before that time. Besides I live in Mexico where Nokia is extremely popular and around me I see plenty of lumias 710 - low end first gen devices - and it's heartbreaking listening to the regular comments from the experience, in general people become disenchanted and want better. I know this because I've promoted the WP among family and friends and then they blame me of pushing them to buy something "so far behind" with respect to Android and iOS. The worst part is that here in Mexico those phones are still on sale as cheap competition to Android low end phones, so some people is still getting them. If I were MS I would consider at least 3 years of continious support for WP7 considering the current contract lengths. I will upgrade soon to the next gen early next year, but until then... a lot of apps are in the "whish list only"

Who said anything about breaking a contract? You can pick up a Lumia 520 for less than 100USD. No need to "upgrade" then, just buy the phone outright! Don't be afraid.

God bless america, here in Mex you can expect to pay at least twice as much for the 520 and money here is an issue for most people.

My apologies to presume that.

My apologies to presume that. But you do have options. You can see that phone and use the funds to "upgrade"

I think the main reason those of us w/ a Lumia 900 are still on it is because AT&T doesn't let users upgrade now until 24 months have passed. I'm looking at a new device some time next year with that wonderful change. Of course, I can upgrade to any iPhone earlier than that with no issues, but really don't want an idevice. With Google's behavior - getting so I don't want an Android either. :-/ I get it from a Dev standpoint, but for your average user who jumped on the Lumia 900 lie, it's sad to see how many apps we miss.

FINALLY! As far as I'm concerned winows store is complete!

excellent news, something I keep asking them to do - now I will go thank them so we get updates in a timely manner

Waze for Windows. I like the sound of that

goodbye HERE Drive+ ... until the day Google blocks WP8 waze like they did to Youtube. Enjoy while you can

To be honest, most of the time the routes are quite similar if not identical for both, especially using the "my commute" feature. Besides one can use it offline and it seems to be mildly gentler on the battery. That being told, for hectic traffic situations Waze is definitely better.

True on the battery part, Drive+ saves loads more juice as it doesn't send my traffic real-time. Plus Waze can't find 3 in 4 of POIs and addresses in Singapore where i lives. And i forgot everything about Google-NSA relationships. Damn.

Sweet, now make an official GVoice app and we're golden

That would be nice, but MetroTalk has been excellent for me. I don't really miss Googlel Voice on WP8.

Today is a good day. I woke up and could download iFruit, and now I almost go to sleep and there's Instagram and Waze. Now if Candy Crush and Subway Surfers could grace us with their presence, I'd list my iPhone and Android handsets on eBay immediately.

Can we have a video comparison between Waze and Trapster?

I'd like to see that as well even though I have both apps. :P

Okay who's playing with this in Dayton? I'm waiting......

It's 2 PM, don't see it yet.

Okay... I'm looking it up via their beta address. GOT IT!!! http://windowsphone.com/s?appId=f07f83eb-a8a4-49fd-8946-c67a9349e062 via http://blogs.windows.com/windows_phone/b/windowsphone/archive/2013/11/20/instagram-and-waze-are-the-latest-top-apps-for-windows-phone-8.aspx

the day was made, but you sir, saved the day

Nice, I'd say it looks better than it did on the iPhone. Even has speed now. One odd thing is it doesn't seem to have screen rotation.

As someone who's never used Waze, can you explain how it's better than Nokia drive? Other than having an official app join WP (which is great), how is this any better?

Look up Waze's home page. It uses crowd sourced data for dynamic directions and alerts. Nokia DRIVE isn't really in the same category as it's just a vanilla GPS app with traffic.

Here in Dallas, nothing matches the real time accuracy of Waze. Tackling my commute without it since I ditched the iPhone has been a nightmare.

Waze is more about traffic routing and commuting. It also "social networks" your commute. Map editing is also crowed sourced. So you can edit the maps and fix errors on the map yourself. In some respects it's almost too distracting with all the social networking built in.

I like Waze, it's great to have options in the store an this one being built around a large community of drivers is excellent. I've been using it in the beta and the one problem I have which still exists is that it's a battery hog! I drive with my phone charging and still can drain up to 12% per hour while Waze is running.

yes, it crazy battery hog. i think i will use it for checking traffic and use Here Drive for navigation.

Right now im crying guys!! like a little baby, i never been soo happy

I must be dreaming! Instagram and Waze on the same day. And Flipboard right around the corner. Manana is today!!!

Wow! an amazing app. Still love Here Drive but this is great to have especially when I have a passenger in the car.

A good day fow Windows Phone... Today, the haters will die... rsrsrs

From Google ❔
Thanks, but no thanks...

JUST YESTERDAY I voted this as one of my top 5 most wanted apps. Obvi, I didn't know it was already in beta. Shame. [edit] yikes, 27 mb, why? [/edit]

They are trying to get over Here,google are assholes,they should make a good app for YouTube but as usual they have no competitors there,Microsoft send them to hell !!

Awesome news! Goodbye here maps. Nice how it integrates into the GPS APIs as well.

Icon tile shown in article header is not current icon.

Does it lack voice recognition? How is it hands free if it doesn't have voice reporting???? That's the big feature I was looking for.
Also, side note, makes my phone very very veeerrrry warm. L920

I agree on the voice commands. So much for hands free. On the way home I saw a description that someone post that said "Hey, I just passed an accident on 25 and there is glass everywhere be carefull" Argh! Was he typing while driving! How is this not worse than texting and driving! It is bad enough when there is a traffic delays on the other side of the highway where there is no accident because everyone has to look as they drive by, now people will be typing into their phones to update on the accident? And, as someone else report! Wow! it sucks battery power more than any game I have played on my phone. Keeping it plugged is mandatory while using this app. I think it is a really great app, but, seriously there are some needed improvements IMHO!

There was probably some sort of agreement in place between Waze/MS to push this out regardless of Google buying Waze, but it wouldn't be surprising that when the agreement ends Google will pull the plug for WP8.

I wouldn't mind, but seeing as how google owns it now... I'm gonna go ahead and pass.
I haet to be that guy, but whatever... I guess I'm just that guy now.

Be that guy. I love that guy. I'm that guy.

Should I use this or keep the beta

Good! Will be usefull some times.

Awesome day today! First Instagram and now Waze. :D

Owned by Google means no download for me.

This makes me happy. This is the one app I wanted the most on wp8.

Why there is no Facebook connect in Windows Phone version?
Why we can't share any information with our social network (Facebook/Twitter)?

It's great that it's available on WP but I will not be installing this. My friend uses it on his iPhone and to me it's a distraction and simply annoying. He uses it constantly even if he knows where he's going to get points for something. I'll stick with drive and the many other ways to get traffic conditions.


This is actually the app I am most excited about. Sooo happy.

Finally....I was a Waze map editor for about 2+ years and when they said they wern't going to do a Windows Phone app back in WP7 days, so I stopped. Now that they are back and I wll give Waze a try. It did remember all my waypoints from 2+ years ago....

I need glympse more than waze, the glympse app is so outdated. Glympse is a real time location sharing app that helps a lot to keep track of someone, it answers the question "where are you now?" especially during meetups...

Waze can do that, and more.

Google is not getting my data. sorry, no download

I heard the the NSA is goining to produce a navigation app. And all your data will be private. But the security requirements seem a bit strange: Access to address book Accesss to application private storage Access to location services Access to messaging store Access to data services Access to messaging service Ability to dial phone Can't wait to get this one ! Oh wait that was Google Maps on my friends Android phone....

I've just tested Waze on my L920 this morning... its kinda awesome and everything,
but: Started from home, 3g network, phone fully charged.
On the way the phone was getting charged constantly with Nokia cr200 car charger.
Arrived @work in about 50mins (~25km).
Battery is drained to 65%.... this makes the app kinda useless for longer trips.. or when you start with lower battery.
I will try it again tomorrow, using 2g network but I don't think it will work out that way either... The app's speed is 'good enough'. Its much slower than HERE drive/maps but hey, it has a lot more things to say and display.


Too late and too bad for Mr. Goolge. I realIy dont like Google since they introduced Android. I think it was a big mistake by Google ignoring WP8 and Windows 8. paradoxly Google showed to many users, that Goolge is nothing extraordinary and there are many alternatives to G. services. For example I am using HERE (no reason to use Goolgle Maps) Outlook.com of course, Bing Weather, Bing currency, Bing/Flipboard news and tons of additional services from Nokia and I am very satisfied (trailers, music, etc.). And in the past I used mostly Google services (weather, email, maps, etc, etc) The only 2 services I am still use from Google are YouTube and Google Search, nothing else. But I would like to switch to Bing

The only problem is it eats battery like there is no tomorrow. It drains battery faster than it can recharge. I think the refresh speed is too fast.

It says "sending report failed" when i try to update. Any idea how to solve?

Holy battery consumption! No thanx, I'll stick w/ Inrix.

oh hell yeah..Surpasses my charging abilities...Battery spirals out of control need a fix there

waze needs an update! so slow!