Apple acquires Beats Music and Beats Electronics for $3 billion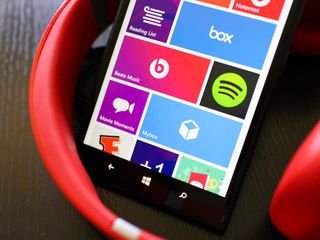 It's official, Apple has just announced their intentions to acquire Beats for $3 billion. The deal will include both streaming music service Beats Music and Beats Electronics. The mammoth deal will see Beats co-founders Jimmy Iovine and Dr. Dre joining Apple.
Will this change anything with the Windows Phone app already available? Only time will tell. The strength of any music service is being platform agnostic. This also means Apple makes software for Windows Phone now.
Press release below:
Source: Apple (opens in new tab)
Windows Central Newsletter
Get the best of Windows Central in your inbox, every day!
I actually really like Beats Music. Happy for Dre and hope to see the Windows Phone version of the app continue to get updates and improve. Crazy that Apple now makes software for Android and Windows Phone :P

Not sure why they bought Beats though. That service is severely lacking when compared to Spotify, or even Xbox music...and it cant be for the headphones.

Really?
I subscribe to Xbox Music and on my phone it sucks balls, on my Xbox One it's much better.
The Xbox Music app for Windows Phone is dull, poorly designed, lacks any polish. Beats Music looks dazzling and well designed.
Now BeatsMusic is not perfect, it's still clunky to navigate, but given a choice I would choose BeatsMusic everytime.

I've never used it. Now I will avoid it.

Don't care...just want to win the SP3. ;-)

Here we go again...News that we dont care.

Wrong. A lot of Windows Phone users who use Beats Music really like the service. This is news for them. Don't read it, and especially don't comment, if you don't care.

Supposedly less than 500,000 have signed up so I wonder how many people with WP have subscribed and then follows wpc.....probably not that many....

That means Apple has an application in the Windows Store :O

And almost more shocking in the Google Play store Posted via Windows Phone Central App

Overpriced and overrated headphone company merges with overpriced and extremely overrated hipster tech company. Fitting

Too true. I was thinking of trying beats, saw the reviews saying the are crap, and especially now that Apple is buying them, I'm never using beats. I recently got rid of every Apple product in my life. No offence towards Apple, but I just completely hat them at this point.

Beats Music tho is actually good Posted via Windows Phone Central App

Beats music blows. I did my free trial. It was horrible. The sale was just illustrates that Beats knew they were not going to ever make 3 billion dollars. Sell the brand take the money and run in true gangsta fashion. Money for nothing.

Same experience here... it was horrible. "stations" were extremely short. When my sentence said I was going to do a cardio workout, you'd expect at least an hour of music. Nope... 35minutes. So halfway theough a workout, you'd have to stop and select new music. It was hard to find the music you wanted to hear. The recommended music was always a bit off. The sentence thing seemed mostly random. I'll gladly stick with Xbox music. To this day it is unmatched. Smart DJ is actually very smart. Playlists sync to everything. I can play albums. I can browse new music. It works very well.

That's my point. BeatsMusic is actually very good.

They aren't crap, your comment is crap.. Their isn't anything wrong with Apple either..

Surface Pro 3 - Core i3 + keyboard + 64GB storage = $930 Who's overpriced now?

Beats and Apple coming together is the technical version of the Kanye Kim K. wedding.

/dontcare they will probably kill the wp app because Apple

I guess we should wait for an iBeats announcement?

I think it would be next generation of iBeats. (it was available in 2-3 years ago)

This would had been a good move for MS to have acquired. But I'm sure it would had bombed like it did when HTC acquired them. Of course this gives Apple another reason to over price their products by one hundred trillion billion million dollars.

Crappy company and crappy products + crappier company and crappier products = profit, sadly. Microsoft doesn't need Beats. MS is all about quality. Beats, on the other hand...

I'm sure this will mean a two tier service in the future. Any updates will include some features for all and some for idevices only, or unless you wanna pay abit extra. I could be just a cynical sod though

Well, it looks ike I won't be buying any Beats headphones.

and all of a sudden music becomes inovative , magical and amazing.... heheh sorry i couldnt help myself :P

More cheesey waffle, marketing speak and non specifics in that announcement than a dinner evening for salespeople.

Well well, Dr. Dre and Jimmy Lovine are now billionaires. I suppose with this transaction alot of people who use beats may drop it completely (those who loathe apple with passion)

Like everyone else: "Why?" Can't Apple make their own overpriced headphones and stream music from iTunes? I like the Beats app for WP though. *shrug*

If this hardware was already expensive, now that apple bought it... Yisus!!

How well did that work for HTC?

Great! WP Support will soon die down....

Two companies that do provide services, yet create overpriced, overrated products are joining forces to create one giant, brushed aluminum, bass boosted hand to reach into your wallet. Posted via the WPC App for Android!

"Apple designs Macs, the best personal computers in the world", really???? I don't think so.

" Macs, the best personal computers in the world," ^nope.

They bought an EQ setting. Actually they just bought some brand recognition. Because as explained its nothing but an EQ setting. http://www.youtube.com/watch?v=Cdbn_pmxFic

I don't care much about Apple or Beats, but it's cool as hell that Dr Dre is a billionaire now. Gratz to him.

Two over-hyped, over-priced entities joing forces.

Dr. Dre is now even more wealthy. Haha

Why so much for a gimmicky pair of headphones?! I don't understand that! The music service though, I guess I can see... but the hardware?!

The last paragraph is so annoying

Nice product and feel premium that was about with beats or Apple.
Just like Sony

Samsung needs to buy Bose.

I wonder what this means for the future of HP and beats audio

Never understood why companies spend this much purchasing other companies especially when your not doing it for the subscription base. For 3 billion apple could have created something that eclipsed beats.

Thanks for the info iOSCentral.

One over-hyped company acquires another. A match made in heaven.

If they remove the music service from Windows or Android, we really don't lose much. ------- Vote for this if you don't have a Xbox Music Pass and you don't want to have their useless features on the player, just wastind data and space. http://xboxmusic.uservoice.com/forums/209733-xbox-music-suggestion-box/s...

This means iBeats will become iTunes crapware! Run away while you can!

I laughed so hard at the comment "inspired by Apple's unmatched ability to marry culture and technology". What he's really referring to is Apple's ability to make technology culturally popular (through heavy marketing & collaboration with the right celebreties), even if it isn't necessarily the best. Beats did the same thing by creating something stylish with a high price-tag so that it's perceived to be "the best" or "premium" by those that aren't technically literate enough to know that you can buy far better for less :P

For a while (like when they first came out) weren't Beats the best on the market? I literally have no clue, because wearing big-ass headphones is no good to me.

I have a problem with my beats audio i think problem is when my Htc 8s gets stuck or heating sounds in my Phone gonna glitchy and deformed its really annoying and now am i mail to apple for it or htc im confused :)

I think we keep underestimating Apple's brilliance in marketing especially now that they can sell and brand all their products w/ Beats. This is a bad news for the WP/Win8 marketshare once Apple gets rolling it with their entire services and products.

This is incredibly foolish. This is in no way "bad news" for anybody except maybe HTC. And this whole thing will only matter to apple junkies who already think apple's shit don't stink. STAHP!

Exactly. They have Apple loyal fans that sticks w/ them through and through, with the present status of what? 6percent? How would WP win more people? Apple iPhone with BeatsAudio is a great branding of whether we like it or not. Anytime a company can call a new cable as a new feature along with a new handset and still sells millions at high prices w/ people lining up to buy them, that to me is great news for them, and that isn't great for WP.

This deal is all about Lovine and his inroads into the music/media business. He is to take the place of Jobs in making deals and arrangements within the business to keep the cash cow that is iTunes boat afloat and on steam. Cook is not the man to do that and does not have the clout to pull this off like Jobs did while Lovine does. The products, services and Dre are a bonus but it's all about Lovine who by himself will be worth the investment.

I think the aquiring of beats by apple still has an odd ring to it. I think it has to do with the previous, but apparantly fialed, marriage between beats and htc. The question arises what makes this relationship with apple work, besides money? as for what this means for the windows platform, time will tell. I think if beats and apple are wise and there is a demand on the windows (phone) platform, they should trying pushing beats to this platform as well, just like microsoft is pushing office and onenote to the other platforms. That reasoning would be a sound expectation from this merger. If it comes to beats music service thats a tougher thing to guess if it will make it to the windows (phone) market. I do not know what beat thinks of supporting multiple platforms. I think apple won't rush to do this. Then theres also the competition. They would have to provide something compelling compared to the trackrecord spotify and xbox music have on the windows platform (if, at all relevant).

Xbox music is the future app for Music...simple like media player but useful as a word.

This is why I can't stand this...my APPLE fan boy best friend is already acting like Apple invented beats...mocking me because because my next HP Envy will not have it anymore..as if I ever bragged about that option on my laptop..desperate, but smart move by Apple..

I got a 3 month trial of Beats Music, and it , frankly, sucks. While I am at my desk at work, the web experience is crucial. Beats is just bad on the web. Suggestions never refresh, and it keeps suggesting rap and hip-hop. No thanks. The only reason i tried it was for the $15 a month family plan. If Spotify or Xbox Music had that, I'd go with them instead. Plus, I just don't want to feed the crapple company.

They could have purchased Cabasse for a fraction of the cost and actually get good loudspeaker technology...

Ok... but who knows about Cabasse?

The thing that gets me about this is the weird, blind optimism they give apple. I've read a few articles that praise this deal, say it can only be a good thing (literally because it's apple... what?!)... but will also say they admittedly don't know what apple has planned. So how can you be so optimistic about it??

Good aquisition but to costly