Apple and Microsoft partner in joint South Korea store run by AI
It will also host Samsung products.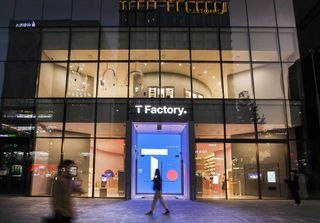 (Image credit: The Korea Herald)
What you need to know
A new one-of-a-kind retail store is coming to South Korea.
It will feature products from Apple, Samsung, and Microsoft.
It won't have any staff, but will be run 24 hours a day, and customers will be helped by AI.
A new retail store in South Korea named 'T Factory' will host products from Samsung, Apple, and Microsoft with no staff and artificial intelligence.
As reported by The Korea Herald:
Business Korea says the store will be unmanned 24 hours a day, and that customers will be able to self check-in, compare smartphones, and get consultations on prices thanks to artificial intelligence. They'll also be able to buy smartphones and accessories.
The store will also require customers to register, and will use facial recognition to grant entry. According to the report, customers will be able to leave the store with a smartphone in just five minutes.
It will also have an AR mirror and a Jump VR area, as well as an AI-based music curation service.
SK Telecom CEO Park Jung-Ho stated:
Windows Central Newsletter
Get the best of Windows Central in your inbox, every day!
Oh man I can't wait to see what the security androids look like. "According to the report, customers will be able to leave the store with a smartphone in just five minutes." What exactly does this mean? Do the security androids take that long to frisk customers?

And I thought 2020 can't bring any more absurd things.

Bring back the Microsoft Stores that we used to get product support at.

That was a money losing effort by Microsoft