AppRaisin gets new App Info card, improvements to Add News flow and more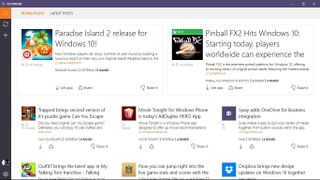 AdDuplex, best known for their in-app ad network for Microsoft's Windows platforms, has updated AppRaisin for Windows 10 and Windows 10 Mobile. The 1.4 version of the app, which makes finding new apps in the Windows Store easier, has a number of new features and improvements.
Here's a look at what's included in version 1.4:
New features
New App Info card introduced, where users can see more info about each app and history of news posted about it. Users can get there by clicking on app name in News details or by searching it in add news process
App Info card also contains information about date when information about it was downloaded from Windows Store, Publisher name and possibility to download, share App
Redesigned Add News process flow: Users find the App or paste Store URL, then they get to App Info card, where they can see all news about this App and decide to add new article
Improvements
In Add News form users can see information about Application they chose, including new data: Publisher name and the date when app was last time updated in Windows Store
In Add News form users will get only valid News types, they can post about at that moment.
In Add News form users can dismiss news submission process and get back to App Search
In User list form (who raised the news) users now can retry list loading if it has been interrupted
On Phone in News details window, users will always get full User list form instead of individual popups
Improved No internet state detection and messages about that
Bug Fixes
On Small Desktop Windows users will get vertical scroll in Profile picture change window
Fixed issue with image rotation (in jpeg files) during profile picture change
Fixed issue with transparent pixels (in png files) during profile picture change
Refresh button in hamburger menu stays in color during busy state
Other small fixes and under the hood improvements
Download AppRaisin for Windows 10/Windows 10 Mobile (opens in new tab)
Windows Central Newsletter
Get the best of Windows Central in your inbox, every day!
Hmmm App raising will soon take over from windows central if they don't get their asses together and come up with a revamped UI app bcos its gaining momentum.

Yeah actually bro...they haven't announced there WUA yet ..very slow like MS

First of all, appraising is in no way the same as WC... Two entirely deferent purposes.

We can get dark theme for AppRaising ???