"April 2017 update for arm-based Phone Devices" now rolling out to Insiders for Windows 10 Mobile
Windows 10 Mobile build 15063.138 now rolling out to Insiders on the Fast ring, under a rather odd name.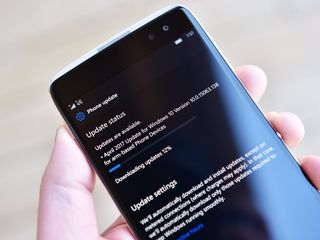 Insiders in the fast ring are today receiving a rather interesting update which goes by the name of "April 2017 update for Windows 10 Version 15063.138 for arm-based Phone Devices", rather than the usual naming scheme for Insiders.
The update is just build 15063.138 for Insiders in the Fast ring, which is the latest cumulative update for Mobile. What's more curious is the name in which Microsoft appears to have given it. Never before has Microsoft referred to Windows 10 Mobile as a version of Windows 10 for arm-based Phone Devices.
For those curious ARM is the architecture of the processor that Qualcomm uses (as well as Apple, and others) in your phone. It differs from x86 architecture for your PC.
Does this mean that there are versions of Windows 10 out there for x86-based phones too? Could this be Microsoft's new naming scheme for Windows phone-based devices? Who knows. At this point, Microsoft hasn't explained the reason for the name change.
It's also worth noting that for those not in the Insider Program, build 14393.1066 is now rolling out as well.
Perhaps it's just a mistake, but that would be a pretty odd mistake to make. Regardless, what do you think? Are you receiving the update on the Fast ring on your Windows 10 Mobile handsets?
Windows Central Newsletter
Get the best of Windows Central in your inbox, every day!
Zac Bowden is a Senior Editor at Windows Central. Bringing you exclusive coverage into the world of Windows on PCs, tablets, phones, and more. Also an avid collector of rare Microsoft prototype devices! Keep in touch on Twitter: @zacbowden.
Ah great! I went back to Release Preview because they announced Fast was going to RS3. Back to Slow now and updating :) Hope this fixes the Edge issues...!

Ditto on that Sc0tTy. What a pain. Back to fast for the next hour, then to Release again.

How the heck is this a pan to use a simple drop down menu?

I never said a pain to use a drop-down menu. (I assume that's what you meant by "pan." It's a pain to have to get online and search out an answer as to why I didn't get the update when others were getting the update. I happen to have a life. One that is very busy with people in the real world.

Lol, it's available across all 4 rings of RS2.

It wouldn't come through on my Release ring, but showed up right away on Fast Ring. This one is for Mobile, and the Mobile release isn't for Release yet.

Not seeing on RP here too. Had to move to slow to get it.

Across all rings if you are on RS2 already.

@Cryio: No, on Mobile it is ONLY available on Fast and Slow rings. It is NOT available yet on Release Preview or Production. Mobile release isn't scheduled until April 25th, therefore those rings were not included. Please stop spreading false claims. I have verified by using mobile devices on the various rings which it is available for, so I know what I am talking about here.

If you have updated to RS2 on Fast ring then changed to Release Preview, you would get this update the same as the other rings.

No, Khan13, because that's exactly what I had done on one of my 4 phones. Unable to get it until I switched back to fast/slow. Did you even read my posts?

Seems Edge is not reloading sites when I hit the back button, looks promising and hope its fixed. "Apps for websites" functionality still not working though, have to disable it to open pages for Windows Central.

Hopefully this is the fix for the keyboard not popping up in Edge sometimes - I only hit it a few times so it wasn't a huge deal (And you can type into address bar then paste into the field when it happens) but always came up when I was in a rush

It was reloading page when scrolling for some people (YouTube was said to be a common problem) and there is/was a problem where the keyboard wouldn't pop up in Edge on Mobile, that was intermittent but I saw it about 3 times so far. I think this update will hopefully fix those final niggles

If the keyboard doesnt pop up, switch tabs and search for anything in the address bar, i literally spam the keys, then switch back and it works.

Great tip, I've been typing into the address bar (without creating a new tab) and then copy and pasting into the text fields....Your workaround is much better though

Feedback hub and on twitter shared that this mobile update only contains security updates.

Ah, darn. Thought it might have fixes for the small Edge niggles (mainly the one where the keyboard doesn't pop up sometimes)

Nice!
I hope this will help with constant L950XL reboots even after Hard Reset.

This may be due to a failing battery FYI. I have a L950 and I was having tons of problems with reboots which I blamed on builds. I read in a forum that it could be battery related. I rolled back to 14393 and it was still unstable. Tried my wife's battery from her L950 and it worked perfect.

Thanks! I have this as my second option since sometimes phone reboots randomly, but when battery is below 25% it might reboot few seconds after I enter PIN few times in a row. And then shows that battery drained off.

Look at the connection pins. I had a problem with them and my phone always turned off. The battery is quite ****** made and the pins go wide from each other causing bad connection. This can also be a reason for tremendous battery problems

Yes, this is true. Unfortunately there is something wrong with 950XL batteries. You will also notice that this happens when the battery is low (for me when it gets below around 35%)

Yep, already noticed this, but thought that it might be related to some king Battery saver bug at first. Since this is second confirmation of this problem, then I should start to search for new battery. Can you suggest where I can find good replacement? (I doubt that services in my country have one).

Actually I have ordered one last week from Amazon US. Still waiting for it. From the pictures it looks exactly as the original.

I ordered mine from Amazon too. My daughter's 950 battery was having the same issues and I switched batteries with her. The problem followed the battery.

I can confirm this is why. Mine started acting wonky after only 10 months...Microsoft could not sell me one or replace it in the store either. Ended up on eBay.

Yeah same for me, there are no Microsoft replacement batteries. Have to get a 3rd party battery made for L950/L950XL.

Yup definitely failing battery. I had exactly similar issue. In fact while recording 4k or watching YouTube in 1080p on tube cast etc basically any battery hungry program my phone would "goodbye" and restart.

It's the battery. Had the same problem with my 950. Send it in for a new battery

All this talk about the 950 XL battery is good to know. I've not had any issues with mine, as of yet. However, I will order one before I have this issue.

Had the same prob on my 950 and att gave me a whole new phone since they don't sell the batteries. Had the phone since launch and after a year and change it was going out.

Have a look at your battery. Take it out and put it on a plain surface. Is it plain or not? If it is not, you should replace it. Bad batteries are a main reason for reboots.

This sounds like a battery issue for sure. Maybe not even the batter itself. Could be a loose connection. I stuck a bit if cardboard (business card) at the top of the battery and the device to hold it in place a solved my issues. Got another battery did not use the truck and been working without issue for past week.

Thanks guys for the clarification as I was wondering why it shuts down when the battery was 30% or so and was convinced that this might be the fast ring...ahhh...need to change the battery, do you know there was a post where a 3rd party was selling a bigger battery(in terms of capacity) for Lumia 950, I am sure it was on windows central??? will search and reply ASAP

Yes, you can get a bigger battery and back cover from Amazon.

I was having the same issue, I too thought it might be the insider builds, it wasnt. I had to send mine in for repair. Not sure what they did but is it working great with no reboots now.

Taken spring April update

What is the arm based devices?

https://en.wikipedia.org/wiki/ARM_architecture

ARM is mobile cpu architecture

My Lumia 950 is downloading this as I type this. Does anyone have a link to a "what's fixed and what's broken" list for this update?

Microsoft hasn't explained much of anything about mobile for two years now.

They're trying to take a cue from Apple and keep everything secret and mysterious. Side effect: fans' feelings of abandonment are amplified by silence

The magic ingredient they (Microsoft) are missing is that Apple fans don't need to worry about the o/s. Since phones are Apple's bread and butter... Sure they have other devices but nothing else at present drives that much revenue in the consumer space for Apple.

Also Apple have a consistent release schedule. MS make it tricky to tell whats going on moving forward.

The release and update schedule is pretty consistent, but it's whether products continue to stick around that MS aren't so solid on.

Plex are the kings and queens of this, and their fans don't feel abandoned either. I love how they have a policy of not talking about features until they launch - That's not really possible in the same way when it comes to the space MS operates in, but it works really well for Plex

just got 14393.1066 on 930

Get on Insider Fast Ring, install Creators Update, leave Insider Program afterwards.

LOL. The only reason I look forward to updates for Windows 10 Mobile is because after a few months, my device rolls to a painfully slow crawl with crashes sprinkled in. I either hard reset the phone or an update will bring it back to life. Sad, actually. Hahaha

User error? Is it due to constant abuse?

No there's some truth to that... For me, not like the way he expresses it... but for some reason, near a major release, it's consistent that I suddenly have notification issues with 3rd party, esp windows phone 8 apps, UWP seem ok... for sure MS core apps are fine. I get reboots more often... It gets me thinking, ooo an update is coming soon, can't wait to get it. Then after some time of just dealing with it, it's harmony again. Not really sure what it is though.. Usually a reboot fixes things or a battery pull in the most extreme case.

The OS just has major issues that cause the units to slow down and crash after time. Am update or phone refresh fixes that problem,.but is a major pain in the butt.

It's available for Creators Update Production too, if you left Insider after upgrading. So it's available for all rings if you are on RS2 already.

you are lucky one my Lumia 810 with win 10 is black listed!

Check on XDA how to spoof your phone in order to get W10M RS2

Lumia 810 can also get glance btw after the spoof

I don't think I've had any random reboots since getting a new battery even before we hit closer to final builds for Creators Update.

I've been having all kinds of battery trouble (like my phone shutting down once it drops to about 30%). Also, my battery lasts a little under an hour of use while not plugged in. Good to see people have had good experiences replacing the battery. I had just assumed it was the fast ring updates collecting extra telemetry that was just terrible on the battery.

Definitely replace battery. I went around in circles thinking it's this or that changing settings reinstalling apps etc etc. Eventually got enough courage to open my 1520 and switched it out with another new battery. Now getting ~2days with medium-heavy usage. Couldn't be happier.

I'm glad people are reporting this. Going to start keepign a closer eye on my 950 to watch out for issues. Hopefully I'll know sooner than later so I can get a replacement.

My thing is if most here says that the phone reboots when around 30% of battery life or just below, then how can it be the battery?

Because as 950/xl users, it's around the two years mark owning the phone. People have also been saying that the batteries have been poorly made... so now people are more frequently seeing the common symptoms. I too am in the same boat, once battery saver is active (anywhere under 30%) the phone just shuts down randomly. My screen freezes occasionally. When not on charge I have been consistently getting fewer hours of use some 1 year+ of owning the phone.

Which replacement battery did you get? I'm seeing one available on Amazon for my 950XL but with no reviews and several weeks for delivery

I bought the AceSoft 3000mAh for my L950, but I think I ended up buying mine off eBay.

Downloading update named "localization for French". No arm or April mentioned.

named "Localization for German" here, seems quiet huge file...

'Localization for Dutch' incoming on my 950xl

This would all be understandable though, Microsoft releases to the US for hardware/software first on most occasions. Therefore if they were compiling an OS that is x86, they wouldn't bother making it for other geographical locations yet.

Mine said the same, download, install prep and install took very long... but somehow i am on .138 now anyway. It seems they forgot to translate the new naming into other langages than English :)

Hi, in my case "localization for Spanish" no ARM or other mentioned.

Classic Microsoft transparent communication.... 😤

ha that was very transparent though that why it's news. the only thing that isn't is there a x86 version for phone?

you what this means? x86 phones coming Soon™

only MS is able to come up with stupid names!

Downloading to Elite x3 will report any issues.

I can't keep my x3 on fast ring, way too many issues. Been on insider only

Totally Stable on my X3, lockup's are gone.

Downloading now on my 640. Does anyone have it fully installed yet? Notice any differences?

Anyone have a change log for this build?

I read the changelog on WinCentral. It seems there are just security updates.
I noticed the Edge reloading issue is fixed. Maybe they will release an updated changelog.

Just completed downloading 14393.1066 in Lumia 735

Micca - any idea on whether Creators Update might come to the 735/730? I know it's not on the list, but this deveice seems to go under the radar. The the forgotten child of a forgotten family.

I'm downloading it on my 950XL on the optimistic basis that all updates from this point are in the awesome ballpark, just like the last two fast ring builds have been imho

Been stuck on 15024 for a while now on my Icon. This one failed like the others. I know I need to take it back down to 8 and then back up to current (I've tried everything else), but that is not something I'm really looking forward to! :) I'd much rather leave Verizon to actually get access to a more current phone (although, to be honest, this Icon still mostly runs as good as it did brand new. Battery life isn't as good, but otherwise, its still solid), but, alas, the funds aren't quite there yet.

Yea I had two Icon's but solved the problem. I'll find the link, you have to follow it exactly. Now running HP Elite x3

So if you switched from the Icon to HP x3, I assume you left Verizon for AT&T? Or did you go with T-Mobile, Cricket, etc? I'm about ready to make the jump but thinking to go with one of the smaller services than AT&T (which is usually nothing but a headache from past experiences).

So beginning Creators update, it's all OneCore maybe?

Not yet, they are still working on Refractoring in RS3 as per communication from Dona Sarkar last week.

Got it downloading on my Alcatel Idol 4S and Lumia 950!

WE'RE GETTING THERE... ... and it'll be worth the wait. Migrating your data (Step 4 of 9) :)

Downloading "Windows 10 Technical Preview for Phones (10.0.14393.1066) for L950 on Release Preview

Wouldn't surprise me if we get the 15063.138 soon on RP as well. After all, the name change and the build/update number parity between PC and Mobile? Oh-boy-oh-boy-oh-boy...! :-)

ARM get here dammit so i can upgrade...maybe it'll run on my 950xl?

Not happening. Bare minimum requirement would be a 820 snapdragon. For now.

I thought the minimum was 835

The first demo showing Photoshop running on ARM was on a Snapdragon 820. So it CAN work - whether the release will require a beefier Snapdragon remains to be seen.

Windows on ARM was teased on an HP Elite x3 which runs a Snapdragon 820. Also, Microsofts supported list for Windows Mobile processors only goes up to the 820 last I check. This could be out of date by now though.

Spoofing the mobile so it thinks it is a L950XL

Well 435 still get the CU tho, so just use fast ring or slow ring

Maybe there's hope afterall.

Update, "localization for swedish", though 138 build

Installed, had a quick look through the settings, nothing stands out as NEW, I'll dig about a bit more... perhaps it's all background enhancements #theyreimportanttoo

what's the changelog for .1066?

Oh crap my other phone, a 640, is in the car and connected to WiFi on the Fast Ring... better go see what happened lol

When Microsoft announced Windows on ARM, it talked about "Cellular PCs". Which means the cellular stack is coming to the full Windows. OEM's can use this Windows to build x86/x64 phones too. I think Microsoft is just clarifying this update is for ARM based phones only.

Yeah, as opposed to the coming x64 Surface Phone (I hope, but not holding my breath.) It could also mean that we'll be migrating (with even more handsets left behind) to full Windows 10 on ARM in the future as one of the uprades. That would be pretty cool.

The only way for X86 to come to Mobile would be if they got rid of legacy instructions and also get rid of the X86 extension of X86-64

Someone please tell me this will fix the bluetooth pairing problem I've been having since the past two updates...950XL dual SIM unlocked

It does not. Still suffering from Bluetooth crashing when selecting add device. Lumia 950. VERY disappointed. :(

Solved this Problem by doing a hard reset 2 builds ago...

I gave up on Bluetooth with my L950. Fresh install, Bluetooth was still jacked up. Hit or miss constantly while my L1520 has zero issues.

What pairing problems are you having? My 1520 paired both my new Bluetooth headset and my new MS Band without an issue and I am on the Slow Ring.

Does this anticpate a new device at the rumored hardware event?

Nope, it's just Patch Tuesday

I'm on slow ring, and my version is now 15063.2, which I've heard nothing about, unless my phone is just rounding up, albeit incorrectly

that was the first update to that build, you should be sitting on 15063.14 on slow ring, with 15063.138 coming in for fast ring

Hmm. Just loaded the .138 update and am also showing 15063.2 which is higher than .138. Odd. 950XL.

2 is not higher than 138. Don't read the dot as a decimal point. the number behind the dot is just a seeding number.

Same on my phone after the update.

It's unclear to me what the difference will be between Windows 10 Mobile and Windows 10 ARM. Articles I've read treat them separately, but isn't is conceivable that Win 10 Mobile evolves into Win 10 ARM edition?

I'm guessing there will be hardware limitations on 808/810 devices and earlier (maybe even 820, hence the possible refresh of the x3). My best guess is that Win32 on ARM won't work on the earlier hardware and the "ARM on Phone" is to differentiate them.

I think W10 Mobile will be renamed to W10 on ARM. But you will need a specific ARM cpu (prob. 835) to be able to run x86 apps.

This paired with the focus on W10 Cloud in May is very interesting...

This is clearly something that's coming, maybe even for Redstone 3.

My 1520 is stuck on 14946.1000 for months now. "Downloading updates" stays stuck at 0%. Maybe I should leave it that way since I still have fully functional Outlook notifications in the action center and sound alerts for incoming e-mail. I hafen't had those on my 950XL for the past 4 or 5 Insider Preview releases.

I'm guessing 1520 isn't an ARM device? Just looked up, Wikipedia said it is ARM. My update check said no update for some reason.

I'm still on 10.0.14393.67
Can I jump straight to creators update from here.
I decided to forego an update several months ago (640MB). I hope it's possible to skip some updates.

Yes. Enroll to Insider, switch to Fast Ring, install Creators Update. Afterwards, unenroll from the Insider program. You'll be on Production.

Is the creators update not on the slow ring as well

I wonder if they are testing "Composable Shell" or "CSHELL" starting with this update. I might need to try installing this on my Lumia 1520.

I did an update check on a 1520, nothing.

I sense this is the beginning of something special...

That's why its released today; I'm wondering why it's named the way it is?

Install just completed on my 830. I have had no problems at all on this phone with any of the latest builds. Everything seems fine after this update as well. Will have to look around to see if I find anything new or different but so far everything is normal.

Well, Dan was wanting a hint to be dropped to enforce that we aren't all just in limbo. Maybe this is Microsofts way of hinting to those on Mobile Preview that there is a future? Crazy way to do it but what else makes sense that Microsoft is doing?

My update said "Danish location" buts its the same build number so...

This build is very snappy that for sure. :)

ooh exciting, although fully expecting excitement and anticipation to turn to disappointment.. :(

Well this build does seem much faster on my L950xl. Loads apps and web pages quicker than previous build.

Bug with edge not solved :(

The bug. You know, that bug.

Oh! The bug that does the thing. That bug?

Update went perfectly, although I can't really tell any differences on the HP Elite x3 (Yet but I'm looking) seems stable

is this the final/finished mobile build for the crators update? Thinking of doing a hard resit and dropping out of insiders for a bit.

It's raining updates. never expected an update for my Lumia 950 today.

Everything definitely feels faster

Updating now on Lumia 930

I have switched back from fast to release preview
on both my PC and my Lumia 950
and I got those 15063.138 for both. .

Just installed then went to the Release Preview ring so I don't get a RS3 build like desktop is already.

Update named localization for French in France!!!!

Windows 10 Mobile is dead! Long live Windows 10 on ARM based phone devices! No idea why but it really wouldn't surprise me if this was the actual product name going forward lol

That sounds funny and kinda sad at the same time.

My thought exactly, but under Settings/System/Info it still mentions Windows 10 Mobile

Downloading on my Icon in Slow Ring right now...sure is taking awhile.

Well, it IS the Slow Ring... ;-)

I am beginning to think the next windows 10 mobile devices will be arm-based. Total computing on your hands, hehehe...

All Windows Phone/Mobile currently using ARM. Never heard any Windows Phone using other than ARM.

This almost confirms that Windows 10 Mobile is dead, and windows 10 on Arm is now the thing.

ARM-ready? I don't understand it. Maybe for HP Elite 3 only?

All Microsoft current phone is ARM.

Lumia 1520 is ARM according to Wikipedia. Any clue why mine isn't updating"

just updated my Lumia 640XL with W10M 15063.138. So far so good, appears snappy!

Cool, i have the same model, getting update soon.

I have a spare 640 and love it. I'll check it too.

Installed on 950XL and all my old* devices except the 520 which is stuck at 14393.1066. *1020, 920, 640, 640xl

plz help, how you update your lumia 1020 from 8.1 to 10.

http://forums.windowscentral.com/windows-10-mobile-how-guides/436253-6.htm

0x80070273 anyone else with that error? (Lumia 820 on slowring, reg ed hacked to 950xl) tried to switch rings, it didn't work

plz confirm how you update your lumia1020 from 8.1 to windows10?

I am getting the same error on my Icon. I am stuck on 15063.2.

Same on wife's Icon. Installed fine on my 735.

When you get that error code, its time to revert back to 8.1 with the Device Recovery Tool, and start over. I had to do that on one of my 1520s.

ty :) I did it. ... after like 1/3 d :D http://forums.windowscentral.com/windows-10-mobile-how-guides/436253-6.htm from 8.1 to 10 to 10RS release + fixing glance :D

I had a "Localization for German" update which then brought it to 15063.138. Strange these different names.....

This only means that the specific name was not translated to German.

App icons look different, fuller images.

Updated and my 950XL now says 15063.2?

Surely this is about making space for Windows 10 on arm based servers, Windows 10 on arm based tablets etc, rather than x86 phones. This makes total sense and aligns with the os convergence that has been happening.

My update was called "French Localisation" (OS french canada)

The update is available for my 640xl on fast ring, but waiting to get on WiFi as it won't download over data, even though i have unlimited data in Taiwan....

In prep for "ARM based PC devices" or "ARM based ultramobile devices" since the Surface "Phone" will most definitely not be a phone.

It is less than that. I just started on my slow DSL and it is already up to 30%

It clearly that Microsoft give hinted end of W10M.. Using Windows 10 instead Windows 10 Mobile. Windows 10 Mobile officially dead.

Within settings in about still windows 10 mobile.

Zac, ask Dana on your podcast this week about this.

My 830 updated to this Build earlier this evening. All seems OK so far. I've been experiencing some issues with Outlook email. some scrambled email messages in which the content doesn't match the email message title and is grouped in the wrong conversation. I looked quickly and couldn't find any of those errors. I also haven't been getting email message notifications on the lock screen. I'm hoping that this might be addressed as well. I'll have to wait until someone sends me a note!

U have to turn that on from the lock screen and also turn on notification sound from the email settings as well

Windows 10 Version for arm-based phone devices. I don't presume there is any hidden message here, rather just a fancy build name.

Or they needed the names to reflect this isn't the Windows 10 for ARM based devices that aren't phones or X86 devices (less likely) that are

Perhaps, nevertheless it is interesting.

I read on twitter and feedback hub that this mobile update only contains security updates.

At some point, Microsoft would have to differentiate the Windows 10 ARM build names between phone and the new 10 SKU for other ARM devices rolling out later this year. Would love to hear from Dona Sakar later this week what devices the Insider Team will let Insiders use to test that new ARM build!

If this list keeps getting smaller, there will be no more insiders because of the lack of sufficient devices to test with...

You know for users on a Windows news site, they really don't keep up with the news. It seems most commenters don't realize, the idea is that you don't need a x64 or x86 phone to run full windows 10 program. But run those programs on ARM devices. That's what they said they we're doing, trying to create a new market of x86 or x64 phone is not going to work, they are sticking with ARM, as everyone else is.

Is 15063.138 > 15063.2? I have 15063.2 on my 950 xl. Will I also get 15063.138? Not on insider preview anymore. Thanks.

Yes, in these cases it's like 15063.00002 and 15063.00138, that is, it's not a true decimal but a whole number in each position.

Which begs the question. Why did we download build .138 and have build .2 as a result? What is the difference? What does it mean? Where's my pudding?

You'll have to be on the insider ring (slow or fast) or wait until 25th of April to get it .

Clearly, somebody in marketing noticed that Windows 10 Mobile was just way to short and concise. I noticed some specualation that there may be some potential for x86 phone devices, as opposed to Arm based phone device. Note there is also potential for Arm based non-phone devices. Windows RT and my Lumia 2520 fell into that category. Certainly WoA could run on phones and tablets, even clamshells ala chromebook.

The Windows Phone/Mobile doubters might be in for a good hiding. Big surprises to come??!!

Yes still have the Bluetooth issues not connecting up to the Fitbit charge2. I have received notifications briefly on 3 31 then updated to a new build which took it away then todays update didn't bring by back. Why can't MS leave Bluetooth alone and why can't they fix it quicker.

It may not be in all cases, I just wanted to let people know that I had crazy instability for months and I thought it was insider builds. But it did the same thing on Anniversary Update release build when I clean installed it. The new battery finally made it stable, and it may help others.

For Mobile, this Cumulative Update only includes security updates.

Could it also be a hint that MS will showcase WoA at this year's Build?

I think they will definitely show it. Whether that's on a phone or not is a completely different question. From what they have said on it so far it seemed like they will be releasing PCs with it first (and that they won't necessarily be cheap to begin with)

In Hindi we have a saying, "Tere moonh mein ghee-shakkar" Literally it means that you deserve sweets in your mouth, but its an expression for hoping that whatever you have said may soon come true. Its the most apt thing I can say to you right now

Or at the rumored spring hardware event a few days before Build. The rumor is that they'll focus on devices to compete with Chromebooks so it makes sense to include some ARM based devices.

Just the usual MSFT marketing; Look out for "Microsoft Windows 10 Creators Update, Phone Edition for ARM-based devices, with Bing(tm)"

Microsoft....Marketing....Phones - We all know those words don't go together and haven't for a couple of years. That's intentional on their part so I'm not having a dig at them but nothing is marketing when it comes to MS Phones ;)

I just stop my insider status yesterday, as I read an article here suggested it, but after I read about this update, I re-assign myself as Insider again.

Well i updated it yesterday (non insider build 14393.1066) and it completely broke my phone (lumia 950). Before it was silky smooth experience but after this update my phone is slow, applications that used to run perfectly smooth (like MSPoweruser) are slow and when i wanted to solve these issues with soft restart (hold volume down button and power button) it just messed up my time, so i had to set time manually... well done microsoft, you just again proved that you are completely incompetent

back from 15063.2 to 15063.13 ?

Its 15063.0000000002 > 15063.0000000013 Etc.

Guys ! Lil help ! Im on CU, on m L640 DS. In slow ring insider, got this new update installed and running smooth. But I am planning to exit insider builds after official release of CU mobile on 24th. I just want to know if Microsoft will give a General build to insider, giving a chance to exit the program or itll continue to get RS3 builds !???!

If you enter stop insider program, you will encounter that you can't just stop it. Their are 3 things you can do, but you cant actually stop it. Their is exactly an option that sounds like the answer to your question. To keep updating till the the actually build comes out. Your device will automatically exit the insider program after this build.

I didn't get that .. Can you redo pls

It's very unlikely that an RS3 Mobile build will go straight to Slow Ring - I would say you can probably stay on Slow Ring just fine for now, once an RS3 build hits the fast ring for Mobile then switch back to Release Preview.

Release preview ? I can't quit insider build ?

You can, but have to wait. As i was saying, when you click (stop insider builds) their are 3 options, the last one on the bottom si for what you want. Sadly i cannot reproduce it's name, cause my phone does not come in or out from insiders, it is actually stuck and i cannot do nothing, did not receive this update either. I can only hope i will recieve the official build, if not, i need to format it, a thing i really do not want) Anyway, the last one should opt you out of insider builds when the official comes out.

I'm surprised the update is 4.6GB (for my Lumia 950) is that normal?

Glance screen still getting stuck after a while :( but keyboard in Edge seems to work now :)

Is it a name problem? Because some Thai people got this update as "Localization for Thai"

YuP Microsoft has just made a name plate mistake !

I still hope against hope that it is a new nomenclature MS plans to use for mobile phones: ARM based devices

Got it on my L930. All is not lost for x30 devices then.

Guys ! Whoever installed this update, check if notification settings working properly ? I can't see app's on/off notification

My RP set phone has 10.0.14393.1066 as of this morning, updated it while I was in the shower, lol

How I get this update in blu win hd let. I'm on 10.0.14393.953

Surprise me too. Positively. I still believe in Windows 10 on mobile devices.

I´ve got a 535 and on Slow Ring. Got the update and on 15063.138 now. Had to make a little space but everything went smooth after that. Everything seems ok at this point after restart. These later builds are definitely running nice on my 535.

I just got an update 1066 on both my L730 and L650. On ward Windows 10 Mobile!

Just finished...15063.138...
Nothing noticeable...

Never been so glad to see an update. I had a problem with my memory card being "unavailable" and with that the loss of most of my apps. Yesterday my device rebooted and my baby's back. All the rest is cake. Except that part about a "Headless Machine" .?

When I had my Lumia 1520 I was on the Fast Ring of the Insider builds, but now that I have the Lumia 950XL I pretty much kept it on the production build. Is it worth going back on the Fast or Slow Rings?

Heating problem solved in my lumia 640 Thank s Microsoft 😛

I saw where Joe Belefiore is back and involved with Edge, among other things and I hope he represents a focus and committment to "finish" Edge, to make it fully functional. I really like almost everything about the browser but wish the extensions would work on phone and desktop and that form filling would be less glitchy. Edge has been crawling out for so long without approaching exisitng browser's level of functionality that it has set back the entire platform. Because the browser is the leading edge of the wedge into the whole shooting match.

Downloaded on my 735 with no issues so far.

I think the change in update naming convention hints at Microsoft's effort to further unify the Windows 10 architecture. Speficically, the change from "Windows 10 for Phones" to "Windows 10... for ARM-based Phone Devices" hints toward their x86 emulation for ARM-based devices, which is expected to happen with Redstone 3, rather than a separate line of phones for ARM and for x86.

Felt like both my 950 and 950 XL operated more smoothly. Wish we had new Windows 10 mobile models with SD 835.

Well i'm is slow ring so i must wait till release oficially

My Lumia 650 got 1066 today.

Does anyone know if the Alcatel idol 4s unlocked version software/firmware is available on the Microsoft Recovery Tool? I just ordered mine yesterday from Amazon for $284 and another $96 off for rewards points. Or would the T-Mobile version work and not install any T-Mobile stuff on it?

My lumia 1020 is still not getting win10 update, please guide if it is available now.

I have received a new update 10.0.14393.1066 today

Hello AD2390. This update renders my Lumia 950XL unusable! No matter what I do and how I update, it comes back in boot loop with smiley sad face. I've had to use WDRT ever since to roll it back to how it was. Any tips on what is going on? Version after WDRT is 1511 OS build: 10.0.10586.318. Thanks.

Great, but at the moment only ARM- based phones are supported or what? So lower RAM devices like Nokia Lumia 520, 620, newer 512 MB ram phones also, won't get this update? Interesting topic also

I have the HTC One M8W and I'm on 10.0.15063.138. It's hacked to appear as a Lumia 735.