Army Academy, a mini boot camp for Windows Phone 8 that will keep you busy for hours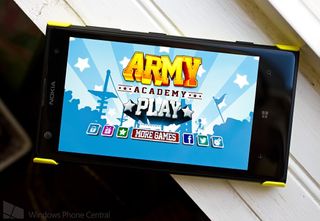 Army Academy is a new Windows Phone 8 adventure from Moxy Games (opens in new tab) and the developer's first foray with the Windows Phone platform. Army Academy is a multi-level, running-styled game that has you jumping, swimming and swinging through various boot camp styled courses.
Those courses have a wide range of obstacles and dangers to avoid that include lava pits and electric eels. Along the way you can collect coins that can be used to purchase power-ups and as you progress through the levels, you can advance in rank.
Moxy Games has a nice portfolio of titles over on the Android and iOS platforms. First impressions are impressive with Army Academy and hopefully more games will be coming our way from Moxy Games.
The main menu for Army Academy has options to jump into game play, along with options to access the game's settings, view the game's Facebook and Twitter pages, and buy coins via in-app purchase (IAP). You also have a "More Games" button but with Army Academy being Moxy Games only Windows Phone title, there's not much to it.
There are two links on the main menu that are a bit of a mystery though. One is a gift icon that I'm guessing is used to donate to the developer, but in pressing it you are taken to an unavailable link on Facebook. The other is a padlock that appears to have no function.
Jumping into the game you'll find sixty-three levels that progressively get more difficult. The obstacle courses are held in one of three different environments: a running course over land, swimming challenges from the deep blue sea, and swinging tests through the jungle.
Your soldier is constantly running and it's your job to jump, slide, swim, swing and punch your way through the course. Movement controls are achieved through a series of gestures and taps with tutorial windows popping up when you first attempt each environment. Along the top of the gaming screen you will find a health meter, a map charting your course progress and your gold count and game timer.
Each environment presents its fair share of challenges and threats. Some dangers will simply hurt you (snake bites, eel stings, etc.) while others will end the game rather abruptly (lave pits, falling into the jungle swamp, etc.). Just remember to collect air bubble when your attempting the underwater swimming levels. There is an air tank placed on the left side of the screen that will show your available air. Collecting air bubbles restores your air tank and prevents your soldier from drowning.
As you race through each level avoiding dangers such as snakes, cactus, electric eels, and lava pits you can collect coins. Coins that can be used to purchase power-ups prior to starting each level. Any power-ups you purchase will be displayed along the right edge of the screen. Just tap the power-up icon when you feel the need. Should you have the need to buy more power-ups while in the middle of a gaming level, tap the green "Power Ups" button in the upper left corner of the gaming screen. This will send you to the store where you can buy the extra power-ups to help you survive the level.
Your final score for each level is noted by one to three stars and is based on your health, coins collected and time. Each level is re-playable if you feel the need to improve your score or have the desire to build up your coin bank.
While Army Academy comes across as a fun game for our Windows Phone, there is one annoyance. The game is a free ad-supported title but the ad banner placement isn't the best. It sits at the top center of the screen and obstructs a good portion of the gaming screen.
Luckily, there appears to be a fix in place. If you go to the in-app purchase menu from Army Academy's main menu (the green star button). The first purchase option is to remove the ads. Oddly, this tile is already marked purchased and all you need to do is tap the tile and the banners go away.
All totaled, Army Academy is an enjoyable, casual game for Windows Phone 8. Graphics are worthy and there are plenty of gaming levels to keep things from growing stale too quickly. The three gaming environments are also a nice touch giving Army Academy a variety of challenges to keep things interesting. I wouldn't mind seeing a help section, but it isn't a deal breaker because the pop-up tutorials do a good job of covering game play.
Army Academy is a free game available for Windows Phone 8. You can find Army Academy here in the (opens in new tab) Windows Phone Store. Not for devices with 512 MB of RAM.
Windows Central Newsletter
Get the best of Windows Central in your inbox, every day!
George is the Reviews Editor at Windows Central, concentrating on Windows 10 PC and Mobile apps. He's been a supporter of the platform since the days of Windows CE and uses his current Windows 10 Mobile phone daily to keep up with life and enjoy a game during down time.
Not for 512mb devices. :/

Not available for Brazil.

Neat game. Nice visuals but don't understand why there is no 512 support. I think games like these that aren't graphically intensive should use 512 as benchmark and work up. God know the 520 is selling like hotcakes so why not hit that audience first.

9 times out of 10, it's easier to write/port a game with no restrictions. You then get it out there and debug the game, then optimize it...it's SOP for app/game development.

Hi Dan, not seen SOP before and won't guess either. So im not sure whether you agree with me or not :)

Standard operating procedures

Hmm, no I'm gonna run with Dark Lands :)

you should create a page for non xbox enabled games, and xbox enabled games.

Its very bad that its not for 512 MB ram devices.. Windows have to take care of all the lumia family.... if they want to be in competition....and want love from Customer

No 512mb ram???? Doesn't ms care for its loyal customers using NL 620/520 etc??? :/

I was abt to swipe to the right for downloading....but alas,not for 512mb devices...Plz hereafter keep the ram notification as the first description