Ask Windows Central: Why are there still legacy UIs in Windows 11?
We answer more questions from you!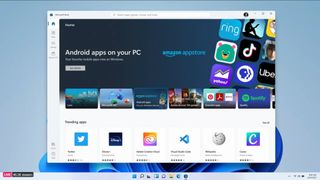 (Image credit: Microsoft)
Welcome to the fourth episode of our new series: Ask Windows Central, where we answer our communities most asked questions around Microsoft, Windows, Surface, Xbox, and the general tech industry. In today's episode, we answer questions around legacy UI on Windows 11, the new Microsoft Store, and the Snapdragon Developer Kit!
This week's episode features the following questions:
Will there be a point where we actually see legacy parts of Windows, like Control Panel & Device Manager, get redesigned, hidden or replaced with modern ones?
Will Android Apps be supported on Windows on ARM or only on Intel (App Bridge)?
When will Snapdragon Developer Kit for Windows release? Will it ship with Windows 11?
As Microsoft and Samsung have partnered on so much stuff, why did they go with the Amazon app store on Windows 11 instead of the Galaxy store?
If you have a question you'd like us to answer on the show, be sure to submit them in the comments below, or email daniel@windowscentral.com with "Ask Windows Central" in the subject line! You can also join the Windows Central Discord and ask questions in the dedicated #ask-wc channel.
If you're on Twitter, you can tweet your question with the #AskWindowsCentral tag included, and make sure you tag either @daniel_rubino or @zacbowden so we can see it.
If you have any feedback about the show format, please let us know. We're building this show around you, so if there's something you don't like or think we should change, we're all ears. We hope you enjoy the episode, and look forward to getting back to your questions in the next one.
Windows Central Newsletter
Get the best of Windows Central in in your inbox, every day!
Zac Bowden is a Senior Editor at Windows Central. Bringing you exclusive coverage into the world of Windows on PCs, tablets, phones, and more. Also an avid collector of rare Microsoft prototype devices! Keep in touch on Twitter: @zacbowden.
The most annoying question of all for WC staff: When can we expect to hear more details about Surface Duo V2? But, that is my question. I really want more information about Surface Duo Version 2. 🙏🏾🤷🏾‍♂️

That holds for me too. :-) That said, it's hard not to be excited about Windows 11 too, and even the silly, self-induced drama around supported hardware (I think MS has mishandled communication on this, but I still believe that Windows 11 will install and run, even if not formally supported, on the lion's share of 64-bit hardware that supports Windows 10).

Another great episode Dan and Zac. Even when you don't know something for sure, you give great insight into how MS is thinking about the issue. Thanks!

Regarding using the Android Store vs. Galaxy Store: the Amazon store is the best alternative to Google Play in terms of volume of offerings. Because Amazon's target is Kindle Fire users, those apps tend to work well on tablets and form factors friendly to most Windows systems. On the other hand, the bulk of Samsung's users are on its phones. This is potentially a great partnership and, if they nail the execution, a brilliant strategic move. Samsung (other than Tizen) uses Google's Android and Google Play store. Amazon uses AOSP to create is its own forked Android. It's not hard to see Microsoft looking to fold this into Windows similar to the Windows Subsystem for Linux. IF (big if, because no evidence they're doing this) MS wants to eventually move away from being totally dependent on Google for the Duo and any future mobile devices, AOSP with Windows would be a way to do this w/o losing access to all the Android apps, provided they have access to an existing well-stocked AOSP store, which they now have. At the same time, you wouldn't expect Samsung to be real keen to help MS compete with them in the mobile space.

Good points as we don't know how Android "phone apps" will span/blow up on PC. OTOH, if Samsung were to do this they could at least optimize its own Android apps for PCs/laptops.

Agreed, and they seem to have done a great job working with MS along those lines with Your Phone. You've made a good point a few times that Samsung and others could also bring their stores into the Microsoft Store.

Amazon sells several tablets (and updates the hardware regularly), not just Kindles. So even more reason why their store would tend to cater more to tablet (and Fire TV) users.

Tarkus13, thanks! As far as I knew, the Amazon store was only tied into their Kindle Fires and Fire TV (I had forgotten about that one). Are you saying that the Amazon store is also used to provide Android apps to other tablets they sell? I did not know that, but that would be good news. Do you know any brands or models that will be using their store besides MS?
Windows Central Newsletter
Thank you for signing up to Windows Central. You will receive a verification email shortly.
There was a problem. Please refresh the page and try again.