What the future of Windows 10 will look like. #AskDanWindows Episode 35
By Daniel Rubino last updated
On this week's episode, I take questions on what the future of Windows 10 looks like, including phones, and whether we'll ever see a UWP version of Windows Explorer.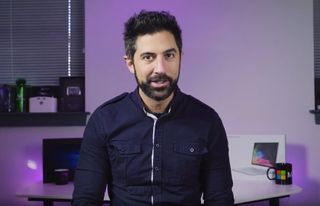 Audience questions for Episode 35
Can Windows 10 ARM-based devices make phone calls & text messages just as Windows phone? - Dharma teja1
Will Microsoft release a full version of Windows 10 for phones - Donovan / Which Windows OS will MS future Courier based device will use? - Dharma teja1
Can we expect a new UWP explorer?? or a re-skinned Explorer UI that will fit in with Windows 10 design? - Brandon T
Further reading and referenced articles
Thanks, everyone, for the questions! Make sure to use Twitter, email, or our forums to ask me your question for next week!
Email me!
Don't use Twitter? After much feedback, we are happy to announce you can forward your questions to AskDan@WindowsCentral.com to submit your requests!
AskDan Forums!
Hate using email? Join me on our #AskDan Forums at Windows Central! I'll occasionally jump in there to try and answer questions or take ideas for new episodes of our web series.
Ask Dan Forums at Windows Central
You can also find previous episodes of #AskDanWindows here on the main landing page.
Daniel Rubino is the Executive Editor of Windows Central, head reviewer, podcast co-host, and analyst. He has been covering Microsoft here since 2007, back when this site was called WMExperts (and later Windows Phone Central). His interests include Windows, Microsoft Surface, laptops, next-gen computing, and arguing with people on the internet.
I would. But YouTube Subscribing can only be used with a Google account. So no, I did not.

Just use MyTube! and activate notifications, NO subscribe needed.

To get to the "windows 10" complete operating system, Microsoft needs focus alot more on UWP visibly and getting those tonne of API's into the UWP platform. This is a sticking point for a fair amount of developers.

Why else do you think they're doing two updates a year? It's so they can speed up the improvements in the UWP framework for app development.

There are multiple factors that contribute to UWP adoption and one of those is visible disregard for their own platform. Sure they are rolling out small number of o/s 'upgrades' per year. However management who hold the financial resources need tangible evidence to fund projects and Microsoft has been in essence solely focused on ios and android when it comes to visible movement. Heck their two mainstay acquisitions do not even have a full UWP app. Plus they are way off from their 1 billion devices by 400 million, desktop users by in large don't primarily use store apps but mobile users do. So when you make a case for development of a Windows store app, you need to showcase that Microsoft is doing what they can to fuel momentum and reassure that risk is minimal and the ROI is sound. But in reality, Microsoft has not been focused on their own ecosystem. Actions speak louder than words.

Brother, couldn't have said it better. MS needs creativity for the very reasons you speak. Surface is a great approach btu there are so many things standing in the way of Windows being relevant - and you named the biggest - most of my family don't use PC store apps. I've been pitching to Panos that every business office needs a smart land line phone and if MS could fill every office, it would mean MILLIONS of sales. Companies could cut ties with Avaya (voice mail expense) as Windows 10 becomes their v-mail manager. Sync it with Windows 10 and people can have a better office experience. That would also introduce a small market for adding more apps liek Starbucks and airlines and other apps. Those could then translate to the phone. Thats just the tip. But MS has this idea that Desktops are going to reignite - they're not. Mobile is what people want. Hell most of my family don't even use their laptops now. I walk into a room and they're on their phone browsing youtube, netflix, internet. Nadella is doing great but failing the mobile market and I believe MS has to stay in it. Even if it means they produce 1 phone every 2 years. Keep your support alive!

Can someone please post the link of windows 10M(mobile) os.can this be available in the web to download?

my lumia 650 after reset not appear Microsoft edge so this made me to reset my phone more than two times but the same , what the solution coz nothing can be done without edge

you need to use windows device recovery tool

Yes use Windows device recovery tool to reinstall the os and install firmware

i think windows is going to end up a business operating system, chromebook/android will be the personnel phone/tablet market

Business niche won't last long though. Development will be heavier on the consumer side and it will bleed into the business side as well. Just ask Blackberry how that works out.

Agreed. MS needs to realize that the world has changed. Enterprise is not driving the consumer any longer. In fact it may be reversed.

UWP + XPA gaming wit gamepad might help... no?

thnks now am doing the reinstall using WDRT

If the rumoured foldable Surface device come before they do modern File Explorer it will be DOA. Simple as that.

Windows 10 needs to stop trying to be everything for everyone. Businesses don't want most of the stuff that comes bundled with Windows 10, like Cortana. Sure you can turn off Cortana but it isn't totally turned off, as evidenced in task manager. I think having different versions depending on use case makes more sense. Take Linux for example with all of the different distros. Musicians, Videographers, and Designers would be better off with a much lighter OS so they can utilize more of the hardware without the OS getting in the way. The average consumer might want what Windows 10 is now and that's fine, but where I work which is heavy on the engineering side of things we purposely stick with 7 as it's less intrusive and is a lighter OS than 10.

spot on, let Cortana be an app to download if you want it. what annoyed me was the read text over Bluetooth worked out of the box on win 8 but 10 you had to have Cortana running to have this function. win 10 just seems to be getting bigger every download

Hell yea! Cortana??? What business wants that. What they need is a smart land line phone that is so intergrated that their experience becomes so much nicer. So much potential. Notice that every business land line phone is old! Time for an upgrade. But instead MS has Cortant! REALLY! Time to get creative MS! NOW!!!!!

Microsoft already offers Skype for Business for pros, which is very well integrated with Office365. And it keeps improving at fast pace (merging with Microsoft Teams right now).
Avaya is already pushed out of the game very fast. I agree that Skype should be more nicely integrated within Windows (even if it will lead to issues with European Union / Antitrust instances) but for business there's already a good solution from Microsoft already well integrated within its business offering. What else they could bring?

Windows 10 will only be used at home by gamers, other than that it will only survive in enterprise... Consumers will use iOS and Android...

I agree. My idea has been MS should create a sufrace land line phone for every office, completley sync it to a MS account for enterprise and personal, then cut off all syncing of android and iphone (once the enterprise begins embracing this new office phone). That will then prompt even more people to begin ditching android and iphone because buying a surface mobile phone would sync perfectly with their office sufrace land line phone. Imagine policies for secratarys to push to their employers phones right from W10? Secratary buys an airline ticket and no email is needed. She having device rights, just applies it and the ticket's on his phone. She can sent contact info to smart phones right from the desktop or the land line phone. Video calls become more of the norm because very office is using a surface land line phone? I think it's a fantastic idea.

What creative form factor would u like or suggest for Surface land line phone. Share a link to the image.

No. Phones and smaller tablets mostly Android, yes. Everything else most devices will run Windows. So, consumers will use Windows and Android. ((iOS will keep behind forever and just take a small piece of the pie. Except for the Unicorn Trump country of course regarding phones and smaller tablets))

Truly, this questions seem like a dejavu to me as I had asked myself similar questions considering my worries about the future of WM phones and gadgets- people like us have gotten used to the "Windows" way of life and it tells in our daily activities. With the heavy competition from other like services/devices provider/manufacturers its sad to see how things sem unfolding for MS and e the ardent disciples of the "Windows" movement. Please Microsoft do something and be quick about it !
Charles N. C.

with the same CEO, there won't be a future for them.

lmao, k. The comments here are very amusing. You are aware that this is Nadella's strategy and what he's been saying for the last year, right?
Windows Central Newsletter
Get the best of Windows Central in in your inbox, every day!
Thank you for signing up to Windows Central. You will receive a verification email shortly.
There was a problem. Please refresh the page and try again.