Will there be a Surface Laptop 2018 refresh and what's Windows ML? #AskDanWindows 45
Machine learning, laptops, and RAM are all fun things to talk about.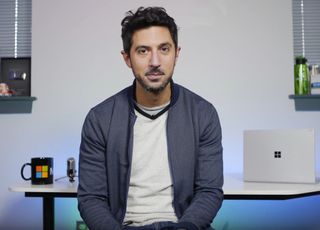 Another week and another batch of questions from you for me to try and answer.
This week I'll try to talk about Windows ML (it's OK if you don't know what it is), a Surface Laptop refresh, and what about getting more RAM into the Surface Book 2?
Grab your beverage of choice, check it out, and don't forget to share!
Audience questions for Episode 45
Any rumors for Microsoft to offer increased RAM options in the Surface lineup, such as 32GB in Surface Book 2? - Joe B.
Any sense if there will be a Surface Laptop refresh coming out of Build this year and any hope there will be a Kaby Lake R chipset or improved SSD tech in there? - @richmanab
How does Microsoft plan to take advantage of #Windows ML? What kind of abilities could it have? -@tauheedul
Thanks to everyone for the questions!
Email me!
Don't use Twitter? After much feedback, we are happy to announce you can forward your questions to AskDan@WindowsCentral.com to submit your requests!
AskDan Forums!
Hate using email? Join me on our #AskDan Forums at Windows Central! I'll occasionally jump in there to try and answer questions or take ideas for new episodes of our web series.
Ask Dan Forums at Windows Central
You can also find previous episodes of #AskDanWindows here on the main landing page.
Get the Windows Central Newsletter
All the latest news, reviews, and guides for Windows and Xbox diehards.
Daniel Rubino is the Editor-in-chief of Windows Central, head reviewer, podcast co-host, and analyst. He has been covering Microsoft since 2007 when this site was called WMExperts (and later Windows Phone Central). His interests include Windows, laptops, next-gen computing, and for some reason, watches. Before all this tech stuff, he worked on a Ph.D. in linguistics, watched people sleep (for medical purposes!), and ran the projectors at movie theaters because it was fun.
Panay should be fired. No matter how many devices he launches, Surface sales are lackluster.

Surface Book 2 sales were "higher than expected" according to Amy Hood, Microsoft CFO - 4/26/18 Surface pulled in over $1B in revenue last quarter and 32% YoY growth. Facts, I suggest you use them before so callously calling for someone to be fired. Microsoft determines the success of its product line on its own metrics, not yours. Either way, your comment is off-topic and somewhat trite.

He's just salty they discontinued wp/m. The surface line is SICK! The only reason I am going with a dell xps 15 2 in 1 over the surface book 2 is that I can get financing for it using my business! If not, I would be having a new book 2 15.

If you what to can use Windows Core OS on a Smartphone lol but with tablet-phone Revolution About to Happen Who Care

Microsoft has a financing program for Surface devices now.

After so many failures, expectations were low. Trailing Twelve Months of Surface Sales (in millions):
FY18Q3: $4,414
FY17Q3: $4,043
FY16Q3: $4,023 Apple FY17, for comparison.
iPad: $19,222
Mac: $25,850
iPad+Mac: $45,072 Even though Panay keep expanding the Surface line, sales aren't growing and Surface is as irrelevant as ever in the PC market, but Microsoft loses more money designing more devices.

You posted YoY growth for a quarter, where are you pointing out failure? 🤔

Now compare all PCs/2-in-1s vs iPad/Mac. Where was it ever said Surface was to overtake iPad/Mac sales or rival them? That was never Microsoft's goal, so your point and entire post is irrelevant. Don't get me wrong, I appreciate your hubris that you think your metric is the sole determiner here, but here in reality, we all know your opinion on the matter has zero actual impact. Meanwhile, Microsoft's stock closed at nearly $96 a share. But hey, I get it, Troll is gotta troll. Keep it and see how long you last here.

Still kicking myself for not buying after the Brexit drop. Oh the riches that could've been 🤣

Me too. Also Martha Stewart and blackberry too. All three have climbed a lot from their low points.

Meanwhile, Microsoft's stock closed at nearly $96 a share. What's that gotta do with Surface specifically though? OK, it beat expectations, but we don't know how they set them. For example, it was just said that Chevy beat expectations, but that was partially because they were set REALLY low because of an expected dip in sales while people waited on remade models of (I think the big one was the Sivlerado). We also all know that the big points of growth in the MS profits are from services, namely cloud. The growth in shares is more about the great adoption of Microsoft's cloud services, not a market party for Surface in particular. It doesn't make Surface bad, but this guy's displeasure with Surface is not refuted by Microsoft's growth as a whole, even if I disagree with his statement that Surface has no market. That is, you're using something that isn't provably related to Surface to make an argument for Surface. I don't think anyone here is looking at Microsoft's growth and saying "it's because of Surface," even if there's a little bit of Surface in the mix there. People aren't buying stock in MS because they think they're coming in to lead the market in PC hardware.

I'm glad the stock is doing so well, I'm a shareholder. I owe a lot to Scottgu who saved the cloud business. Surface sales are too low. Surface laptop was a total failure. Surface Pro sales have been falling. Panay keep launching new devices but every single one of them flops so badly. I suppose the foldable device was canceled now that Windows was demoted. Time to shutdown for good this hardware adventure and focus all the resources on cloud.

You're wrong (and ignorant) on so many levels, but it's cool to anonymously post stuff on the internet, so whatever.

Loll @spectrum ...should Apple have more OEMs running OSX (or whatever) and at lower range budgets, you would see approximately the same numbers of Mac's sold compared to Surface, if not less. Windows, doesnt just run on Surface, there are lots more alternatives on the market that run Windows; giving consumers more options when purchasing a PC. If Windows were limited to only Surface devices, you could expect those numbers to be MUCH more. 😂🤦

Damn haven't seen this troll in a long time.

Panay is one of the best people MS has. Period. He's the absolute last guy I'd like to see leave MS. And actually they had an exceptional year in sales, I think mainly due to Surface Laptop (for students) and Surface Book 2 both of which are excellent. If anything I'd like to see more from the Surface team, like a foldable phone/tablet! But even if they hadn't just grown their sales it doesn't really matter if Surface sells well or not. That's not the point of Surface. The point is to show OEMs how to build a Windows device properly, to inspire them.

Thanks for answering that Daniel. Bummed, bummed, bummed to hear it but what you are saying makes sense. And as I am at the precipice of handing off the SP2 and looking to replace, I was so hoping to be able to fill that role with a Surface Laptop with KLR. :shucks:

I mean, part of me is "who knows", but they seem to take their time between releases. I would think Studio 2 would be the first up next for new hardware.

I honestly still hate the Surface Laptop. I just don't like the market they chose for it to live in. I don't see "MacBook competitor" as a good thing because Microsoft basically markets the Surface Laptop above what it is. It's too easy to find comparable PCs for much less, unless you REALLY want your inflexible laptop to have pen support that kinda fights the natural physics of writing on a tablet because an inflexible keyboard is in the way. I really wish it would have been a hybrid device, or that they'd have priced it about $100-200 lower. That, and I wish the Surface Book didn't live off that goofy hinge. I think it's conceptually cool, but the fact you have to undock it to carry the device as a tablet with the keyboard attached is annoying. I think a 360-degree hinge is much more practical, but that's me. I would like the Book to basically be a Surface Pro with a sturdier keyboard (you joked before, but the floppy Surface Pro keyboard really is a turn-off for me). Lastly, I don't think the "Microsoft waits for big hardware changes with Surface" is that true. They put out the new Surface Pro and openly stated they didn't call it the SP5 because the changes weren't that meaningful (not that it didn't stop them from a price hike on the device, in addition to taking out the Pen and jacking up its price, effectively making the latest model $150-250 more than its predecessor). I wish Microsoft would go to AMD though. They're moving forward with their CPUs better than Intel is right now (Intel's delayed 10nm for a 3rd time, while AMD is moving forward to 7nm), and AMD packs a better iGPU. That would play very well with the Surface Pro/Laptop (though AMD's mobile dGPUs aren't quite up to where Nvidia's are, so the SB wouldn't see as great a benefit). Switching off Intel would be worthy of a new device line, and it would be a switch that would make me look at Surface for my next laptop. I've already set AMD internals as a must-have, sothe fact Microsoft sticks with Intel keeps me from considering them, though so does the ever-decreasing value in their products.

"They put out the new Surface Pro and openly stated they didn't call it the SP5 because the changes weren't that meaningful "

That is not accurate at all. I wrote that article based on my interview with Panay and the Surface team:

"...Panay has stated that the company doesn't just put in a new processor for product upgrades, but it ensures that a new iteration brings significant advancements like longer battery life and an improved display."

Surface Pro 2017 was entirely rebuilt with all new components. It looks mostly the same, but the board and SoC is all new. We now have a fanless i5 edition (with no cheating), quieter fan in the i7 model (new thermal solution), LTE option, improved display, new processor, instant-on feature, new co-processor for inking/touch (originally in Studio), on-screen Dial support, new Pen with 4,096 levels and tilt, improved Type cover/new material (Alcantara for all). They didn't just add in a 7th gen processor to the SP4. Everything is new in SP5 including adding the sRGB color profile, and redesigned venting grill. Yes, they kept the overall same design, but

everything

was refined and improved. That is

very

different than what Dell has done in the past with the XPS line, for example. HP is better at this with constantly redesigning everything, including the exterior, but as the latest Spectre x360 shows, it's not always

better

for it. They call it just "Surface Pro" now because all of these small changes including better battery life, very good display, fanless, LTE option, etc. essentially perfected the concept. They didn't perfect it though by just putting in a new processor.

So what lol Surface Means Expensive.