#AskDanWindows Episode 12 - Is Microsoft developing their own version of Android?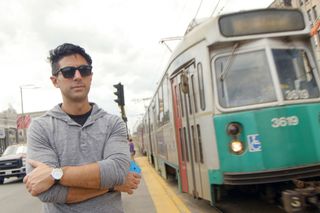 It has been a busy week with the Surface and Windows Phone news. So we're back with another #AskDanWindows episode to tackle your questions.
Let's get to it!
#AskDanWindows Episode 12 Questions of the Week
When can we expect to see ported Android apps on the Windows Mobile store? – Vincent ASPECT
Recently it was announced that MS will control W10M updates. What does it mean & what difference will it make? - @alyeldiin
Is Microsoft developing their own Android version as some publications have stated? - @PMFBraga
Do you know if the recently updated 'Facebook Beta' by Microsoft is the same UWP app they promised? - @MeDicenDobleve
Once RTM is released for either the PC or phone, is it recommended that you do a fresh install onto the device? Does Microsoft have any suggestions when migrating from Insider to an RTM release? - mdominik13
Is there a chance that there will be a Surface Pro 4 or Surface Book with built-in LTE? – Kevin W.
Are there any plans or have you heard anything about a dark colored surface products? – Joe S.
Do you think that there will be able bundle deals for the Lumia 950 from either AT&T or Microsoft? – Jonathan H.
Will Windows Hello work for the Kid's Corner/Guest Account for a second user on the 950/XL?- @ltjordan24
Will there ever be Windows 10 support for cars? - Multiple users
Which phones camera is better is it 950 or 950XL? - Bhavya P.
Thanks to everyone who submitted a question and as always, thanks for watching!
New email!
Don't use Twitter? Well after much feedback we are happy to announce you can forward your questions to AskDan@WindowsCentral.com to submit your requests!
Missed previous episodes? You may be surprised what I have revealed. You can find previous episodes of #AskDanWindows here on the main landing page.
Windows Central Newsletter
Get the best of Windows Central in your inbox, every day!
Daniel Rubino is the Editor-in-chief of Windows Central, head reviewer, podcast co-host, and analyst. He has been covering Microsoft since 2007 when this site was called WMExperts (and later Windows Phone Central). His interests include Windows, laptops, next-gen computing, and for some reason, watches. Before all this tech stuff, he worked on a Ph.D. in linguistics, watched people sleep (for medical purposes!), and ran the projectors at movie theaters because it was fun.
Another great video, Daniel! And glad for the confirmation that the Facebook beta is the new Universal Windows 10 app.

What's the point? Spreading fud and uncertainty? Why?

So uncertainty is being spread twice?? You said "Spreading Fear, Uncertainty, and Doubt and uncertainty" :P

Windows phones just need to have some sort of emulator built in so the car systems will allow the signals. I have Kenwood that only technically recognizes Iphone or Android for certain functions even though they are using industry standard media signals. If the phone sent a signal acting like an android the car wouldnt know the difference and would play the audio etc.

I don't see much use for continuum but this is one space that I see a perfect fit. All car manufacturers would need to do is provide video in so that a WP could be tapped into the touch screen. Now you can have any third party app drive the system, mapping, video, audio etc. There's also a bonus of using Cortana, checking email etc. It would be the best automotive system around and cost auto manufacturers pretty much nothing except video connectivity.

Microsoft demoed or mentioned last year Build conference that they're already developing or maybe just starting to develop. It's still a concept and that's sad since Apple CarPlay and Android Auto is there already and ready to be installed on new batch of cars. Microsoft needs to get this right and release it soon as possible, not another year or two. Since this functionality isn't easy or even possible for users in any ways to install this manually for cars if these are ready when the user already have one. Cars are long term investment and most drivers tend to keep it for years, if Microsoft still doesn't enter this market soon enough they will get left behind years for current drivers. That would also affect the adoption of Windows Mobile since if their cars isn't suppported with their Lumia lets say, next year that user may just switch to other platforms that's integrated to their cars and have more apps for them. http://www.theverge.com/2014/4/5/5585148/microsoft-windows-in-the-car-concept

Daniel, i really like this #AskDan! However, i don't have Twitter. I would like to know if the Surface Book will be available in Belgium, so basically Europe? Any word on that?

You can use email too. Don't use Twitter? Well after much feedback we are happy to announce you can forward your questions to AskDan@WindowsCentral.com to submit your requests!

continuum support in cars would be AWESOME if you think about it.youch interface in the car, universal apps, gps, it's perfect...

Technically you could do it yourself just install a radio deck that has a HDMI input and munkin into your car then you would have it, may not be as nice as if Microsoft did it themselves but I don't see why that wouldnt work

The auto manufacturers would have to allow video connectivity to the monitor but that's cheaper than programming an interface.

Hey Daniel, what model is your main monitor behind you that has no bezel?

Just added it to my Cart.... I must HAZ!

You won't be disappointed! Gorgeous display.

wow that costs a lot :D .. i barely got asus 27 inch monitor 2560x1440 for my PC this year xD

I thought that Microsoft was in Ford? Isn't Ford sync Microsoft? https://www.windowscentral.com/e?link=https2F%2Fclick.linksynergy.co...

Yeah, but it's been discontinued.

It was also Kia Uvo, which was very good, but sadly now is also discontinued.

Sync/MyFordTouch was based on a version of Windows with a layer on top kind of like TouchWiz on Android. There were major stability and speed issues when it first came out, though it did improve with updates. With the newest version of Sync (3rd version) they've switched over to using a BlackBerry OS as the base.

For the car if you get a lumia 950 or 950xl just get a stereo that has a HDMI input then use continuem, and now you have windows 10 for you car entertainment, and since continuem can go to 2 different displays you can hook up a second display in the back seat

that gets you the display but not the touch input on the screen. Kind of worthless if you can't use the touch navigation on the in-dash screen IMHO.

Is Surface Pro and Surface Book DOA without type-c USB?

Why would it be? It would add very little usefulness to it. It already has a full size USB port.

First off it offers connectivity to MS' latest phone offerings. So a Surface or a S Book won't plug directly into the device. And Type C offers power recharge at a great recharge rate.... what where u saying?

The regular USB port on the Surface also offers connectivity to Microsoft's latest phones...I'm not really sure what you're trying to say here. You are right about Type C having a greater current versus 3.0, but that's a single minor addition that most people aren't going to care that much about.

Idk anybody personally with a type-c device/port/accessory. USB 2.0 & 3.0 are the most common still, by alot! So....

It sold out you know and all the reviews I've read loved the surface. USB-C is not yet that ubiquitous.

"Will there ever be Windows 10 support for cars?" ... of course not, ever since there is 3.5% market share, the companies don't even install windows 10 on cars.. however is it good for microsoft, they don't spend that much money for that

I think they were talking about a Windows 10 car system, like Carplay or what Sync was.

Another great episode.
Back in build 15, it was mentioned that the windows store will publish Win32 apps. Do you know anything about this and when will the devs start publishing them? Also, can someone link me to the wallpaper showing behind Daniel? Thnx

Windows Phone has to close the Apps gap by running Android Apps, without any rebuild. Anything less, including recompilation through Astoria is not sufficient incentive for developers to bother with the measly low Windows phone and mobile user base.
Windows phone will continue its terminal decline if it cannot close the Apps gap.
Nope running legacy Win32 apps, and Intel based phones are simply too stupid a suggestion to comprehend when the global market has spoken, and moved onto lightweight ARM apps.

Straight Android apps on Windows 10 does nothing for Universal apps and the Windows 10 ecosystem - other than help Windows phones... and the entire ecosystem, including Universal apps, is more important than Windows phone. You don't just bandage an infected finger because you risk it spreading, you may actually cut it off. OK, a poor analogy, but you get what I mean.

Live Tiles in the car? Yes! That would be the best looking interface out there.

Displayed on the windshield. Yes please

Amazing. Thanks Dan. The reason I said amazing is I just posted that I suspect MS, along with Cyanogen are working on a more secure version of android in another thread. Then I get to the top of the headlines and you're talking about it here. If this isn't the case then fine but I think that MS should do this and not only get the OS to run on existing hardware but on existing android hardware as well. I mean, why not have an open source competition for that space? Samsung has its develpers on it so why not? Anyway, thanks again Dan. Good stuff and a lot of good stuff in this AskDanWindows.

If they bundle the 950 with the Band 2 I'll be pissed. I've had one preordered for a while.

I preordered a Band 2 as well, but I imagine I'll be able to return it or otherwise get a refund if there really is a bundle; I'll confirm that with them when it comes in, and if they can't guarantee me I'll have that option I may just walk away from the preorder (since it was free to do in-store). Odds are we won't know for sure what the bundle will be until after the new Band is out.

I really don't know why people pre-order hardware - the bundles and deals will come out 2-3 weeks after release. Always have and always will. Every year people express their outrage that they didn't get it because they pre-ordered.

If Windows 10 Mobile fails, I would suggest Microsoft that don't try to make Android Devices then, because there also competition is tough. Perhaps more tough than Windows. Then, I would better suggest that Microsoft should sell their Mobile Devices division to Apple. They will better take care of this.

They should sell it to anyone but Apple

I really know Microsoft as a software company (at least before the Surface line-up got people's attention). It would really make no sense if they put someone else's OS in there. As a Windows (and Windows phone) fan, I would love to see Windows 10 mobile succeed. If not, I wouldn't bother waiting until Windows mobile 11 or 12 or even 25. But dear God! No Android on Microsoft hardware. That would be totally far away from Microsoft's vision, I am thinking..

Could it be that the current W10M build is fast and fluid and without lags because the Android simulator has been removed from it? I've started to worry that once it will be put back in it will become laggy again. I think Microsoft should not have gone for this emulator thing in the first place as this means there will be no consistency between apps in the same OS. Also developers will have a hard time choosing whether they should port Android or iOS apps or go with the UWA model. So it will be great if Microsoft actually does cancel the bridge projects and stay on UWA model.

The Android subsystem wouldn't affect overall performance of the OS, so the gains you're seeing are just OS improvements as we near release. BTW, no developers are trying to figure out the best way to support Win10RT. They simply have no interest in it at all.

Dan, thank you for another great episode. Nice to have so much info presented in a very concise and entertaining manner. I think our only hope for car integration is a mimicry of either iOS or Android to port in for connectivity.

When is the Windows Central Universal App coming?

Watch the previous episode and you'll know that a beta will be released in few weeks time!

Where can i find that wallpaper you have on your monitors?

It's really depressing to hear so much about what Windows Mobile doesn't have--especially about the different video options that aren't in coded into the system. yet. Sad.

Can someone explain this AskDan thing please? There's no video in the article and the WC app video page links to a non-existent one. They're always like this. What am I missing?

Just view it on the website

I tried that. Doesn't even load on my Lumia 535. Stalls at about 90% So if I get this right, a windows phone app dedicated to talking about windows - and indeed originally about windows mobile - and full of complaints about the "app gap" ... .... itself doesn't care about having a working windows phone app or site that works on Windows phone???? If that doesn't tell me Windows phone is dead, what does?

To be fair, the app is developed by a 3rd party not by WC themselves. Send an email to him to see if he can help. I've just tried this article in my 530 (test phone) and it works fine... from this article (in the app), I swipe and go to video, click the FIRST link, and it asks if I want to view it in the YouTube app or the browser. If I choose browser, it opens YouTube and the video works fine. Note: I can see 2 links - one says "Title not found 8GZMbux5ziw" which is the one to click. The second one isn't correct ("Title not found - https://www.youtube.com/playlist?PL0 etc etc etc"). If I click "Show In Browser" (instead of video) it loads, but very slowly as it's spammed with ads. If you scroll down you should see the video (after a blank space if the ad hasn't loaded yet)

Continuum in the vehicle is SO doable. Currently there would be some compromises that I'm not willing to make, but it's coming. However, Hey Cortana is going to be all I'll likely require to get what I want while in car\truck. I've been driving Ford products with Sync for years. I read the manual, so I'm one of the satisfied customers. :). But with the direction mobile technology has gone, I no longer consider the burden on the auto manufacturer to pick the right "onboard flavor" for me. And I won't be paying them the $premium I have in the past for their bundled package. Instead, it will be EXACTLY what I want it to be for me personally. Audio and video entertainment will be a piece of cake. So will hands free (safer) methods of communicating with the world outside the vehicle. We live in amazing times! Simply amazing.

Hi Daniel , why is the News Feed in Facebook app for windows phone different than that of the desktop n Android version . Are they going to improve like the Android n IOS versions or will it be that same boring mismatch News Feed in Windows phone universal app .

Glad you got your hur cut Daniel!

I prefer not to pay for the additional LTE on the Suirface as i currently use wifi hotspot with my phone - I get 4G plus connectivity and save on the additional costs of another data card as well.

A bundle deal for the Lumia 950XL would be awesome--a Band 2 or even the Continium dock and/or wireless charger would be nice.

When will Microsoft launch its android phone in market ??

Askdan@windowscentral.com when will Microsoft install the slow motion video capture software..??
N when will they let us android apps on windows 10

Surely Continuum is the route to the car... Full second screen with UWP apps that scale to the dash screen size. Plus the hidden dock would simply allow access to the car's telemetry via USB (speculation of course), allowing apps to integrate with the car.