Asphalt 8: Airborne adds the Lamborghini Egoista supercar and Area 51 tracks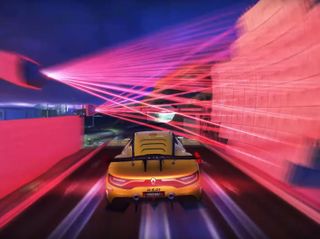 Gameloft has released what it is calling its biggest content update yet for its popular arcade racing game Asphalt 8: Airborne. The update, which is now available in the Windows Store for Windows PC and mobile platforms, includes a new location, a new game mode and lots of new cars, including the video game debut of the Lamborghini Egoista supercar.
Here's what's new in the 2.2.0.15 version:
New Location: Enter Area 51, this world's most top-secret racing facility. Look out while flying; you're not alone in the sky!
R&D Series: Two speed machines will be revealed via R&D! Stack up amazing & exclusive rewards, while test-driving those beasts to the max, to make them yours
15 New Cars: Alongside the Lamborghini Egoista, the Lamborghini Asterion, Renault Sport R.S. 01, Nissan Skyline GT-R (R34) & 11 other sports cars will be revealed. Look for each one, coming out over the next days & weeks.
New Game Mode: Make the switch in the brand-new Tag Racing mode!. Experience the thrill of racing with 3 different cars in 1 single race!
Holiday tracks: Feel a cold rush as you streak across 3 winter-themed tracks!
Thanks to everyone for the tips!
Download Asphalt 8: Airborne from the Windows Store (opens in new tab)
Egoista, was waiting for it, add the old Lambos too.

Leave it after present update,,, who downloads the whole game again!!

Plz post some screenshots of Asphalt 8 while playing on W10m device on L535 or L640.... Just want to know can i hide navigation bar in W10m ?

Yes, you can. My girlfriend has the Lumia 640 Dual SIM LTE and she plays Asphalt 8 on it. She can hide the navigation bar wherever she is. Edit: I forgot to mention her L-640 is running W10M.

Yess u can but not in all apps

Hmm neat. Posted via the Windows Central App for Android Nexus 5x

I have just downloaded it days ago...and now new update again. Takes an almost 1G size....graawR!

843.6 to be exact but that is one big update

Say that to the person who will download world of tanks blitz

World of tanks blitz is not 6gb as shown..i downloaded it..its around 1.6gb

Not exactly 843.6 MB. You're supposed to finish an in-app download on first launch, that makes it more than a GB.

It depends for every model of lumia

I downloaded 2days back :(

Around 1.4GB, takes an LTE connection to get it fast...arrrgh! Takes me 100php (2 USD+) for a bulk data subscription.

Stopped playing after my data didn't restore. Lost my progress of almost 1 year. I miss It :(

Try contacting Gameloft. I finally got my profile restored (got accidently mismatched) after email conversations with them for about a month. Yeah, this takes long.

Gameloft tech support is awesome! Calls are quicker BTW.

Nothing will done by them... Also happened with me but I bought that cars at less prices.... And it's your problem to sync it regularly.

Sadly this is a common problem with all gf titles that have cloud hosted saves(& hexic)

Am I the only person on earth who's never played this? Area 51 has me sold on giving it a try.

Wanted to download yesterday, but cancelled it, so saved, kkkk

Can anyone send me screenshots? Who plays on W10m only My twitter id @oyerohitraj

My I the only one who cannot find the app in store?on my lumia 520 (us region)

The update has made gameplay on high visuals much better then before on my lumia 640 XL

Be careful when buying upgrades in the R&D challenge. If you don't unlock the car you don't get the money you spent on it back.

This is looking very cool!

Don't download it has screen resolution problem if u want to check what i want to say just download My Talking Tom on W10m & see black screen same in Asphalt 8: Airborne

Any issues while downloading on L630, running 10.586.36?
When I go to store, the page says my hardware doesn't support it, but I was playing it a week ago, and I reset my phone for the 10.10586.29 update, now I can't download it , why?

There are two apps in store. Why? If you search for asphalt:8 airborne. You see two results.

Hey Daniel, where is the 'download app link' in the WC app? I am not seeing these links for any posts. Why ?

Just release Metal Fury graphic update for Windows

Oh these big updates, I did well in buying a 30gb memory card, looks good though, haven't played this in ages, will give it another try
Windows Central Newsletter
Thank you for signing up to Windows Central. You will receive a verification email shortly.
There was a problem. Please refresh the page and try again.