Asphalt 8: Airborne snags new cars and decals in latest update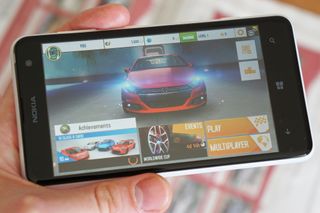 Gameloft has updated its popular racing game Asphalt 8: Airborne, adding new cars and decals to the free-to-play game. The update is available for Windows Phone 8.1 and Windows 10 Mobile, with a separate download for Windows 8.1 and Windows 10 on the PC.
Here's what's new for Asphalt 8: Airborne fans:
R&D SERIES: Strap on your helmet; it's time to test drive 2 new beasts! Prove your skills for a chance to win them!
NEW CARS: The Lamborghini Miura, Mosler Super GT, Mazda RX8 & other amazing cars will be gradually added to the line-up! Stay tuned to www.facebook.com/AsphaltGame to know when each one is released. - * 8 ELITE CARS: With great performance comes great responsibility. Take special care of these exclusive rides to bring out their full potential!
A DELUGE OF DECALS: Pick up a massive pack of stylin' new decals in the Shop. Then hit the track with your one-of-a-kind style!
Minor bugs fixed
Not able to play on lumia 535 after win10 update

Is laggy right? Like on my 735. ~Sent from Bikini bottom via my ShellPhone 735 W10M Slow Ring

Not as fast as it used to be but it works well on my 735

Works well on my 535. Yeah, there is that little black bar that cuts off a little space on the side, that's a little bit annoying, But the game is still playable and enjoyable too. Other than that, Gameloft wrote in the FAQ, that they know about this issue, and are currently investigating, what's causing it. Posted with the Windows Central app for Windows 10 on HP 250 G1 notebook. It is a scary old monster, I think :D

Amazing game. Especially on my Lumia Icon

even better on pc with big monitor and keyboard control :)

Exactly my thoughts! I spent like 30 hours playing this game so far, and that's right. But it's more better with an Xbox controller! I tried it with one of the 360 controllers laying around here, and it's just wow :D Posted with the Windows Central app for Windows 10 on HP 250 G1 notebook. It is a scary old monster, I think :D

Haha I want the team to lend me a loan of around 2 million coins!

There's trainers and vids out there where I cam get all cars, tons of boosters, lots of money and so, even cars unreleased to public.. I have mosler super gt full max/pro for almost 3 weeks

Because gameloft games are made for having you constantly paying for coins to get cars and upgrades. "oh, but I want to play fair" good, you need around 11 million coins to have all cars and upgrade them, let's say you make 2000 coins a day, which is a bit hard, you will need around 15 years to get everything. Why be a cheater? Pff, dont need to, right?

I have been playing for about 2 years I'm at level 85 and have 36 cars that I wanted to own maxed out or specked to how I want them. I'm currently sitting on about 15 million coins and 4000 credits, and can own or have owned any car I wanted. It takes time which develops your skills ...what a foreign thought that is. I have not ever spent any money. I did it by playing the game developing skills and winning a lot of multiplayer races, more importantly not dropping out of races, and trying to place 1st-3rd to keep winning streaks active to earn extra coins, doing the R&D's, and mastery events. Who said your supposed to have all the cars?!?!? Even if you do it doesn't matter if you cant drive well especially in multiplayer. Its easy to spot cheaters or hacks in multiplayer they are the ones who usually cant drive and drop out of races as soon as they get passed or are behind because they rarely have any driving skills

Visit windowphonehub and search Asphalt 8

Why not only updates rather than downloading full app again and again.

Is these 1320 what had happened to this mobile?

No, its the Nokia Lumia 625.

It was updated two days back I supp, AppRaisin is great to follow these days. WC should form a sort of tie-up with them.

The best racing game ever

Lol just downloaded this yesterday and I get an update already! Wtf?? It's a good game tho I'm just obsessed with it. Works perfectly fine on my L630 with latest Preview build ☺

Cars aren't newest thing.. We had trainers to hack and be able to buy them even before going public... I have it since almost a month... Nothing new at all

These are yesterday's news yeah, but this game is totally awesome! And Gameloft, yeah, they totally care about the Windows community. I play a lot of their games, like Gods of Rome, Dungeon Hunter 5, Minion Rush, and the racing games: Asphalt 7 and 8, and GT Racing 2. And they all are really good, and getting updates regularly. And the support is nice too. After this particular update, I somehow lost all my progressions from the cloud saving files in Asphalt 8, and would have to start the game over again. So I sent an e-mail to the Gameloft Support about this, and guess what, they restored all my lost data within a day! :D And they weren't rude at all.
They should serve as an example for other game developers, like the stupid team behind Terraria. The game itself is good, and I loved it, and purchased it back in the day in the windows phone 8.1 store. It was fine for some time even after updating my phone to W10M. But than came an update... And after that "update" the game became unplayable. Showed the logo of the team, than a blue screen, and crash. But on all Windows phones, not just mine. And guess what? They even removed the game from the Windows Store after that! What a ***** move from those ********... But back to Gameloft, they rule, and every Windows fan should play at least one of their games :D Posted with the Windows Central app for Windows 10 on HP 250 G1 notebook. It is a scary old monster, I think :D

Thanks for your review, bro. Gameloft is the best, even with the games for Nokia S40. I used to have C3-00, I rẻmember I played them every day.

Is tat became online game ?

The text is readable now? On my 930 the text was dots that appeared randomly on screen. Posted from WC for W10 running on my 930.

Most games and apps in the store is not running well after windows 10 update

It's ridiculous how fast they update this game... But also it's weird that for how long this game is being updated.
By this time I'd have expected Asphalt 9 to come Posted via the Windows Central App
Windows Central Newsletter
Get the best of Windows Central in in your inbox, every day!
Thank you for signing up to Windows Central. You will receive a verification email shortly.
There was a problem. Please refresh the page and try again.