Asphalt Overdrive from Gameloft is coming Thursday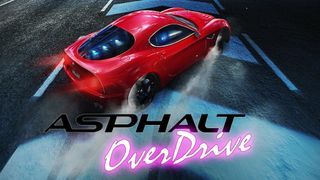 During E3 this year, Gameloft announced the latest game in the Asphalt series of racers. Surprisingly, the next Asphalt won't be Asphalt 9. Instead, the series is spinning off in a new direction with Asphalt Overdrive. Instead of a serious arcade-style racer, the new Asphalt will be an endless racer – sort of like Gameloft's recently released Spider-Man Unlimited or Sega's Crazy Taxi City Rush.
Players who are wondering how well Asphalt works as an endless racer plays won't have to wait long to find out. Today Gameloft announced that Asphalt: Overdrive will be coming to Android, iOS, Windows Phone, and Windows 8 this Thursday, September 25! The publisher also released a new trailer to celebrate the news. Keep reading for both the trailer and gameplay details.
A new spin on the series
Asphalt Overdrive is still all about fast racing, exotic cars, and cutting edge mobile graphics, but it features several changes from its predecessor, [/tag/asphalt-8). For starters, you play this game while holding your phone or tablet in a vertical orientation instead of landscape. With that change comes a new control scheme as well. Instead of driving by tilt or virtual pad, players will swipe left or right to switch between three lanes. It's truly the same setup as an endless runner, but with cars.
While racing past the finish line is no longer the primary goal, players will still have plenty of fun objectives to complete. You'll get to smash other cars off the road to perform takedowns, outrun the cops, and perform crazy stunts – all familiar mechanics from the main Asphalt games.
Asphalt games usually have high production values, and Overdrive is no different. The whole thing has a "new eighties" vibe, with lots of neon and bright colors. Players will get to drive a variety of licensed cars and trick them out with upgrades and new paint jobs. I get the feeling that instead of collecting Spider-Men we'll be collecting cars, which should be similarly addictive.
Get ready to race
The Windows Phone version will run on devices with 512 MB of RAM, so nobody has to miss out on the endless racing. The Windows 8 version will exclusively feature landscape support, since Windows 8 PCs tend to be locked to that orientation.
Asphalt Overdrive will be free with in-app purchases when it arrives on Android, iOS, Windows Phone, and Windows 8 this Thursday.
Windows Central Newsletter
Get the best of Windows Central in your inbox, every day!
Paul Acevedo is the Games Editor at Windows Central. A lifelong gamer, he has written about videogames for over 15 years and reviewed over 350 games for our site. Follow him on Twitter @PaulRAcevedo. Don't hate. Appreciate!
Starting to gather 4GB of free space

I have 20 GB free on my Lumia 520 :D

... And almost 64GB of free storage on my 930 is waiting for that game :p

How the hell did you manage that? Mine has 32 built-in and isn't expandable...

Toan doesn't understand how a Lumia 520 can have 20 GB free, so he's just talking nonsense.

I just put a Class 10 32GB Sony Micro SD Card.

Whatt? How did u do THAT?

64gig??? Dude stop talking shit m the Lumia 930 just has 32 gigs

I have a Lumia 520 With 122GB in total. 8GB on phone. 64GB Available SD card & 50GB OneDrive including Bonuses

Only 10 available on my HTC 8x...

How the hell do you 20 gb free on your 520

He's speaking of installing apps and games on microSD card for which the support came out from Windows Phone 8.1.

Yes but some people have preview for developer the SD card EXPANSION HAS BEEN WITH IT FOR WHAT SEEMS LIKE an age.
Also not all apps will save to SD Card IT DEPENDS ON THE DEVELOPER LETTING IT INSTALL TO SD CARD.

It's an endless racing game so it's probably will be 200-600MBs

If it's really endless, shouldn't the file size be ∞MB?

You are kidding right.......

Exactly, it's got good graphics, but is more a mobile game than previous Asphalt games that were more involved so this should be much smaller than their usual titles.

That's a unreachable goal for me

Wow! 512 ram support is going to be great! I do hope though that it's not gonna be too large in size, because I don't have a lot of space on my phone. I have a 16gb memory card, so I only keep the best of the best games, like this! Thank you for the info wpcentral, and thank you gameloft for this awesome game! Hoping that this will be supported more than other gameloft games that have bugs and other problems that keeps it unplayable, or are not available on certain devices like 930 or 512 ram devices, that makes players get dad if they can't get fun by playing it as the rest. :)

I have 64 gb + 8 gb on my Lumia 820

It is coming on android devices but not yet coming on windows .........why

Wow !! Great job gameloft
But i think IAP will ruin game experience

They ruined my airborne experience, not so excited for this

precisely what came to my mind seeing the cars, the scene and finally the "overdrive" logo! :D Posted via Windows Phone Central App

I actually thought it sunset overdrive which also carry the same vibe.

Endless runner game with cars...sounds good

Sounds like fast and furious 6 (longest runway in the universe)

Makes sense don't you think?

That mini heart attack trying to search for the 512mb banner

Lol.... And they just included it.

Completely right and seeing that it's supported is an awesome feeling.

That game would be a disaster ! Endless runner physics based car racing game ?? Lame !!

No no no.... We need the feel of steering...

We already have Asphalt 7 and 8 for that.

Asaphalt 7 is very good... Asaphalt 8 ruined it by adding too many shortcuts.. But awesome graphics in asaphalt 8

Learn each track and take the route/shortcut that wins. There isn't a reason to take a "longcut".

Even Asphalt 5. Never understood why we never got Asphalt 6.

U get into auditions of getting selected for fast and furious 7.

512 Mb ram support. I find windows the best for gaming. I couldn't have got that Droid. This is Gamelofts love for WP.

I hope this game on Xbox later

I don't think so Posted via Windows Phone Central App

Dont get your hopes high!

So not interested in this, although I'll probably still install it because that's what I do, install games that I never play.

Lol, same thing here. Then, because I didn't open it, I get an update and the game is gone...wtf?

Xbox support is unlikely. In fact, it was the previous Asphalt game--Asphalt 8, which launched in November 2013--that sparked the #SaveXboxWP movement (details here). Gameloft has released 17 consecutive non-Xbox games on WP since then. In related news, I have not played any of the past 17 Gameloft games.

Great. Another game that I'll install, and 2 mos. later will disappear from my phone, while still updating and being completely invisible to my phone.

This happened with me too...simply just uninstall it or if its not showing up in ur phone move all ur apps, games and media to phone and then format the sd card and then again install the game from ur PC.....I did this and now it works flawlessly.

Provided the dev didn't pull it, as happened with a couple movie apps that boarded on piracy. But hey, I paid for the app!

Can't fit 64GB of data from an SD card on to 4gb available space...even excluding Music/Movies, won't fit. Waiting for the offical Sprint updates so that I can do a complete hard reset after the upgrade, then spend the time getting everything reinstalled...

I dunno about endless racer...
But the flair looks awesomly 80s!

What this game supports 512 mb ram devices.....thats just amazing, dying to install this game in my Lumia.

I don't know how game loft earns from making games free. Does anyone know the reason. How they manage to make the game free coz in app purchases aren't enough to recover the cost or earn a good amount of money.

Ooooooooh yes they are. You'd be surprised by how many people spend money on IAP's.

This. People spend tons. I know people who've spent hundreds on clash of clans.

I'll try it out, but any of that "Your cars are rusting!" reminder bullshit and it's getting uninstalled immediately.

Yeah, I hate those reminders too! Thankfully you can turn them off in the options on some games.

Or disable background tasks from settings for those games, that should help.

Not always possible. GT Racing 2 doesn't give you the option which really should flag it against Microsoft's app regulations tbh =/

Wow. Simultaneous release on WP and iOS/Android. Way to go Gameloft! WP needs more of this!

Waiting for lot of crash and bugs and lags

I liked the concept they made...like merging temple run and asphalt 8 into one game which will be totally awesome...waiting eagerly:)

More buggy shit that's full of IAPs. Just what WP needs!

But we can buy things using career billing. That's what I love about Gameloft. I am ready to pay few bucks.

I'm kinda burnt out on endless runners, but I reserve judgment until I actually try the game out. It might be good!

Does Look good however I suppose many people will not be too impressed with an endless racer instead of an Arcade Style Racing Game. 25 September 2 days to go

If this only will be Xbox branded.....
But as always most devs dont's support the Xbox branding any more..
Fingers crossed though!

Gameloft doesn't use Xbox WP any more, so Overdrive definitely won't be Xbox-enabled.

GearDoGi, if you'd like to see more Xbox games on WP, and particularly if you want to tell Gameloft that you prefer Xbox games, be sure to check out the #SaveXboxWP movement here. Anyway, what would be really awesome is an Xbox-enabled mobile Forza game for WP from Microsoft Studios. Salivating.

Are you sure about the 512mb support... No support for Spiderman unlimited on release... Maybe this week not also support for 512mb ram on release... (Spiderman will be made for 512mb maybe)

We checked with them, and this one will definitely have 512 MB support. I think the graphics are simpler than Spider-Man's, hence why this one works with low RAM and Spider-Man doesn't.

Never get tired of it: Gameloft is one awful company that cares not one bit about their customers.
Probably another pay to win game, hopefully there will be an iap for 99,95$ which says "best deal".
Avoid at any cost and be safe!

Would be a game I would try if it had Xbox live..oh well a skip for me

Yeah 512Mb supported that's awesome.. Thank you Gameloft

Love u gameloft becoz u care for 512 ram devices

Yes... Love u gameloft... :) ...

weeeeeeeeeeeeeeeeeeeeeeeeeeeeeeeeeeeeeeeee!

Great to see Gameloft and Disney doing a excellent job making games for WP and Win8.
I miss Chillingo...

I wonder if it'll run at 30fps or higher cuz lord knows asphalt 8 doesn't. And this is on my Lumia 930

Will it be free of MAIN bugs??
That's the main question.

They better have some Nissan s14a's thus time.

I don't like the idea of endless racing. But lets wait and see maybe its better than what I expect.

Considering it's Gameloft, it'll be free to play but you'll have to pay to steer the car!

Gameloft are just legends for releasing this on WP at the same time as other OSs. love the Asphalt series so far so I'm sure this will be fun too. Just one request if they can fix text jumbling issue with GT Racing 2 on Lumia 930 pretty plzzzzz

Only thing I wanted is installation file to be small pls don't make it very large asphalt 8 800+ mb

How about the graphic for device 512 Mb ram like 1 GB ram?

This week be the first of the series I'm not interested to :(

I wonder how big the game will be after installation

Awesome! Reminds me of an old arcade game, I never knew its name, but it had a Hummer H1 convertible, a Plymouth Prowler & a few more. Anyway, definitely looking forward to it.

I was waiting for an endless running game as subway surfers lags too much and I m bored with temple run 2....

they shouldnt force us to play only on portrait mode, but hey they are the master minds, im sure they have a really stupid reason for that decision, and we couldnt care less about having "options" right right?

Portrait mode is actually how this type of game has to be played, unless they invent a new control scheme and basically make it much different game.

I wish more games were in portrait mode, actually. It's more comfortable to hold the phone that way. Probably one reason I liked Shoot 1UP so much: you could play with one hand.

i wish they were in both ;)

Don't you mean '...is racing to the store on Thursday!' -.-

Going to need extra space .... Lets start working on that lol

C'mon Gameloft, all I need to complete my mobile gaming portfolio is a golf game and a football game...... Everything else is gravy.

Gameloft already has a golf game available: Lets Golf 2 [sic]. If by football you mean soccer, EA has several FIFA games out for WP, most recently FIFA 14 and FIFA 15, both free.

I just love the 80's theme of the trailer.

It will bring Xbox Support?

It will not. This thread explains why.

Cool! Get ready for lag, bugs, and crash galore! Its Gameloft!

So they just deicded to copycat another style of game, rather than ever come up with anything original? I'll continue to not play anything non-Xbox from them.

Has gameloft not heard of the phrase....don't fix it if aint broke....seriously this looks crap.

They'll still be making Asphalt 9, so there's nothing to worry about. Also, don't knock it until you've tried it. ;)

haha storage? why so serious you can do anything with wp 8.1, phone supports sd card and of course sd card

Wtf a runner game with a car instead.... I already got spider-man and its enough !!! You suck Gameloft...

Umm, if you enjoy Spider-Man I'm not sure why you feel the need to insult the publisher.

Because an endless racing game who need you to move a car left to right its lame, i was playing this on my first pocket gaming console a way before gameboy exist !!!

Which actual endless racing games have you played? I only know of one other, and it isn't available on Windows platforms. Just because this game might be similar to older games in some ways, that doesn't mean this one won't be different in many ways and feature new ideas and changes. It's better to try a game before you make up your mind about it, especially when the game is free.

Because an endless racing game who need you to move a car left to right its lame

Isn't that every racing game?

Nah a racing game its drifting, challenging, taking short cut...etc but anyway i will give it a try.... I dont really care if its free or not 2 or 4 buck for a game its nothing but it must worth it, I hate when people complaining about the price, the company put some work in those games so...

Lol..Soon we'll see endless fifa runner ;)

Ahah, yeah. And your start screen will enlessly scroll and you'll have to swipe left or right to make a phone call. I'm tired of all the cheap endless runners.

I just want gun bros back :(

Oh yeah, gun bros was excellent game :(

Hope to be like temple run gameplay.

Love all the Asphalt games. Bring it on

Take it, it doesn't have anything to do with Sunset Overdrive and they just had trouble thinking of an origional name.

What the hell... Asphalt was a nice series, why ruin it by making it another endless racer where all you do is destroy your fingers by swiping left and right over and over and over and over.........

Instead of giving us Asphalt 9 we've got a more mobile friendly (i.e. dumbed down) game. Perhaps MS will do this with Windows 9 as well, instead we'll get Windows OverDrive which will have no settings or customisation and just endlessly run games and apps with the ability to avoid crashes with IAPs.

Asphalt 9 is still coming. More time between major releases means they will be more different (and hopefully better) than the previous release. This is really a side project to keep the brand going during a year that won't have a major release.

This will be the worst game by gameloft

Cool , gameloft is doing work for 512mb ram user but why not FIFA

The first few seconds of the video reminds me of Vice City haha! Posted via the Windows Phone Central App for Android

Who wanna bet this is released a day or 2 after IOS and Droid. It always happens. Same day means 2 am.

I am excited, but it shouldn't have bugs like other gameloft games(gt racing 2,Spiderman unlimited, rival knights & many more)
I hope this game is bug free

Considering how good and successful the Asphalt series has been for Gameloft on mobile devices, can someone please explain to me why there hasn't been a mobile version of Forza, or even the older Project Gotham Racing series?

what?? vertical?? swipe?? no way...goodbye Asphalt

I want it today :D damn, I can't wait

Its available on androids but not on windows yet...... Please help!!!!!

The WP version will come out later today. Just be patient.

I m using Lumia 520 ..... Will it be available on 512 Mb devices .....???

Yes it will. I'm on 521 Dev Prev and some gb free of 16gb micro sd. It's good to see the amount of new apps and games that are coming for wp

Gameloft is a cheater..... They promised us to launch game today but they didnt...

Remember that Gameloft and most publishers operate on US time. It's currently 8:49am here in Texas. The game will surely pop up by late afternoon.

Its still not available....

Available for ios and android but not wp how long will it take.................

They did but not for WP yet

Confirm.... Gameloft is not launched any game.. So sad

What the hell gameloft .....

What the fuck , still not in air

I don't understand what's the problem with the games developers about WP. It's a great platform, the best I believe, but always there are troubles porting the games for WP.

ha ha ha they make full us.......

Downloading it in my wife's iPhone. It's about 90mb. Hope it comes to wp soon, like today?

U and ur wife both overdrive

It don't worth the wait. 10 minutes of playing it and got bored. I knew the type of game it is, but seriously I didn't like it. Hope Gameloft continues making 512 mb ram compatible games.

Any game that requires you to have a continuous internet connection to play has no place on a mobile platform. I travel a lot and this game is useless while i am stuck in an airplane or subway. Save your space and time.