Asphalt Xtreme takes Gameloft's flagship racer off the beaten path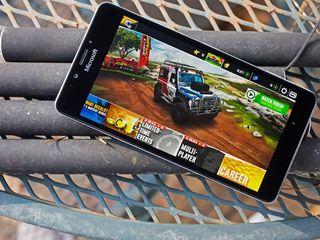 Asphalt Xtreme is a recent Gameloft Windows 10 game release that takes your racing skills away from the paved surfaces of the city streets and to the off-road tracks. Available for Windows 10 PC and Mobile, Asphalt Xtreme offers over 35 off-road machines to unlock and customize, over 900 events to tackle and five game modes.
Graphics are top notch and game controls are easy to use. The race tracks are just as challenging as you find in Asphalt 8: Airborne, they just lack a lot of pavement.
Overall, Asphalt Xtreme is a solid racing game for Windows 10. The free game is an entertaining way to lose track of time with and another quality title from Gameloft.
When you first launch Asphalt Xtreme, the game takes you through the customary house-cleaning chores such as verifying your age and logging into the game. While not an Xbox Windows 10 game, Asphalt Xtreme does support Microsoft accounts as well as Facebook accounts to log in with. Connecting to the game with one of these accounts allows you to synchronize your progress between Windows 10 devices.
Once you have connect an account with Asphalt Xtreme, the game sends you to a tutorial race. Here you learn the basics of racing, such as steering, braking, drifting and more. After you complete the tutorial, the game transitions to a garage setting where you buy your first off-road vehicle and then to a proper main menu.
Asphalt Xtreme's primary menu offers your game stats across the top of the display, including your credits, tokens and stars that are used to purchase and upgrade vehicles. Racing controls, by default, are set to your device's tilt sensors. You also have the option to choose an assortment of on-screen controls should the tilt steering not be your cup of tea. Personally, I like the tilt controls the best; they are more responsive and offer a better gaming experience. Don't be surprised if you find yourself literally leaning into the turns.
There are three different game modes available, though Career Mode is the only one available from the start. As you earn stars by placing in races, the Multiplayer (up to 8 online players) and Limited Time Modes become available.
You begin the Career Mode in the Rookie Series of races with four additional series available as you advance in your career. There is also a Masteries component to the Career Mode that becomes unlocked once you add three vehicles to your garage.
All totaled, there are over 400 Career Mode events and over 500 Mastery challenges to tackle. Racing venues are global and include the glaciers of Svalbard, the dunes of the Nile Valley, the jungles of Thailand and more. For those who prefer a more urban environment, the industrial setting of Detroit's steel mills is included as well.
Off-road vehicles include the likes of Jeep Wrangler, Range Rover, Chevy Colorado, a host of Dune Buggies and an assortment of street rides that have been converted for off-road racing. Vehicles can be upgraded to improve top speed, handling and acceleration. You also have the option to change up the paint job to better suit your tastes. Upgrades and paint jobs do come at a price: those coins you'll earn during races (or purchase with real money, should you be the impatient type). You can also win spare parts during races that can be used to build upgrades.
Gameplay is challenging, full of eye-catching graphics. The slow-motion sequences when you drive an opponent into a boulder or send them sailing off the course can bring a smile to your face. While an enjoyable game to play from a Windows 10 Mobile phone, the game experience is a joy from a Windows 10 tablet, with the larger screen pulling more detail out of the graphics.
Asphalt Xtreme does regulate gameplay, in a manner of speaking, with a creative token system. Each race depletes the lifespan of your vehicles oil and as you would with a real vehicle, every so often you need to change the oil. Oil levels are reported after each race and you can always check them on your own from the vehicle overview.
Comparing the race experience to Asphalt 8: Airborne, you have similar tracks full of ramps to jump and course deviations to explore. Handling is similar to other Gameloft's street racing games, but takes into account the off-road environments. Traction isn't as great off-road and I found myself braking more often to maintain control of the vehicle. Some courses have mud pits, rivers and marshes to cross and each slows your vehicle down, as they should. Gameloft did a good job transferring the off-road racing experience to Asphalt Xtreme.
While Asphalt 8: Airborne is arguably the best racing game in the Windows 10 Store, Asphalt Xtreme is strong enough to give Airborne a run for its money. Available for Windows 10 PC and Mobile, the free game delivers a fantastic off-road racing experience.
Download Asphalt Xtreme from the Windows Store (opens in new tab)
George is the Reviews Editor at Windows Central, concentrating on Windows 10 PC and Mobile apps. He's been a supporter of the platform since the days of Windows CE and uses his current Windows 10 Mobile phone daily to keep up with life and enjoy a game during down time.
Unfortunately I can't download it... It just says downloading and never ends... 😢

Mine too! I'm on the insider fast ring (950XL), still doesn't download. I tryied multiple times. Sometimes downloads to 43MB and stucks there, sometimes just couple of MB. Strange, that it works on someone's 550, but mine doesn't even download.

I guess that it maybe an insider issue. At least it seems that way...

All you need to do is go back to the "normal" release through Windows device recovery tool, i did it, and i could download and play the game on my Lumia 532 :)

Yeah... Too much trouble for a game... Even if it is the game...

You have to be on build 14393 to download it. no other version will work :(

Downloaded yesterday. Runs smooth on my Lumia 640

can this be played....cross platform? please verify..thanks

Judging from what asphalt 8 and asphalt extreme has given us...what is it that u think is missing ?

I can't download it on my lumia 532, insider fast...😢

I downloaded it on the day it released. Then i realised that it's a online game so uninstalled it 😂 this kinda games don't deserve a place in my mobile.

Works like charm on my 550, love the fact that it's a download once and play forever type game, unlike asphalt extreme, where i have to download every race even after downloading the whole 1gb game.

I downloaded spiderman unlimited again, works like a charm on win10 than on 8.1 and this new racer.

it is a good titale , lots of fun and freebies

Will it run smooth on the Lumia 650?

And does it cause anyones phones to get run hot.

Yes playing while charging and of course depends on phone model.

It run's fine on my Lumia 650.

Is it possible to sync game progress between devices?

I think through accounts like Facebook.

Very nice game. But answer me this. Larger developers like Gameloft and Gametroopers say they see very good numbers from Windows Phone (Windows 10 Mobile) and that's why they continue to support it. What are these other companies seeing that is giving them a completely different impression from the two i just mentioned??

Microsoft pays these developers to make games for their platform, that's the reason why they continue to support. And please show me where gameloft claimed to see good numbers from Windows Phone.

They regard W10M as the 3rd platform. That's it.

They regard W10M as the 3rd platform. That's it.

I dont remember where I read it. It said something about less the marketplace being less populated so numbers are higher than what you would think. On a side note, everytime someone posts about something they read or heard, a group of you start screaming for sources. Some of you need to chill out. Just a conversation.

Google it. Gametroopers was really happy with the new desktop platform bringing in a great deal of money. These guys make money off w10 because on all platforms only a certain amount of users really support a game, most drop it and some get hooked and buy into it. Heck I didn't think I would ever pay for in app purchases but have done so on Dragon Mania Legends. I considered it on asphalt extreme when they had the starter packs available at first but the purchasing system wasn't working on windows 10. And they haven't brought it back since. Either way, there's also way less competition on windows so they are pretty much always the top games and most available games.

Thanks. I know I've read it being said by both those companies i started, just don't remember where I read it. I think one of the articles was actually from Windows Central.

I just can't get this game on my 950xl insider fast

So they just aimed to copy Forza Horizon 3 this time, it seems.

What it's missing is Continuum support and Xbox One S Bluetooth Controller Support. I'm really disappointed that new games continually come out without these features.

Download and install problems not due to storage space? Try installing on SD card. (It's a big download)

I wanna know what happen to all the free **** from the pre registration
Windows Central Newsletter
Thank you for signing up to Windows Central. You will receive a verification email shortly.
There was a problem. Please refresh the page and try again.