'Assassin's Creed Collection' domain registered by Ubisoft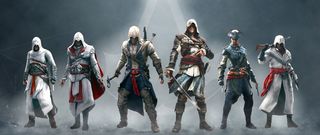 Ubisoft just registered a domain that could point to an HD Collection for the popular Assassin's Creed franchise.
Earlier today, a NeoGAF forum user spotted that Ubisoft had registered AssassinsCreedCollection.com. The website currently isn't live, but it could reveal Ubisoft's plans for the near future.
As we get further and further away from the previous generation, we're increasingly likely to see more past-gen titles remastered and re-released for Xbox One.
Most of the Assassin's Creed franchise still resides on the Xbox 360, and bringing the series to the Xbox One in a single collection would likely prove lucrative. Naturally, Ubisoft might only be registering 'AssassinsCreedCollection.com' as a contingency against domain squatters, but given the success of other similar collections, it seems likely to me that Assassin's Creed will get similar treatment.
An Assassin's Creed Collection would likely include the following titles, most of which are unavailable on current-gen consoles:
Assassin's Creed
Assassin's Creed 2
Assassin's Creed Brotherhood
Assassin's Creed Revelations
Assassin's Creed 3
Assassin's Creed Rogue
For Xbox One users, the situation is a little more unique. Ubisoft has already pledged support for the Xbox Backwards Compatibility program, bringing Assassin's Creed 2 and several other Ubisoft-published titles to the console. If you're a fan of the series without access to the Xbox 360 versions, Ubisoft will likely make it more cost effective to purchase all the titles as part of a single collection.
Whether the Xbox 360 Assassin's Creed games will receive visual updates like Gears of War Ultimate Edition, a full re-master like Resident Evil 2, or simply bumps in resolution remains to be seen. One thing is for certain; this won't be the last potential HD collection making headlines.
Source: Attack of the Fanboy
Jez Corden is the Managing Editor for Windows Central, focusing primarily on all things Xbox and gaming. Jez is known for breaking exclusive news and analysis as relates to the Microsoft ecosystem while being powered by caffeine. Follow on Twitter @JezCorden and listen to his Xbox Two podcast, all about, you guessed it, Xbox!
I'd buy it. Posted via the Windows Central App for Android

I like how Nikolai Orelov is featured in the spread, still wish he would've gotten a full game dedicated to him rather than relegated to Chronicles. Daniel Cross's ancestor had such an interesting story leading to his disillusionment of being an Assassin, and complements Shay (who chronologically predates Nik) to a degree.

Series has loads of potential.

Bring it on, I'll buy it. By the way, the already did a Collection for the PS3/Xbox 360 (Assassin's Creed Heritage). So it's not like they're innovating. But I sure would like them to update all older titles to HD.

I hope they will release it By your mom

I wouldn't be surprised if it were to also include the mobile/spin-off games that BC can't offer. Also, given hour many games they would be pushing (6+), no way they do full rebuild versions. I would expect a straight port, not even an HD remaster, with maybe some controller optimization with the mobile games. I'd maybe buy this. I only played the first two because of what I heard about 3-5, in terms of quality and story, so it would definitely have enough content to be worth a purchase, at least for me.

Agreed. I still think Brotherhood was series' peak.

Possible assassins creed Hd collection *throws money at screen* sold

I hope they add Liberation and rogue.

No more pirates. It ruined the game.

Ye best be holdin yer tongue, matey...afore I be sending ye to Davey Jones' Locker, har har... =p

I really loved the ship combat!

I liked it in the first game but would prefer a new way of getting around the map in the next game. I've been a bit disappointed with all games after Ezio, but enjoyed playing around the Boston area.

I think AC legend finished with AC Relevations. All the never games of AC are like bad imitations made by someone else. They could make new games for same age for Egypt, Japan etc.. But they ruined AC instead.

You can count me in for a buy. Be great to play them again all in HD....with dlc included. Maybe even some new content thrown in for good measure.

HD update, control and bug fixes, hopefully the old PS exclusive content on Xbox, and include all DLC (and hopefully achievements). That is what I'm hoping for, although I'm not looking forward to grinding MP again.
Windows Central Newsletter
Thank you for signing up to Windows Central. You will receive a verification email shortly.
There was a problem. Please refresh the page and try again.