Assassin's Creed The Ezio Collection will bring three games to the Xbox One on Nov. 15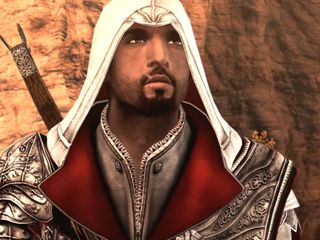 Ubisoft has announced plans to release Assassin's Creed The Ezio Collection on the Xbox One and PlayStation 4 on November 15. The bundle will bring three older games in the franchise (Assassin's Creed II, Assassin's Creed Brotherhood, and Assassin's Creed Revelations) to the current generation consoles.
Ubisoft's blog states (opens in new tab) that all of the single player content from those games will be included in The Ezio Collection, including all post-release single player DLC packs. However, the multiplayer content included in Assassin's Creed Brotherhood and Assassin's Creed Revelations will not be a part of the Xbox One collection.
Finally, people who purchase Assassin's Creed The Ezio Collection will get a free $8 movie ticket to see the upcoming film adaptation of Assassin's Creed. The movie, starring Michael Fassbender, will be in theaters on December 21.
Windows Central Newsletter
Get the best of Windows Central in your inbox, every day!
Ezio's story was undoubtedly the best among all the games in Assassin's Creed franchise.

Not really. It was just more 'complete' than the others, in a sense that we get to know his story ever since he was born to the moment of his death. It was a good story, but not the best. I say this because we never were given the chance to play the complete story of the other Assassin characters. I would say Altair has the best story ever. His constant revival, from being at his lowest point to his highest, betrayed, rebuild the order, all in the end to die alone for the sake of the future (not in vain of course), and this was just from one main game and flashbacks about him. If they had made a game that encompassed Altair's entire life story, I bet it would be just as good, if not better than Ezio's story.

AC3 and Rogue were the best for me

Not sure if are being sarcastic or actually serious.

I never got the chance to play rogue since my 360 died, but I agree with you about AC3, with Unity as a close second. I played them both through completely twice, I couldn't do that with any of the others.

yes, it is the best for me as well and I am a huge fan of Ezio n assassin's creed series.

Ezio Auditore was the best, but I agree that Altair could become equal with many more chapters of his story. Ezio did have the benefit of putting players into the Italian renaissance meeting Machiavelli, da Vinci and climbing some wonderful Roman architecture. Oh, and courtesan giggles. Viva Firenze!

I seriously want to have this. big fan

Happy that I get to play this on my PS4 Assassin's Creed: The Ezio Collection so I am going back to italy.

I loved Syndicate and would play another with Evie or Jacob

Syndicate looked amazing and I loved the mechanics. I didn't really care for the story, though.

My All time favorite game series...

Can you finally make AC3 backwards compatible already

I think the problem they are having there is with the support for 3D. The 3D on that game actually works on the 360 (an looks amazing on a 4K 3D TV), but the Xbox One lacks support for 3D Steroscopic games, I believe.

No Altair? No buy. I was waiting for an all-in-one collection, but without the first game, I'm going to just keep skipping the series altogether.

Does that mean that those titles will become backwards compatible as well?

No, these are actual Xbox One versions (at least that's how it reads). Posted via the Windows Central App for Android

Does this games support xbox play anywhere Posted via the Windows Central App for Android

The game needs to have a PC version for that, correct?

Brotherhood, all day. That was the game that made me an AC fan. AC2 had the better story, Revelations took it in some interesting and different directions. The pirate ship stuff in Black Flag was great. But for my money there hasn't been an AC game before or since that was a better complete package. The open world was just large and expansive enough to encourage you to explore without feeling like an endless slog, there was enough to keep you engaged and progressing but you could complete it in a reasonable amount of time. Way less of the endless grinding and fetch quests that plagued the future games. The economics system made it easy to level up and get money, which meant that over time your weapons, armor, and effectiveness were always steadily improving. The driving story was just a simple revenge story, and the gameplay had a "violent Legend of Zelda" feel to it that no other AC game ever captured. Combat controls were smooth and responsive too, something that got worse with future versions. Just a way way way underrated game.