Assassin's Creed Pirates boarding Windows and Windows Phone soon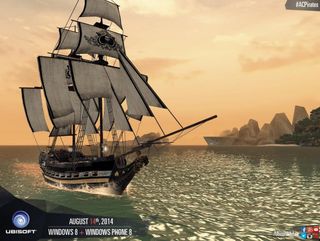 The naval warfare game Assassin's Creed Pirates has set sail through the turbulent cross-platform seas and will reach the lands of Windows and Windows Phone on August 14. A web-based version optimized for Internet Explorer is already available to try out.
The game takes place in the wonderfully tropical setting shared by the Xbox title Assassin's Creed: Black Flag. Players have to hire a crew, plunder boats, and carefully time and aim their cannon shots to discourage pursuers.
Check out our hands-on demo of the iPad version of Assassin's Creed Pirates to get a feel for the gameplay. How many of you guys have played Black Flag? Been itching for a bit of piratey action on mobile?
Thanks Aero_Smash!
Source: @UbisoftMobile
Ahoy!!! Is this available to ios and android lubbers? [edit] cross-platform strictly means it is available on apple and android devices? I'm pretty sure there are some other OS's and platforms that could run this

The article is really short too...

It is, you're right, but that still doesn't answer my light hearted pirate-esque question

http://www.wpcentral.com/commenting-guidelines

The article says that it has set sail through the cross platform seas, bit never really elaborates, it is not safe to assume as there are more people like you within these commenting realms

He mentions gameplay from the iPad which means it's out on ios ... Not enough?

Ahh yeah, I actually missed this part after thinking I'd read it thoroughly, I apologise if I've caused any inconvenience

It has been available on android since late last year....i remember my friend playing it on his galaxy tab.

Its ios, Android and the web. Never tried it on my Samsung Android tablet as its my secondary tablet. Cannot wait to buy it for my Lumia and Surface 2

Guess you didn't read the commenting guidelines, unless you're joking...

No SoA but this will tide(pun intended) me over until that beauty is released in some form again.

Maybe buy it when its on sail? !!!! ;)

Wonder how much it gonna cost

I hope it's free for all..

I hope it isn't. Free games come with a catch: crappy IAP/microtransactions that completely ruin the game.

The performance better be good on the 930!

That shark game that just got released by Ubisoft runs awful on the 930!

Dunno why at me don't lag l520

That's unfortunate. It works fine on my 1520.

Works fine on my 920. Odd.

I've only got 512 MB on my HTC 8S, and Hungry Shark Evolution runs fine for me.

I was quite surprised at how well it played on my 920 and it's almost full.

Exactly! It's really strange!

Hope it has achievements.

Yes!...Achievements are a must for me...Gives me a reason to keep playing a game even after I've beaten it....Years ago I'd beat a game and be done with it.

512 support? Must likely not....i will if that's the case though...

You can run the game in your browser ... What do you think ? ...

I dunno, please tell me....I don't play many web based games, b but from what I hear some can be quite demanding....

The game was lagging hard on Internet Explorer on my Asus T100.

How much will it cost...Can purchase if its worth it

When it came out on iOS and Android a while back it was a few bucks. While I wasn't that interested in the gameplay, the graphics were nice on it.

WOW! This is awesome news. I have the iPad version and is really nice! We keep growing!

How much does it cost on iOS??

Free, with in-app-purchases.

Does playing this game have any effect on your AC4 game? Such as loot and gold carrying over.

Is it free when it comes to windows phone store

If it is paid i cant buy it. because simply i dont have a credit card lol

But i can though try the demo version (lite) but it will be not good to me

Thanks for hearing me ubisoft yesterday. Will buy that game soon as it arrives.

Another Xbox game next week!!!!

Nah... I played on my late Sony xperia. Not interested to play again

Awesome news! It's coming in my birthday!

Hope in availability on 512mb! ...

I'm sure its not going to be free ;)

Sure, it will not to be free.....

It will support 512 MB device or just for 1 GB or more??? Microsoft don't forget you have a billion users still use 512 MB devices

I've downloaded it for iPad when it was free several weeks ago. Pleyed it for about 30 mins and deleted it - boring game and it lags on iPad 4. Won't even look at it on WP.

The assasin's creed that I downloaded sucks. I hope this version is not.

AWESOME!! LOOK, IF IT IS XBOX OR NOT, BUY IT TO SUPPORT WP

Hope it will available for 512mb ram devices

Yaay, finally! I've played this AC with my old Samsung galaxy 3 and loved it. Btw, it cost 4,99-5,99€ at google play...

Will it be an Xbox-enabled game. I loved Black Flag and would love to earn some achievements on my phone

Too bad the web demo doesn't work well on Surface Pro 3 (Metro IE).

If this release supports Xbox Live then it just shows that Gameloft is only after churning out games to immediately earn from IAP...

It will be Xbox Live enabled. All Ubisoft games are. Same with EA. And, yes, Gameloft has proven, since they've released 16 straight unoriginal, mostly IAP-infested 'freemium' games since abandoning Xbox gamers last November, that they are all about the money rather than the gamers.

Exactly... Supporting those type of games doesn't help Windows Phone at all... It would just show the developer that we're content with games without Xbox Live Support... Xbox Live is and should be one of the selling points of the platform... iOS has Game Center while Android has Google Play Games...

I'm not going to snub my nose at ANYONE who develops for our platform. We need all of the apps and games we can get. Some of the developers I see getting called out in these threads are the ones who support WP the most. Without them, gaming on WP would be bleak. Posted via the Windows Phone Central App for Android

That's the problem... Users simply can't stand not having as much apps/games as the other two platforms that they swallow whatever comes from developers who are simply all about the money...

All big name game developers are in it for the money. This whole "caring about the gamer" sentiment is hogwash. Don't be blind. Posted via the Windows Phone Central App for Android

I hope it will be a universal app first and foremost, with Xbox Live enabled as my second wish.

Played black flag and absolutely loved it. Can't wait for this. And plzzzzz ubisoft, let it be for 512 Mb ram devices.
Just this once :-)

Just looking the photo makes me pretty Mich guarantee 512mb devices not get the game Posted via the WPC App for Android!

Played the iPad version. Doesn't enhance the Black Flag game. Mostly naval warfare. And I stopped playing on the iPad when it kept asking to link to Facebook.

Being a Ubisoft title me thinks it will have achivements

It was free on IOS and I played it till I completed 100% all the maps. If it comes under 3$ I'm going to buy it for my windows phone to support the developers and encourage them to bring games to wp too.
Windows Central Newsletter
Thank you for signing up to Windows Central. You will receive a verification email shortly.
There was a problem. Please refresh the page and try again.