Ahoy Matey! Microsoft partners with Ubisoft to bring Assassin's Creed Pirates to the Web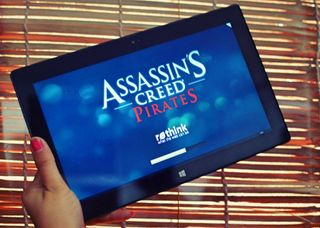 Microsoft has announced a new partnership with Ubisoft to launch the first ever Assassin's Creed gamin title on the modern web with HTML5, 3D WebGL graphics and JavaScript. The Assassin's Creed Pirates web-based experience is available today for free play in five languages worldwide.
The gameplay is based on the popular iOS Assassin's Creed Pirates (ACP) game and allows you to step into the shoes of Alonzo Batilla, a young captain, racing his ship through the Caribbean seas, evading mines and other hurdles, amidst searching for treasure.
The ACP game demo was designed from the ground-up for the modern touch browser, and is developed using the Babylon.JS open source framework that allows developers to build interoperable 3D games like this one. Microsoft claims that the recent updates to Internet Explorer 11 offer better 3D performance, enhanced touch capabilities, and improvements to WebGL, which makes ACP a great game for the Web.
Unlike most games built for Web, ACP does not require a fixed screen resolution. So, whether you are using an 8-inch Windows tablet or a 24 inch desktop with a mouse, ACP with IE11 adapts your browsing experience by detecting your Windows device and input type. Also, the game works well in split screen mode, and you can (pretend to) work and race the ship simultaneously.
It's of course an engaging game, and each time the game is launched, a variation of the original scene is delivered with changes in the weather and time of day giving you a new experience each race. Race your ship through an obstacle course and compete with pirates around the world to obtain the highest score.
Unfurl the sails, and give it a spin here at race.assassinscreedpirates.com. Maybe, you'd also want to pin the game to your Start screen for a quick steer when you have a few minutes to spare.
Thanks, Mohamed, for the tip!
Why are pirates pirates? Cos they aarrrrh

What did the pirate say to the steering wheel down his trousers? Aarrrhhh your driving me nuts

Why can't the pirates learn the alphabets?
Because they are always stuck at C.

Have you heard about the new pirate movie? It's going to be rated arrrr

Could me a matrix code link to try it with my phone :)

Isn't it supposed to come out for Windows phone?

If you watch the video on their mainpage, he says that it will come out for both Windows and Windows Phone 8.1

Lets hope soon.. We need concurrent releases now from major houses atleast.. MS should even pay them if they dont do that, i think its worth it to spend some millions building up the image that we get all the 'latest and greatest'.

I would also quite like the Black Flag companion app to come out for Windows ...

To bad this doesnt count toward uplay

Hey it works really well on my lumia 820

It crashes right after difficulty selection on my lumia 620. IE just exits :(

Not loading on my surface 2

my all time favourite assassin's creed 2

Assassins creed pirates for WP??

Wow! But is this available on the surface tablet?

It will be avalible for Windows Phone 8, Windows 8.1 & windows 8.1 RT. Can't wait! :)

Not WP 8 just 8 and there's a demo

my work box does not have the horse power mind you it can barely run vs 2013

Pc version was so boring...

Google can't even get a Rubik's cube to run in all browsers, yet Microsoft brings this. Way to store them up. :)

first release for wp and w8.1 please!
Windows Central Newsletter
Get the best of Windows Central in in your inbox, every day!
Thank you for signing up to Windows Central. You will receive a verification email shortly.
There was a problem. Please refresh the page and try again.