ASUS announces the ZenBook Flip UX360CA Windows 10 ultrabook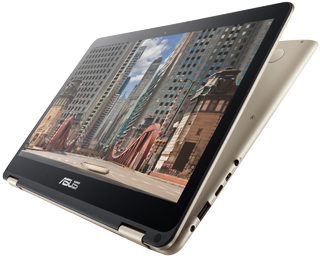 ASUS has announced the new ZenBook Flip UX360CA (opens in new tab) ultrabook, powered by Windows 10. The cool part about the new laptop is that it can flip the display a full 180 degrees to transform into a tablet-like experience. Not only that, but you can also set the angle accordingly to use the base part of the unit as a stand.
For specifications we're looking at a 13.3-inch 1080p touchscreen display, Intel Core M 6Y30, 8GB of RAM, 1.2MP HD camera, Bluetooth 4.1, two USB 3 and one USB 3.1 ports, micro HDMI, SDXC card reader, and the unit itself only weighs in at 2.866 pounds. It's a powerful ZenBook with all the capabilities of a Flip laptop from ASUS.
The UX360CA is available now in 256GB and 512GB configurations at $699 and $799, respectively. The laptop can be purchased from ASUS directly and select retailers.
See at Amazon (opens in new tab)
Press Release
ASUS Announces the ZenBook Flip UX360CA
-- Versatile, slim and stylish design impresses with a full metal body --
Fremont, CA (July 6, 2016) -- ASUS today announced the ZenBook Flip UX360CA, a versatile Full HD Ultrabook capable of switching from laptop to tablet and everything in between. This ultra-thin and ultra-light convertible features a completely fanless design and lasts up to 10 hours on a full charge thanks to a powerful yet energy efficient Intel® Core™ M processor. The ZenBook Flip is available in two storage configurations of 256GB and 512GB at the affordable prices of $699 and $799 respectively.
Versatility and durability in a sleek package
The ASUS ZenBook Flip UX360 employs a 360-degree hinge featuring a precision-engineered multi-gear metal mechanism for a silky-smooth and stepless action that holds the display securely at any angle, allowing for seamless switching between a high-performance laptop to a lightweight tablet at any time. Boasting an all-aluminum design with a finely Zircon-blasted finish, the ZenBook Flip is a pleasure to handle and looks good at the same time. The ZenBook Flip continues the iconic Zen-inspired concentric circle design on the lid, which is made of 2.6mm-thick pressed aluminum, giving the ZenBook Flip an elegant finish that remains durable with scratch-resistant toughness. At just 13.9mm thin and less than 2.9lbs, the ZenBook Flip is not only durable, but also great for portability.
Built for all-day experiences, featuring the latest technology
The ASUS ZenBook Flip features an Intel Core M processor, enabling a completely fanless experience with long-lasting battery life up to 10 hours. The ultrasharp Full HD touchscreen covers 72% NTSC and full sRGB color gamuts and ASUS Splendid Technology automatically adjusts the image for more accurate and lifelike colors and avoids images with temperature extremes. The included ASUS Splendid software enables further customization with pre-configured presets and a manual adjustment mode. The ZenBook Flip also features an MS Precision Touchpad, delivering a smooth and super-responsive experience.
Despite its ultra-slim profile, the ZenBook Flip features an array of ports and the latest in wireless connectivity. The ZenBook Flip has a USB 3.1 Gen1 Type-C port and two USB 3.0 Type-A ports, one of which features ASUS Charger+ technology, enabling quick-charging for supporting devices. An on-board micro HDMI port enables the Flip to connect to an external monitor, or the included 802.11ac WiFi can also be used to cast the screen to most smart TVs and other devices supporting wireless display casting. Dual antennas enable 867Mbps speeds over Wifi while Bluetooth 4.1 allows all the latest and greatest peripherals to be connected.
Rich Edmonds is Senior Editor of PC hardware at Windows Central, covering everything related to PC components and NAS. He's been involved in technology for more than a decade and knows a thing or two about the magic inside a PC chassis. You can follow him over on Twitter at @RichEdmonds.
This seems like kind of a strange announcement considering that Amazon has been selling this for at least a few weeks. In fact, now that I'm looking at it again, the "Date First Available" on Amazon was June 2. I've been waiting for the Champagne color to come in stock to get for my mom since the UX360CA was announced in March.

Ha, I was thinking this would be great for my mom as well.

Meh, pass...core m is not for us engineering students, AutoCAD wouldn't run right on that processor, give me the xps 15 any day

Yeah I know. I use the Surface Pro 4 with Intel Core i7 but sometimes that's not enough. The computer labs at school have Intel Xeon CPU with NVIDIA GPU

That's an m3, correct? I'm also trying to understand the point of having both a USB-C and mini-HDMI port.

That quesitons doesn't make sense. If you are looking for one port to control them all, get a different laptop. This laptop let's you plug in multiple things without requireing you to get a hub to make it happen. Having a mini-hdmi port and a usb 3c port makes plenty of sense.

Not in my mind at least. Why have a port just for video out, when it could have a port for video out, data transfer, or power depending on my current need?

Which is why this isn't the laptop for you. The fact that it bugs you is just ridiculous. I LOVE the ability to have both ports being used for one thing each and not need an external adapter.

You don't need an external adapter though. There are already integrated USB-C to HDMI cables: https://www.amazon.com/CableCreation-USB-C-Macbook-Chromebook-Resolution... For hard drive enclosures, there are USB-C to USB B, Micro B and USB A cables: https://www.amazon.com/Cable-Matters-USB-C-USB-B-Black/dp/B00UXKTJE0/ref... You CAN use a dongle if you want, but there are also full integrated cables

Then tell me why the Surface Pro 3 and Surface Pro 4 both have a USB port and mini-DP?

Simply because it's not USB-C!

Yeah but at a business or home office user standpoint, the mini-HDMI can be used for video while the USB-C can be used for USB flash drives, Ethernet connection, etc.

Correct, but if they had two USB-C ports, that would still apply and give you more flexibility from each port.

not really because not everyone enjoys carrying around adapters and USB-C hubs

This! I don't want to have to cary around a USB C hub just so I can plug everything into it.

You don't NEED adapters. As I've already stated elsewhere on this post, there are full integrated USB-C to HDMI cables

ok so if they are not adapters then what are they then? eh??? your statements are clearly contradictory

They're just one solid cable, no different than having an HDMI to HDMI cable. Or in the case of this laptop, micro-HDMI to HDMI.

No, more like they will include 2 usbc ports next time, or a usbc port and usb 3.1port. But this laptop acutally makes sense, because it is including multiple ports for people who don't want to have dongles.

As if you always have a micro HDMI adapter with you? How is that any better?

My point stands. If you want to be able to use just 2 ports, and not need to carry around an adapter (dongle) that has multiple ports on it, then this laptop is for you. If you don't like the convenience of having the ports built in, and what just one port for all, then get a different laptop like the MBP.

You don't NEED a dongle. Unless you already have a micro-HDMI cable, you're already buying a new cable or using an adapter. They should have used USB-C.

No it makes perfect sense to have and hdmi spot.

No it doesn't. USB-C takes up less space and can be used for more than just video out


It's a micro HDMI port. You need a special cable or adapter for that.

You still don't need an adapter. http://ezq.com/usb-c-to-hdmi-4k-cable-details.html

So if a person wants four USB C ports instead of three, he/she should buy a laptop with only one port? You make no sense here.
Besides, it's the Macbook that has only one port, not the Macbook Pro (MBP).

As someone who does a lot of presentations, it's very useful. With both I don't need a dock or hub. For the general user, however, it's much less of an issue.

You don't need a hub when it's USB C. You need a USB C - HDMI cable.
With the configuration of this laptop you need a micro HDMI cable instead, but now you have more limited options. Tom didn't ask for less connectors, he asked for a USB C instead of a micro HDMI. The latter doesn't make sense.

Okay, two USB-C connectors would make sense, except most of the projectors and TVs you run into in the wild will still use HDMI or VGA. As that changes over the next few years, HDMI ports will become less and less useful. When that happens, you'll be completely correct. The hub is because I need to plug in multiple devices when doing most of my technical presentations (phone, mouse, external drives/usb sticks, etc), so having more USB ports (of old and new flavours) is very useful. As for an adapter, they usually take up less space in my kit. Besides, due to the above stated normal setup (HDMI or VGA) I'm already carrying around an HDMI cable (so I know it works and don't have to fully rely on the venue).

I said a USB C - HDMI cable. You don't need a HDMI output anymore to connect to a HDMI TV.
You need a micro HDMI - HDMI cable instead with this laptop, not really better in any way. If the laptop had a regular HDMI I'd say it's good for the sake of convenience. But micro HDMI cables aren't that common, purely speculating.

That's a very good point. Of course, it means I would have to replace some of my kit (admittedly minor considering the price of a laptop).

It doesn't matter if the projectors and TV's use HDMI or VGA, since the USB-C port can output to these with the correct adapter.

I think laptops, tablets, convertibles and 2-in-1s should come with 2 USB C ports, 1 on each side of the device.

Why dont anyone just go full on usb-c only flipbook, thats actually thin enough to use comfortably as a tablet

How to connect a USB C port to a HDMI port, if the former supports it. http://ezq.com/usb-c-to-hdmi-4k-cable-details.html

Sucks it doesnt have any backlit keyboard. Would have been my perfect ultrabook.

For some reason Asus doesn't put backlit keyboards on some of its laptops.

Why would anyone want a backlit keyboard? Just a waste of battery.