ASUS GL552 vs Dell Inspiron 15 7559: Which should I buy?
By Richard Devine published
In the budget gaming notebook space both ASUS and Dell make a good case to take your money.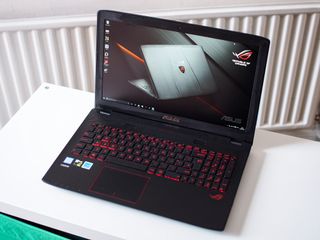 Both companies know how to make great laptops. Dell usually slaps the Alienware logo on its gaming products, while ASUS adds the Republic of Gamers moniker, just so you know what you're getting in to. But what we have here are two fairly inexpensive, subtly designed gaming laptops that will also go great as an all purpose laptop.
The difference over a similarly priced, slimmer and lighter offering is that you can crack out a bit of Gears of War when you're done working for the day.
Both the ASUS GL552 (opens in new tab) and the Dell Inspiron 15 7559 (opens in new tab) are in a similar price bracket to one another, and similar in a number of ways. Which should you buy? Let's break it down.
Let's start with the specs:
| Category | ASUS GL552 | Dell Inspiron 15 7559 |
| --- | --- | --- |
| OS | Windows 10 | Windows 10 |
| Display size | 15.6 inches | 15.6 inches |
| Display resolution | 1920 x 1080 (non-touch) | 1920 x 1080 (non-touch) or 4K (touch) |
| Processor | Intel Core i5/i7 (Skylake) | Intel Core i5/i7 (Skylake) |
| CPU Cores | Four | Four |
| Graphics | NVIDIA 950M or 960M (2GB) | Nvidia 960M (4GB) |
| Storage | 1TB HDD 7200 RPM with 128GB SSD | 1TB HDD 5200 RPM |
| RAM | 8GB DDR4 | 8GB/16GB DDR3L |
| Battery | 48 Wh | 74 Wh |
| Dimensions | 384 x 256 x 34.3 ~35.1 mm | 383 x 265 x 25.3mm |
| Weight | 5.51 lbs (2.5kg) | 5.67lbs (2.57kg non-touch) / 6lbs (2.72kg 4K touch) |
| Wi-Fi | 802.11ac | 802.11ac |
| Bluetooth | 4.0 | 4.0 |
| Ports | Full size USB 3.0 x 2, USB-C 3.1, SD card, 3.5mm headset out, mic input, HDMI out, Ethernet | 3 x USB 3.0, HDMI 1.4, SD Card, 3.5mm headset |
| Optical drive | Yes (DVD RW) | No |
| Price | from $799 | from $995 |
There are areas that each of these two notebooks stand out over the other, and some that they're similar. Both are 15-inchers with 1080p, non-touch displays as standard. Both can be had with the latest Skylake Core i5 and i7 processors from Intel and 8GB of RAM. You can also upgrade the RAM and SSD storage in both, too, adding an extra 8GB stick and whatever SSD you feel like.
And you could take both of them into a meeting without looking ridiculous.
There are also plenty of areas they're different. Starting with the GL552 you'll find a slightly better looking, brighter display and a much better trackpad. It's not quite a precision one, but it's leaps ahead of the finger disappointment on the Dell.
The ASUS (opens in new tab) also comes with a combination SSD and HDD storage as standard, meaning fast boot up times without sacrificing space for your games and media library. The Dell has a slot for an SSD, but you'll have to add it in yourself after you get it.
On the other hand, the Dell (opens in new tab) has the edge when it comes to raw gaming performance. The Dell's 4GB GTX 960M graphics card outweighs the 2GB 950M in the GL552, though you can pay more and get a 960M in higher configurations. It also has an advantage in the form factor stakes, with the absence of an optical drive meaning a leaner laptop all round. Battery life is also better on the Dell, in some cases as much as an hour or two when not gaming. The ASUS battery is just a lot smaller.
Both are very good entry level gaming notebooks in their own right. ASUS has some first-party software to help enhance the experience, such as turning on hot zone lighting around your WASD keys, while Dell has the horsepower. And both prove you can buy a gaming focused laptop that doesn't look like a child designed it.
Which should you buy then? Ultimately it comes down to your use case. If you're swinging towards gaming first, then get the Dell (opens in new tab). If you're looking more for a great all round laptop that can also play some games as an added bonus, then the ASUS might suit you better (opens in new tab). The one drawback is that the base model with the GTX 950M doesn't seem to be available in the U.S. yet, so the entry price is about $200 more than it would be otherwise (international markets have wider availability of the base configuration).
You can't go too far wrong, but depending on your use case you can get it a little more right.
Richard Devine is an Editor at Windows Central. A former Project Manager and long-term tech addict, he joined Mobile Nations in 2011 and has been found on Android Central and iMore as well as Windows Central. Currently you'll find him covering all manner of PC hardware and gaming, and you can follow him on Twitter and Instagram.
I prefer Asus, because of DDR4 ram, SSD, optical drive, I like design more.... And costs less money! :)

Asus for me fella. Faster HDD and disc drive. Plus ROG ftw ;)

It sucks that a few years back all the laptop manufacturers decided that red accents were needed on "gaming" laptops. But at least the Dell didnt make the keyboard red, so points to them.

Agreed. Leave the red for astronomy viewing. It's hard on the eyes for a laptop IMO.

ASUS but opt for the 960M with most memory you can get. I recently got the G752VY with 980M and it's a beast.

Next week we're likely to feature my new beast: GTX 1060 in the MSI GS63VR ;)

Always trying to get one up on the rest of the WinCentral crew eh Dan ;)

If I could have I would have waited for a laptop with the 1080 once they've sorted out cooling for mobile. I can never settle for the 2nd or 3rd child in a specific series of GPUs.

Dan, suggest me some games for my dell 7559. I hate military warfare games, some great ones other than that.

It's a no brainer, ASUS. ASUS is quality over quantity. However if the battle was ASUS vs MSI I'll go MSI. Quality durability great Costumer Service and 10 year warranty.

If ASUS has 4GB 960M, no brainer. Dell has the better gpu and battery only.

The GL552 featured here is the cheaper version, the higher one with 960M 4gb and 16GB ram would have been a better one to compare against dell as they would have fallen in the same price bracket. The only 1 thing I dont like about this laptop is the red keyboard.

Agreed about the keyboard. If it's anything like the G752VY red colour makes ithard to read the keys if the backlight is turned off. The font is horrid as well.

Exactly, if the backlight is turned off, the keys are unreadable, Red looks great from far away and somebody gaming on it wont be bothered, but to use it for work is a pain as the red light is harsh on eyes.

And the pathetic speaker sound in gl552 Posted via the Windows Central App for Android

The Inspiron 15 all day everyday
Best investment I have made in a while and the keyboard is a normal colour. It's a workhorse! Posted via the Windows Central App for Android

Asus ROG GL552 is my laptop and I have not issues with it at all, I use it almost every day and play some games on it when I am away from my xbox one. It plays all the latest games without issue and it very good for work too!

I have a gl552vw with nvidia960 4gb, unfortunately display is ****** (tn), speakers are terrible (play only mids) and got no ssd inside. Keyboard and performance are great, so u need to check what version u buy. Better get ips screen

That's an older version of the Dell, the newer one and one tested here have IPS and SSD. Both units tested speakers are pretty bad. They are laptops, and that's why you buy good headphones. And, why haven't you swapped the HD for SSD in yours anyway? It'd be worth it. Put the old HD in a USB 3.0 case and use it for backup.

I've seen the Dell all over the web for $799 or less with the M960 and 4G video memory and a 256G SSD and IPS screen. Not sure why the pricing shown here is incorrect. ASUS support is not that great, so I'll opt for the Dell with more video memory. The only plus the ASUS has is one of the newer USB-C ports, but that's not yet a must have. https://smile.amazon.com/dp/B015PYYDMQ Hard decision though, I've gamed on both makers and they usually tie pretty hard on total bang for buck and quality in the end on similar machines.

I bought the full spec Dell XPS 15. The cooling on the Dell is an absolute nightmare, even playing games that are over 5 years old. The positioning of the air intake is inexcusable. The throttling I experienced led me to return it in less than two weeks. The ASUS ROG series has much better cooling and you can get a good price off of Amazon. Do not buy through Best Buy.

I bought dell inspiron 14 7559 i5 1Tb version. I am looking for some recommendations, I want to start gaming. Which games should I start of with? RN I am playing OC2, shadow fight 2, theft Inc., and emulated Pokémon Black 2. I probably hate games like FEAR, and all military environment. Please suggest some good ones. Also I am buying a Xbox 360 controller, from amazon its of 3000₹ and rediff its just 1000₹, should I buy it?
Windows Central Newsletter
Get the best of Windows Central in in your inbox, every day!
Thank you for signing up to Windows Central. You will receive a verification email shortly.
There was a problem. Please refresh the page and try again.