ASUS' latest all-in-one PC offers a 4K display in a stunning brushed metal design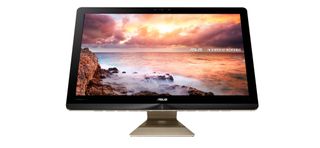 At IFA, ASUS shed further details on its new all-in-one PCs in the Zen AiO S series, which made its debut earlier this year at Computex. Two models running Windows 10 will be made available sometime before the end of the year, the 23.8-inch Zen AiO S Z240IC and the 21.5-inch Zen AiO S Z220IC.
Aimed as a competitor to the iMac, the Zen AiO S features an aluminium design that's backed by serious hardware in the form of a 4K IPS touch display, Intel sixth-generation Core i5-6400T CPU, 8GB RAM, 1TB storage, USB Type-C ports, dedicated GeForce 950M video card, six speakers, Wi-Fi ac and an Intel RealSense camera for Windows Hello facial recognition. That's just the entry-level variant, with higher-end models offering Core i7 CPUs, up to 32GB RAM and 512GB SSDs.
Image 1 of 4
Pricing was not detailed, although The Verge suggests that the entry-level model will be priced at €1,099 ($1,200). We'll know more as we head closer to launch.
What do you guys think of the Zen AiO S?
Source: ASUS
Windows Central Newsletter
Get the best of Windows Central in your inbox, every day!
Harish Jonnalagadda is a Senior Editor overseeing Asia for Android Central, Windows Central's sister site. When not reviewing phones, he's testing PC hardware, including video cards, motherboards, gaming accessories, and keyboards.
Nice to finally see a new AIO from Asus with decent specs. Although I will still be holding my breath for when they ad a better gfx... Only MSI and Apple use high end gfx and their machines are just to damn ugly.

The iMac with the 5K display ugly to look at? C'mon, one can hate Apple but give credit where credit is due at least -_-

I don't hate Apple but I genially have never liked their design. My brothers black iPhone 5 is the only device from Apple that isn't plain ugly in my eyes. The only reason why I would consider getting one of these iMacs from ASUS is because the stand comes off and one can mount a different VESA stand.

Even the stand looks directly like the iMac one.. Innovative ;D

the bottom of the stand is different, the whole base of a iMac touches the ground which provide more stability but not asus aio.

Actually, I doubt the design difference make much difference, because it's the front and the back of the stand that provide the stability, not the part in the middle (unless the back falls off the table). At the front, you have a wider part to support tipping to the sides, and at the back, support for tipping forward/backward.

Wow, that seems like a really good deal for the price.

The premium one has great specs! I am now rethinking of assembling my own PC with my specs or take AiO pc with this specs.

Building your own desktop PC is still the way to go if you want a computer with your personal touch and fully custom parts. You can also get a much more powerful computer for the money with a custom built one. This would be a great computer for media consumption in the Kitchen, but I would still want to build my own desktop.

Of they had a 27" model and the stock ram was 12gb+ I'd buy.

I just wowed 3 times. lol

WOW It's a stunning product. The video also is very good, it show so well the core selling parts of W10 ... it only lacks cortana ... and a w10m ..

Those specs are insane for an all in one PC.

So tempted. Posted via the Windows Central App for Android

Looks amazing. Nice to see an AIO with a high res touchscreen. Windows Hello and USB-C are most welcomed.

Still not 100% sure about the AIO concept, but I love the 4k touch display, and the general style. I just wish they would have made a stand with more adjustability. HP had a mostly great cantilever design for one of their AIO computers where you could push it up high for use as a regular monitor or lay it nearly flat for touch use when standing or even pull it down over the edge of the desk and use flat when sitting. The only problem (aside from 27" 1080p) was that the ports were on the side of the display rather than in the base. /smh

Go check out the Lenovo A740. Very nice AIO -with- an adjustable stand. The screen can even go completely flat. Link to website: http://shop.lenovo.com/us/en/desktops/lenovo/a-series/a740/ Link to video: http://shop.lenovo.com/us/en/desktops/lenovo/a-series/a740/?bctid=3152796508001

Thanks! The 27" QHD is one to keep an eye on. Will have to see what's out there in a month or two with Skylake and W10.

I cringed a little watching the promo video. Something about the scripted 'fun!' of 3D real sense enable games.

This has a video screen, a stand, a keyboard and mouse, and is made from materials. Obviously this is a complete rip-off of the iMac. When will these companies stop stealing from Apple?

Apple didn't invent the PC so everything from there on is just an evolution. AIO isn't unique to Apple either so no one is stealing anything from Apple!

Why are you so stupid nohone?

Never really bought an all-in-one, but, this has caught my eye...

I wish it came in a 27 inch or 34 inch. that would be a nice gift to myself

i'm intersted in lerning how cooling works in the Zen AiO S

These are simply gorgeous designs. I've been drooling over these since they announced them earlier this year at Computex. Well done Asus.

My next computer. I've been a fan of Asus for a few years now. They may be "budget" but I've enjoyed their designs and quality.

Very nice! I my have found my next desktop.

Wow that is one sexy computer. If it had better graphics inside I think it would be a perfect compact 4k gaming machine. Possibly a 980tiM?