The new ASUS Zen AiO PCs combine serious power with serious style
At Computex 2015 today in Taipei, ASUS has unveiled its latest line of all-in-one PCS, the Zen AiO, which combine premium design with high-end internals for even the most demanding consumers.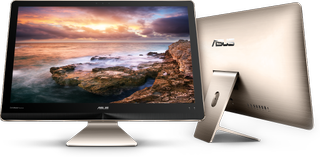 Initially the new range will comprise the 23.8-inch Zen AiO Z240IC and 21.5-inch Zen AiO Z220IC which boast an aluminum unibody shell. Oh, and are available in gold, if that's your sort of thing.
Spec wise we're looking at options up to an Intel Core i7 CPU, which ASUS also says is the "latest generation of quad-core" chips. Add to that up to 32GB of RAM, PCIe SSD storage and an NVIDIA GTX 960M graphics card, and the Zen AiO can sit on your desk packing a serious punch.
The good news doesn't end there, either. The Zen AiO uses not only the latest and greatest USB 3.1 Gen 2, but also USB Type C. The larger, Z240IC model, also boasts Intel RealSense technology in its on-board camera, with the ability to recognize and record in 3 dimensions.
At the time of writing there's no mention of price or availability, but it's an incredible sounding PC. Check out the full press release below.
Computex, Taipei, Taiwan (1st June, 2015) — ASUS Chairman Jonney Shih went on stage at Computex today during the Zensation press event to unveil a stunning range of new products designed to bring harmony and simplicity to people's personal and professional lives. Inspired by the power and beauty of nature, the Zensation theme showcases the ASUS design philosophy of incorporating diverse elements to produce balanced creations that provide incredible experiences and accessible beauty to users.
Zen AiO Series
Zen AiO Series is a premium range of all-in-one PCs — initially comprising the 23.8-inch Zen AiO Z240IC and 21.5-inch Zen AiO Z220IC — that fuse art with industry-leading technology, providing a perfect balance of beauty and performance for the ultimate home-computing experience. A masterpiece of craftsmanship and design, Zen AiO features a slim and elegant unibody shell — forged from a solid block of anodized-aluminum — that tapers to just 6mm thin at the edges, with a precision-crafted matching integral stand. The smooth, sophisticated appearance is enhanced by edge-to-edge glass that covers the display, a rear cover finished in our signature Zen-inspired concentric circle design, and a stylish yet subtle Icicle Gold color.
Zen AiO provides out-of-the-ordinary performance for discerning home users. Using the latest generation of quad-core Intel® CoreTM up to i7 processors, combined with up to 32GB of the lightning-fast DDR4 memory and up to PCIe® Gen 3 x 4 SSD storage, Zen AiO has power to spare for instant responsiveness and ultra-smooth and immersive entertainment. Dedicated NVIDIA® GeForce® GTX™ 960M gaming-grade graphics with up to a class-leading 4GB of video memory ensure users can enjoy stutter-free full HD movies and videos and play the latest games at full resolution. As the world's first all-in-one PC to use the next-generation USB 3.1 Gen 2, Zen AiO delivers blindingly-fast data transfers of up to 10Gbit/s —twice as fast as USB 3.0, and over twenty times faster than USB 2.0. It also uses the latest USB 3.1 Type-C connector for improved ease of use — the connector is reversible, so it can't be inserted the wrong way round.
Zen AiO Z240IC has an amazingly-accurate 3D camera that uses Intel RealSense™ technology to add futuristic interactive capabilities. Accurate motion-sensing of people or objects in front of the camera is now possible, enabling previously-unimagined ways of interacting with a PC. For example, with precise 3D facial recognition, a user's face can become their login password, or families can just have fun interacting with the latest motion-controlled games.
Zen AiO is designed for the ultimate home entertainment, using a total of 6 speakers to deliver rich and clear full-range sound. Each 8-watt stereo channel uses three powerful speakers located at either side of Zen AiO, giving fully-realistic stereo separation and a total of 16 watts of pure, undistorted sound for an amazingly-lifelike entertainment experience. Zen AiO gives users an awesome audio experience, whether they're watching the latest blockbuster movie, enjoying games or relaxing with music.
Windows Central Newsletter
Get the best of Windows Central in in your inbox, every day!
Managing Editor - Tech, Reviews
Richard Devine is a Managing Editor at Windows Central with over a decade of experience. A former Project Manager and long-term tech addict, he joined Mobile Nations in 2011 and has been found on Android Central and iMore as well as Windows Central. Currently, you'll find him steering the site's coverage of all manner of PC hardware and reviews. Find him on Mastodon at mstdn.social/@richdevine
Rare to see Asus product beautiful computer like this... But it just looks like iMac...

Realistically, though, using those materials how different could you make it?

It not just looks like. It looks better with an unicolor front. Anyway, a Lenovo A7xx series looks a lot bettter than both of these. Lenovo WTF! :)

I suppose you were willing to write "Lenofo FTW" (For The Win), but considering the recent fails in production and management of its line up, "Lenovo WTF" (What the Fuck) seems more adapt.

Well it's AIO, and I don't see any significant similarities to the iMac design, looks more like Asus Zenfone series.

I think their Zenbook lines are beautiful.

Funny how spec hungry people are for octo core on smartphones...

The rumours imply that the upcoming flagship would bear a hexacore.

I mean on PC, we still go for clock speed over cores.

Yeah, I know that but you said smartphones. Oh well, nevermind (:

As a comparison to this PC article, of which top tier pcs still only have quad cores. Just find it funny.

But do you really think the flagship should bear a Octacore processor? Well, the (current) high end lumias still don't come anywhere close in the benchmarks test to that of the last year androids and iPhones. I doubt its the WPOS.

The purpose of octa core on smartphone is to have 4 'normal' cores and then 4 cores for low power cosumption which are therefore clocked much lower than the normal cores. As far as I understood they usually are not running parallel. So its still basically a quad core cpu. Obviously you don't need that on a Desktop PC.

Wow... What a computer. 32GB RAM all in one..

This could very well be the answer to my needs. Yes, I know I can build a PC (already have), but I'm about aesthetics and cleanliness. I've been wanting to get a very clean AiO with high end specs to put cleanly in my room. Currently, there are none (save for the expensive MSi models that look only OK). The current PC I built, has to be mounted in a desk away from the monitor, in a not so clean way. Yeah, its a pet peeve. Lol. Had an iMac, it wasn't good enough. This looks good, even if it has some iMac design cues. Hopefully, it's not some astronomical price. I like what I'm reading.

Bigger picture here folks... RealSense camera... Can we say Windows Hello?! Would be great to confirm if this supports it or not.

If it has RealSense, it supports Windows Hello. Not a coincidence that it is there as Asus (like Dell, like HP, like Lenovo) are working with Microsoft for Windows 10.

After what the Asus ceo said about wp kinda find it hard viewing anything Asus, but i will let it pass

Copy cats... From "ASUS Zen AiO, The fusion of art and technology" fonts to ports placement behing the monitor, everything has an Apple feel in it. Cheap and lame rip off of Apple's aesthetics. Be creative and come up with something of your own or be dead.

There seems to be about 3 ways of making an all in one pc. The Apple way. The MSI way (the only company off the top of my head that uses that style) and the "Just have a thick monitor and mount it somewhere" way. Sloths fight leopards. You can't open a bag of chips. Clearly humans are the weaker species.

There's more to it than that. Windows has a very hard edged style compared to competing software, not to mention a special focus on versatility, and Microsoft use that to inform their hardware. Asus could have used this basic shape but done it in a way that at least looks like it's going to run Windows. Instead it looks like a stalker who doesn't realise they've started to dress like their victim. Partnered with Microsoft, in love with Apple. That's why it feels so awkward to look at this thing.

Windows Hello compatible?

The screen, what about the screen. It's all that matters in those all in one pcs. Why would I want high specs pc with crappy screen yet most of the available ones ale full hd at most.

AiOs sure are beautiful... It's just to bad they always stick a mobile GPU in it, yeah yeah I know, the heating from the desktop ones could cause issues but I don't care if it has a lump in the back to support it.

If it has a good screen and they come out with it in 27" or greater I will get it.
Windows Central Newsletter
Thank you for signing up to Windows Central. You will receive a verification email shortly.
There was a problem. Please refresh the page and try again.