ASUS to launch two new Transformer Windows 10 2-in-1 devices later in September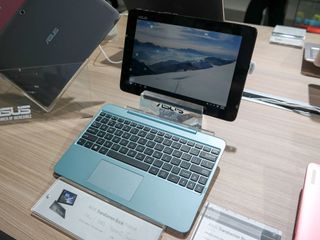 ASUS plans to launch two new Transformer devices later in September. Both will be 2-in-1 PCs with Windows 10 pre-installed. One is the previously revealed Transformer Book T100HA for $299 and the other is the Transformer Flip TP200SA for $349.
We got a chance to go hands-on with an early version of the Transformer Book T100HA at Computex in June. The 2-in-1, which weighs 2.32 pounds, has a detachable keyboard so the 10.1-inch 1280x800 display can be used as a stand-alone tablet. It has 4GB of RAM and 64GB of Flash storage, along with an Intel Atom X5 Z8500 Cherry Trail processor. ASUS says the battery life on the Transformer Book T100HA will last up to 12 hours and that it can charge up to 80% capacity in just two hours.
The Transformer Book Flip TP200SA notebook has a 11.6-inch 1366x768 display that can be turned 360 degrees so it can be used as a tablet. Inside there's an Intel Celeron 'Braswell' N3050 processor, along with 4GB of RAM and 64GB of Flash storage. The 2.65 pound notebook has a battery life of up to 8 hours.
Windows Central Newsletter
Get the best of Windows Central in in your inbox, every day!
Flash storage should at least 128GB for that price range.

Ummm. Ok. Not sure why that is the case.

Nonsense.
There is around 20GB of free space on a W10 install on a 32GB drive...
Given the intended uses, 64GB is capacious! If you need more space, stick in a micro sd

Agree, the issue however is really OneDrive as they have taken the Offline ability away and you can only mirror files on your physical machine. If they correct this then I'm ok with 64G

I want a Windows 10 PadFone

These CPU's are outdated, expected more from Asus.

The Atom X5 isn't outdated. It is also a $299 device...
You are expecting too much for the budget.

If you want a better processor or screen get a Surface 3 at a considerably higher cost.

"1280x800 display"?! In 2015?!

I would stay far away. Ghost touch is common with Asus.

I know ghost touch, have Lumia1520. I have transformer T100 too, but no ghost touch and works just fine for a 300€ device. On the other hand, I had quite a lot problems with ghost touch on a Dell Latitude XT2 touch screen until W10.

I had ghost touch issues on my T100 which seemed to be due to humidity.
I stuck it in a tray of rice for a day to suck out the moisture; has worked fine ever since.

Looks like I'll be getting this or the new dell venue 8 inch they both are in the 250-300 price range with keyboards (optional on the dell)

Ah, gotcha. So these are going to be the creaky budget units that will be adorning the shelves of Wal-Mart and your local Staples. Whatevs.

The metallic keyboard seems beautiful...

I'd really thought with phones and non-windows tablets pushing quality high-res displays that PC makers would wake up but I guess not. 1280x800 is just barely good enough on my 8" DV8P. Still waiting on a decent upgrade/replacement in the 8" windows category...

There are lots of aspects that could be "higher end", thus higher priced. But I find it amazing what $299 can put in your hands these days. I would want more than either of these offer. But again, I expect to pay considerably more. Someday I will reach for my 2520 and it will be dead. Currently I don't know what I would replace it with. Probably have to pull out the Surface and put the phone on Hotspot. Works well, but not nearly as effortless. Hope to see some of these kinds of devices with LTE in the future.

It's a shame too. I have been doing lots of reading about the issues with the vivotabs, and lots of people have the same issue. I am going to try the angi static cloth and rice bath. Anything to get my tablet working. Other than the ghost touch issues, the tablet is awesome.
Windows Central Newsletter
Thank you for signing up to Windows Central. You will receive a verification email shortly.
There was a problem. Please refresh the page and try again.