ASUS launches its first Windows 10 QHD laptop in India with flagship ZenBook UX305LA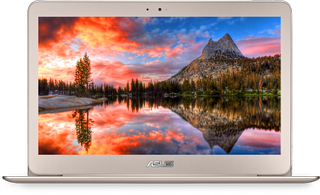 ASUS has announced the launch of its first premium Windows 10 laptop with its flagship ZenBook UX305LA in India. The Ultrabook will be powered by a full range of high-performance Intel processors – Core M, Core i5, and Core i7 and will be available in multiple color options like black, white, and gold.
The UX305LA is the next generation of the Zenbook UX305 launched earlier this year, which my friend Richard Devine described as 'A gorgeous Windows 8.1 Ultrabook at an excellent price' in his review here at Windows Central.
The ultraportable laptop has been currently launched with Intel Core i7 processor, and the Core i5 version of the same will be launched by the end of this quarter. With 8GB RAM and the latest 5th-generation i7 processor, ZenBook UX305LA would easily breeze through any task. At just 12.3mm, the UX305LA is the world's slimmest 13.3-inch QHD ultraportable laptop. The advanced ASUS thermal management design removes the need for cooling fans, so UX305LA is fast yet completely silent and remains cool at all times. There's also the ASUS IceCool technology that ensures that the palm-rest area remains below body temperature at all times for maximum user comfort.
Peter Chang, Regional Head of South Asia and Managing Director for Asus India said
Asus Zenbook UX305LA
Model Name: UX305LA-FB055T
Processor: Intel Core i7-5500U Processor, 2.4GHz (4M Cache, up to 3.0GHz)
Operating System: Windows 10 (64bit)
Memory: 8GB
Storage: SATA3 512GB SSD
Display: 13.3' | LED Back-lit | QHD+ 3200x1800 16:9
Video Camera: HD web camera
USB Ports: 1x USB 2.0 | 2x USB 3.0
Display port: 1x micro HDMI
Weight: 1kg (without battery) | 1.30kg (with 6 cell battery)
Dimensions (cm): 32.4(W) x 22.6(D) x 0.55 ~ 1.49 (H)
ASUS ZenBook UX305LA will be available from October 15 at a starting price of ₹97,990 ($1500) across all Asus exclusive stores and online retailers. It's steep on the price, but with QHD display, 8GB RAM with 512GB solid-state disk and battery life of up to 10 hours, ZenBook UX305LA could be the perfect ultraportable laptop for power users.
What do you think of the Zenbook UX305LA? Tell us in the comments!
Man, that chassis is so ugly...

I guess, though that's not a compliment in my book. I'd prefer a dark chassis. I'm not a fan of light metal colorings.

It simply looks like a macbook air that's all there is to say about the design. One little thing to add from my end is that bezels are so wide like it was 2013 again

Apparently not only that. That wallpaper is also from Mac OS Yosemite.
http://www.shutterstock.com/s/yosemite/search.html
6th row

I don't know whether that image is from the Mac OS Yosemite wallpaper pack or not, but that fact that it's on Shutter Stock when you just search "yosemite" doesn't mean anything.

Yosemite is actually a mountain.. Apple has named their os after that.. They have wallpapers of that mountain.. This one is probably just from another angle..

Didn't see touch screen, and this would be frustrating now.

No real sense camera for Windows Hello support? Interesting, would think most >$1000 laptops would now include it. Posted via the Windows Central App for Android

Okay, wow. That's so awesome. Hefty price too, though.

Why have any USB 2.0 ports on a $1500 laptop? At least it has 3 USB ports. But the design is lackluster when something like the XPS 13 exists. Impressively thin, though.

I own it. Bought it two months ago.
Works like a charm. Ultra thin. Light weight. Silent. I love it. Its only bad point is no backlit keyboard.

They should start looking at making windows 10 smartphones too

Its pricey.
But is awesome.

So a passively cooled i7 that "always stays cool"?
I assume its gonna run at 1.1 GHz tubro max, and more like 800MHz most oh the time...

It's prices that high because it's India. I was planning to get an HP Envy 2015. I can easily get a customizable one from US at $1100 or less. In India, one with lesser specs would cost me $1500+.

Asus should change its name to bezelus.....

I really like the wallpaper on the laptop. Any links please? Thanks a lot

I'm sooooo tired of those tiny 13 inch laptops... Come on, I need 15 inch or more...

As a graphic designer i need a powerful grapphics card, every ultrabook lacks that...
Which graphic card does this one have ?

if you need powerful graphic card in thin factor, you can consider thin gaming laptop like Aorus x7 Pro with dual 970m which is like +/- performance of full 980 desktop. I personally use one of this laptop and I read some user use this with autoCAD and he was super satisfied.
Windows Central Newsletter
Thank you for signing up to Windows Central. You will receive a verification email shortly.
There was a problem. Please refresh the page and try again.