The Asus Zenbook UX305: A gorgeous Windows 8.1 Ultrabook at an excellent price
Apple and Samsung aren't the only companies making a thin, good looking Core M Ultrabook. Asus has one of its own, the Zenbook UX305.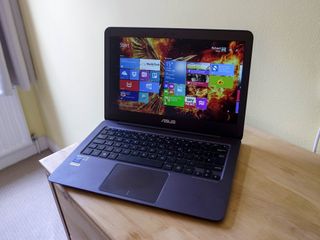 Using the Intel Core M chip gives laptop makers some added freedom to design incredibly thin, light, quiet Ultrabooks. There are compromises in other areas, but what Asus has come up with, on the face of it at least, is something that promises a premium experience without the hefty price.
There's a lot to like about the Zenbook UX305. A lot.
There are some different configurations available, but here's what's inside our review unit. This spec retails for £649.95 inclusive of VAT in the UK.
1920 x 1080 resolution non-touch 13.3-inch Auto IPS non-touch display
Intel Core M-5Y10c CPU at 0.80GHz
8GB RAM
Integrated Intel® HD Graphics 5300
128GB SSD drive
SDXC card reader
720p webcam
3 x USB 3.0 ports
MicroHDMI output
3.5mm microphone in/headphone out jack
802.11 ac Wifi
Bang & Olufsen ICEpower® audio
45 Whrs battery
324 x 226 x 12.3 mm
Dimensions: 324 x 226 x 12.3 mm (12.75 in x 8.89 in x 0.4 in)
Weight: 1.2kg (2.64lbs)
Windows 8.1
Other options to choose from include an Intel Core M-5Y71 CPU, 4GB of RAM, a QHD+ (3200x1800) resolution IPS display, up to 512GB of internal storage and a choice to have Windows 8.1 Pro pre-installed.
So, ours isn't quite the cheapest option available, but it's close. U.S. prices start at $699. And of course, buying through the Microsoft Store will get you the 'bloat free' Signature Edition. If you get it from anywhere else, Asus will have preloaded a bunch of different software applications that you may, or may not, want to keep.
Here's some of what we're looking at:
WildTangent Games
Asus Webstorage
LINE Messenger
Twitter
Music Maker Jam
Flipboard
Skype Wifi
Zinio
TripAdvisor
Fresh Paint
Skype for Desktop
McAfee LiveSafe
And there are also a bunch of other custom Asus apps and stuff for the onboard audio hardware. So there's quite a bit, but apart from McAfee, the rest is relatively unobtrusive. If you don't want the McAfee, get rid of it as soon as you can. Because it'll keep trying to 'persuade' you that you want it. If you can get the Signature Edition though, it's probably worth going for.
So, away from raw specs and pre-installed 'goodies,' what is the Zenbook UX305 actually like to use?
Well, it's fabulous.
Image 1 of 2
Asus knows how to design a good laptop and this latest Zenbook is no exception. We've got metal, we've got something incredibly slim and light and something packing a really nice IPS display. Touch would add to the price, but this is definitely one of the nicer non-touch displays you'll see.
The keyboard is as nice to type on as our current favorite (and my own daily driver) the Dell XPS 13 with good spacing between the keys, though it does lack any backlighting, if that's your bag. Personally, I miss this, but not everyone wants or needs it. Beneath the keyboard is a pretty large trackpad, though it's not a Microsoft precision one, and there's a noticeable difference. There's a good feeling as you're dragging your finger over its metal surface, but it just doesn't feel quite as responsive as it maybe should.
The hardware and design is solid. It's thin and light but also feels remarkably sturdy. And just because it's thin, that doesn't mean Asus has skimped on the ports. We've got more USB 3 ports than Dell put on the XPS 13, a full sized SD card slot and microHDMI out. The thinness hasn't compromised on actually, you know, using things with the laptop. Not like that other Core M Ultrabook that just launched at a much higher price.
Performance is something that's been called into question with Core M Ultrabooks in recent times, such as the Lenovo Yoga 3 Pro. I've only been using this one a short time so far, and honestly, not on any really intensive processes. But for most of the daily work on the site it hasn't missed a beat. We'll see how it fares with some more intensive tasks after more time with it.
Some other quick hits before wrapping up:
When you open the lid the hinge is arranged such that the bottom of it raises the whole laptop and angles it slightly for a more comfortable typing angle on a flat surface.
The audio system is nice, if a little quiet. Maybe seeing "Bang and Olufsen" printed on it lulls into a false sense of security, but be it music or video, it just doesn't seem loud enough if you're not right next to it.
The lid isn't just the metal like everywhere else, it's smooth and has a really great looking circular pattern etched into it.
Asus describes the colors and finishes as "refined white Ceramic Alloy or Obsidian Stone with spun-metal hairline details." Fancy.
Asus USB Charger+ allows one USB port to charge devices, like smartphones, up to 50% faster. Apparently even when the Zenbook is asleep or turned off. So I'll have to try that out and report back!
Asus claims up to 10 hours of use off the charger. I've not spent enough time with it to make an informed judgement, but with light use such as web browsing, word processing etc so far, 8 hours is easily within reach.
First impressions then? Very good. The Zenbook UX305 is every bit the premium looking and feeling Ultrabook, with no compromise on ports and an excellent, non-touch display. We're still not 100% convinced by Core M in any kind of intensive use cases, but there's a lot to be said for having a laptop that's this quiet and has battery life as good as this seems to have so far.
And it's certainly well priced. This has the makings of a little gem for the right kind of buyer.
Windows Central Newsletter
Get the best of Windows Central in in your inbox, every day!