The Asus Zenbook UX305: A gorgeous Windows 8.1 Ultrabook at an excellent price
By Richard Devine published
Apple and Samsung aren't the only companies making a thin, good looking Core M Ultrabook. Asus has one of its own, the Zenbook UX305.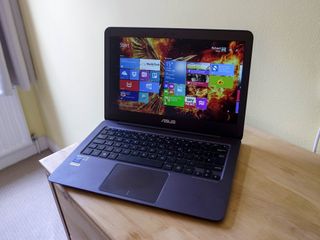 Using the Intel Core M chip gives laptop makers some added freedom to design incredibly thin, light, quiet Ultrabooks. There are compromises in other areas, but what Asus has come up with, on the face of it at least, is something that promises a premium experience without the hefty price.
There's a lot to like about the Zenbook UX305. A lot.
There are some different configurations available, but here's what's inside our review unit. This spec retails for £649.95 inclusive of VAT in the UK.
1920 x 1080 resolution non-touch 13.3-inch Auto IPS non-touch display
Intel Core M-5Y10c CPU at 0.80GHz
8GB RAM
Integrated Intel® HD Graphics 5300
128GB SSD drive
SDXC card reader
720p webcam
3 x USB 3.0 ports
MicroHDMI output
3.5mm microphone in/headphone out jack
802.11 ac Wifi
Bang & Olufsen ICEpower® audio
45 Whrs battery
324 x 226 x 12.3 mm
Dimensions: 324 x 226 x 12.3 mm (12.75 in x 8.89 in x 0.4 in)
Weight: 1.2kg (2.64lbs)
Windows 8.1
Other options to choose from include an Intel Core M-5Y71 CPU, 4GB of RAM, a QHD+ (3200x1800) resolution IPS display, up to 512GB of internal storage and a choice to have Windows 8.1 Pro pre-installed.
So, ours isn't quite the cheapest option available, but it's close. U.S. prices start at $699. And of course, buying through the Microsoft Store will get you the 'bloat free' Signature Edition. If you get it from anywhere else, Asus will have preloaded a bunch of different software applications that you may, or may not, want to keep.
Here's some of what we're looking at:
WildTangent Games
Asus Webstorage
LINE Messenger
Twitter
Music Maker Jam
Flipboard
Skype Wifi
Zinio
TripAdvisor
Fresh Paint
Skype for Desktop
McAfee LiveSafe
And there are also a bunch of other custom Asus apps and stuff for the onboard audio hardware. So there's quite a bit, but apart from McAfee, the rest is relatively unobtrusive. If you don't want the McAfee, get rid of it as soon as you can. Because it'll keep trying to 'persuade' you that you want it. If you can get the Signature Edition though, it's probably worth going for.
So, away from raw specs and pre-installed 'goodies,' what is the Zenbook UX305 actually like to use?
Well, it's fabulous.
Asus knows how to design a good laptop and this latest Zenbook is no exception. We've got metal, we've got something incredibly slim and light and something packing a really nice IPS display. Touch would add to the price, but this is definitely one of the nicer non-touch displays you'll see.
The keyboard is as nice to type on as our current favorite (and my own daily driver) the Dell XPS 13 with good spacing between the keys, though it does lack any backlighting, if that's your bag. Personally, I miss this, but not everyone wants or needs it. Beneath the keyboard is a pretty large trackpad, though it's not a Microsoft precision one, and there's a noticeable difference. There's a good feeling as you're dragging your finger over its metal surface, but it just doesn't feel quite as responsive as it maybe should.
The hardware and design is solid. It's thin and light but also feels remarkably sturdy. And just because it's thin, that doesn't mean Asus has skimped on the ports. We've got more USB 3 ports than Dell put on the XPS 13, a full sized SD card slot and microHDMI out. The thinness hasn't compromised on actually, you know, using things with the laptop. Not like that other Core M Ultrabook that just launched at a much higher price.
Performance is something that's been called into question with Core M Ultrabooks in recent times, such as the Lenovo Yoga 3 Pro. I've only been using this one a short time so far, and honestly, not on any really intensive processes. But for most of the daily work on the site it hasn't missed a beat. We'll see how it fares with some more intensive tasks after more time with it.
Some other quick hits before wrapping up:
When you open the lid the hinge is arranged such that the bottom of it raises the whole laptop and angles it slightly for a more comfortable typing angle on a flat surface.
The audio system is nice, if a little quiet. Maybe seeing "Bang and Olufsen" printed on it lulls into a false sense of security, but be it music or video, it just doesn't seem loud enough if you're not right next to it.
The lid isn't just the metal like everywhere else, it's smooth and has a really great looking circular pattern etched into it.
Asus describes the colors and finishes as "refined white Ceramic Alloy or Obsidian Stone with spun-metal hairline details." Fancy.
Asus USB Charger+ allows one USB port to charge devices, like smartphones, up to 50% faster. Apparently even when the Zenbook is asleep or turned off. So I'll have to try that out and report back!
Asus claims up to 10 hours of use off the charger. I've not spent enough time with it to make an informed judgement, but with light use such as web browsing, word processing etc so far, 8 hours is easily within reach.
First impressions then? Very good. The Zenbook UX305 is every bit the premium looking and feeling Ultrabook, with no compromise on ports and an excellent, non-touch display. We're still not 100% convinced by Core M in any kind of intensive use cases, but there's a lot to be said for having a laptop that's this quiet and has battery life as good as this seems to have so far.
And it's certainly well priced. This has the makings of a little gem for the right kind of buyer.
Richard Devine is an Editor at Windows Central. A former Project Manager and long-term tech addict, he joined Mobile Nations in 2011 and has been found on Android Central and iMore as well as Windows Central. Currently you'll find him covering all manner of PC hardware and gaming, and you can follow him on Twitter and Instagram.
Did I see that right? 800Mhz? I can't remember the last time a new mass produced mainstream (non-phone) processsor came in at under 1ghz. Either that or I'm living under a rock. Which I kinda am. As long as it runs everything well, then I have no complaints. But seeing that sure surprised me!

I've recently bought a Yoga 2 13 which was cheaper and has a Core i5 processor (as well as full touch). I liked the Yoga 3 models, but the Core M processors seem unexpectedly weedy. I know, they are not supposed to be at i5 power levels but they are supposed to be better for battery life, except the Yoga 3 isn't impressing anyone on the battery front and my i5 does just as well if not better. The Core M struggles to even manage to play video smoothly whilst my i5 has no issues with much tougher tasks. Many poor comments on the Lenovo forums for the Core M machines. They seem to struggle with tasks even my Lumia 930 handles easily. Why would I want a laptop less powerful than my phone?
I don't think there's a good reason to buy a Core M machine at i5 prices. This should be at the i3 price point or there are better choices out there.

It's sounding like these Core M machines are duds. Does it really have trouble playing video? Even my Dell Venue 8 Pro had no problem playing 1080p movies with FLAC audio to a second screen in HD resolution.

Just take a look at the Lenovo Yoga forums. The Yoga 3 models have Core M. Most posts re. those are about poor battery life and poor processor performance (much comment re. vid playback included). No such issues with the Core i5 Yoga 2s. Core M computers look nice and slim, but to get that slimness costs a lot in power and doesn't seem to help battery life. Mind you, my phone is even slimmer and has no such issues, so...

Being thin and light reduces the amount of space for the battery. Smaller battery means a smaller amount of total energy available == less run time. If they had a larger chassis for a larger battery and better thermals, the Core M would make for a killer machine.

So far the Zenbook bests my XPS 13 on battery life. OK, it's not a fair fight really since I have the QHD+ i7 version, but still. I'm getting about 8-ish hours from it right now. I don't consider that to be bad at all.

I have a Dell XPS 15 Touch QHD with i7 CPU, and 16GB RAM, 1TB HD, NVIDIA 750M,.........and i get about the same time(7~8hrs depending on the brightness......). I LOVE your XPS 13 you have, I wish Dell had that before i bought my XPS15 touch. oh well, i still like mine very much, and both of our XPS's are MacCrap killers by a long shot. CrApple could only wish it had something like our AWESOME laptops.

Performance of Core M devices varies because of design choices made by the manufacturer. There's lower-spec Core M's that even outperform the higher-spec ones, depending on materials used to dissipate the heat. If the device is metal, the processor doesn't throttle as much or as soon, which of course is reflected in its performance. There's an in-depth article about this here: http://anandtech.com/show/9117/analyzing-intel-core-m-performance/

800mhz sounds misleading. This cpu base clock is 800mhz to save battery, but when needed it will run at up to 2ghz

So after a couple weeks with mine, I would say the only issues I've seen are: - Speaker is too quiet, even at max volume. - There is a tiny bit of backlight bleed but it's only noticeable on startup/shutdown. - Trackpad is a little clicky. Otherwise this is an amazing machine for the money. Regarding performance: - Day to day performance has been really good. Unless you do very processor intensive things this should be more than enough for most people. - Asus did a great job on the passive cooling. It doesn't throttle nearly as badly as other Core-M's. You're looking about about 80%+ of a good Core-i5 in performance. - You can play DOTA2 at native resolution (1080p) and medium/low settings at a decent framerate. - If you play indie games or non-AAA titles like FTL, Banner Saga or even Hearthstone, this will do surprisingly well (which is about all you should expect from a machine like this). - It can get warm when gaming, but it does so at the middle/top of the keyboard towards the screen. Just amazing value. Remember, this is $30 less than a Surface 3 + Keyboard combo. Comes with twice the ram and storage and a much better processor. The next best machine up is the Dell XPS 13 and that starts are $100 more with an i3 (roughly similar performance) and half the ram and storage. Looking forward to hearing more of your experiences Richard! (Is message formatting broken here? My message is completely missing its formatting...)

Thus looks like a great laptop, certainly more bang for your buck than apple or Samsung. If you have any reservations about the core M, just check out the anandtech review.

How's the trackpad? Eg. one-finger gestures, two-finger gestures, swiping, tap, double-tap, palm rejection/pointer jumping, etc. WW

Generally fine, but as I said in the post, it's just not as responsive as you'd want it to be. And if you've used a Microsoft precision trackpad then you're going to notice that a lot.

FYI, ALL new laptops these days offer everything you mentioned pretty muchon the trackpad(which many avarage people dont even know everything you mentioned can be done on a trackpad). On my Dell XPS 15, i can do just about anything a touchscreen can do. Also, when i go to stores, and checkout other brands, they all seem to be able to do the samething, you mentioned on their trackpads.

Yes, almost all trackpads these days support many features, the question is how well they work. I'm still getting pointer-jumping on my SP3, and that's an MS-precision one. Thanks Richard, you've answered my question. WW

It's almost the same as the Surface 3 + Type Cover, and it's more powerful.

That bezel tho. What year are we in, 2006?

Basically for $200 more you can get the HP Spectre x360, or a Surface Pro 3--- vastly superior ultrabook convertibles with more impressive specs and very agreeable battery life.

I have a Surface Pro 3 and already I think I like this more.

Even without the touch screen?

Absolutely. Personally I want to be able to use the SP3 as a tablet as well, but I find it too big for that purpose. It's also why I'm going to trade it in against an LTE Surface 3. When I'm on a laptop I'm rarely using touch apps. When I'm working, I'm working in the desktop, so a touchscreen is nice, but it's also not necessary. I spend my day in a text editor, Photoshop, video editor, web browser etc. SP3 is an incredible device, sure, but it's never really become something I love using.

After the new Dell xps 13 any thing with thick bezels just looks outrageous out dated and ugly, no matter how thin it might be ;-) Posted via the Windows Central App for Android

Specially CrApple MacCrap wanta be PC garbage. Talk about being outdated and freaking ugly, with that devilish logo, which makes it look so cheap looking(well its is cheap trash, but CrApple puts a HUGE price tag on their junk, just to fool people to think its so spacial and out of this world, which is completely other way around)

I really wanted to buy this ultrabook, but the compromises are just a little too much. I can live with no touchscreen, Core M performance, no backlit keyboard, below 10-hour battery life, no type-c USB (which will probably be popular in about 2 years). The price balances lack of such features. But appearently quiet speakers (all reviewers I read complain about this) and the non-precision touchpad is too much to ask as compromises. I would buy it if it had precision touchpad and decent speakers. I once had a laptop with quiet speakers and believe me it annoys you sooo much, and you will face it sooo many times during your daily usage... And knowing that there is a superior touchpad experience out there with the new Windows and you won't be experiencing it for a few years just sucks...

I never use my laptop spealers for anything, ever. Why would you? If it's too quiet, plug your headphones in and enjoy the sound quality. Ditto for trackpads - they are all awful and I hate them. Get yourself an ArcTouch mouse and you'll never look back.

Pecision trackpad solves the awful trackpad problem, that's why I want it. Why would I use the laptop speakers? I use the speakers all the time and so are my friends, that's a weird question. I don't always have access to external speakers this is a mobile device after all, it does not sit on the same desk all the time. And a lot of time I watch something with my friends, or show something to my friends, then I need them to hear the video. Or sometimes I just don't want something in my ear for convenience, while I am eating for example.

I am very much in the market for something like this. I have several options swirling around my head, mainly the Surface 3, Surface Pro 3, Dell XPS, and this. Any thoughts on which one might best suit my needs would be GREATLY appreciated. Here's what I'll use it for: web browsing; MS Office (mainly word/excel, some ppt); photo management (uploading, light editing, i.e. fixing stuff here and there, nothing super extensive, NOT full blown photoshop), maaaaybe some light video editing, occasionally watching movies, maaaybe some light gaming. Clearly the knock on the M processors is performance; I always hear it struggles with intesive processes, but I'm not entirely clear what that covers. It doesn't seem like my needs above constitute an "intensive use case," but would appreciate everyone's opinion on that...? Anyway, I have a pretty good idea of what the Surface Pro 3's are capable of. I'd been considering an i5 but it could be the i3 is good enough for me. What I'm really interested in is a comparison between the M processors (as in the Zen book) and the new Atom processor that will be in the Surface 3. Is there a full review of the Surface 3 coming soon? In my heart of hearts I suspect the Surface 3 may be a little under-powered for my needs but I'd love to be convinced otherwise. I must admit I'm a bit shocked to see Richard Devine's comment that he likes the Zenbook better than the Pro3. Richard, which SP3 do you have? Thanks for any thoughts anyone has!

Your needs don't sound that resource heavy. I'd say that the Surface 3 should be fine. I'd personally get the Surface Pro 3 or the Dell XPS though.
I have the SP3 and I love it. Meets my needs pretty easily.

I have a Thinkpad 8 with a Bay Trail quad-core Atom CPU and I'm amazed at hwo capable it is. I have no trouble getting work done in Photoshop and After Effects and it even runs my realtime music software well enough to be useful. If it falls down anywhere, it is with the GPU and that's where the new Cherry Trail chips are supposed to be greatly improved. I suspect a Surface 3 will easily handle everything you throw at it. That said, this thing looks gorgeous and will probably be more usable.

If battery life is not really that critical for you, i would stay with i5 or i7 CPU system. Also, do you want a 2 in 1 device? Or do you prefer a highend laptop? The reason i ask, there are even more options for you depending what you really like. I personally have Dell XPS 15 Touch Screen QHD 3200x1800 res, i7 CPU, 16GB ram, 1TB HD with 32GB SSD( you can get up to 500GB SSD on this system if you wish), with a dedicated NVIDIA 750M graphics card with 2GB DDR5 memory,..........if you want high performance system that pretty much can do ANYTHING and EVERYTHING, you need a system like that(many choices like DELL, Lenovo, ASUS, Toshiba, HP,..................). However, if you wish to have a 2 in 1 (laptop/tablet)devices, then you must slightly sacrifice few option which goes with having thin, light, and very potable devices. so once you made a decision between 2 in 1, or powerful laptop devices, the choice would be easy. If you want a 2 in 1, powerful device that can handle pretty much everything, i would go with Surface Pro 3, or HP Spectre x360 13-4005dx. If you want a powerful device, that you don't need to keep taking it with you places constantly, or move it around a lot, i would go with a powerful touch screen Laptop, similar to my DELL XPS 13 or 15 Touch, Lenovo ThinkPad X1, SAMSUNG ATIV BOOK 9 PLUS...... I hope this helps, and did not confuse you more. Just check each one at their website, and see for yourself. All the names i gave you are really awesome top of the line devices.

Thanks for the responses! I guess my preference would be a 2-in-1, but a laptop isn't out of the question, either. Looking for a good mix of performance and affordability, mainly. Not sure I need the most powerful thing out there, but would like to be able to use it for a few years, too. I will try to get a hands on with the Surface 3 when more generally available (not close to a physical MS store) and some of the others mentioned, too. Thanks again!

That awkward moment when I realize Opera looks like Maxthon. !!!

Not sure how folks can validly compare this to the Surface Pro 3, when it doesn't have a touch screen. That's strike 1. Strike 2 is the 128GB SSD; I think 256GB is the right size for 8GB of RAM. (Could be just me, but that combo is the sweet spot for RAM/storage.)

256GB is on the Asus options list, just not for sale right now where I am. Maybe the spec of my UK supplied review unit reflects what we get. I agree though, 256GB is the sweet spot on anything. It's what I have in my XPS 13.

At first I was really against anything Core M. This made me very afraid that MS would make their next Sirface pro a core M device. But the more I see from it, the more I am OK with it. I might actually get a Surface (pro) 4 Core M.

No touch screen is a deal breaker for me. Otherwise it sounds great.

Really? My Dell M3800 has a touchscreen but, to be perfectly honest, it never occurs to me to put my grubby fingers on it, even when it woudl be easier to jsut give it a swipe than do anything else. When I'm sat in front of my laptop, my mind just switches to a different mode, making it a total non-issue.

Depends on your use case. I rarely, if ever use touch apps on a laptop. The exceptions being things like Xbox Music and Netflix. In that regard, I don't need a touchscreen on my laptop. But, if you use a ton of modern apps I can see why you'd find it more of a priority.

Seriously... 800MHz? That's just dumb
Windows Central Newsletter
Get the best of Windows Central in in your inbox, every day!
Thank you for signing up to Windows Central. You will receive a verification email shortly.
There was a problem. Please refresh the page and try again.