ASUS ROG GL503 review: Absurdly good value for top dollar performance
This gaming laptop offers high-performance at a really attractive price.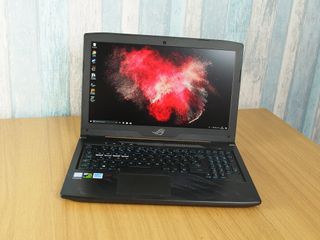 Choosing a gaming laptop is hard enough but if you're looking for something in the lower price brackets that still offers top-level performance, it can get even tougher. But there are always those that stand out.
ASUS and its Republic of Gamers house of all things fun is one of those that knows how to make a great gaming laptop that doesn't require you to take out a second mortgage. The GL503 is one of the latest and while it doesn't do anything to reinvent the wheel, it does what matters most: provide a stellar gaming experience.
See at Amazon (opens in new tab)
ASUS ROG GL503 specs as tested
Swipe to scroll horizontally
Category
XX
Processor
Quad-core Intel Core i5-7300HQ
RAM
8GB DDR4 2400MHz (upgradeable)
Storage
128GB SATA3 SSD and 7200RPM 1TB HDD
Display
15.6-inch FHD (1920 x 1080)
120Hz refresh rate
Graphics
NVIDIA GTX 1060 6GB
Ports
Four USB 3.0
USB-C 3.1
HDMI
SD card reader
Ethernet
Mini DP
3.5mm audio jack
Keyboard
Backlit with number pad
Audio
Built-in stereo 3.5W speakers and microphone
Touchpad
Precision
Biometrics
No
Battery
64 Whrs
Weight
2.5 kg (5.51 lbs)
Dimensions
38.4 x 26.2 x 2.3 cm
OS
Windows 10 Home
ASUS ROG GL503 design and hardware
While not as aggressive as other laptops ASUS has made, there's no mistaking that the GL503 is a gaming laptop. While subtle, the lid is adorned with two patterns split on the diagonal, and a large glowing ROG logo. Thankfully, there are no wild colors or lashings of red, only a hint of color on the vents at the rear.
It's a fairly thick laptop, despite (thankfully) continuing ASUS' new tradition of not including optical drives. The thickness at least allows for those sizeable vents along the rear, which it certainly needs, along with a pair of side-mounted speakers.
The construction is entirely plastic, which is fine, after all, this is still one of the cheaper gaming laptops out there so you'd expect this. It's really well built, though, and though it really attracts dust and fingerprints on the lid, it's built like a tank and you should have no worries about tossing it in your gaming bag and hitting the road.
When you open the lid you're greeted by a full-sized keyboard with number pad and directional buttons that, well, they're not in the right place frankly. The down arrow is a full row below the bottom of the keyboard, and as someone who uses these keys frequently, it drives me insane because muscle memory keeps going to where I think it is. Where it should be.
Image 1 of 2
The keyboard is very good though, even if gamers will still probably ignore it for an external one. It's got great key travel, is backlit with ASUS' Aura RGB system and I particularly like the little nodule on the W key so it's easy to find if you are gaming on it. There's no noticeable flex when you press harder, too, so if you do get a little aggressive when you're gaming, it's OK, the keyboard won't start feeling weird.
The trackpad is precision and mostly it's really nice. There's a lovely feel to the surface and your fingers will glide across with ease. But, and this could just be an issue with a review unit handled by heavy-handed reviewers, the one on the unit I have here rattled a bit. When you tap on it, it wobbles, which isn't good. Almost feels like it's broken. Even if it's a problem with just this one, it's something to watch out for over time.
And at 5.5lbs this isn't the heaviest gaming laptop you'll come across, but it's no ultrabook either. It's got some heft, but the overall footprint is OK for a 15-inch laptop so it'll slip into any reasonably sized laptop bag.
ASUS ROG GL503 display
The display on this laptop is a big deal for a cheaper gaming laptop. It's also noticeably better than the displays ASUS has put into some of its other laptops that have come across my desk in recent months (looking at you VivoBook S15).
It's a 15.6-inch IPS panel at 1080p, which is nothing out of the ordinary. It looks great, and it supports 100% sRGB (more on that in a second). But where it really matters for gamers is the refresh rate. ASUS has dialed it up to 120Hz, which means you're getting crisp, high framerate gameplay on something you can pack into your bag and take on the road with you.
It's great to see that even at the lower end of the spectrum, ASUS is prioritizing features which will matter to its customers. It's a noticeable difference, too. Going back to my own, 60Hz laptop after using this for a week has my wallet cringing.
100 percent sRGB is excellent, and exactly what we'd hope to see in a laptop that costs over $1,000. ASUS has let itself down in the past with displays, but the GL503 doesn't follow that trend.
As it's IPS you also get great viewing angles, and there's also very little flex thanks to the overall build quality of the laptop.
ASUS ROG GL503 internals and performance
This isn't the highest spec model of the GL503, but even so, for the UK price of £1,199, it's exceptionally well kitted out. You get a quad-core i5 or i7 processor, in this case, I have the i5, and it's paired with a 6GB NVIDIA GTX 1060.
Paired with a 1080p display, this is pretty much all the GPU you could want in a gaming laptop since you'll be able to get to and above that magic 60FPS mark with graphics turned up in most current games. For context, it's the same GPU that Razer uses in the 14-inch Blade, which is currently our pick for the best gaming laptop you can buy.
There's also a combination of SSD and HDD storage in the GL503, so you get both mass storage and a quick boot up drive.
So, how does it hold up? First let's check out the synthetic benchmarks for graphics, CPU, and storage
CPU
Geekbench 4 Benchmarks (Higher is better)
Swipe to scroll horizontally
| Device | CPU | Single core | Multi core |
| --- | --- | --- | --- |
| ASUS ROG GL503 | i5-7300HQ | 3,795 | 10,944 |
| Razer Blade Pro | i7-7700HQ | 4,115 | 14,234 |
| Lenovo Legion Y720 | i7-7700HQ | 4,697 | 14,810 |
| Surface Book 2 15 | i7-8650U | 5,036 | 14,237 |
| Dell XPS 15 | i7-7700HQ | 4,503 | 13,587 |
| ASUS ROG Zephyrus | i7-7700HQ | 4,322 | 13,213 |
| ASUS ZenBook Pro | i7-7700HQ | 4,021 | 13,270 |
| ASUS GR8 II | i5-7400 | 4,093 | 11,819 |
| Razer Blade Stealth | i7-7500U | 4,211 | 8,333 |
There are no surprises in CPU performance. It sits where you'd expect compared to the 7th-generation quad-core laptop processors, and isn't far behind its equivalent desktop sibling in the ASUS GR8 II.
GPU
Geekbench 4.0 CUDA (higher is better)
Swipe to scroll horizontally
| Laptop | GPU | Score |
| --- | --- | --- |
| ASUS ROG GL503 | GTX 1060 | 127,329 |
| Razer Blade Pro | GTX 1060 | 129,927 |
| Razer Blade 2017 | GTX 1060 | 138,758 |
| Surface Book 2 15 | GTX 1060 | 132,785 |
| Surface Book 2 13 | GTX 1050 | 75,665 |
| XPS 15 | GTX 1050 | 75,636 |
| Surface Book | GTX 965M | 59,945 |
The GL503 sits a little lower than some other GTX 1060 laptops, but the variance is expected and it's close enough.
Storage
CrystalDiskMark (Higher is better)
Swipe to scroll horizontally
| Device | Read | Write |
| --- | --- | --- |
| ASUS ROG GL503 (SSD) | 554.5 MB/s | 330.2 MB/s |
| Razer Blade Pro (SSD) | 1,595 MB/s | 315 MB/s |
| Razer Blade Pro (HDD) | 144 MB/s | 136 MB/s |
| ASUS ROG Zephyrus | 2,380.1 MB/s | 1,284.1 MB/s |
| ASUS ZenBook Pro | 523.9 MB/s | 501.2 MB/s |
| Razer Blade (960 EVO) | 2,079 MB/s | 1,809 MB/s |
| Spectre x360 512 | 1,332 MB/s | 589 MB/s |
| XPS 13 (9360) 256 | 1,287 MB/s | 794 MB/s |
| Surface Book 1TB | 1,018 MB/s | 967 MB/s |
This is by no means the fastest SSD around, but for most purposes, it's snappy enough. Boot time for Windows is quick and general load times are OK. It could do with having more capacity, though, so you're not offloading as much to the HDD.
When it comes to gaming, where it really counts, the GL503 shines. Put through its paces in demanding titles such as Gears of War 4, GTA V and Rise of the Tomb Raider you're able to get comfortably above 60FPS on maximum settings. Even in PUBG you can have a good time.
Gears of War 4 - 70.8 FPS average
Rise of the Tomb Raider - 71.4 FPS average
Grand Theft Auto V - 70.5 FPS average
All this performance does come with a couple of side effects, though. It gets quite hot and it gets quite noisy. The heat is at least concentrated towards the rear where the vents are, but as ASUS has put some hotkeys along the top, you are likely to be touching that area. It doesn't exactly burn the skin, but it can get a little unpleasant.
ASUS ROG GL503 software
I can't close a review of an ASUS laptop without a brief mention of the software. And, sadly, once again there's a huge elephant in the room that makes you want to shout very loudly. When you set the laptop up from scratch, during the Windows setup process no less, you're prompted to sign up for a McAfee account. NO, BAD ASUS, STOP IT.
What's worse still is that if you use Google Chrome the pre-installed McAfee software will help itself and install its extension in your browser. At that point, I consider it closer to malware than a helpful piece of software I want to use. At least you can remove it.
I'll keep complaining about this until it's no longer pre-loaded on ASUS laptops. Or at the very least if it sits there quietly and isn't all gung-ho aggressive about getting you to sign up. I don't want it, and honestly, neither do you. You can do much better.
The bloatware isn't as bad as it has been in the past at least, and this being a ROG laptop there are a couple of custom apps that have useful bits in for gamers. The ROG app, for example, helps you monitor your system performance in real time, and make your life easier by doing things like disabling the Windows key. The Aura application is there for you to get your RGB on.
The bottom line on the ASUS ROG GL503
Wanting to scream because it prompts you to sign up for McAfee aside, this is an excellent gaming laptop. Sure, it gets a little warm and it's not the thinnest nor lightest around, but the balance of what you have produces a superb gaming laptop.
I love the display, I love the GTX 1060 and I especially love the price. The GL503 is a gaming laptop that can compete on performance with more expensive competitors while undercutting on price.
I'm also genuinely considering buying one to replace my current Dell Inspiron 15 7000 gaming laptop, something else I bought because it offered performance far beyond its price point. I like it that much.
Pros:
Great port selection.
Great gaming performance with the GTX 1060.
120Hz display.
Full keyboard with numpad.
Built like a tank.
Superb price
Cons:
Odd position of directional keys
Get's a little toasty under load.
Pushy McAfee bloatware.
The range starts at less than $1,000, but for around $1,350 in North America, you can get the "Hero" edition with a Core i7. The model tested here currently retails in the UK for £1,199.
See at Amazon (opens in new tab)
Windows Central Newsletter
Get the best of Windows Central in your inbox, every day!
Managing Editor - Tech, Reviews
Richard Devine is a Managing Editor at Windows Central with over a decade of experience. A former Project Manager and long-term tech addict, he joined Mobile Nations in 2011 and has been found on Android Central and iMore as well as Windows Central. Currently, you'll find him steering the site's coverage of all manner of PC hardware and reviews. Find him on Mastodon at mstdn.social/@richdevine
I do not see at all, how this machine could achieve 60fps minimum framerate in 1080p ultra for latest games. Even the GTX1060 desktop parts, which are typically running at higher frequency do not achieve this...

Specs are poor and aesthetics are poor. Yes, it's cheap, but it looks and runs like a cheap product. Doesn't seem like a good value to me. Seems more like about 2 stars instead of 4.5 stars.

My wife used to have two Asus laptops, both of them upper mid-range devices with good specs. And both of them were ridiculously slow. Never again.

As an owner of an ASUS ROG GL553VD, I can asure you this: the "wobbly trackpad" issue is NOT a thing of your test version, but a design problem. Mine lasted only 3 days before it broke. I took it back to the store, where they told me everyone had the same problem. After they fixed it, it broke again the next day! Also, reviewers usually get ASUS' gaming laptops fitted with the best screen choice, but the ones you find in stores usually come with a lesser model. I read all about the super high quality, crips colors and amazing viewing angles of the ROG VD553 before buying mine, but when I turned it on, all I got was washed out colors and horrible viewing angles (I couldn´t even get an even black while sitting right in front of it). NOWHERE in the box or specs in the store did I see any information of the kind of screen it came fitted with (they usually only mention inches and resolution), so unless you test it beforehand, it's anyone's guess what you will get. (And the frame arround the screen got unstuck from the screen itself a few days after I bought it, BTW) I read the specs for this particular model and, lo and behold, it also features two different screen types, only one of which is 120 MHz. So you might want to take that into consideration before buying. About speed: its a good thing this model comes with a SSD hard drive. Mine didn't (it sported a 7200 RPM HDD) and it was unbearably slow. Slower than my 2012 HP laptop (that had a 5400 RPM HDD). And programs crashed all the time. You'd think I hate this notebook (and I did for a while), but after fitting it with a M.2 SSD and reinstalling windows from scratch to get rid of all the bloatware and bugs, plus a few trips to fix all the issues with the trackpad and screen frame, it became an impressive beast. It loads windows in less than 5 seconds and runs all my games smoothly. I now love it, but I wouldn't recommend ASUS product so enthusiastically if I were you.

Yours is a GL553, the entry-level version. The one in this review is GL503, mid-range and much higher quality in all components. Stop complaining when you even don't know which is what.

Got one with i7. Don't get it if you want to use I mostly as a laptop (don't use external display and accessories a lot). Mine has 16GB RAM and I put in an NVMe SSD and use the SSHD for game storage. ASUS has some odd screen calibration software, as well as video tuning that makes this a horrible laptop to watch media on, or work with any type of media. 1080p 60FPS video lags at times and there is lots of artifacting. It's a PITA to manage this. The Precision touchpad is decent, but the keyboard is awful. I get double characters a lot on it, and it has a mat feel so it's a PITA to keep clean (canned air won't work after a bit as your hand oil starts to cake on the keys). Decent machines. While these aren't complete showstopper for me, I will avoid them for future purposes. Too much stuff on it fighting against you (in the driver packages/software).

I'd also note that these laptops have good thermal management and some of the best battery life in their class. 5+ hours off the charger easily doing productivity work. Decent sized battery. Fans can get a bit loud when gaming. Keyboard is backlit. IPS display is better than most anything in its price class. Very good speakers. I never had had issue with touchpad, but only used it for about 30 seconds to install Razer Synapse 😐 windows 10 basically requires an SSD for decent performance. Get with SSHD and order a 250GB nvme SSD to clone system drive onto. That's probably cheaper than ordering with SSD or both. 16GB RAM soldered in with one slot free. Extremely easy to upgrade. One screw.

I bought the GL503VM Hero version since December 2017, and until now it is still one of the best gaming workstation on the market, if not the best in value overall. The design is good but obviously they have to cut cost somewhere and the materials are not that much premium. Still, everything makes sense: the arrow keys, multimedia keys and power key is separated from the rest (just like a Dell workstation laptop few years back), the heat grilles blowing hot air outwards from the back - so no more frustration of your hands getting hot! The display is pure quality. I have high expectations and the AU Optronics panel simply exceeds all, giving me the color accuracy that is similar to a Macbook Pro Retina, but with 120Hz goodness! Now I can't go back to any 60Hz laptop. About the performance, if you are a Windows power user like me, you must know about undervolting both CPU and GPU to keep them from thermal throttling and squezzing out every last bit of juice. And of course, plug in a top-of-the-line NVMe SSD like the Samsung SM961 for it to be on par with Macbook Pros. If this machine has Windows Hello support or fingerprint scanner, it will be perfect.