Asus Transformer Book Chi T300, T100 now available for pre-order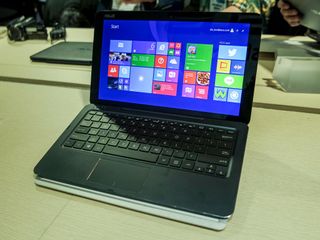 The Asus Transformer Book Chi series of super-thin Windows tablets are now available for pre-order. The family of products were announced back at CES 2015 but you're now able to take steps to almost be within reach of the company's latest tablets. The new T100 Chi base model starts at $399, while the more advanced T300 Chi kicks off at $699.
The entry model for the T100 comes with a Intel Atom Z3775 2.39GHz CPU, Intel HD Graphics 5300, 10.1-inch LED Backlit FHD (1920x1200) IPS multi-touch display, 2GB RAM and 32GB of storage. The starting specs for the T300 include Intel Core M 5Y10 2.0GHz CPU, Intel HD Graphics 5300, 12.5-inch LED Backlit FHD (1920x1080) IPS multi-touch display, 4GB RAM and 128GB SSD.
As well as the Asus online store, the Transformer Book Chi tablets above are available for pre-order through various retailers, including Amazon and Newegg. No word on the T90 just yet.
ASUS Transformer Book Chi Available for Preorders
FREMONT, Calif., March 30, 2015 /PRNewswire/ -- ASUS today begins accepting preorders for the Transformer Book Chi family from the ASUS Store and select resellers. Announced at the Consumer Electronics Show 2015 (CES), the Transformer Book Chi is a family of razor-thin 2-in-1 Windows detachables that offer the unrivalled convenience of a powerful laptop and transforms seamlessly into a handy tablet whenever needed.
The flagship 12.5-inch T300 Chi, recipient of a 2015 CES Innovation Award, is powered by the all-new Intel® Core™ M processor for outstanding performance and power efficiency. T100 Chi is a compact 10.1-inch model with all-day battery life. Both models have a bright, crisp and clear IPS display for wide viewing angles and vibrant colors.
Perfect on-the-go, all Chi models are distinguished by their razor-thin profiles and quiet performance, made possible by the fanless design. T100 Chi has the world's thinnest Windows tablet at an incredible 0.28 inch and T300 Chi measures just 0.65 inch when docked, which is even thinner than an Apple® Macbook Air®.
As well as being amazingly slim, Transformer Book Chi has a luxurious and sophisticated feel, with precision craftsmanship and engineering expertise combined to realize the seamless all-aluminum unibody design. The edges of Chi are enhanced with diamond-cut chamfering, adding brilliant highlights to the elegant metallic body.
The Transformer Book Chi Series uses wide-view in-plane switching (IPS) displays enhanced with ASUS TruVivid technology. By combining three layers into a single piece of glass and eliminating the air gaps that cause internal reflectance in between, TruVivid delivers more vibrant images, astounding sharpness and an ultra-wide color gamut.
Transformer Book Chi's instant, seamless transformation between handy tablet and powerful laptop is made possible by the uniquely-designed magnetic hinge, which employ powerful neodymium magnets arranged precisely to ensure secure and reliable docking. Whenever inspiration strikes, the magnetic hinge also allows users to express their creativity in four usage modes—attached, detached, flipped and tented.
The ASUS Transformer Book Chi Active Stylus Pen (sold separately) features up to 256 pressure sensitivity levels for an incredibly precise writing and drawing experience, while natural palm rejection allows you to rest your hand comfortably.
Powered by an Intel® Core™ M processor, the T300 Chi delivers smooth performance to handle day-to-day computing work. The T100 Chi is powered by an Intel® Atom™ processor that maximizes efficiency and battery life for all-day computing up to 10hrs on a single charge. This superb power-efficiency, combined with an advanced thermal management design from the ASUS engineering team, enables the Transformer Book Chi to operate without fans. The passive design enables Chi to run silently, while delivering excellent performance for daily computing tasks.
In addition to the latest Windows 8.1 preinstalled, the T100CHI also features a free one year subscription to Microsoft Office 365 Personal Edition and 1TB of Microsoft OneDrive.
ASUS Transformer Book T300 and T100 Chi series is available for preorder immediately from the ASUS Store, Newegg.com, Amazon.com and other retailers. For more information, please visit http://www.asus.com/us/site/2-in-1/transformer-book/chi.
Windows Central Newsletter
Get the best of Windows Central in in your inbox, every day!
Rich Edmonds was formerly a Senior Editor of PC hardware at Windows Central, covering everything related to PC components and NAS. He's been involved in technology for more than a decade and knows a thing or two about the magic inside a PC chassis. You can follow him on Twitter at @RichEdmonds.
Would have considered one of these while shopping a month or so back. Happy with the Lenovo yoga tablet 2 though. Especially for almost 100 bucks less. That boost in processor would have been nice though.

Picked up one with 64 gig ssd... Love these. I had last years with 32 gig flash.

Do these have an active digitizer for pen input?

These tablets made sense in February, when they were supposed to be released. What's the point on buying them now that Cherry Trail models are about to be sold in the next 1/2 months???

Yup, better wait for it with Windows 10 loaded.

Well, sure, but that's not really the problem. You're going to get win10 for free no matter what. The actual problem is that if you buy the T100 now, you're getting a Baytrail that is already outdated, as Cherrytrail has been shipping to OEMs for weeks now and will release to market in the next 1/2 months. You also won't get any of the biometric Windows Hello options that will come with new computers this summer, that's in about 3/4 months. It seems clear that Asus is just trying to clear inventory and get rid of the Baytrail CPUs they have laying around.

Enjoy the wait. Actual cherry trail devices will first have to be announced, launched and then released to retail ( example is the Asus in this article). Waiting for unannounced devices makes no sense for someone looking to buy now and what's the big deal anyway, next year it'll be something else, much as well wait for that too.

just to clear things up: 1/2 is generally read as "One Half" 1-2 is "One to two" as in a range of months when dealing with time Hope that helps!

Oh, sorry. Had I meant 0.5 months I would have typed "half", I did mean 1 to 2 months. Even then, it's not smart to buy now unless one absolutely NEEDS a new device immediately. Cherry trail devices should be out by June, and win10 devices by September. This is probably the worst time of 2015 to buy anything PC related, also knowing Skylake is around the corner with Broadwell being phased out.

Better wait till windows 11 rolls out

Waiting for Windows 10 on a tablet is a huge mistake. Better buy a tablet before that OS comes out.

Why? So you don't get the benefits of 14nm cherry trail and Windows hello biometric login?

Released, according to Amazon, sometime in May for the U.K. Yay thanks Asus /s

What kills this for me, besides no Cherry Trail in the Atom model, is the fact that Asus went for a 16x9 screen ratio. 16x9 on a tablet, at 10" and especially at 12" makes any chance of using this is portrait mode unwieldy at best. At the very least it needed to be 16x10. I really think Microsoft hit it out of the park with their 12" 3x2 screen ratio. 3x2 is pretty much perfect for a tablet seeing as 16x10 is still on the long side and 4x3 is too square. That price though, especially for the Core M is tempting. It's good, and a much more reasonable price than what Lenovo charges for their Core M, and the ridiculous price Apple is about to charge for theirs.

As an owner of an XPS12 I generally agree. I use it upside-down all of the time, but I think I have use it in portrait mode only 2-3 times because it is essentially useless. 16:10 isn't even really wide enough to be useful in portrait mode, though 16:10 is the perfect aspect ratio for all widescreen monitors and it drives me crazy that such devices have all but disappeared from the market.

Throw 4GB of ram in that T100 and you would have a killer device. That was one of the only major complaints about the last T100... why would they not fix that? 2GB is just not good enough for x86 Windows and a web browser anymore.

Waiting for the T90. And waiting, and waiting... Its a DV8Pro with miracast that works (assuming it does) and a keyboard that is actually functional. (C'mon Dell and Fintie, do you really think most people use a semi-colon more often than apostrophes and quote marks? Who designed those mini keyboards?). Now, if only Asus would use all this time spent delaying its release to cram a micro hdmi port into that T90. Then I'd never need my laptop in a meeting again.

When is the T90 Chi going to be released?
Windows Central Newsletter
Thank you for signing up to Windows Central. You will receive a verification email shortly.
There was a problem. Please refresh the page and try again.