ASUS VivoBook S + VivoBook Pro hands-on
ASUS is bringing high-end notebook internals to more affordable price points with its new VivoBook laptops.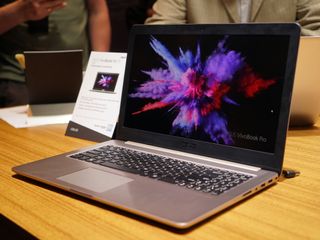 The announcements at ASUS's Taipei press conference today weren't limited to super-high-end products like the ZenBook Pro. The company also debuted two new, more affordable devices in its VivoBook range, with specs to rival expensive competitors, and hardware designs that look good, but won't turn quite as many heads. Both the VivoBook S and VivoBook Pro are 15.6-inchers, with the main difference between the two being U-series and H-series Intel chips, and NVIDIA 940MX versus GTX 1050 graphics.
They're decidedly mainstream-looking laptops, with such crazy things as full-sized SD card slots and Ethernet ports littering the sides. But maybe that's just what you're after in a notebook. Let's take a closer look.
The VivoBook Pro packs top-tier internals into a smart but indistinctive chassis. It's got an aluminum frame decorated with ASUS's concentric circle pattern and an inner body that looks... well, rather plain, but not ugly by any means. ASUS's flagship VivoBook includes the same seventh-generation Intel Core i5 and i7 processors as the more expensive ZenBook Pro, along with the same top RAM configuration of 16GB — plus 512GB SSD + 2TB HDD storage options. Other similarities include a GTX 1050 GPU on the inside (not to be confused with the more powerful 1050Ti inside the ZenBook Pro), plus a one-touch fingerprint scanner for Windows Hello, and similar Harman Kardon audio chops. (Which is to say this thing can pump out some seriously loud, clear, bassy audio.)
And yes, the display is still a beautiful 4K panel, with 100% sRGB color gamut coverage.
Image 1 of 4
So basically, you're looking at the core experience of a ZenBook Pro, in a less trailblazing chassis design, and at a considerable discount. The base model VivoBook Pro starts at $799, compared to $1,299 for the entry-level ZenBook Pro — though don't expect an i7 and the quoted RAM and storage options above at this price.
There's actually a lot about the VivoBook Pro that feels a little enterprisey, and I suspect this model may find an audience with professionals who value performance, but also want legacy ports and connectors, a large bank of internal storage. The same target customer might balk at the recent trend towards super-thin notebooks, and dongles and adapters. All that stuff is built into the VivoBook Pro.
Even then, it doesn't feel excessively frumpy or heavy compared to the ZenBook Pro. The weight is comparable, and the impact extra thickness is diminished by the fact that these are both 15.6-inch laptops to begin with.
At a price tier below the VivoBook Pro, there's the VivoBook S. The main downgrade here is the move to an NVIDIA 940MX GPU, which will put a dent in the machine's gaming and video production potential. But for general use, the U-series Intel Core i5 and i7 chips should more than suffice, and buyers seeking a more manageable notebook will appreciate the 3.3 pound weight and slimmer dimensions.
With pricing starting at $499 (likely without a discrete GPU, nor the top-end CPU, RAM or storage options), the VivoBook S could strike a compelling balance for a performance laptop that won't break the bank.
While the computing potential of both VivoBook models may be similar to their prettier ZenBook-branded siblings, we're looking at a different set of priorities in these machines. Performance is key, and everything else is secondary. And if that matches up with your own buying preferences, the VivoBook S and VivoBook Pro may well be worthy of you consideration.
Windows Central Newsletter
Get the best of Windows Central in your inbox, every day!